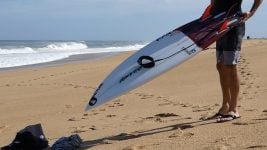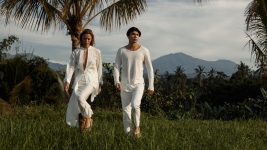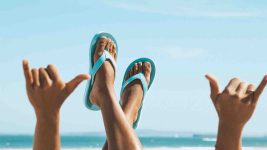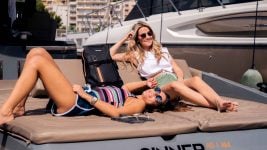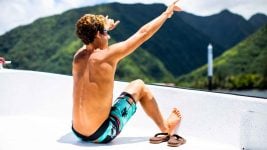 Hanging Shoes 2021 Retail Buyer's Guide
Traditionally, hanging shoes have catered to those living or visiting the coast, but with the ramifications of COVID travel restrictions being felt worldwide, how has this impacted an industry such as this? Ruth Cutts looks into the key trends, new materials and innovations coming from the Hanging Shoes market in 2021.
Key Trends
For many consumers whose work life has been impacted by the pandemic, their daily commute to the office has been replaced with working from home, and with that a desire for casual and easy footwear has evolved. Havaianas has always been a brand whose products have been deemed as suitable both at the beach and in the city, and lately in the home too. "We have seen our fans using our models more and more at home and in their local, rather than on the beaches and pool areas we are normally associated with" explains Merel Werners, Marketing director EMEA. 
Comfort has come to the forefront of consumers' minds, and for The Foam Life, whose SS21 collection marks their inaugural collection, features such as a lightweight construction, raised arch support and soft padded straps come as standard. Simplistic designs such as vegan leather straps on brushed recycled EVA footbeds offer a more premium look and feel, "perfect for the beach, bar or even workplace as dress codes relax and home working becomes more common" explains Co-Founder and Creative Director Karl Read. 
"Our silhouettes and stories this season tap into our heritage, our environment, and that sunny optimism that surrounds us daily to bring you product that is comfortable and stylish; as appropriate on the sand as it is on the street", REEF's. Looking to cater to the "beach to brunch" mentality REEF are designing sandals that work for all usage occasions while still having comfort at the forefront of design. Inspired by the natural textures found at the beach, they've included wovens, rafias and recycled materials in their latest collection.
Post-Pandemic Optimism 
It would be foolish to ignore the impact that COVID has had on retail buy-in, distribution and revenue across the boardsports industry but for many brands, the pandemic was a chance to recalibrate, refocus and streamline processes. 
Kyle Parson, Founder of Indosole echoes this sentiment: "Yes, we have all been affected by COVID in a challenging way [but] in some ways, it has also provided clarity and an opportunity to focus in on the winners and trust our gut on which colours/models should be put into the world". 
REEF took an offensive approach in their SS21 collection landing a balance between proven successful carryover product whilst simultaneously including a deliberate amount of new styles to deliver new price points, on trend styles, and deep diversity in product to excite consumers and retailers this year. 
Cool Shoes managed to navigate new distribution agreements during the pandemic which provided unexpected growth, and for The Foam life, whose product was developed in the first lockdown of spring 2020, the initial reaction and sell-in to their initial set of production-ready samples was really positive reinforcing their confidence in launching the brand. 
To combat the inability to showcase their latest product offering in person, Havaianas created a state-of-the-art Digital Showroom called Hatch which allowed their agents and sales managers to deliver a Havaianas experience totally digitally and still be able to reach and show their retailers the new collection. "It's been super successful, and we were able to reach our sell in targets in most countries," states Werners. 
Sustainable Materials 
Despite the multi-functional usage of hanging shoes with today's consumer, the heart and soul for many brands is still rooted in the beach lifestyle. Ocean lovers, surfers, and environmentalists are often behind the R&D of these brands and with that comes a desire to make a product with the least impact possible. 
As a certified B Corp, every pair of Indosole shoes is crafted from recycled tires which not only provides excellent grip on all surfaces and long-lasting durability, but also ensures that waste tires are not simply left to decompose (a process which takes thousands of years) or to be burned leading to toxic oils and fumes being released. All of their footbeds feature a blend of soft natural and recycled rubber materials, and each pair has an embedded arch support that will mould to the feet with repeated wear. "Over the years, we have consistently tried to make eco fashion more fun and attractive in an effort to bridge the gap between a natural look and an elevated fashion appeal" explains Parsons. 
For REEF, sustainability has been part of their DNA since its inception. Returning to the use of natural materials and creating high quality products with a long life has always been at the forefront of their designs. All REEF products are 100% PVC free, and they only work with material suppliers who agree to not use restricted chemicals in the manufacturing of their materials. Other sustainable materials include recycled PET webbing derived from post-consumer plastic bottles, responsibly sourced leather and suede conserving over 1M gallons of water, and natural materials such as cotton, wood, cork, jute and paper. In Spring 21 REEF will be launching a green EVA solution with a renewable sugarcane-based midsole. The EVA is derived from renewable sugar cane instead of a petroleum oil formula and it is carbon neutral, reducing greenhouse gases. 
For The Foam Life, the inclusion of hemp, as one of the most sustainable plants on the planet and a biodegradable fibre, is a highlight in their introductory collection. Hemp's production requires less than a third of the water needed for cotton and yields 220% more fibre. The plant grows without the need for harmful herbicides and pesticides and also replenishes soil quality. This material features heavily in their Mully model combined with a 'soft to step' brushed recyclable TPE foam footbed and a comfortable toe-post made from recycled plastic bottles. 
Beyond The Product 
Brands are extending their green practices beyond the products themselves, shifting their focus to the packaging as well to contribute further to a circular economy model. All of REEF's packaging is recyclable from 100% recycled paper hangers and shoeboxes to their paper hangtag made from 80% recycled and natural paper. 
Cool Shoes have been focusing on the reduction of plastic usage for many years and for SS21 have moved all of their packaging to biodegradable polybags and recycled cardboard swing tags, and The Foam Life are using recycled card for their hangers and swing tags, which are attached with recycled paper string. Their product is shipped in cardboard cartons using adhesive paper tape rather than traditional plastic packing tape from the factory to their warehouse, and individual styles are packed into biodegradable bags made from corn starch with a non-toxic, natural clay anti-moisture sachet.
Materials & Innovations 
Many brands are opting for non-animal-based product materials in their designs such as REEF's Women's Cushion Court and Men's Santa Ana models that have been crafted from PVC-free soft vegan leather. The Santa Ana also features a durable, grippy rubber cupsole inspired by bamboo alongside a super soft, rebounding EVA footbed. 
When it comes to additional features, Flojos have included the use of a bottle opener integrated into the strap of some of their products and REEF continue the inclusion of their iconic bottle opener on the Fanning Slide. For Sinner, their focus has been on the soles of their latest collection. Their Balena model, new for 2021, features an innovative debased honeycomb structure in the sole for all-day support and relief when walking. Their Grip Flop model (previously known as the Beachslap) has a super grippy sole with tread inspired by the pattern of car tires. The result? Exception grip, optimal cushioning and long-lasting durability. 
For SS21, Cool Shoes have a collaboration with PARA'KITO , a French company producing natural anti-mosquito essential oils, to create an anti-mosquito sandal on three styles which include a small pocket to hold the PARA'KITO cartridge that will last for 15 days with refills available at pharmacies and PARAKITO.com.
Colour & Design
Many brands are taking their colour inspirations from their travels across the globe. Flojos' Elena model is a Mexican-inspired sandal that features a cute huarache strap, mock leather laced upper and a comfortable cushy EVA footbed. Cool Shoes' Ethnicool range brings in patterns and colours inspired by the different surf trips their team have taken around the world, their Tropicool range showcases elements of the fauna and flora found at the dream tropical locations they've frequented, whilst their Coolifornia range sticks closer to home exploring the Californian beach roots of the brand in the 80's.
Havaianas are introducing a new line of beach sandals called Sunny which come in bright neon colours targeted at a younger audience, they've extended their range of city sandals with the St Tropez range being expanded into now shapes and materials.
For REEF, bright, tropical colours featuring palm fronds, orchids, hibiscus flowers and other inspiration whilst, Indosole have applied some vintage tones to their flip flops and slides this coming season taking their existing colours of Shore Blue and Leaf Green and fading them out for a freshened the look. Sinner's colour palette is inspired by nature with the inclusion of lots of natural colours such as sands, greens and browns featuring alongside pastel colours such as turquoise and coral.
The Foam Life are bringing an element of luxe to their collection with women's styles such as the 'Selene' which features a leopard print faux fur upper and their 'Zani' which features a sparkly upper in an all-black as well as a silver/sand colour-way.