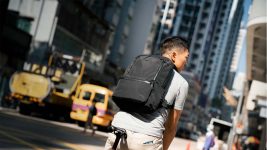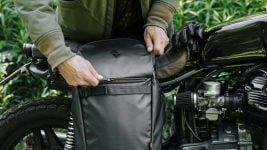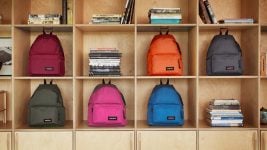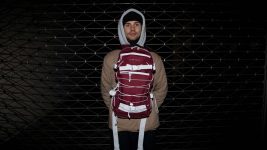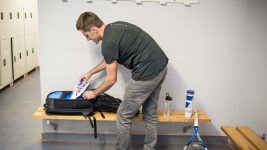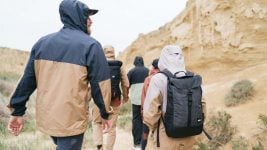 Lifestyle Backpacks S/S 2022 Retail Buyer's Guide
Far from crying over the lost sales of travel bags and school packs, brands have shifted their focus to the emerging population of digital nomads that the pandemic has generated. And they have the backpacks that they need. By Rocio Enriquez.
Travel bans and school closures should have been catastrophic for the lifestyle backpack market. However, this category has experienced a true case of "'when one door closes, another opens'. The pandemic safety measures have created new work/life patterns. A renewed appreciation for outdoors leisure time has been paired with new flexible work routines. This combination has given birth to a new population of digital nomads who need a backpack that carries both their tech and their hiking shoes. The shift in commuting styles to individual types of mobility makes the backpack even more essential. "People are looking for versatile products that they can use on many occasions", says Domitile Parent, Product Director at Eastpak. Even when the overall sales pick up after schools reopen and travel resumes with normality, the multi-purpose backpack is the style that promises more growth. 
All brands interviewed share a focus on functionality and sustainability for their SS22 collection. Organisation is key. Safety, whether from theft or from a rain down pour, is important when we are carrying valuable tech items around. Durability and environmentally friendly materials are now a steady demand from consumers. Dakine has fused the best of their technical, lifestyle and travel categories together to create The Verge collection. "These are pieces that can shift easily from a daily carry to a travel companion", describes Luke Smith, lead Lifestyle & Travel designer at Dakine. Eastpak offers the CNNCT (Connect) capsule collection of highly functional pieces. Functionality is at the core of the new brand MUB. Nitro highlights the added laptop compartments and secondary smart entry pockets in their new collection. They have also developed the Nikuro Traveller, specifically designed for work commuters potentially staying overnight. OID has focused on protection for laptops and gadgets. Picture has increased the capacity of their bags by implementing roll-tops. CEO Julien Durant explains: "We take the codes of the outdoor and apply them to the lifestyle universe". Magnetic roll-tops are the highlight in Roark's new line. Forvert and Roxy sum up their new range with one word: pockets, of all sorts. Fjällräven has combined timelessness with a durable and functional construction. Philipp Kloeters, Head of PR, says: "Durable products that are meant to last for generations also need to have a timeless design, so people want to keep using them". Sustainability is also key in the development of the summer collections of Lefrik, Quiksilver and Pacsafe. The latter wants to level sustainability and anti-theft technology, under the motto "Protect your Valuables, Protect our Planet". "Pacsafe allows that free sense of adventure with anti-theft security, seamless functionality and sustainable materials", says Marketing Coordinator Maria Schmieder.
Build
Multi-purpose backpacks demand ingenious functional features and reliable construction techniques and materials. Dakine focused on thoughtful, cross-functional features and organisation. These help consumers transition seamlessly between the different activities of their day. Nitro is very proud of their Grosse Klappe top opening. Easy and wide, it offers an increased overview of the contents. Eastpak is making sure that most backpacks come with bottle holders, a well sought-after detail. OID has added safety stitching, waterproof zips and grip tape resistant lining. 
Materials are carefully curated to serve the purpose of every specific bag. The ample offering of technical materials available these days helps. Fjällräven uses the trusted and well-proven Vinylon F material. They also experiment with alternatives, such as the Pine Weave wood-based fabric. Dakine selects materials that strike a good balance between variety, performance and sustainability. These are mainly recycled polyesters and nylons, but also more specialised options like recycled Cordura. Nitro is introducing a Polyester Twill 320D with C-0 water repellent and COAL PU coating, all Bluesign approved. Lefrik segments the collection in two types of recycled fabrics. One is soft and used in foldable items and travel accessories, to ensure comfort. The other one is tougher and targets everyday commuters that need weather resistant packs. MUB makes a point of only using reliable materials in both main body and trims. They highlight the PAUA fabric which is considerably more resistant to abrasion and cuts than traditional materials. Picture uses 600D Dobby to provide products that are light but fairly resistant. For their technical range they choose light ripstop fabrics, and their luggage sports a robust 600 or 900D nylon. Pacsafe uses a regenerated nylon made from ocean waste, and a recycled polyester made of recycled PET bottles. Quiksilver chooses Repreve® recycled polyester, the same as Roxy, who also adds straw and canvas to their range. Roark's choice is a 1050D nylon ripstop and a 50C PVC Tarpaulin. 
Looks
The need to fit in as well in business meetings as in leisure spaces has promoted a trend of clean, sleek designs. This is the reason why MUB chooses toned down colours for their collection. Nitro introduces the new Night Sky colour, a dark and intense blue equally suitable for urban commuters and students. Dakine's new Verge Series uses time-enduring solid colours that will stay in step with people's changing environments. Fjällräven pairs the clean and simple look with matte finishes and a natural hand feel. They take their inspiration from nature and make sure their colours work well with past and future collections, to keep their products trans seasonal. Sandqvist opts for earthy colours. Their orange and army green pay tribute to the changing seasons in the Nordic landscapes. Eastpak gets inspiration from the joyful mood of consumers, offering strong colours and vibrant prints.  Dakine has picked up on this too. "We identified consumers longing for positivity, colours and prints that spark joy", says Bettina Rohde, category director of Lifestyle & Travel. They have worked on a balanced offering between Summer brights and mellow neutral tones.  Their print options are fun and expressive, with the floral and island elements of their Hawaiian heritage ever present. Roxy also keeps their DNA print of nice and vibrant Hawaiian flowers as a tribute to their surf heritage, a theme we can also find in Quiksilver. Picture's palette revolves around blue, grey and terra, simple and plain and always tying in with their textile range. Pacsafe adds some pink/blue colour blocking to their choice of classic solid colours. Others have been experimenting with different themes, though. Lefrik is bringing new prints inspired in the seventies. Forvert is playing with camos in their new collection. OID implements the MA1 jacket style to some packs, orange lining and all. Nitro also goes retro with the use of fake leather straps on some models. Eastpak continues the tradition of strong collaborations. We can expect the celebration of the 50th anniversary of the Smiley and a tribute to the iconic rock band Kiss, amongst other surprises yet to be announced. 
Sustainability
Most brands' choice of material speaks of the importance that sustainability has gained. It is rare to find a polyester or nylon fabric that is not made of recycled waste. "For SS22, our lining, webbing and printed fabrics from the entire collection will use 100% recycled content", announces Eastpak's Domitille Parent. But the sustainable ethos spreads beyond the selection of materials. It has become a mentality that needs to filter through every aspect of the product design and production. Consumers demand it, and they are watching. Durability is key, as it avoids waste and maximises resources. This affects not only the materials used and construction techniques employed. It also has an impact on the colours and prints, which need to be timeless in order to stay relevant season after season. Fjällräven designs products to last a lifetime and be easy to repair. "Ensuring product longevity is and will always be our main focus simply because everything we do has an impact, even recycling", says Philip Kloeters. Picture picks up on this, offering a lifetime repair warranty on their full range. MUB steers clear from the fast fashion cycles, producing durable products in reasonable quantities. OID and Nitro pay extra attention to durability. There are other sustainable efforts in lifestyle packs production. Pacsafe aims to eliminate all virgin plastic in their supply chain by 2025. Lefrik is striving to become a member of the Fair Wear Foundation and is also implementing changes in logistics to become a carbon-neutral company. 
Retailer Support
The pandemic impacted all retailers at some level. The support received or lack thereof has shaped their relationship with the brand. Brands have been willing to meet their needs wherever possible, from payment terms to reduction of orders or discounts. But the most pressing problem has been the over stock situation. This affected pre-orders and has generated a shift from traditional production and sales strategies. Many brands have carried over big parts of their collections. This keeps the products relevant for sale at full price for more seasons. The trans seasonality we are observing in new collections does not only help sustainability. It is also a good solution for current and future over stock situations. As a new brand, MUB's model is not based on pre-books and their products are not seasonal. The pandemic has shown that putting all the responsibility for the stock on retailers does not help the industry. Brands will ultimately be affected by cancellations or returns when things go south. Rejecting them is even worse, as it brings about the break-up of the relationship. Many brands find the solution in stocking sufficient product to supply on demand. To make this a sustainable business model, they are shifting to trans-seasonality. Retailers are less stressed. Brands keep the business going. The planet benefits from fewer backpacks being ditched and replaced for new ones every six months. For yours truly, this seems like a win-win situation.