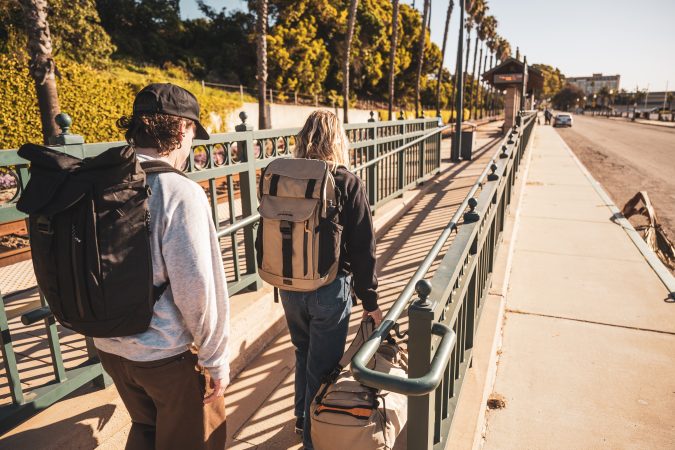 Dakine SS24 Lifestyle Backpacks Preview
Retail Buyers Guide: Lifestyle Backpacks SS24 Retail Buyer's Guide
Brand: Dakine
Interviewee: Rémi Chaussemiche, Marketing Consultant
What are the main current trends in the lifestyle backpack market?
In The Lifestyle Back pack market there are 2 trends which are very apparent those days: Commuting Backpacks is a big trend, people are moving, they ride bikes, skateboards, use public transport. They carry their computers, phone and other electronic devices, they like to exercise at lunch break and go back to work. For all of this they need bags that are comfortable, resistant, and well organized for all their belongings. Crossbody Pouch, Hip Pack and slings are also a big trend. We carry phones, ear buds, wallet. Those little bags fit perfectly the current lifestyle.
What were your best sellers in SS23?
Our Best seller is the Campus 33L the ideal back to school bag. The school bag is a big part of the lifestyle where we have always performed and we aim to build the best product for this use. The Hip Pack comes second. This is a big trend and our Hip back is a perfect match between functionality, style and comfort. You can store all your daily belongings in a minimum space. ( Phone, glasses, ear buds, wallet). The Motive series and the Mission Street build for commuting are some fast growing products. Style and function meet and we see a lot of potential in the upcoming season for this line.
How are you segmenting your SS24 lifestyle backpack collection and what are the price points?
We segment our line by different usage (pouch, school bags, commuting bags) and for each usage we have a good, better, best segmentation. For our good segment (365 and Campus) we have pretty aggressive price positioning. While on the best segment (Motive, Mission and Verge series) we tend to really focus on the innovation, materials and technicity rather than a lower price.
Which style(s) do you expect to grow the most in SS24?
For SS24 we will push a lot the pouch, hip pack and slings. We have developed different new product in this category with a more urban look. The Jagger Hybrid Hip Pack with its several compartment, its multiple wear option is a nice addition to the range. We've made a great effort in bringing some more feminine style in the line, quality tote bags (verge tote bag, Jinx mini tote, classic tote etc…) , some more feminine Pouch and and Hip pack. We see a great potential of growth on those product category. We also see some nice potential in our commuting bags: Motive Series, Verge Series and Mission Street. Urban looking, technical and comfortable they are thought for people who moves.
What are the most important technical features in your SS24 lifestyle backpack collection?
Nearly all our commuting bags feature a water repellant treatment. The shape of the back panel and shoulder straps are fully ergonomic for better comfort. The compartment organization is carefully thought to maximum the storage capacity and the security of your precious belongings.
YKK Zips on the entire collection. Not an innovation but a true quality warranty.
What materials are you using in your SS24 collection?
Our entire SS24 Backpack collection is made out of recycled material. We work on durability as our entire line of backpack has a lifetime warranty.
What silhouettes are you featuring in your SS24 collection? Any construction techniques you'd like to highlight?
For SS24 we have developed some more urban / lifestyle silhouette all inspired from our action sport back ground. Offering some more urban feminine silhouettes was also important to us, with some more feminine prints but not only. We also developed some more feminine products fitting a urban lifestyle and carrying the Dakine DNA.
What colours and prints are you featuring in your SS24 collection?
This season Dakine pays tribute to its Hawaiian DNA . Through our 2024 Hawaii Collection, we honor our past : the land, the sea and the locals, who have inspired, embraced & Trusted our brands inceinception, by delivering classic lifestvle silhouettes infused with a modern Aloha spirit. Vintage and Haiku Camos for the land part, Tropidelic flowers (tropical and psychedelic) for the Aloha vibe, and 80's geometric design to pay tribute to the past. We will also present our one Love Collection with some subtle touch of Green, yellow, red.
What efforts are you implementing towards sustainability?
All of our lifestyle bags are made out of 100% recycled polyester. Our water repellent treatments are blue sign approved. And mostly we aim to make our bags as durable as possible, backing this up with a lifetime warranty on them. The longer your bag las the less pollutes.
How will you be supporting retailers with the SS24 sales?
We have a premium dealers retail marketing program allowing us to have customized solution for our retailers in term of product presentation and merchandising. We also make our content and assets available for them. That way we make sure to not waste to much POS and use the exact one the shop needs in order to promote the Dakine offer they have.
Best Sellers
JAGGER HYBRID HIP PACK
Multiple wear options: cross body, hip or shoulder bag
Main zippered compartment
Interior zippered pocket
Front pocket with drawstring closure
Front zippered pocket
Waist strap can be tucked away in back Panel
Adjustable waist strap with buckle for quick release
Back attachment strap to connect to mole loops and more
Additional adjustable and removable crossbody, shoulder strap
Exterior Snap hook for attachment.
MISSION STREET 25L
Side access Lap top compartment
Organizer and accessory pockets
Stretch mesh water bottle pocket
Skate carry/ cargo straps.
Side access to the main compartment.
Updated reflective branding
Motive Backpack 30L
Ergonomic foam back panel and shoulder strap with adjustable sternum strap
Back panel with luggage handle pass through and tuck away hip belt
Back compartment with laptop and tablet sleeve
Large main compartment with interior stash pockets and zippered mesh pocket
Fleece lined media pockets
Exterior front pocket fits large bike lock
Stretch mesh water bottle pockets
Reflective details throughout for Added Visibility
Exterior Lash points fir bike light and helmet carry
Fitted removable rain cover