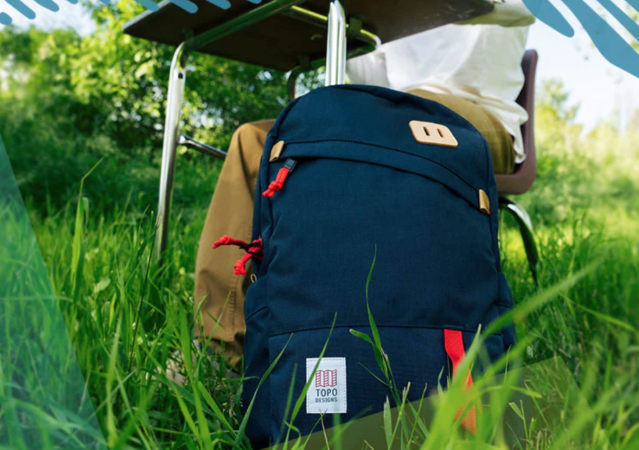 Topo Designs SS24 Lifestyle Backpacks Preview
Retail Buyers Guide: Lifestyle Backpacks SS24 Retail Buyer's Guide
Brand: TOPO DESIGNS
Interviewee: Manon, European Brand Manager
What are the main current trends in the lifestyle backpack market?
Versatility, longevity and timeless utility are the three pillars in the lifestyle backpack market. There is a huge influence from the outdoors into the lifestyle market. For over a decade, we've been charting a new path, to inspire people to continuously redefine what the outdoors means to them, how they integrate it into their lives and be an inspiration for others to do the same. At Topo Designs, we call that the New Outdoor.
What were your best sellers in SS23?
– ROVER PACK CLASSIC
– MOUNTAIN WAIST PACK
– GLOBAL TRAVEL BAG 30L AND 40L
How are you segmenting your SS24 lifestyle backpack collection and what are the price points?
The SS24 lifestyle collection is segmented in 3 categories: Travel, Urban Outdoor and Mountain. Our global travel bag in 30L (travel collection): 199,90€. The Rover pack classic (urban outdoor collection): 109,90€. Mountain waist pack (mountain collection): 54,90€ and the Mountain Pack 16L (mountain collection): 149,90€.
Which style(s) do you expect to grow the most in SS24?
Travel bags, like the global travel bags in 30L and 40L, but also the global briefcase. Topo Designs offers a nice collection of colorful bags, really different from the actual offer for travelling. Community bags like the mountain cross bag. Super versatile, with a good look, different ways to carry it thanks to several features and a nice colors assortment offer. It's our new everyday bag, easy to carry on your bike as well.
What are the most important technical features in your SS24 lifestyle backpack collection?
The Topolite collection (Cinch pack and Hip pack), featuring a lightweight recycled ripstop, a silicone water resistant coating and it's ultra-packable. They are the perfect travel companion and expedition bag, suited for any trail.
What materials are you using in your SS24 collection?
95% of all the products are made using organic or recycled materials and free from harmful chemicals. Our packs and bags in nylon are made out of 100% recycled nylon. For 2025, we are aiming to increase transparency by linking every product on our site to the manufacturing area and facility that made it, along with their certifications and environmental impacts.
What colours and prints are you featuring in your SS24 collection?
LOGANBERRY/BONE WHITE: a nice retro style with bright colors. The perfect colors match to stand out from the classic outdoor colors. (Available in the Mountain Collection) GEODE GREEN / SEA PINE: a sweet pastel colors assortment to blur the boundaries between everyday life and the outdoors. (Available in the Mountain Collection but also in the Urban Outdoor Collection). KHAKI/METEOR: A fresh print inspired from the galaxy to bring more fun in the Rover pack collection! Available on the ROVER PACK CLASSIC and MOUNTAIN WAIST PACK.
What efforts are you implementing towards sustainability?
Aside the products materials, 100% of polybags are made from recycled materials and fully biodegradable or recyclable. 100% of product tags and labels are made from recycled and polyester using post-consumer plastic, eliminating the use of virgin fibers.
How will you be supporting retailers with the SS24 sales?
Growing the brand awareness through more marketing activations in store and online: digital marketing, creating corners or shop in shop. Offering an assortment of POP and displays for Topo's retailers. It's time to spread the New Outdoor for a generation of growth and experience seekers!
Best Sellers
ROVER PACK CLASSIC
With its timeless styling and durable build, the Rover Pack Classic is our most iconic daypack silhouette. Designed for versatility in town or at the trailhead, this durable recycled nylon pack will hold up in any environment and stand out in all of them.
MOUNTAIN WAIST PACK
The new Mountain Waist Pack is the ideal adventure companion. With a classic two-pocket, stylish silhouette, and all the functionality you expect from a Topo Designs hip pack. Constructed out of lightweight recycled nylon, with heavy-duty YKK zippers and a seatbelt webbing strap. Wherever you want to the take it, the Mountain Waist Pack is with you every step of the way.
GLOBAL TRAVEL BAG 30L
Built for breezing through the concourse, our Global Travel Bag 30L performs perfectly as an agile, durable pack for shorter trips. Compact enough to pass as a carry-on, it's equipped with a sleeve to allow for easy attachment to a roller suitcase handle. For maximum flexibility, the Global Travel Bag works with many of our other packs and bags as a modular carry system, streamlining cumbersome travel.