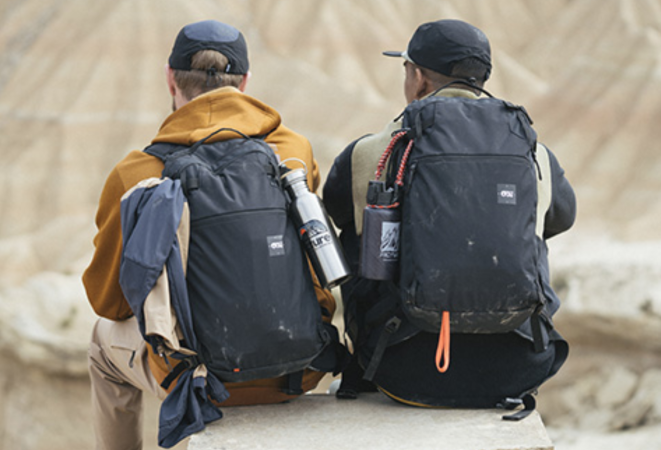 Picture SS24 Lifestyle Backpacks Preview
Retail Buyers Guide: Lifestyle Backpacks SS24 Retail Buyer's Guide
Brand: Picture Organic Clothing
Interviewee: Antony Vincent, Product Line Manager – Bags & Accessories
What are the main current trends in the lifestyle backpack market?
The biggest trend, from our point of view of store, specialized blog and other instagram communities, are the travel bags. Ergonomic and comfortable, they are the ideal solution for extended weekends and should exceed the stage of trend, to arrive to install itself durably on the market. The city bike / go to work backpacks, water repellent with a very smooth material are also parts of the strong trends of the market.
What were your best sellers in SS23?
It is our Grounds 22. A 22-liter bag with many features to help you easily store and organize your day. Combining comfort, ergonomics and sustainability. In the image of Picture
How are you segmenting your SS24 lifestyle backpack collection and what are the price points?
We have to strong franchise we will develop in the future:
– Lifestyle Franchise: Grounds (lifestyle bags) 95  125 €
– Travel Franchise: Warrior (duffle bags) 165 €
– We also have a back-to-school franchise with the Tampu 20  65€
A recycled back to school bags with a modular laptop pocket inside and 2 side pockets for your bottles. Always with a fresh design and print of the seasons.
Which style(s) do you expect to grow the most in SS24?
We bet a lot on the Tampu 20. There is little new in terms of recycled bags for school. We will arrive with a great backpack that has a place of choice on the market.
We also have a water-repellent / go to work bag on which we have worked a lot. Whether in terms of material, smooth and neat. In terms of ergonomics, with two modular pockets inside, and the possibility of removing the straps to make a dry bag surf. Or in terms of comfort with a back worked with ultra comfortable foam. A perfectly finished bag.
What are the most important technical features in your SS24 lifestyle backpack collection?
Sustainibility, Modularity, Ergonomy and Comfort
Special mention on the modularity, with our modular straps on the grounds wp, or all our laptop pockets and accessories.
What materials are you using in your SS24 collection?
Recycled Fabric, Water repellant fabric
What silhouettes are you featuring in your SS24 collection? Any construction techniques you'd like to highlight?
We use only recycled materials, from polyester ripstop to water repellent materials worked with a TPU coating.
What colours and prints are you featuring in your SS24 collection?
First inspiration: Eden Garden. Eden Garden selects natural and vegetal colours, which make us aware of the beauty of nature and remind us of the importance of our duty of care towards it. Second inspiration: Evanescence. Evanescence selects unsaturated past colours, which fade with time. Colours that appeal to our imagination and dreams. Third inspiration: Solar Intensity. Solar intensity selects warm energetic and sunny colours with very intense colour accents such as bright orange. Fourth inspiration: Nocturne. Nocturne selects unsaturated past colours, which fade with time, a vaporous print with soft colours, colours that appeal to our imagination and dreams.
What efforts are you implementing towards sustainability?
Picture is a sustainable brand since its creation in 2008. We accept no compromise when it comes to sustainability. This is especially true on our backpacks line. First of all, we take durability as a serious concern since the most sustainable product is the product you can use for a lifetime. To extend its use, we introduced the lifetime repair warranty in FW21 on 100% of the range. Thanks to a partnership with several repair center all over the world, we can repair and warranty the zippers, seams, trims (buckles, puller…) and webbing. If by any chance you stop wearing your bag, we introduced the upcycling concept to give your product a second life. Moreover, we source only sustainable fabric and trims. Therefore, all of our main fabric and lining are made of recycled polyester, and we also use PFC free DWR treatment on 100% on the range. Last but not least, the range is produced in Vietnam in an ethical factory.
How will you be supporting retailers with the SS24 sales?
We will provide our retailers with all the necessary descriptions, as well as a complete photo panel, ranging from a classic front and back, to zooming in on the various essential and differentiating features of the bag. In addition, Instagram campaigns are planned to highlight these products during the season. These bags will also be part of the different shootings that will be realized and put at your disposal.
Best Sellers
Grounds 22 Backpack
The Grounds 22 Backpack is the ideal everyday pack to follow you throughout the workweek and on your weekend escapes. A compact 22-liter backpack, the Grounds roll-top closure lets you add volume when needed, with increased rain-proofness. Sustainably designed to handle whatever the cityscape throws at you when riding a bike, hopping on the bus, or simply wandering around town, our Grounds 22 always has your back!
Tampu 20L Backpack
Simple and comfy, Tampu 20L Backpack with great organizing possibilities. The zippered main compartment has a removable laptop's compartment up to 16", and a zippered inside security pocket. It has a zippered front pocket, perfect for all your accessories. Give it a second life by cutting "along the dotted line" (just follow the instructions printed inside) to transform your pack into a separate laptop sleeve and a toiletries bag.
Grounds WP Backpack
The Grounds WP Backpack is the perfect backpack for everyday use. It's ideal for the work week or weekend getaways. A compact 22-liter backpack, the Grounds' roll-top closure system allows you to expand its capacity whenever you need it. The durable PFC-free water-repellent treatment ensures maximum protection from rain and weather, keeping your gear dry all day long. It has all the pockets you need to store everyday essentials. Durable, strong and eco-friendly, this backpack is ready to take on the unexpected in your urban life.