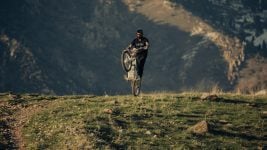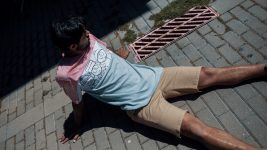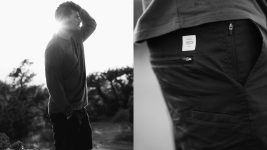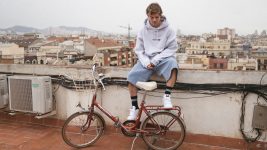 Mens Streetwear S/S 2023 Retail Buyer's Guide
After the previous year's influx, the market seems to have settled down a little, but not diminished in any way. Here, with a closer look is the Source Retail Buyer's Guide for Men's Streetwear SS23 with Dave Morgan.
Skateboarding, among many other boardsports continues to surge in popularity since it's pandemic boom, and as a lot of streetwear these days is heavily influenced by this, the result is some very tasteful and also hard-wearing attire that both looks great and lasts longer.

Market

"The European boardsports market has been going uphill for several seasons now. People want to go outside and experience something new." Julia Böhmer- Team lead for Online Marketing at Alpha industries noticed and it seems like the majority of streetwear brands are feeling mutual with this. Irie Daily's Senior Designer Gesa Hollender said "During the last two uncertain years with recurring restrictions, outdoor activities in general have experienced a huge hype. We believe this trend will last for a while. The Feeling of freedom associated with outdoor activities including board sports, is more relevant than ever."
It sounds like the streetwear market has fortunately started to find it's feet again. Julian Wolf – Head of marketing at HOMEBOY said "It definitely still performs very well. even if the great wave of euphoria is slowly fading. This is due to the fact that our industry always comes up much earlier with new styles and silhouettes and therefore covers almost all early adapters. Similar styles are now being adopted by large verticals. Now it shows who has made their brand irreplaceable with their marketing and who is being pushed out by Urban Outfitters." 
Covid & shipping/ Distribution
Covid 19's restrictions have been lifted now for the majority, however there are still concerns regarding the situation in China and whether or not this will affect Fall22. Julia from Alpha said "Covid continues to have a big effect on global trade and therefore delayed deliveries and soared shipping costs have become commonplace for us." It sounds like this is the general vibe for all brands and industries alike, and the shipping costs/material costs are the main concern now, but of course, we keep on pushing! Matt Wong – President of Global Product at Globe Brand added "Internally we're still dealing with factory closures due to China's strict lockdown protocols whenever there are Covid cases – so that can affect raw materials, trims, actual assembly of garments – but we're doing everything we can to minimise any disruption or significant delays to our retailers."

Price point wise, things are keeping pretty similar, possibly with slight increases due to material costs, but it looks like brands are consciously trying to keep things affordable, whilst still bringing the goods. Hoods/sweatshirts will be roughly €50-70, T's €25-35 and pants/ jeans €70-100, so things are still within reach. Jackets will be of course more, especially with new technologies being used. SA1NT for example, have created something completely new, as Eden Palm, Head of Europe and UK for SA1NT said: "We are always innovating and for the new season we have created an Armoured Puffer Jacket. Never been done before. Fully fashioned jacked but CE rated motorcycle protection."

New themes/collections
Collection wise, brands look to be creating more apparel with their riders which is great. Matt Wong from Globe for example said: "For Spring 23, our skate team (Sammy Montano, Mark Appleyard, and Aaron Kim) have been working on our "Skate Team Capsule". They have been closely involved in the design process from colour, fit, styling, and testing, and have been working with Melbourne based artist Pat Rogasch on the artwork." Vans' Senior Merchandise Manager for Action Sports – David Atkinson was on the same path: "In Skateboarding apparel we will be collaborating with key athletes and brands to help add authenticity to the offering – For this season our partners are Zion Wright, Breanna Geering and Quasi Skateboards."

Trends for SS23
Julia from Alpha said "In my opinion clothing will move a lot more in the direction of unisex offerings because it doesn't matter anymore whether you're identifying as a man or a woman, you can just wear whatever you're comfortable with and what you like. In this case I think the different collections will merge more and more into one big collection." From what other brands have said, they're also focusing on more unisex approaches to lines, which shows a promising future for an inclusive streetwear approach. Julian from HOMEBOY spoke of his trend scope for the coming season saying: "Colours and prints/ embroidery that are fun and spread good vibes. Boxy tops and the final even wider pants. There will no longer be any skinnys out there!"
The 90's are most definitely back with the majority of pants getting bigger and baggier, and it seems most brands are catering to this need, not only with denim but with lighter, more airy fabrics. "Vans' main focus in Action Sports apparel is the Range Pant in different fits and fabrications – relaxed, baggy, baggy tapered… One of the biggest trends we see in AS, but especially skateboarding is that pants are very important and fits are getting baggier and baggier" said David form Vans. We couldn't agree more with that, as the importance of a good fitting pant makes for a complete outfit, and also allows you to function easier doing whatever you're doing. 
Hydroponic will be continuing its collaborations with their favourite cartoons, following on from the success of their South Park capsule, they'll be releasing a Dragonball Z line for SS23, which is sure to be a hit.
Styles & materials
Lighter, more airy fabrics are a must for SS23, with brands experimenting with different textiles to produce more easy-going garments. Gesa from IrieDaily said they will be "using blends of hemp fabric in several styles this season, which are particularly suitable for the summer collection due to their cooling effect. This material offers a whole range of features such as excellent durability and longevity. In addition, the hemp fibre is a rapidly renewable natural fibre that uses less water than cotton."
Jean shorts are a hit this season, re-enforcing the 90's resurgence. Brands like HOMEBOY, Hydroponic and Alpha Industries are proudly focusing their summer lines on this route. Julian from HOMEBOY said: "It's been a while since shorts were a thing in streetwear. I personally always switched my boardshorts for a long denim baggy when I was done with a session. We are about to change that. Make baggy shorts great again!"

Sustainability
The constantly recurring word within the fashion industry is sustainability, and for good reason. Brands like Globe for example produce their entire range sustainably – not just one capsule collection. Matt from Globe spoke of their 'Low Velocity' Clothing: "We use sustainable fibres in all of our materials (such as organic cotton, Repreve recycled polyester, Cocotex coconut polyester, PVC & Phthalate free inks), and all styles have been rigorously wear tested by our team of global nomads for fit, function, and durability. Our goal is not only to use sustainable materials, but also build high quality clothing that lasts the test of time."
IrieDaily are introducing Apple skin vegan leather as Gesa explained: "This alternative to real leather contains bio-based wood pulp and apple waste. This waste is recovered from the fruit juice industry. Pulp and waste are brought together with waterborne PU, which is free from heavy metals." The more technology advances, the more possibilities become available regarding sustainability, and as long as brands are actively being eco-conscious we can at least have a good conscience that we're not supporting 'fast fashion' as much as before.