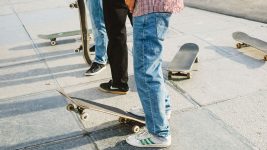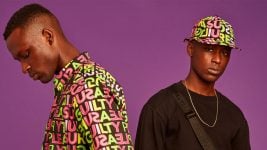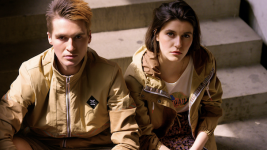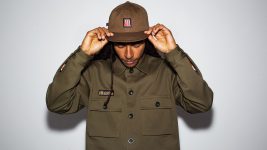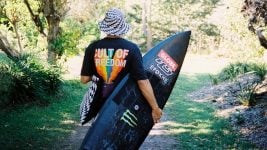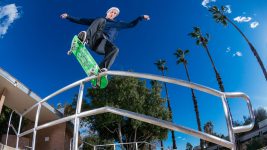 The hype around streetwear is at an all-time high. But instead of chasing fleeting trends, boardsports apparel brands are prioritizing sustainability and unique aesthetics. Spring/Summer 2020 Men's Streetwear Retail Buyer's Guide by Dirk Vogel.
In the early 1990s, skateboarders and snowboarders were often ridiculed for wearing oversized, super baggy pants. That was okay, because it was our dress code, our streetwear. And it certainly wasn't for everyone. How the tables have turned: Today, everyone wants a piece of streetwear, from high fashion labels to investment bankers (equity firm Carlyle Group purchased 50 per cent of SUPREME for $500 million in 2018). Limited edition hoodies sell for $200 and are instantly worth $1500 and more on the apparel resale market, estimated to reach $41 billion per year in the U.S. by 2022 (ThredUp).
The streetwear game is crazy, but boardsports brands are no longer playing along. "We believe that consumers are changing their mindset and looking for good, honest quality products that are manufactured with care and respect – our philosophy since day one," said Mark Westmoreland, Creative Director at 19.91 Denim. The current emphasis on sustainability sends a clear message to consumers: Don't buy disposable, fast-fashion apparel on the cheap because it takes a high toll on the environment. Instead, buy pieces that will last and remain cool for years – not just one season – and prepare to pay for quality.
Price points in boardsports retail have crystallized around €35.00 for T-shirts, €59.00 for sweatshirts, €69.00 for button-up shirts, €89.00 for pants and denim, as well as upwards of €109.00 for jackets. Going into SS20, some brands are adjusting their pricing strategy. "We have elevated our whole line to move into the premium streetwear price points for next season," said Joseph Janus, CEO and Creative Director at WeSC.
On that note, what's trending out in the streets next season? Asked about the 'hot' outfit for SS20, Iriedaily Menswear Designer Björn Siegel offered: "Skate-related sneakers combined with loose-fitted chinos, hooded sweater and shirt jacket." At Volcom, Head Of Product Europe Mathieu Santoni sees a trend toward, "baggy pants, crazy logo on tees with crazy placement and fabrics from the '90s. If I look at Volcom, we are offering old logos and old styles with a modern twist." To stay ahead of the game, here are the three major men's streetwear trends to watch in 2020:
Light denim
Prepare for jeans to take centre-stage in SS20 collections. And not just any kind of denim: "For trousers, light denim will set the tone for sure!" said Julian Wolf, Head of Marketing at Homeboy, adding: "Distressed denim like we saw on every single skinny jean will be the no-go of the season." Mathieu at Volcom agrees that, "the washes need to be natural with no whiskers, not too much scratching, no holes." True to the sustainability trend, brands are shifting away from treating their jeans with aggressive bleaches towards enzyme washes and other subtle methods (see Materials). Paired with a crisp white tee and sneakers, light denim jeans create a go-to outfit for next summer: "Simple, timeless and easy!" said Björn at Iriedaily.
Full-print button-ups
Everyone wants a part of their wardrobe to have a certain level of flair – or 'drip' as the kids call it – in 2020. This can be a flashy pair of sneakers, or the second major trend: full-print button-up shirts in short- and long-sleeve variations with designs that turn the volume up to eleven. "Yardage party shirts are on! In anticipation and readiness to tackle extreme partying, our party shirts employ the versatility of subtle stretch and breathable fabrications combined with head-turning custom prints," said Dan Preston, Global Apparel Design Manager at Globe pointing out SS20's Psychotropics shirt with hand-made print patterns. Look for African-inspired and surf-style prints this coming season, next to Hawaiian styles and floral prints.
Wind gear
Maybe it's the 1990s resurgence or the 'athletification' of streetwear. "The trend that is taking over now is definitely wind gear," said Joseph Janus at WeSC. Brands are headed into SS20 with technical windbreaker jackets featuring 1990s style colour blocking and athletic panelling. WeSC actually likes to go all-in and offers a range of full track suits, plus shorts and jacket combos: "For next season, I think the must-have looks are head-to-toe hook-ups." Iriedaily is on the same page with fresh wind gear in urban colourways, Reell launches the Modular Tech Jacket and Globe has the Throwback Pack inspired by classic skate DNA for next season. DC Shoes unrolls some nice athletic pants and at Primitive, Senior Apparel Designer Andre Beauvais is stoked on the MACBA Pant, "a classic lightweight nylon track pant with embroidered and printed branding."
FITS & SILHOUETTES: GET LOOSE
Lead Designer Jesse Weijers at Reell sums up SS20's fits with: "Freedom to move! It's about the balance between sport, streetwear, comfort and functionality. This translates into renewed flexible lightweight fabrics across our range, and better anatomically shaped fits." Björn at Berlin-based Iriedaily also confirmed: "Fits for tops and bottoms are getting more loose." As a highlight among tops, WeSC sees the, "trucker fit jacket with lots of focus on patchwork coming into trend." Pant legs are tapered and worn long, sagging over the sneakers or rolled up. In the shorts segment, consumers are moving away from technical boardshorts. "They just need good trunks and reasonable prices," said Mathieu at Volcom.
MATERIALS: LIGHTWEIGHT & SUSTAINABLE
"As it is a spring collection we use of lot of lighter fabrics," said Palle at streetwear label RVLT. Aside from lightweight denim and breezy cotton blends, SS20 also brings an influx of sports-inspired materializations. "Materials are a lot of nylons and reflective performance fabrics. As far as textures go, a lot of creped fabric and moisture-repellent materials as well," said Andre at Primitive. Jesse at Reell is on the same page: "Functionality plays a more vital role than before, so 90 per cent of our jackets are water resistant and breathable." In a major upset, corduroy as a classic cold-weather fabric finds its way into summer collections, for instance Homeboy's classic baggy pants or military-inspired jackets by Piilgrim. "The way light hits heavy wale corduroy is a thing of beauty!" said Piilgrim owner Mark Kendrick.
Piilgrim also uses organic cotton in their 100 per cent vegan collections in line with SS20's sustainability focus. "We use recycled and re-salvaged fabrics that we work into items, notably the turn-ups of our Highway trousers. Everything we use is built to last. Trousers for life, not just for a season." Volcom has launched the New Future program to implement sustainable fabrics like recycled polyester and organic cotton while using sustainable washes to save water. On the manufacturing side, Mathieu at Volcom highlights, "removing de-sizing step, removing softener bath, combining de-size and enzyme wash, PP spray on raw garment and ozone replacing bleaching." Brixton works with REPREVE, a high-quality eco-friendly fibre made from recycled plastic bottles, as well as hemp. At 19.91 Denim, all "cotton is BCI-approved which isn't something we like to shout about as this should be the standard for every clothes manufacturer." As a cool innovation, Reell introduces an RFID-blocking back pocket in the Shield Pant.
COLOURS & PRINTS: SUBTLE & FUN
Asking around streetwear brands, the colour trend for 2020 is simple: pastels! Brands use pastels to create a subtle foundation, including lots of soft yellows, blues and reds, for adding some splashes with contrasting colour accents. For Palle at RVLT, the motto is: "Don't be basic, combine colours and patterns!" Piilgrim pairs monochromatic exteriors with heavily patterned linings. As the major pattern trend, horizontal stripes in all shapes and forms are on the horizon for SS20. Dan at Globe says, "Stripe tees are again an essential item this spring, in clean and uncomplicated designs that will be worn time and time again and perfect for layering under a check shirt and under a jacket. Ours feature clean stripes with minimal embroidered logos in our relaxed and classic fits." Brixton's key colours include "Jade," "Cypress," "River Blue," and "Sunset Yellow."
In terms of stylistics, Brixton's season theme is 'East Meets West', explained Brixton's Quentin Loritte Europe Marketing Specialist: "Eastern-inspired flowers, trees, and lettering are blended with classic Western motifs seen on wovens, tees, headwear, and trunks throughout the line."
Also get ready for large photo prints, tie-dye and dip-dye for that special hippie flavour and graphic design with Japanese inspirations. Mark at Piilgrim also identifies "more attention to detail being put into garments, small embroideries and features to make items special."
HIGHLIGHTS
■ Sustainability and transparency
■ Light denim and corduroy
■ Party shirts
■ Athletic wind gear
■ Recycled fabrics
■ Pastels and horizontal stripes