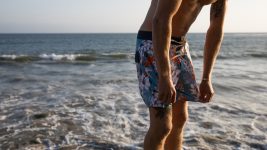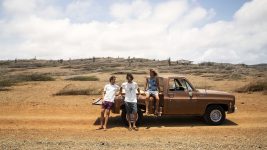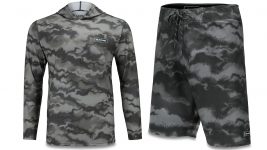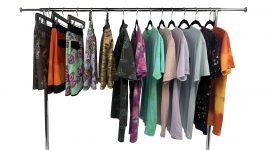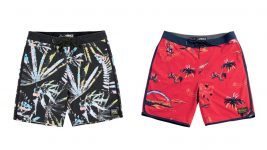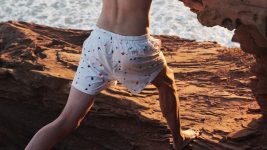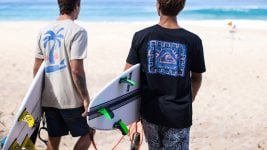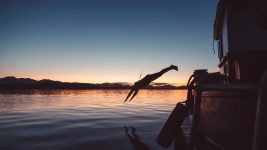 Firmly rooted in its values, surf apparel refuses to follow fast-fashion with its head down and is retaining only good ideas. The outcome is a solid range that tends towards neo-classics, i.e. a mix of 'heritage' styles using the best materials of today. By David Bianic.
On one side, surf apparel is marked by large-scale mergers with last year's convergence of Quiksilver and Billabong into the Boardriders camp. On the other, new labels that have emerged in the last five years are playing more that just an outside role. In the middle, retailers have some difficult choices to make in varying their ranges (or not) and in asserting their identity through their partners. Fortunately, the response from customers seems to be pretty good if we are to trust the murmurs from brands about the past year. For a heavyweight like Quiksilver, the results were positive, assures Emmanuel Petrini from Global Merchant Lifestyle and "Surf Apparel got some traction again", even though he does warn that the sector is "still on the edge, and weather plays such an important role in the sell through". From Rip Curl's perspective, the figure of +6% is put forward for retail as well as a "huge increase on e-comm", reveals Pierre-Alexandre "P-A-M" Merlet, Head of Menswear Product – a category that represents around one third of their turnover, he divulges. Also really optimistic is Valentine Grandamme, the Brand Specialist at Hurley calls 2019 a "big year" for surf apparel and anticipates double-figure growth for summer 2020. To benefit from this demand, it falls on brands to find the right positioning, given that "the boundaries of the surf area are becoming more and more blurred each season", remarks Rosemary Heath, Senior Performance Designer at O'Neill. For Rosemary, this development can be seen as a benefit, presenting significant new opportunities for growth in swimwear. Another undeniable output is 'clean' fabrics: a trend that is increasingly prevalent amongst 'indy' brands, as is the case for Passenger Clothing who are appreciating the demand for more ethical, sustainable alternatives: "I see 2020 as being an extension of this (…) with manufacturing transparency taking centre stage", suggests Marketing Manager, Samuel Westley.
CRISIS OF IDENTITY
As Rosemary Heath from O'Neill points out, surf clothing is not a style that's set in stone; it evolves, especially after contact with its rivals like fast-fashion, streetwear and outdoor clothing. At Quiksilver, Emmanuel Petrini does "try not to get caught up in the panic of fast fashion by staying focused on what we do best". But he also confirms that the brand is calling on its expertise and authenticity in surfing to "mix it with our inspiration from fashion and streetwear to create products that make sense for our consumer". The disruptive solution from RVCA is to be present on the surf apparel market "but we don't navigate only in Surf Apparel", explains Alexis Maillet from Marketing. Their pillars are more art and skate lifestyle and the brand leans mostly on the ANP, their Artist Network Program, continually developing their narrative. Samuel at Passenger Clothing equally admits to feeling the effects of mass appeal fast-fashion and the way in which it influences buying habits, i.e., faster and cheaper. For him, it's even more important to stay true to the unfaltering values of Surf Apparel, which are "adventure, travel and lifestyle that goes beyond the latest tech or trends." For Maria João Nogueira, Head of Communication at Lightning Bolt, the real fusion between surf-skate-street constitutes "a new fashion" and at the same time she is striving to reiterate the value of authentic labels like Lightning Bolt, born in 1971 in Hawaii. For her, the idea is to offer timeless signature models and update them with the latest standards of comfort and technical properties.
TRENDS SS20
With these wise words from Maria João, it's easy to guess what will drive inspiration of SS20 spring/summer collections: "Heritage" styles and tech materials that are light, stretchy and eco-friendly. Let's go!
The influence of the 90s has been clear for two or three years now and 2020 will be no exception at Quiksilver who combine the surf and skate culture of this period with "the early to mid 90s rave and music festival scene," for the debauchery of creativity and colours that characterised this decade. The result is a Rave Wave capsule collection that is "vibrant and nostalgic but that also feels contemporary with new fabrications and fits," explains Emmanuel Petrini. The 90s also represents the golden age of surf clothing and the Head of Design at Rusty, Ben Noble, has explored this source through hand drawn artworks since "Rusty has always been original and the idea of getting away from computer generated design was important."
This is translated by inks, paint sprays and intentional imperfections. For a more eye-catching style, we go back another decade at Body Glove with a collection that smacks of the 80s through "oversize graphics, all-over print patterns and block colour clashes" to give "a retro explosion straight from the Body Glove vaults," promises Andrew Maclean, Head of Apparel Design. At O'Neill, the eras are clashed together in spring-summer 2020 by employing a Modern Retro narrative that intertwines 70s nostalgia and Californian surf hipsters. It's the same mash up concept at Lightning Bolt who are taking up the challenge of combining Californian 'cool' with the insular ambiance of North Shore Hawaii. For sure, stripy graphics will co-exist alongside aloha prints in the collection; pieces that can be worn as a total look or separately, explains Maria João Nogueira.
For the younger brands, it's another point about heritage: collections are to be constructed around other values. A model example comes from Passenger Clothing who offer "a range for those who seek escapism, chasing the sun while leaving the smallest of footprints", explains Samuel Westley. Protest are also taking you on a trip, from African deserts to tropical Hawaiian islands with the Menswear Design Manager Ingrid Kalma claiming to "have been inspired by the diverse habitats of this earth and the people who live in them."
COLOURS-GRAPHICS-COLLABS PE20
So what do the various sources of inspiration mentioned above amount to? "Fresh and colourful" is a common theme, a strong trend that goes from very tangy for Body Glove ("dark pink, lemon yellow, Neptune blue and mint green") and Quiksilver (Wave Rave) to softer tones like mandarin (O'Neill), as well as out-dated blues at quite a few brands we asked. These softer colours are most of the time brought out by bright flashes like pink, the "colour of the season". Daring!
As for graphics and prints, don't expect the slightest surprise, designers are holding on tightly to classic tropical graphics, flowers and other Californian sunsets complemented by striped pieces. Thankfully the designers are able to reinvent them by adding landscapes (Quiksilver), leaves inspired by the equatorial forests of South America (Protest) or palm trees in abstract and modernist forms (Dakine).
Hurley set themselves apart through various Made in Hawaii collaborations with the painter Sig Zane, photographer Clark Little and Matsumoto Shave Ice, the famous North Shore ice merchant. "It's light, colourful and fun, just like shave ice should be," sums up Valentine Grandamme. The brand are also pursuing their collab with Pendleton whose profits go towards financing America's national parks. As mentioned above, RVCA are flourishing through collaborations from their Artist Network Program and for SS20 they are showcasing a duo from Tokyo called Hot Fudge (Kazuyoshi Koizumi and Yasuko Hashimoto) and their screen prints inspired by Californian surf/skate culture as well as the French tattoo artist Johanna Olk. Known for her melancholic female characters, she invites herself onto a collection featuring pastel pinks, black and white shades in addition to combinations of embroideries and prints.
FABRICS: TECHNO AND ECO
Proof that sustainable development is a real growth enhancer, many innovations have been made in the name of environmental conservation, bringing a really technical side to surf apparel collections. Recycled polyester is everywhere and every brand has it in their range. At Lightning Bolt, this comes from 'upcycled' marine plastics, just like for Patagonia and their Logowear range that employs NetPlus plastics (fishing nets taken out of circulation in Chile and Argentina), which "keeps almost 50 tons of harmful waste out of the ocean this year alone", underlines Louise Brierley-Ingham, PR Manager Europe, while offering an additional revenue for fishermen too. Win-win. At Quiksilver, bio fabrics and recycled polyester is starting to be used in their sportswear range while swimwear performance is already 100% produced from recycled plastic bottles. For Emmanuel Petrini, the real challenge remains in post-manufacturing treatments and the brand is putting a lot of effort into consuming less water, electricity and harmful chemical products. For Hurley, the exclusive technologies of the Nike mothership such as Dri-FIT and Therma-FIT are put to good use. And while the plastic is fantastic, natural fabrics such as bio cotton (Rip Curls, Brakeburn, Lightning Bolt, Passenger Clothing, RVCA) and hemp (Rip Curl) haven't given up the ghost and bring soul supplements like being soft to the touch.
So spring-summer 2020 is not shaping up to be a huge stylistic turning point, more like a logical progression of how to vehicle traditional values. Let's not change a recipe that is working on the whole. But until when?