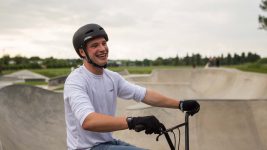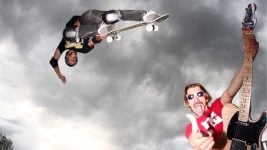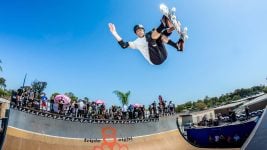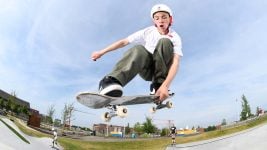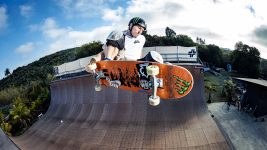 Skate Helmets and Protection 2022 Retail Buyer's Guide
With the ongoing rise of skateboard participation, protective gear and helmets continue their successes from last season. What's new for 2022 is summed up in our Retail Buyer's Guide by Anna Langer.
"Skate participation is still on the rise due in part to factors like the pandemic and the Olympics. Not only that, but more diverse groups of riders are getting involved from young kids to reinvigorated adults. Protective gear is important no matter where on the spectrum your riding level falls", Noah Todaro, Marketing Manager at Triple Eight & 187 Killer Pads sums it up. Andy King from REKD Protection adds: "We feel that the 'core' rider image is still one hard to get to wear a helmet in skateboarding, but new riders seem less worried about 'looking cool' as previous eras. This is a hopeful shift!" Pro-Tec also imagine that the rise in female skaters will help fuel the use of protection, "plus with the Olympics mandating helmets for skaters under 18 it helps to remove the stigma that protective gear isn't cool." says RP Bess, Brand Director.
The fact that more and more kids are starting the sports at an ever younger age is also a positive factor for protective gear, for various reasons. "If you look around the local skateparks, it has really become a family sport. You see mothers and fathers having fun together with their young kids. Protection (helmets and protectors) is extremely important here, both on the children's side (so that nothing happens) and on the parents' side (role model function and the old bones don't forgive falls like they used to)" explains Nadja Herger-Bondarenko, Marketing /Communication & co-owner of TSG. The Swiss-based brand also sees an increase in products for niche markets such as surf skate or downhill, for which they have specifically designed pads and helmets like the Pass Downhill Skateboard Helmet. 
Despite this positive vibe, the aftermath of the pandemic is of course impacting this industry sector as well. If not regarding sales then certainly when it comes to supply chains and shipping times, which are short from "disastrous". Brands with a large inventory stock are suffering less than those without but close monitoring is a necessity for everyone. Still, price points have stayed stable with helmets ranging between 45-60€ and pads from 30-60€.
SAFETY CERTIFICATIONS
Consumers are becoming more knowledgeable about Safety Certifications finds Triple Eight, who highlight the things they feel the customer needs the most. Vincent Isaac, owner of ALK13 agrees that "it's a must have, it's really important to have a certification on the goods. We have noticed in each product." TSG also have the chemical composition of their materials that are worn directly on the skin certified, next to the protective properties, which are communicated on the product itself, on the packaging and also on the website. REKD has only ever sold certified helmets and products says Andy: "We're a protection brand, it would be unsafe for us to sell uncertified products." Pro-Tec are launching their Hybrid Certified helmet in 2022: "It meshes our Classic skate helmet (available in the US) with our CE certified helmet. It gives you the comfort of our traditional Skate helmets (not available in the EU and UK) with the safety and protection of our certified," explains RP.
CROSS OVER PRODUCTS
TSG are in the process of developing a brand-new helmet for all terrains but for now design and test their products for a specific sport. Protec feature models for bike and skateboard, as well as some all-season snow helmets. Andy says: "REKD is designed to cater to every niche of extreme sports, from Street to Park, Mountain to City. We aim to expand into snow in the coming year and to have a full BMX protection package for 2023" and Triple Eight even supply helmets and pads to NASCAR pit crews.
DESIGN TRENDS
The half shell is still the most popular design except for e-skateboarders, who clearly prefer a full-face helmet because of the speed, says Nadja. She also finds that fit is more important than weight, while ALK13 see a very strong trend for light and comfortable protection. REKD also state their Ultralite and Elite helmets as strongest models, and Pro-Tec name their Classic half shell as most popular, adding that Full Cut is still very stylish. "We never stray too far from our classic half-shell design to join market trends… But we are always working on new technologies to improve the performance!" states Noah from Triple Eight. 
When it comes to colours, black is the undisputed best seller. "Followed by the other more inconspicuous colours such as grey and olive," says Nadja from TSG. Yet they also offer a wide range of colours for their Evolution and Meta models, which are very popular, ranging from dark cyan, oxblood red, coal grey, yellow ochre, olive, blue, cauma green, purple magic, gentle red, teal, acid yellow, eggplant, to light ocean. They also experiment with graphics and surface patterns, like a pintail stripe, Native American Art elements, or a logo all-over sticker bomb design. Pro-Tec introduces a new Christian Hosoi Signature helmet, with more to follow in 2023. ALK13 offer 4 new colours per model.
Pads, too, are becoming more colourful "Historically we've seen our most popular pads are all black – but with all the new participation, there has been an increased demand for bright, fun colourways. Both Triple Eight and 187 Killer Pads have plenty of options whether you want to keep it basic or stand out!" says Noah. They just launched a Steve Caballero Six Pack Pad Set with 187 Killer Pads with a hand-drawn dragon graphic, next to pro models by Lizzie Armanto and Tony Hawk. TSG offer the Force V and III in red and feature an old school colour design as well as a lollipop pattern on protection sets for kids. 
Pad styles depend mostly on their designated area of use, from thin, invisible ones that offer lots of flexibility and range of movement to really thick padded models for heavy impact joint protection.
TECH STORIES
TSG use ACF (Arti-Lage Foam) that is engineered to mimic the physical structure of human cartilage with molecular freeflow technology for their high-end vert skate kneepads: "Flexible and soft in the normal state but when met with impact the molecules in ACF form a hard, protective shell. The remaining impact energy is converted into barely noticeable heat before it can reach the body," explains Nadja. Pro-Tec use D3O foam in their Pro Line Knee pad for a super light feel natural: "We used D3O technical foam in it to reduce the overall thickness yet still give you the protection you need. This along with some unique other features allowed us to increase the flexibility of it, resulting in more mobility." They also updated their best-selling pads, the Street Knee pad, by opening up the back and adding neoprene butterfly panels. So you now longer have to remove your shoes and slide them over your feet, which comes especially handy with kids. REKD pads also aim for a super comfortable feeling when worn, through Non-Newtonian foam that hardens on impact: "Molecules that usually sit freely become aligned, thus reducing energy going through. This allows the pad to feel extremely comfortable, while still protecting when it's needed, adding an extra shell of protection." ALK13 pair Kevlar and neoprene for perfect freedom of movement. 
For their new Hybrid helmet, Pro-Tec use 2 stage foam and multiple 12-15mm dual density Dri-Tec wrapped foam liners for a more custom fit for the most comfortable and safest helmet they've made to date. Triple Eight highlight their Dual Certified Certified Sweatsaver model that also comes with MIPS, as does their urban-styled Gotham helmet. Besides the usual constructions like hard and In-Mold helmets, TSG offer the Kraken helmet that comes with FlexTech. "Our FlexTech Instant Fit adapts immediately to any head shape. FlexTech uses a series of connected interior EPS foam segments allowing the helmet to flex and conform to your head. It fits like a comfortable cap but still meets bike and skate helmet safety standards."
So, whatever your customers' terrain, skill level, style or focus of riding are, you will have plenty of options to offer them exactly what they're looking for! You might just need to help them see what that is.