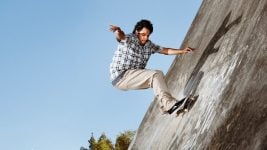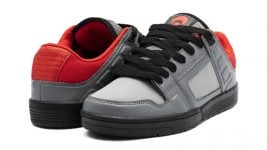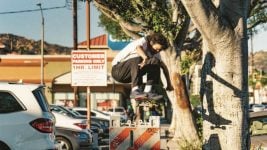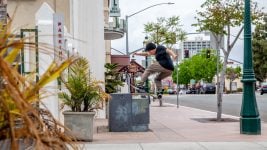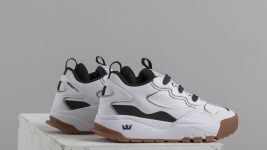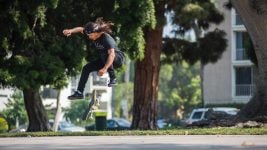 Ready to write those shoe orders for next season? Make sure to read our Skateboard Footwear Spring/Summer 2020 by SOURCE Skateboard Editor Dirk Vogel.
What core skate retailers need more than ever is that special something to stand out from mainstream offerings. "Skateboarding was born out of individuality and it has morphed into sameness. I strongly feel that once retailers start doing things differently, they will see the customers slowly return through their doors," said Scott Sentianin, International Sales at Lakai. At Supra Footwear, Brand Director Sascha Weil points out SS20 highlights include the new Tom Penny pro model, Grecco Loafer and Chad Muska-designed Muska2000: "It is these eye catchers that retailers need. There is a need for fresh, new exciting stuff, the consumer wants to be inspired by something they haven't seen in a while."
The price window for functional skate shoes has settled around €65 and the majority of performance-oriented models sell around €85. Higher end models like the Muska2000 retail for €200 and shoes with premium materializations also command three-digit price points. Vans sells pro shoes with newly upgraded footbeds and Duracap for around €70 but goes up to €115 for pinnacle tech. The new footwear brand Fourwin by long-time Osiris designer Brian Reid (currently looking for European distribution) is bucking the trend: "Our stylish shoes closely resemble models that are $150-250 in store or online but for $60. In addition, our shoes are strictly vegan."
Brands are worried about the escalating trade war between the U.S. and China (where most shoes are manufactured). In May 2019, leading U.S. footwear companies such as Nike, Reebok and also Supra Shoes signed a letter to President Donald Trump warning that, "the proposed additional tariff of 25 percent on footwear would be catastrophic." The tariffs would add an additional $7 billion in cost to consumers, and the statement warns that "some working American families could pay a nearly 100 percent duty on their shoes. This is unfathomable."
In positive news, the skate shoes market recently saw the return of beloved early 2000s brand Fallen Footwear. Airwalk is also making a comeback, while éS Footwear and DVS Footwear are celebrating their 25th anniversaries with special releases and activations. Skate participation is rising thanks to the 'Olympics effect' and exposure in high fashion. According to David Atkinson, EMEA Product Manager, Vans Pro Skate, the growth is slow but steady. "It's hard to know exactly who is buying the shoes – skaters or non-skaters, but if you're out there in parks and the streets it definitely feels like skating is on an upward curve, especially women's skateboarding."
Here are 3 Major Trends in Skateboard Footwear for SS20:
Technical Performance. In 2020 skateboarding will join the Olympics, which brings major mainstream exposure. This shifts the focus to performance-oriented footwear packed with technology, like the New Balance Numeric #913 by Brandon Westgate, marketed as "fearlessly technical". Vans equips shoes with Rapidweld stitchless uppers, Wafflecup soles and Ultracush HD sockliners. etnies packs in STI Evolution Foam midsoles and brand-new outsole tech called Fiber-Lite created by Michelin, while Emerica implements G6 Polyurethane foam insoles as well as a Hybrid Heel anchor system. Supra has completely reengineered midsoles with new Supra Cush technology and uses TUF upper materials. Lakai is focused on Para-Mount outsoles and Delux-Lite footbeds, Fallen inserts Impact insoles, Osiris implements DROP-IN insoles and CTRL Impact System, while State features Duraflick and HT drag. C1rca is proud of their exclusive FusionGrip outsole, and at DVS, Brand Manager Brent Phelps is stoked on Flex Feel technology and Max lace technology that makes laces last much longer.
Slip-Ons. The uncomplicated and stylish slip-on sneaker made a big splash in 1982 when teen comedy Fast Times at Ridgemont High created a frenzy around the Vans Style 98 slip-ons in a black-and-white checkerboard pattern. Now we're seeing a revival, kicked off by 2019's anniversary edition of the Nike SB Janoski in a slip-on style. State Footwear features the Keys slip-on for SS20, Emerica has the Wino G6 Slip On with crackled leather chips that reveal red underneath. Also trending right now are pro colourway slip-ons for female skaters: Lizzie Armanto endorses a colourway of the skate-ready Vans Slip-On Pro. All-round ripper Nora Vasconcellos put her artistic spin on the adidas Sabalo Slip On for next season. Globe has the The Dover, as a comfortable, easy to wear casual slip-on lifestyle shoe.
Comfort. Putting a finger on the final season trend, Scott at Lakai said: "We feel the next trend will include a comfort factor on top of a unique-looking product that is not super sporty." Vans has reinvigorated classic silhouettes with the new comfort technology ComfyCush, released in 2019 to an overwhelming response. The Fourwin Classico model strikes a balance between comfort and on-point stylistics, so does the Lakai Flaco II. Brian Barber, General Manager at Osiris also said: "The first trend is comfort, which we have added with our new CTRL Impact System as well as tech styling without being to over the top." At Globe, Senior Footwear Designer Morgan King sees the biggest trend in staying true to their brand DNA. "In our world it's chunky silhouettes that were born out of the 90s performance era, big, bold and jammed full of 90s tech."
SILHOUETTES: SLIM & TECHNICAL
The Vans Geoff Rowley Pro – a game changer upon its release in 1999 – created the blueprint for classic-looking shoes packing performance features into a streamlined silhouette. This direction is still the way forward. According to David Atkinson at Vans Pro Skate, it's all about, "a mix of classic styling and tech. Make sure to focus on true skate product not skate lifestyle product – a mis-educated skater buying skate lifestyle can be burnt and not come back." Vans is also making a push into mid-tops: "These are definitely working. The Sk8-Mid Pro is back, More Half Cabs and the new Rowan Pro." Today's main styles for core skateboarders feature slim cuts, padded collars, heel protection and impact-dampening midsoles. Watch out for SS20 highlights such as Joslin 2 (etnies), Spanky G6 and Dickson Pro (Emerica), Evant (éS Footwear), Bomber and Patriot (Fallen), Versa (Fourwin), Cambridge and Manchester XLK (Lakai), Tom Penny and Spencer Hamilton's Elevate (Supra), Enduro 125 and Devious (DVS), Stratus, Vice and Peril (Osiris), Elgin (State x ScumCo), AL 50 Pro, AL 50 SLIM and Elston (C1rca), CT-IV and Empire (Globe), and AVE Pro and Rowan Pro (Vans).
COLOURS & STYLING: LIGHTEN UP
Consumers will always want their black skate shoes but come on, it's summer season! Sascha at Supra said: "We use hedge – a beautiful poison green – and mint and gold, not only as pop-colours, but as solids as well. That makes for some very surprising and fresh colour combos." Next to classic checkerboards, fun floral and monogram prints are back in play. At Lakai, Director of Product Design Aaron Hoover said: "Different shades of blue, red, orange and yellow, colours that are slightly different and unique seem to catch the attention. Some pastels still work as well." According to Rick Marmolijo, Director of Footwear Merchandising at etnies, it's all about moderation: "Adding a slight colour pop with primary colours in red, royal and yellow." Vans is big on earth colours and checkerboards, Brian at Fourwin is all about pink and burnt rose. Kevin at State likes shades of brown and green. At DVS, "colour blocking in monochrome with pop hits in red, lime or turq are working." At Osiris, Brian Barber is seeing, "demand in some more of the pop colours such as lime, bright reds, and tonal greys mixed in."
MATERIALS: PERFORMANCE x VEGANISM
While suede and canvas continue to rule shoe walls, brands are tinkering with their material blends. At Emerica, Senior Footwear Designer Paul Kwon is stoked on dropping a new premium material in SS20: "Extra durable, specialized Pig Suede that is designed to last longer than your average cow suede." Meanwhile, we're seeing a continued push towards synthetic uppers, started by models like 2018's high-tech Nike SB Nyjah Free featuring variable thickness rubber skin that is sandblasted to resemble nubuck leather. Fallen Footwear is adding more vegan styles, Lakai uses water-based glues and recycled boxes while Fourwin is 100-percent vegan from day one. etnies is doubling down on sustainability with the etnies Essential Preserve, an almost all eco-friendly shoe that uses recycled textiles, rubber, laces, lining and canvas as part of the new elevated BASPAT program. Next season, etnies launches Bloom Foam as the world's first plant-based performance-driven foam formulated with algae biomass. Vans proudly works with the Better Cotton Initiative (BCI), founded "to reduce the environmental impact of cotton production." At C1rca, Simone Satragno Marketing Manager said: "Often we use synthetic nubuck and canvas." Globe works with the National Forest Foundation and uses water-based glues in styles like new Low Tide model.
TWO MORE THINGS
First, the on-going trend towards rendering classic skate models in ultra-luxe materializations at premium price points. This season, éS Footwear drops the éS Lux Pack for SS20 featuring the ACCEL Slim, SWIFT 1.5, and SQUARE Three models as ultra-fresh updates. The second major takeaway for the upcoming Olympic year is an expected surge in newbie skaters, so brands are revving up their kid sizes, like the etnies Kid's Locut CB "for that retro look" and Lakai's Proto (the Tony Hawk Pro Model) as the brand's first kid-sized cupsole in years. Instead of kid sizes, Vans now offers the entire "Pro Skate line down to a US3.5 with full Pro Skate specs" and "continue to work on women's specific projects every season (with Brighton Zeuner for SP20)." Morgan King at Globe also sees growth in "women's shoes for sure – but not necessarily for skateboarding but for fashion. Its fun and it makes sense so why not offer our chunky shoes in a non-binary light."
Highlights
■ Technical performance
■ Slip-ons trending
■ Slim silhouettes
■ All-over prints, bright colours
■ Synthetic & vegan materials
■ Variety in kids styles