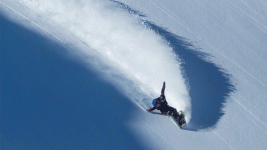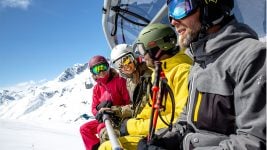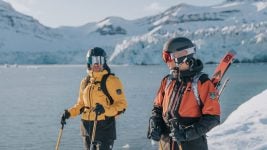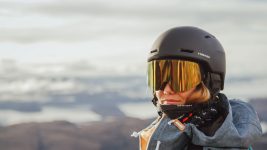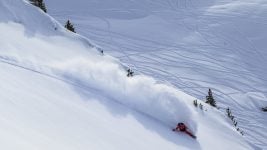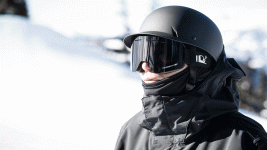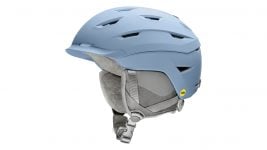 Without a doubt, mountain enthusiasts, regardless of level, are becoming more aware of the use of helmets both from a fashion perspective and for safety too (from the Ekeland study, we know that around 80% of people on the slopes are now wearing helmets). Riders are charging harder; parks and pipes are getting bigger and riding untracked snow in the backcountry is on the up. "Speed increase, more frequent accidents and an overall cultural evolution" are therefore the main reasons for this continual growth in the helmet market according to Picture's Co-Founder, Julien Durant. By Ruth Cutts.
With an estimated 5.3 million people living with traumatic brain injury-related disabilities (CDC) in the United States alone, the long-term impact of concussions is so much more evident to the snow community, (once you have had a concussion, you are 3-6 times more susceptible to suffer another) which in turn affects the market for protective headwear. "When it comes to wearing safety gear, the attitude has nowadays completely changed compared to the early 00s," says' to Dainese's Davide Burnoli.
Kevin Sandstone, Owner and Founder of Sandbox, explains this shift in attitude by using the pro hockey analogy; "back in the day the goalie didn't even wear a mask in hockey, now every player wouldn't even think of going on the ice without a helmet on and it's a strict rule of play. Action sports are continually progressing, and with them, so are riders' needs for safety, comfort and style." Wearing a helmet has become an essential part of any mountain dweller's equipment with ventilation, a lightweight construction and advancements in safety being at the forefront of most brands' technological developments.
DESIGN
Many helmet brands are investing their time into creating discipline-specific technologies to cater to particular sectors of the snow community. Damian Phillips, Head of PR and Communication at POC explains that the brand "has a very specific race community, freeride/all-mountain, park and pipe family," which all require high-end innovations. For Smith, they're incorporating their innovative Koroyd protection material strategically in different models to create different options for "your most progressive backcountry expert to the casual holiday enthusiast." Whilst Rossignol is making a tremendous analysis on the ground, in different countries, with skiers, athletes and retailers to understand how the key features need to improve in their new products "from the rental segment to juniors, beginner skiers to experts and top athletes".
The main trend in helmets is the research for the perfect combination of design and safety and this continual growth in the snow helmet market can certainly be looked at from a fashion perspective as well as from a safety one too, with many riders using style and community/crew affiliation as strong factors for wearing a helmet. Sinner's Product Designer, Sam van der Heijden thinks it's great to see that people are wearing a "helmet as a fashion item that adds something to [their] style instead of being hesitant to wear one".
It has become essential for snow helmets to provide a more streamlined, functional fit whilst keeping some personality in the aesthetics. "The colour thing we're seeing across the board and wanted to keep up. So, we added some pop colours and colour blocking to the line. We also see oversized logos coming back into play and did a Big Logo concept in two of our popular styles," says Pro-Tec's Global Brand Director, R.P. Bess. Whereas for K2, the 19/20 season is focused on "ventilation, lightweight product, rich neutral colours and timeless graphics," (Rebecca Larsen, Product Line Manager).
TECHNOLOGY/MATERIALS 
Undeniably, the use of MIPS (Multi-Directional Impact Protection) continues to take centre stage for many helmet brands in 19/20 with Bern, Smith, Giro, Head and Pro-Tec all including this technology in their offering. Developed by neurosurgeons and scientists, the MIPS technology, which was created to reduce rotational forces on the brain caused by angled impacts to the head (in which cases it's more likely the brain will be damaged by moving around in the skull). When a helmet with MIPS technology is subjected to an angled impact, the low friction layer allows the helmet to absorb and redirect damaging rotational forces before they reach the brain.
A major trend seen from consumers and retailers is the demand for MIPS-only product. As rotational impact protection becomes a standard across all helmet categories, Smith designs its helmets around the MIPS fit system to fully integrate the technology to provide the best fit and function for their helmets. "Combining rotational impact technology, with our industry leading protection material Koroyd, we feel that we've created our own category of protection," says Smith's Marketing Manager (Snow), Cale Meyer.
All of Giro's in-line models now feature this technology with the brand using their R&D resources to develop the technology even further. By partnering with MIPS, Giro was able to develop the MIPS Spherical technology, which is integrated between the layers of EPS foam – instead of against the rider's head – giving riders the benefits of MIPS without obstruction to comfort or cooling power.
Bern has added two new products with MIPS to their FW19/20 range; the Heist Brim and non-brim versions as well as the Weston Peak, which will now be offered with a MIPS E2 solution.
For Rossignol, their key innovation for FW19/20 is their use of IMPACTS technology. After taking into account the actual day-to-day usage of a ski helmet including storage, transport, and usage, Rossignol has developed a new technology that provides long-term protection. Rossignol has worked with ARPRO to develop a safe and sustainable solution for ski helmets through IMPACTS technology. "Even low-intensity shocks that leave no visible trace can alter the protection helmets provide and negatively affect resistance to future impacts," explains Business Unit Manager (Technical Equipment), Aurélie Zucco, hence the brand's inclusion of IMPACTS technology to make their helmets resistant to multiple impacts. The helmet does not deform permanently after impact but returns to its original shape with no loss of performance.
Picture continue to keep the focus on creating eco-designed products to help reduce any adverse environmental impact without compromising on technicality. As Julien Durant explains, "wearing a Picture helmet is much more than wearing a simple piece of protection. It means being part of a community and making an environmental statement." Their Omega, Unity HIFI and Tempo models all feature recycled EPS (expandable polystyrene) collected from Japanese automobile manufacturing industry leaders and the lining and ear pads are made from recycled PET bottles.
MARKET GROWTH
The snow market has seen rapid growth in the Asia Pacific region over the last few years with China being the largest growing market (especially with the imminent 2022 Winter Olympics in Beijing and the boon of the recent 2018 PyeongChang games) followed by India and Japan. Picture, Sinner, Rossignol and Dainese all identified Asia as their expanding market for the 2019/20 season. "The core markets in Europe, US and Canada are mature in helmet and protection equipment, but some new markets are expanding, especially in Asia where a huge educational support needs to be prepared to help them find the right product to protect them properly," says Rossingol's Aurélie Zucco.
Riccardo Ramacciotti, Managing Director of Mivida identified Eastern Europe as the region of biggest growth for the brand whereas Bern, Smith and Rossignol all highlighted that youth helmets are seeing big growth in the helmet market. As Bern's Global Marketing Manager, Tim de Redon explains, "if we can get head protection on outdoor enthusiasts at a young age, they will be able to continue doing the active things they love for longer!" In their 19/20 offering, Smith are excited to launch their new Prospect Jr; a helmet that takes all the bells and whistles from their high-end products but is designed to fit as a child grows throughout the years as a grom. "The active ventilation, MIPS technology and Koroyd provide the protection story for your child as they grow from pizzas to French fries" explains Smith's Cale Meyer. For Rossignol, their Whoopee model is their latest junior helmet with an improved fit and the inclusion of IMPACTS Technology.
POINT OF SALE
Simply having the right products in a store is not enough for retailers to really push helmet sales and most need additional support from brands to highlight new innovations and explain product features. This is often achieved effectively through innovative 'point of sale' material. Sandbox offer key retailers a custom Sandbox wall built out with their helmet racks and custom-made imagery to fit with each store's aesthetics, whilst POC takes a similar approach offering helmet stands with a variety of copy options to support retailers. They also provide a host of imagery that is tailored to each particular helmet.
Rossignol continues to develop different tools to support their retailers from specific displays to leaflets, videos, training, goodies and contests to give them the best support possible. Dainese's POS materials are created to explain all the technologies that come with their products using window stickers, cardboard panels with touchable and interactive spreads and clinic videos for each of their product lines.
Head Snowboards are offering their retailers LCD screens which show two different short videos in a loop – lifestyle cuts as well as a technology explaining parts – to entertain and educate the customer in the shop. They also provide what they've called a 'Cleanie-Beanie' counter display in their rental market which includes hygienic beanies in two different sizes for customers to wear under their rental helmets.