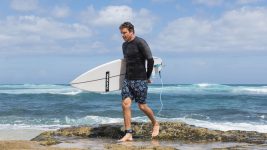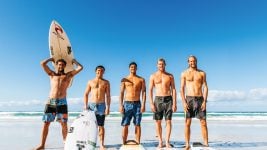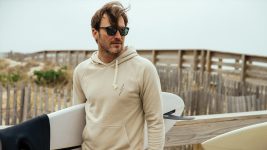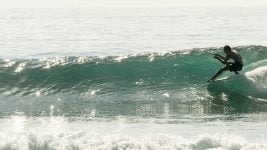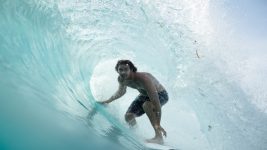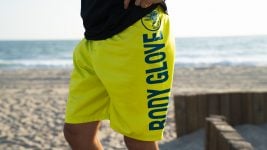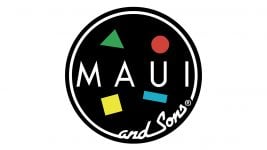 More than just a seasonal piece, the boardshort is well and truly and essential attribute to the identity of our business. This article of clothing remains the original artefact of boardsports and by extension, the entire industry that has been built around it. The challenge today is figuring out how to mix this heritage with modern trends. This is a overview of the trends for 2019 by David Bianic.
The boardshort is a difficult stylistic exercise for brands: a fashion piece that must remain first and foremost an item of technical wear, designed for aquatic sports, be it surfing, SUPing, wakeboarding, etc. "One of our constant key focuses is that nothing should stand between you and the action, and certainly not your clothes," says Katrina Stronkhorst from Protest. For a historic brand like Rip Curl, the stakes are high concerning boardshorts: "It's in our genes to exceed our offer in terms of technicality and quality each season, to produce the ultimate." So, it's not surprising to find that their Mirage model is experiencing one of the highest growth rates within this product category. It's even less surprising to find brands from the hardgoods and accessory markets entering into the segment, like Dakine: "Our consumers live in their boardshorts in and out of the water," Product Line Manager Karrie Blittersdorf reminds us. As such, the brand is offering a line for summer 2019 made entirely of multi-directional stretch material, and higher prices to go along with it. Billabong also go all-in on stretch, as the brand is expanding the use of the fabric into their line, emphasizing on the Airlite model, "with a body mapped and multi-tier stretch fabric."

In the same spirit, wetsuit brand Body Glove will be entering the European market for the first time with a summer 2019 collection and will remain loyal to its technical reputation by focusing on "performance fabrics and finishes," Emily Abbott from the Shiner distribution company in the United Kingdom informs us.
STYLES FOR 2019
70s retro, 80s neon, 90s rock, Y2K street or 60s style scalloped mini-shorts… Which decade has caught designers' attention this time around? The pleasant surprise we've noticed is that the brands are no longer acting like a herd of sheep: instead of all choosing to go in the same direction, specific identities are being claimed and put on display: "There are so many different trends and vertical brands that you need to build something that is honest to your brands values but is still able to shift with certain colour and prints trends," say the people at Rhythm. This is also the case at Volcom, which has always done its own thing in terms of artistic direction, as Senior Global Boardshort Designer Joe Frizelle reminds us: "Volcom boardshorts stick to our roots by using our creative license to project our own design direction and aesthetic." Liberty is the watchword, but of course, more than a few brands have still decided to play the vintage card, starting with Body Glove, whose Spring/Summer 2019 collection will take a look back at the brand's 65-year long history in aquatic sports. Lightning Bolt play on the "Hawaiian golden days, through SoCal endless laid-back appeal to urban NYC surf lifestyle." Dakine also feels that the retro side of things still has its place and that, "you will find this through many of our colours and prints," remarks Karrie Blittersdorf.

However, make sure you are clear on the decade you're making reference to when applying the term "retro", which now covers a broad range of time periods as illustrated by different trends within the Rip Curl line: "California 50s resort spirit, Venice 90s sport, retro 90s surf with our historical logo." Since, there's nothing better for a brand than its own rich history, Quiksilver is promising flashbacks to their emblematic Warpaint and Echo Beach collections, but using "high performance materials melted with vintage inspired styles." Last but not least, is it the same thing for boardshort lengths on the inner thigh, or the infamous perfect inseam that brands were searching for like the Holy Grail? The answer is often found by offering two or three different lengths, from 18 to 21 inches with a renewed trend towards longer inseams say a majority of respondents. 
COLOURWAYS AND PRINTS
It's not surprising that these very pronounced aesthetic differences translate into such a wide variety of colours and patterns of prints, often at the heart of the same collection. Which explains why Body Glove will offer "a colour palette with hits of neon pink, lime and bright royal (that) gives a distinctly 80s' throwback vibe," but also "a subtler palette of washed olive, pastel lemon and rose for a more laid back look." It's much the same idea at Protest, where the colours are split into two families: "The first is a sporty group with blue, red and green mixed up with black and white. The second palette has more earthy tones with army green and Bordeaux red paired with neons," details Katrina Stronkhorst from the marketing department. The thematic is purposely very conceptual at Mystic, while the collection "radiates with the forces of nature and the surfer's desire to control and ride them," the Head of Textile, Femke Lingen tells us. It's a desire translated into images by "fresh" colourways and "pop panels" that contrast with "the darker and nature inspired prints." You don't change a winning team is the maxim at Volcom, Joe Frizzlle reminds us, which is why the brand is remaining faithful to its fetish colours, black and white, "with pops of yellows, oranges, blues and purples for 2019, while the flagship motif seems to be that of the Ozzie Wright collection, "a custom tie-dye that is featured throughout the line." It's only a short step from tie-dye to washes and Rip Curl sees the "washed" effect being one of next season's big hits, along with bright retro colours. As far as prints are concerned, Rip Curl is betting on "figurative prints and placement stripes."
As a general rule, we'll be seeing a lot more of the following once again in 2019: colour blocking (Billabong, Dakine), pattern mixing (Dakine, Protest), vintage prints (Dakine, Protest), flower/palmtree prints (Quiksilver, Rusty, Maui and Sons) and pastels from almost every brand (especially on boardshorts).
MATERIALS & INNOVATIONS
Don't expect any revolutions in the boardshort category in 2019 after such a large number of technological advances over the last few years: stretch, absence of rashes, closure and locking systems at the waist, pockets and quick-drying fabrics… That's a long list of challenges that the brands have already overcome.
So, any new advancement will be rather subtle, along the lines of Dakine's introduction of their recycled fabric Repreve (made from plastic bottles) or a recycled polyester, multi-directional stretch fabric from Mystic. Once again, Rip Curl is coming on strong with its Mirage 3/2/One model, which uses three different materials in a single boardshort: "Cordura at the waistband and back panel for complete durability, Elasto-stretch front panel and E5 neoprene performance side panel for increased mobility." We must also point out their Surf Grip technology, which is a 360° strip at the waist that keeps the boardshort from moving in the heat of the action. More work on the waist at Rusty that is offering extra laces to allow clients to change colours and personalize their boardshort. Slightly lower down, but still in the same zone the No Tie Fly zipper from O'Neill promises to revolutionize the traditional closure system: "Drawcords are a thing of the past!" category manager Jan Lindeboom assures us.
As we mentioned above, more and more, innovation is equalling environmentally friendly (see recycled polyester) and along those lines Rip Curl would like to remind everyone of the existence of their Surf Craft collection since 2016, an eco-friendly range that accounts for 12% of their product offering and is made from organic cotton and recycled fibres in the case of their boardshorts. Billabong proudly announces that "now, 100% of our boardshorts are made of recycled polyester fabric".
For Mathieu Desaphie from Sen No Sen, choosing a local supply chain for production makes perfect sense, since their Econyl fabric (recycled nylon) is made using plastic bottles recovered in the ocean and is produced in Italy. In addition to recycled polyester, Volcom is also highlighting their use of hemp and communicating the fact that their efforts to protect the environment have become a critical issue in the brand's product development. In order to make their efforts more visible, Protest has created the GeoGreen label, which is meant to highlight products made from recycled and/or sustainable materials, like "the Seton boardshorts, (which) for example, are made from renewable bamboo," points out Katrina Stronkhorst.
So, it's well and truly a challenge for the designers, whose boardshorts must remain true to the codes of an entire culture in a few square centimetres of fabric while still keeping up with the high-speed train that is the world of fashion. Who could have imagined that boardshorts would have such a story to tell one day?
HOT TREND: BEACHSHORTS
Although it is the technical and cultural flag bearer, boardshort sales pale in comparison to those of traditional swim trunks as O'Neill reminds us: "The majority of volume is done in swimshorts." These trunks that were once snubbed by core surfers are now an integral part of their quiver of summer surfwear, as confirmed by the team at Rhythm, and at Rusty: "We've seen a lot of growth in elastic waist boardshorts." Less "sport" oriented and more "casual", these trunks often benefit from more artistic freedom, confesses O'Neill: "Pastel (is) not ideal for performance boardies, but pretty cool for swimshorts." Boardies can also go with pastels, but mixed with black for a more rock 'n' roll result, promises Nick Crook: "The results should be electric." Lightning Bolt opt for a "hybrid between a swim trunk and a traditional short. A style using fabrics appropriate for the water but features design cues lifted from traditional shorts like fly-front zippers, button or snap closures and side pockets." Maui and Sons came up with an interesting hybrid suggestion, as their Party Rocker Volley shorts is "a line of surf shorts smaller than the traditional boardshorts and are not stretch. Unlike the pool shorts that have elastic waists, these have a fixed waist." To sum things up, let's no longer leave this category to ready-to-wear stores only, since surfers love them too!