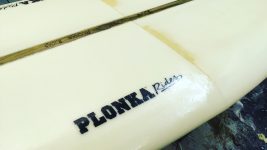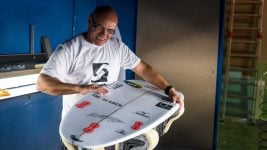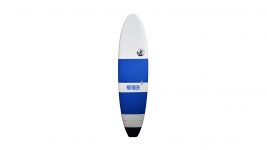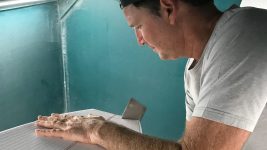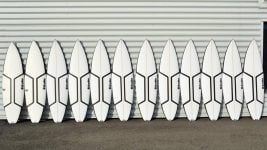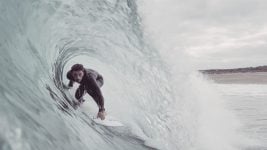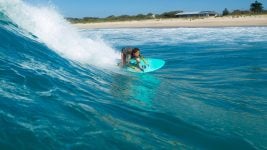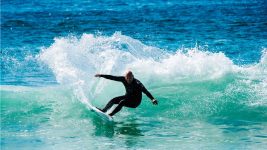 TechNavio have published Global Surfboard Market 2018-2022, an in-depth analysis of the surfboard sector, which promises a growth rate of more than 12% per year. In order to take advantage of this prosperous market, here are a few tips picked up from a selection of manufacturers to help you understand the seasonal subtleties. By David Bianic.
The good health of the surfboard market in particular and the technical sector in general can't hide the indescribable complexity of this product category for shop owners: "The client wants you to take back his old board in exchange for a discount on his new one, wants a gift – grip, accessories – and wants you to play banker by offering him a payment plan." These words are those of Xabi Anton from our Retailer Profile, owner of the Waimea Surf Shop in France. Yes, there are more and more surfers. Yes, more and more boards are being sold in Europe and around the world. No, selling boards is in absolutely no way just a formality.
Firstly, identifying "the" surfer as a unique entity has even less meaning today that it did in the past, due to the extent to which surfing has filled out the pyramid in terms of ages and sex. "Our target market/demographic is predominantly 20-45 years, but we have a loyal and strong customer base that covers groms to senior surfers, male and female", relates Alan Emery of Emery Surfboard all the way from the Portuguese factory Glassing Monkey (LSD, Aloha, Rip Curl Surfboards, Soul, Vampirate). So, shop owners find themselves faced with a dilemma: stocking a very wide selection in terms of surface is a financial investment, or a very focused selection of a specific type of board. You'll find most (if not all) of the answers to your questions as we take a look at five very important trends in this Surfboard Buyers Guide 2018.
1.Complete hybridisation
There was a time when the term "hybrid" was simply a synonym for "bastardisation", but in 2018, the surfboard market swears by it, to the same extent as in the automobile sector. The polyvalence and all-terrain potential makes it as much a choice of reason as it does one of passion: "The performance hybrid shortboard is by far our best selling style of board at the moment," affirms without hesitation Adam "Sparrow" Fletcher, manager of the shaping collective behind Superbrand. Their Magic Mix model follows the recipe and is a raging success, with a few subtle adjustments in volume placement for 2018 and renewed artist collaborations, which are one of the foundations of the brand. Even very high-performance oriented boards like Chilli "are getting wider with more volume under the chest", points out Olivier "Buffalo" Cuissot who imports the Australian boards in Europe via Santocha Distribution and adds that "50% of the Chilli range is for the everyday surfer." The models destined for that market segment are the Rarebird, Churro and Miami Spice.
In order to refresh the performance hybrid shortboard offering, which has already been a best seller for more than five years, the innovation comes in the area of surfboard bottom designs with "complex bottom contours continuing to expand", points out Mark Price the boss of Firewire and Slater Designs. This added value "under the hood" translates most notably into "wings and channels" specifies Clésio Correia from Chemistry Surfboards in Portugal. It's also being seen in a resurgence of swallow tails at Superbrand, and on the leading model at Venon, "the new EDV2 model by Édouard Delpero, a fun and well-performing modern shortboard with a swallow tail that is effective and polyvalent all at the same time," assures Marketing Manager Benoît Brecq. The proliferation of this kind of board from all the brands still makes it difficult to choose for shop owners, and even complicates things for the manufacturers: "Making sure that our best sellers are always in stock with a diversity of fin systems," specifies Darren Broadbridge the man in charge of the Euroglass factory (Bradley, Grace, Phipps, Anderson, Mark Richards, Quiksilver & Roxy). At Glassing Monkey, they have the same problem keeping supply up with short term demand, with Brand Manager Nuno guaranteeing 3-week delivery Europe-wide for custom orders.
2. Retro performance
While the swell picked up last year, the strong twin fin revival that is still present must not be mistaken for the wave of neo-retro boards, as Mark Price from Firewire explains: "unlike the truly retro movement of years past, it's more performance-based and factors like modern rockers and lighter weights that are important." Want proof? Check out the Go Fish designed by Rob Machado, one of their top three best sellers. The Frenchmen at UWL make room for guest shapers in their workshop, better known as "retros", with the clarification from Co-Director Thomas Cardinal who reminds us, "retro doesn't mean a vulgar boat board…" For Thomas, it is "on the contrary, very complicated to make boards with lots of volume, that are easy to surf according to the criteria of 2018."
Straight out of Byron Bay, "the home of the retro board", Emery Surfboards is well and truly positioned on the market segment with the introduction of a Retro Collection: "We have a board in our range that is a high performance version of a twin fin, this is the Wedge Tail." Luke Short from LSD says, "I think most surfers will own a retro/hybrid board in the quiver but not for every day." As for Kevin Olsen from Plonka Surfboards in Les Landes, France, it's not a stretch to say that his new Mr Ripper model introduced only a year ago and already representing 15% of sales has been a surprising instant hit: "It's a swallow tail and twin fin setup identical to the Mark Richards twin fin, but with the original Plonka framework." Another reference to a surfing legend at Matta through a partnership signed with Martin Potter that has come to life via The Saint, a model inspired by the original twin fins ridden by Pottz, and the T20, another twin model helping to celebrate the 20-year shaping anniversary of Nuno Matta.
After a devastating fire in 2017, Olatu (Channel Islands, Lost, Pukas) is rising from the ashes and has taken note of the strong resurgence of "alternative shapes," confides Marketing Manager Jamie Azpiroz, while shapers already considered "retro" like Chris Christenson and Bob McTavish are also rising in notoriety within the company. Superbrand's Siamese Twin model, with its superb channels has helped the brand make up lost ground in the segment, as Adam Fletcher admits without hesitation that they "might have missed the boat with the trend".
3. The traditional bread and butter
If the major promotional efforts undertaken by the large surfboard labels are to be believed, the use of EPS blanks and epoxy resin combined with innovation construction techniques (Helium/Firewire, FlexBar/Channel Islands, Carbon Wrap/Lost) seems to have become the rule to the detriment of the traditional combination of PU blanks and polyester resin. True? "I don't believe in the imminent death of the PU surfboard, because there are major mechanical differences between EPS and PU. EPS floats better, but feels stiffer, which can be a problem in waves over 6 feet, while PU has more drive, absorbs vibrations better and offers a smoother, more progressive ride," explains Buffalo from Chilli. According to Nuno Matta it's not a coincidence that the world's best surfers on the WCT continue to trust polyurethane: "No technology can beat the flex of a PU/polyester board." Johnny Cabianca who shapes out of the Basque Country Surf Company factory that he shares with Mikel Agote in Zarautz comes to the same conclusion: "The pros are still using the cheaper PU/polyester boards, so from that perspective boards made with more modern/expensive/complex construction are not premium". Nonetheless, the shaping duo that has just launched its own blank company, still believes strongly in the potential that EPS presents.
Unsurprisingly, convinced that clients are ahead of the curve on the subject compared to many pro surfers, tech-lovers like Mark Price from Firewire have the following to say about traditional PU/polyester construction: "It's on life support". As a matter of fact, many of his team riders use boards from the Helium (Gamma and SKX models) construction series "proving the merits of that technology" the boss of Firewire affirms. The same opinion holds true at Surftech, a brand that "essentially created the whole technology revolution", says Richard Priestley who distributes the brand via Surf Commission.
4. Seniors
The strong participation of "older" surfers (35-55-year olds), be they beginners or experienced practitioners thanks to their superior purchasing power, means they are bread and butter customers for shops. Longboards and "funboards" (a horrible name!) are no longer the only options. Retro boards are now the go-to transition models for the "older surfer that wants a bigger board that still rides close to a shortboard," Adam from Superbrand tells us. Kevin from Plonka confirms that a certain age of longboarder is still coming back or to shortboards in large numbers or trying them for the first time. As proof, he cites his Big Boy model, boards between 6'2 and 6'8, for which the key to success is how volume is spread out over the surface of the board. "With the big hybrid shortboard trend, the longboard got pushed aside a bit," confirms Norden's Andy Wirtz". Therefore, it's not a surprise that in amongst the top three best sellers at Euroglass, widely recognized as a "high-performance" manufacturer, we find the Demibu by Phil Grace "the best entry level mini-mal available in the world," and the One Bad Egg by Mark Phipps. The beginner board is no longer hidden at the back of the racks in 2018; moreover, it benefits from "the shorter and stubbier outlines (that come from hybrid shortboards)" points out Craig Butcher from South African brand Hurricane Surf, which is widely available in France and Portugal. The aforementioned arguments are confirmed by Benoît from Venon whose top three best-sellers (6'4 Evo, 7'0 Gopher, 7'6 Egg) are designed for more mature surfers, for whom comfort and ease of paddling are essential. Last but not least, the "giant" in the beginner/intermediate categories NSP has profoundly revisited its offer in terms of aesthetics and shapes the current trends (hybrid, retro, sobriety) because "there is no reason these features can't be offered in great value boards", affirms Richard Priestley.
5. A choice for the planet
It's up to you too, dear shop owners, to become more invested in the use of more environmentally friendly surfboards, for the health of the planet, as well as the health of the people who shape and glass. Among the brands to emulate, Firewire is as much a precursor as a leader: "We are headed to zero landfill by 2020 or sooner and we have recently reduced our waste per board from 4.4 cubic meters to 0.02 – a 95% reduction", assures Mark Price. Already certified ISO 9000, the company is sure it will obtain the Fair Trade label within a year, "probably one of the few, if not the only surfboard factory in the world to achieve that standard."
At Matta Surfboards, emissions of greenhouse gases have been reduced by 50% by abandoning conventional resins and privileging the use of resins made from renewable resources. Independent shapers are also taking part in the movement like Kevin Olsen from Plonka who is using a new system to extract dust particles from the air, and the single usage of organically sourced Entropy resin, that is "so damn expensive, so we try to use every drop where it counts." Other commendable initiatives of note come from brands like Venon that is a partner of the Resurf project intended to recycle surfboards and polystyrene bodyboards via a "collection point within the company", says Benoît Brecq. Darren from Euroglass justifies these investments (30,000€ for a new ventilation system) as more than just a marketing initiative, but a sanitary measure: "We don't have the money available but our reputation and commitment to our employees leaves us no choice." Even a brand like NSP that has always been known for its attractive price points is making efforts in the area: "90% of our boards feature Sustainable Surf's Ecoboard logo" assures Richard Priestly. It's also a promise made by One-Kin, the company behind the SUP brand Lokahi that is inaugurating a surfboard production facility in France, which is open to future partnerships: "At the One-Kin factory we can trace the origin of each component… and we trust that low labour costs can be outperformed by effective, well-controlled industrialized processes", affirms Marketing Manager Sylvain Aurenche.
A few quick conclusions from this overview of the surfboard market in 2018: while premium stringerless EPS constructions are creating a buzz, the reality in the marketplace is that the classic PU surfboard still has a solid future in front of it, even if it must still deal with environmental issues related to the production process. From a design standpoint, the success of the functional hybrid shortboard has influenced the entire market segment, with shorter, rounder boards be they functional fish models for experienced surfers or 3.0 funboards for first-time surfers. The good news is that the majority of people looking for a surfboard prefer to open the door of an actual surf shop rather than opening a browser window on their computer to buy the board of their dreams.
FOAMY FROTH
The soft top movement isn't slowing down, as proved by the arrival of a host of new brands looking to ride the original wave created by Catch Surf and Softech. Hannah Craig from Surf Hardware International (FCS, Gorilla, Softech) confirms that, "the soft top market reaches far into the realms of fun boards for experienced surfers looking for something with a performance edge", notably thanks to FCS II fin plugs that accommodate the use of regular functional fins. The trend for 2018 is without a doubt to be found in those models that mix the best characteristics of micro soft tops with those of traditional glass shortboards. The 54 Special from Catch Surf and the Flash from Softech provide the perfect answer to the demand, and all the talk about "fun fun fun" is finally backed up by solid technical arguments. "The 54 Special is the love child of the Beater® Original 54 and the Odysea® Stump", sums up the brand's European distributor Andreas "Maui" Maurmeir. Outline, rocker, bottom contour and rails are now all designed for linking real manoeuvres rather than just pulling into suicidal shorebreak closeouts.
HIGHLIGHTS
– Swallowtails & twin fins
– Classic PU construction
– High-performance soft tops
– Environmental efforts
– Easy-to-surf shortboards for adults