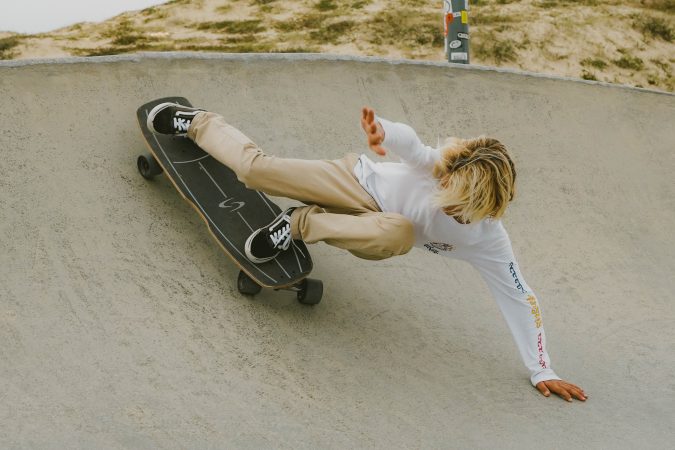 Curfboard 2023 Surfskate Brand Preview
Retail Buyers Guide: Surfskate 2023 Retail Buyer's Guide
Brand: Curfboard
Interviewee: Stefan Habermann, Managing Partner
How is the European surfskate market currently?
From what we see in our sales figures, surfskating is on a continuous rise in Europe. While the ups and downs around the pandemic have created huge demand swings, the market is now getting back to its normal growth trajectory.
The sport offers such a diverse range of experiences, appealing to individuals of all ages, genders, and skill levels. Consequently, we firmly believe that numerous untapped opportunities await us and that we are still at an early stage of the market development.
How are you navigating the overstocking issues currently affecting the hardgoods sector?
As an up-and-coming brand, we have not encountered any issues with overstocking thus far. On the contrary, we have steadily grown and were hardly able to keep up with demand. While we know that many retail stores are struggling with overstocking of certain products, we are still seeing twice the demand from end users during the first months of this season. This trend likely arises from individuals seeking a broader range of surfskate system options.
What are the main products in demand in the segment right now (completes etc)?
While there are a few riders who are building their own setups based on various components from different sources, the vast majority (95%) of the customers are going for completes as they offer the easiest entry into the sport. At the same time, we also see a growing number of people buying our truck sets to upgrade their existing completes with a new riding sensation.
What are your main price points for next season?
As a result of higher material costs we had to increase our prices from last year to this year. For next season we expect prices to remain stable between 299€ and 349€ for our completes.
What are the "stars" right now. Products you couldn't live without?
Our Fish and Wave, the performance surfskate models, have been the stars so far this season. At the same time, the Classic, which is more a cruiser board, has been a continuous top seller also this year.
What are the main features on your surf skate completes?
All our boards are based on our unique surfskate truck system, which features a unique, no-springs, no-bushings system. The shapes of our completes were carefully designed to cover all surfskate riding styles, from cruising to high performance surf training. And we made sure to have high quality in every detail, from the strong grip on the deck to the bearings and the wheels we use. And, because of the low weight of our front truck all our boards are generally light and very well balanced between nose and tail.
What kinds of trucks and wheels do you offer for this segment?
We offer the Curfboard Truck SE, a further development of our original surfskate truck. It doesn't need any adjustments to the rider's weight and avoids speed wobbles when going fast, while at the same time being super loose when riding slow. Just like a surfboard or snowboard would behave when riding faster or slower. It is also very low in design which enables you to have a board that is low to the ground and provides great traction in extreme maneuvers.
Our Curfboard Wheels provide a great grip and at the same time allow for very controlled sliding of the back if one wishes to do that.
Which technical features are you the proudest of?
We are proud to have created a product that replicates the surf and snowboard feeling in a very natural way just by using gravity. As a result, riders immediately get the optimal performance without the need to adjust the trucks. And, by avoiding any high-maintenance parts like springs or bushings we have also developed a product that is hassle-free. Not even greasing is necessary for years to have fun.
What are you doing with materials and tech next season?
Although we almost hear zero issues reported from our customers, we are always working on some fine-tuning of materials. So, while our tech stays almost the same, we will launch several new shapes/designs to provide a wider choice and an upgraded setup based on our proven surfskate mechanism.
Any collaborations to look forward to?
After only concentrating on the B2C area during our first years and building up a large customer base there, we started cooperating with Quarter Distribution from Berlin this season to expand our sales into the retail channel in Europe. In the past, many customers have already often asked to be able to purchase our boards from their trusted shop. So now that our boards will also become available in shops everywhere, our market presence and growth will certainly further increase.
In addition, Quarter will also be active for us in the production of our boards, so that in addition to designed in Germany, our boards will also be made in Germany in the future. With Quarter, we have found a partner who is on the same level with us in terms of values and meets our high quality standards and with whom we will also be able to offer an expanded portfolio of shapes and designs for next season.
BEST SELLERS