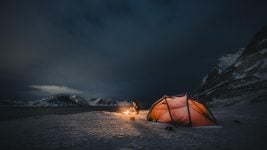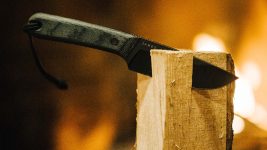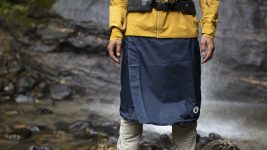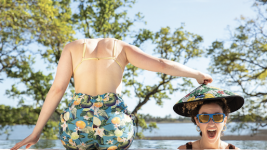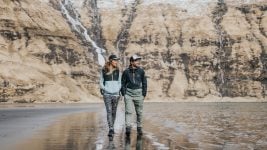 The outdoor market is constantly finding ways to grow. Current buzzwords include urban outdoor, innovation, quality and sustainability in this dynamic market segment. Get the details in our Spring/Summer 2020 Retail Buyers Guide by Natalia Maruniak.
In an era when the average person's life is dictated by stress, the outdoor segment presents an alternative way of life to our efficiency-driven everyday reality. To no surprise, the movement is picking up converts by the minute in an upward trajectory also supported by the latest statistics. Projections for 2020 are positive: Statista estimated the worth of the outdoor market in Germany at €1.9 billion in 2018 and expects the category to reach €1.98 billion by 2020. Looking ahead into 2025, Statista expects the outdoor industry to generated more than €2.5 billion per year in Germany.
URBAN OUTDOOR
A major growth driver for this upcoming segment is the growing wish among consumers to practice outdoor sports within urban environments. This has an impact on a product level: "The lines between everyday wear and outdoor clothing are blurring more than ever," said Julia Reis, Product Marketing Manager Outdoor at Arc'teryx. Wearing a Gore-Tex jacket over a business suit has become an everyday phenomenon, summed up under the category header 'urban outdoor'. "People nowadays are looking for crossover products with an urban look and the technical features needed for outdoor activities. Versatility is key!" said Julien Durant, Co-Founder of Picture Organic Clothing.
The outdoor trend has now reached all layers of society, and the women's segment in particular has seen tremendous growth. This has also led to a strong influx of specialized product designed for women. Arc'teryx counts among the brands serving this specific demand: "We have placed strong emphasis on improving our comfort and fit, especially for female customers." What's more, a particular age demographic has caught the outdoor bug. "Outdoor activities are becoming increasingly interesting to the younger generations," said Hanna-Marie Mayer, PR Manager at Burton Europe.
HIGH PERFORMANCE & VERSATILITY
Lighter, more robust and sustainable at an increased performance: That's the design blueprint most manufacturers are trying to achieve in their Spring/Summer 2020 collections. Hanna-Marie Mayer at Burton also sees a superseding trend: "Customers expect versatility from their outdoor clothing, in order to be able to use it for a broad range of activities. This means technical features, fabrics and functional styling." Arc'teryx achieves these overarching goals in next season's gorgeous Venda Anorak from the Everyday Collection, featuring new GORE-TEX C-KNIT Backer technology. "This supple and lightweight fabric gives durability and excellent next-to-skin comfort with city-inspired features… It's the ultimate in versatility for everyday activities, wherever they happen to occur." At Maloja, the focus over the last few years has been with the lightness achieved by technical materials, leveraged into incredible range of motion. "With this trend, seamless technologies are increasingly becoming the focus for functional apparel," said Klaus Haas. Maloja is now implementing this technology in high-end bike jerseys.
Patagonia follows the strategy to build products that "never get old", says Louise Brierley-Ingham. Therefore the brand rebuilds its iconic classic rainshell The Torrentshell to be more comfortable und durable, "now built with a 3-layer construction with a recycled face fabric (Fair Trade Certified)."
Picture Organic Clothing is pointing out another SS20 trend: a new minimalist lifestyle, including living in small apartments: "That's why we design each product to be as packable as possible." This direction includes Picture's lightweight Abstral jacket that offers broad outdoor functionality and stows into a small belt stash pocket.
SILHOUETTES & STYLES
Looking at the silhouettes and styles in SS20 outdoor apparel collections, don't expect major surprises. Brands are mostly staying true to their classic and established styles, while some add extra flair by ways of strong colours and prints. While Burton continues to bank on traditional and functional silhouettes in the AK Collection, customers looking for more bold designs will find what they need in the Burton Collections range with striking colours and bold colour blocking. Picture heads into the season with a range of staples including classic windbreakers and technical pants, while staying true to the brand DNA of original prints and strong colours: The Abstral print for fashionable men is rendered in khaki, black and blue while the women's Terrazzo print revolves around pastels. Kavu likes it especially colourful this season: "We love colours. Just look at our crazy prints!" said Jeremy Goodman, International Sales Director, pointing out the Zany Kavu Party Looks.
Japanese outdoor brand Snow Peak charges into SS20 on the strength of large, over-sized silhouettes with gigantic pockets that are functional, fashionable and comfortable, executed in muted colours and variations of stripes. Earth colours play a lead role for Jeckybeng as well as Unitedbyblue. The latter equip men with mustard and olive tones for SS20 as well as light shades of turq and blue-green, seen in button-up shirts with fun prints and colourful checkers.
Maloja has some eccentric styles up its sleeve for next season, with a far-out product leading the charge, the water-proof skirt Molinas U: "It keeps your hiking pants dry when it starts to rain, you can use it as a waterproof cover when sitting on damp ground and it easily packs into a small pouch when not in use."
SUSTAINABILITY
"Sustainability remains a focus for brands as well as consumers," said Hanna-Marie Mayer at Burton. Brands are going to great length in their efforts towards more sustainable manufacturing in the outdoor segment. In order to meet increasing demand in this segment, Burton is offering the Solution Dyed Collection. It features solution-dyed fabrics that are particularly environment-friendly, since their production requires 80% less water and emits 63% less CO2 than conventional dying techniques. Maloja is inspired by the small nation of Bhutan in the Himalayas, which is the world's only country with a negative CO2 balance. The secret behind this feat is the consistent use of recycled materials and natural fabrics, including hemp, together with environment-safe production methods. "Thanks to new technologies, new combinations of materials become possible that make hemp more functional and comfortable than before." Unitedbyblue shares this approach and implements "hemp as an alternative to synthetic performance materials," said Brendan Rauth, Men's Apparel Designer. On top of that, the brand includes organic cotton, recycled nylon as well as a recycled polyester and hemp blend for the ultimate in comfort and performance.
Picture Organic Clothing has been a pioneer in terms of sustainability since day one: "Enjoying the great outdoors also means protecting some of our favourite places to play." For this reason, the French brand builds "every product at least from 50% recycled polyester (Green Plus certified) and uses a water-repellent treatment: Teflon EcoElite PFC Free." Jeckybeng has joined forces with Taiwanese fabrics experts Hermin to create the Natural Laboratory Project while shifting the focus towards renewable materials such as cotton, wool, linen, cellulose and palm fibres as "a natural alternative to modern synthetic fabrics, manufactured in harmony with nature," explained Moritz Lorenz at Jeckybeng.
OUTDOOR EQUIPMENT
The market for camping equipment is subject to the same growth as outdoor apparel. "Camping and outdoor are regarded as cool and embraced by more and more consumers," said Stefan Clauss, Co-Founder and CEO of Heimplanet, adding: "Camping is becoming a lifestyle activity and products serve more than mere functional requirements. They have become objects of joy with decorative characteristics." Brands in this segment are in a fortunate position, as consumers prefer high-quality products and equipment. "Customers are ready to pay the price for good and valuable products," said the team at The James Brand. Snow Peak confirmed this trend and said: "Customers are ready to pay for great quality and long-lasting products instead of blowing money on cheap gear that's lacking quality."
TRENDS
The outdoor segment provides consumers with all necessary equipment for breaking away from everyday life. Heimplanet addresses this underlying urge with storytelling geared around breakouts. "We are trying to outline ways in which people can escape their routine. Whether it's every day, on weekends or on the trip of a lifetime." For Petromax, the trend is headed towards, "deceleration and enjoying time with friends and family. Getting together in front of a campfire and rediscovering fundamentals: preparing delicious food, spending time with your loved ones and winding down."
Camp fires ("Takibi" in Japanese) are also the focus for Snow Peak because they are, "always the best part about camping." For SS20, the brand introduces a range of products geared towards camp fires, including a fireplace, fire-proof clothing (e.g. the Takibi Vest) and the Takibi Tarp Octa (TP430): "A two-layered tarp with an inner layer crafted from fire-proof material, so that people can enjoy the fire during rainfalls covered by the tarp."
Additional dominant buzzwords across SS20 collections are innovation, enjoyment of nature and comfort. "We have seen the market seek after innovative products that allow for experiencing the reality and "rusticness" of the outdoors, without compromising on comfort and modern necessities," explained Dawie Cronje, owner of Anevay Stoves.
OUTDOOR ESSENTIALS
Every perfect outdoor adventure needs a nice meal. Anevay Stoves supports this need with a whole range of products, its highlights including the Horizon, "the perfect companion for a quick trip to the beach or into the forest." Thanks to gas-burning technology, this oven presents a lightweight alternative to grills and can cook up an outdoor meal for large groups in a matter of minutes. Petromax equips consumers with a broad selection of gear around grilling and cooking in the great outdoors. A must-have for all burger fans: The burger iron, which grills juicy burgers directly over the open campfire. And for all charcoal grill enthusiasts and connoisseurs of charcoal flavour, the Traeger Grills brand is a perfect match: "In line with the camping goods market we have created a collection of small, portable grills that empower users to do some precise cooking in open nature," said Lisa Janssen, International Marketing Manager. Last but not least, never head into the outdoors without a functional knife. The James Brand has you covered with the Hell Gap, "our first knife with a solid blade," as well as the Ellis model as the perfect combi tool for your pants pocket. "That's the kind of knife real backpackers and campers carry in their pocket."