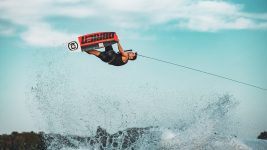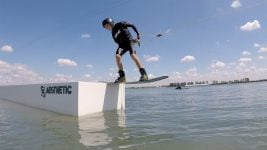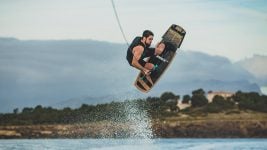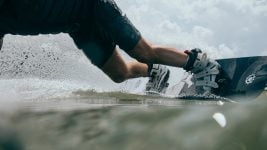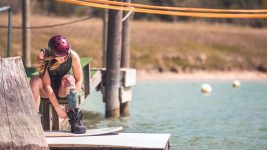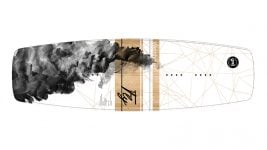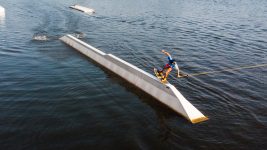 Wakeboard Hard Goods SS20
For many brands, the biggest growth in the 2020 wakeboard hardware market continues to be in the cable wake sector thanks to the consistent influx of new cable parks being built across Europe inevitably resulting in higher numbers participating in this side of the sport. The features are also getting bigger and more advanced as the sport grows, and therefore board constructions need to be more stable, whilst also maintaining an affordable mid-range price point for those newly entering the sport. By Ruth Cutts
Other sectors that have been the subject of increased focus include womens and kids specific boards as the sport expands its reach. The wake surf market also continues to grow thanks to the more forgiving nature of the sport.
Design
With wakeboarding technology advancing so quickly in recent years many brands have introduced innovative marketing campaigns and re-designed aesthetics to push their most popular products. For 2020, O'Brien are going to release limited edition versions of the Valhalla for two of their pro athletes. One version will have the same construction as the original but with a signature graphic for David O'Caoimh. The other version is a higher performance version of the Valhalla that incorporates vector net carbon technology for greater strength and responsiveness.
In their 2020 range, several of Hyperlite's team riders will make the move from having limited graphic designs on the boards they ride into full signature wakeboards designed from the ground up as entirely new shapes. Team rider Alex Aulbach has moved from a limited graphic on the Union model to his very own board known as the Pleasure, featuring one of the softest flex patterns in their range with a unique graphic designed by Aulbach himself.
Goodboards are offering a pro model for female team rider Vanessa Weinhauser called the 'Fly' which will be available in sizes ranging from 134 up to 149.
Pro-Tec are dropping a pro helmet with team rider Wesley Mark Jacobsen in SS20. The signature helmet will be one of Pro-Tec's iconic Full Cut models featuring Jacobsen's own artwork. Bern are looking to the past for their inspiration and have created a "retro" offering within their range that uses a gradient pattern and colour to create a unique capsule in their line. They are also seeing a big focus on regionally specific graphic and colour collaborations.
Boards
Customers want longer boards, more flex, a robust construction and a skinnier stance option in 2020, claims Goodboards Founder Josef Holub whose Onefiftyone model at length 151cm is one of their top sellers featuring a soft flex and narrow outline – ideal jibber/cruiser board.
Hyerlite have focused a lot of R&D on their 2020 range and are offering cable board that is available well over the 150cm mark and has more stance options than ever before. Despite the bigger size options, they have managed to keep the weight down to prevent an increased swing weight by thinning out the tip and tail of their boards – this has resulted in increased flex and reduced overall weight.
"We expect mid-range boards and packages to continue to grow. We are also anticipating continued growth with the larger sized park boards since everyone seems to be following the mantra 'Bigger is Better'", explains O'Brien's Director of Marketing Sean O'Brien, and the brand have developed new shapes in 2020 to match customer demand.
Nobile Wakeboards have introduced an innovative pre-stress technology (APS) to their range which allows for the precise design of the board's flex, increases its reactivity and durability while also reducing its weight. They have designed boards so that they are less heavy on the knees during impact and more resistant to damage to ensure the safe and smooth landing of riders (whilst also being reactive enough to achieve the coveted 'pop').
For Jobe, the boating side of the industry is where they've experienced the most growth. This has been their focus for a number of years and will continue to be their focus going forward as they are expecting even more interest in this sector.
Helmets
The focus for Bern has been on weight reduction and improved fit. 2020 will be a new break out year for the brand in which they launch a completely reinvented Macon model. The Macon 2.0 is a fully updated reintroduction to their 'Classic' model. By adding new adjustable lay flat strap dividers, removing all metal hardware and adding their EZ-Fit system for a secure and comfortable fit, they were able to reduce the weight, improve impact management and add more ventilation to an already popular model.
Sandbox are focused on the cable parks with the Legend model continuing to be their most prominent product in the range thanks to the low profile design and comfortable interchangeable fit pads, although the technology remains the same, they've shifted their focus to the design to drive the product forward. For 2020, they've introduced an iridescent paint to their designs which reflects in the light for a unique aesthetic. They've also included some updated design processes such as the splatter and acid wash prints in the Classic helmets, while carrying over some of the successful winter prints for summer.
Moving forward, Triple 8 are expecting to see a lot of the current trends being maintained within their collection with the inclusion of pop colours and fun graphics from hardware to accessories adding a point of difference for the brand. Continuing into 2020, they will be bringing their Sweatsaver model with Halo Liner. The liner is plush and comfortable, while also offering top class protection. The model is based off previous models, but with an improved liner and a few new colourways.
TSG offer innovative Wakeboard Earpads that can be fixed to their existing hardshell helmet models proving convenient for riders that already own a TSG helmet for other sports such as biking or skateboarding. The Evolution Wake Ear Pads can easily turn a TSG helmet into a wakeboard helmet by protecting your ears against water flush. Pro-Tec have also highlighted that crossover helmets are proving popular in the wake parks with Global Brand Director R.P. Bess highlighting that although the "Ace and Full Cut helmets seem to be the winners in Wake…We're seeing more Classic Skate helmets being worn out [in the water]". As the sport continues to grow, it is inevitable that those coming from other action sports will seek versatile products that would be as useful in the cable park as the skate park.
Boots & Bindings
"Wakeboarding is a sport which requires some cash (whether it's gas for the boat or a season ticket at the cable), people tend to save money on their gear" highlights Jobe's B2B Marketer William Doornekamp. New for 2020, Jobe are introducing their Charge binding; a high-end binding with a unique denim design available at a retail price of €299.99. Featuring an innovative 3D-moulded tongue, which provides a more secure fit and easy entry in the binding, the inclusion of the Charge binding in their range will lead to a price drop of their Nitro model, without affecting the margin for their dealers. "This is all in line with our philosophy of making wakeboarding accessible" explains B2B Marketer William Doornekamp.
For 2020, O'Brien are adding a new binding to their range called the Border (a step up from the existing Access binding). It features a similar construction but utilises their high-end binding chassis without being too costly. "This is designed to hit that mid-range buyer who is currently buying our boards" explains Director of Marketing, Sean O'Brien. Nitro are also seeking that mid-range binding that performs well without breaking the bank. Their closed toe Nitro binding continues to be a big win for them coming in at price point of €289.99.
Summer 2019 has been a big summer for the Hyperlite Defacto boots which have been outselling nearly every other boot in their range. The Defacto boots are comfortable, traditional looking boots which feature handy removable walk liners for those days at your local cable as well as always keeping your feet warm throughout the winter. Improvements for the 2020 model have brought about a complete re-enforcement throughout the entire boot to make them super durable. They have been slightly softened off to allow a greater flex and range of movement directly out of the box along with stylish, subtle graphics for the upcoming season.
Overview
Wakeboarding's growing appeal to the masses is merely a reflection of the growth of action sports in general. Although unsuccessful, there was a lot of talk and campaigning for wakeboarding to join its boardsports brethren; surfing and skateboarding, on the official roster of Tokyo 2020 sports symbolising how far the sport has come from its previous position as a niche sport for those that had accessibility to a boat or a local cable park. Wakeboarding brands are consequently meeting this need for innovative equipment, as the number of beginners transitioning to seasoned recreational watersports enthusiasts is rising, through extensive R&D and the inclusion of key team riders during the design process.