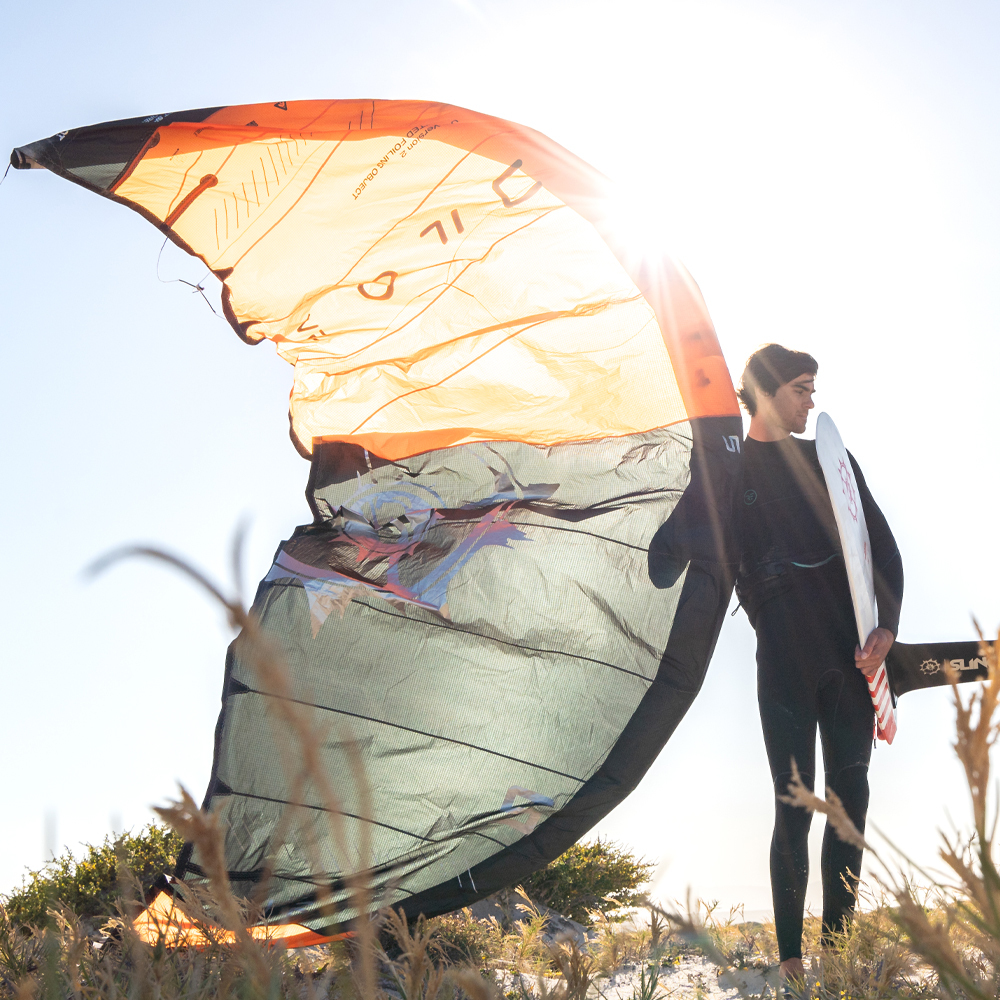 Slingshot 2022 Kiteboarding Preview
Retail Buyers Guide: Kiteboarding S/S 22 Retail Buyer's Guide
Brand: Slingshot
Interviewee: Elliott Tauscher, Kite Brand Manager
Trends
What discipline (big air, wave, foil…) have sold well in the last 6 months and why?
Big air and Foil have both been hot sellers for us lately.
What do you believe will be the main trends for 2022 in kiteboarding, in terms of riding disciplines?
I think that we will continue with the trend of Big Air and also kite foiling for 2022.
In what discipline do you expect the biggest growth in 2022 and why?
I think we will see the largest growth with our UFO V2 for kite foiling and Machine V2 for Big Air.
Kites
Which of your Kites have sold well in the last 6 months and why?
Our Foil kite UFO V1.1 has been sold out since the launch last year, every order that comes in goes out just as fast. We have also seen a huge growth with your big air kite Machine.
What innovations in kite construction, materials and design are most popular?
More light weight construction and kites that are more versatile.
Are there any trends in terms of kite design, construction and materials that the entire industry seems to be progressing towards?
Boards
Which of your boards have sold well in the last 6 months and why?
Our kite foil boards have been flying off the shelf along with our Misfit Twin Tip and Formua V1 for high performance
Are there any trends in terms of board design and construction that the entire industry seems to be progressing towards?
Smaller, stiffer boards seem to be the trend for the big air guys in terms of Twin Tips.
Aesthetics
Have you introduces any new graphics, artwork collaborations or pro models during the season?
We have some very exciting things coming. Cannot share yet but it will be HUGE!
Sustainability
Have you implemented any new sustainable practices in your production and shipping processes?
Absolutely, here at slingshot we are all about making our line more sustainable. We have elimitated almost ALL plastic that new products get shipped in from the factory. We have also implanted a new Sustainability Team at HQ that meets every other week.
Retailer Help
How are you helping retailers sell your product and which method of help seems to be the most effective?
We work very closely with all our retailers and tailer our methods to help their invidivual needs.
Have you suffered any stock or delivery issues due to supply chain bottlenecks? If so, what solutions have you implemented?
Of course, we are just like everyone else but have found processes to help. Top Secret!!
Best Sellers
We built the Machine V1 to enable riders of all skill levels to achieve their record heights. The Machine V1 flies upwind, has quick turning capabilities, effortless relaunch and the big-air ability to give any rider a rush.
Building on the foundation of its predecessor, the UFO V2 expands on the lightweight strutless design by implementing space-age materials that make the kite lighter and even higher performance. The new extended size range allows riders to build a full UFO quiver and utilize the ideal size based on their weight and wind conditions. Foil in even less wind.