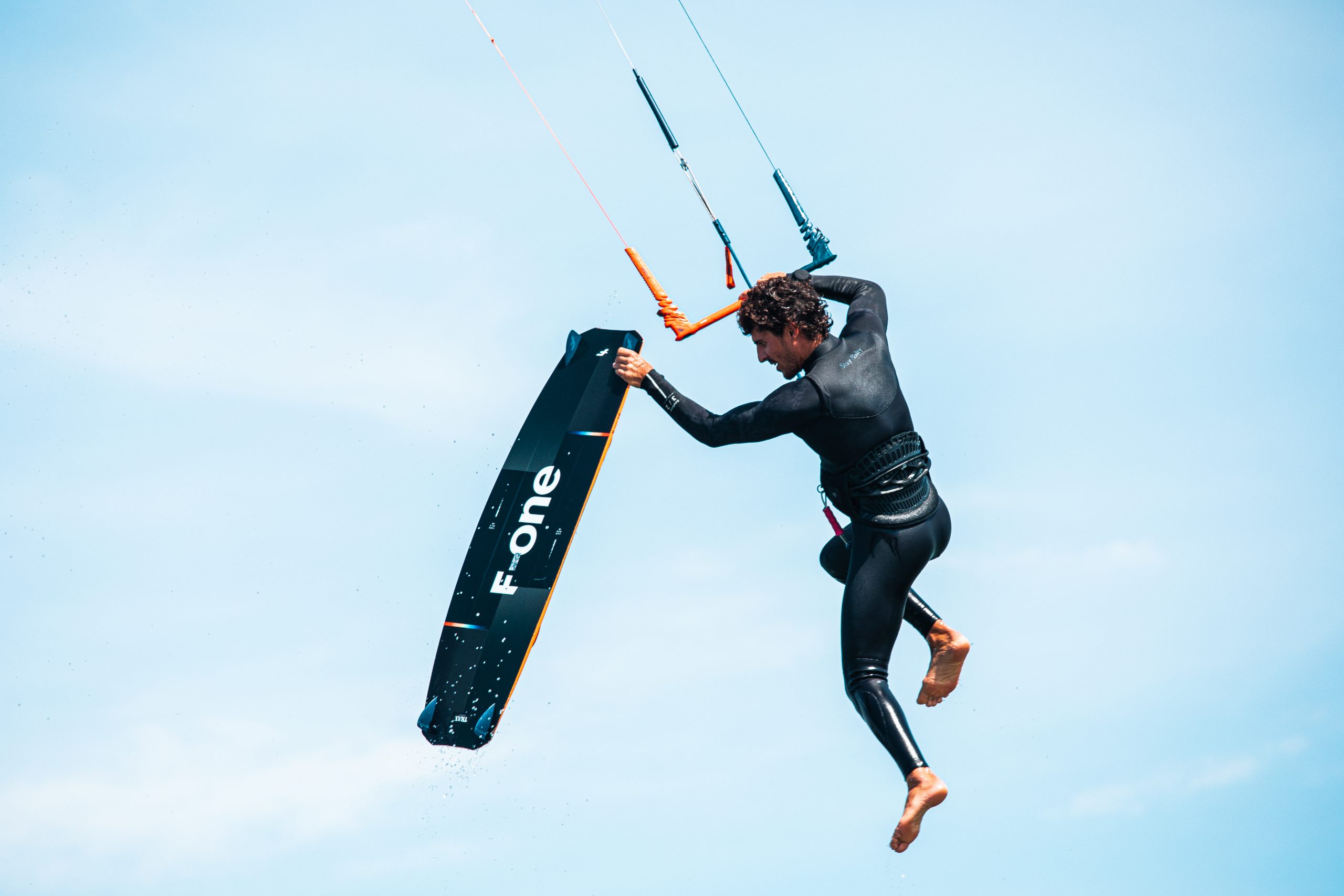 F-One Kiteboards 2022 Kiteboarding Preview
Retail Buyers Guide: Kiteboarding S/S 22 Retail Buyer's Guide
Brand: F - ONE
Interviewee: Maëlle Riccoboni, Communication Officer
Trends
What discipline (big air, wave, foil…) have sold well in the last 6 months and why?
Most of the kiteboarders stick to a rather freeride approach of Kitesurfing, thus this is where we sell the most. However, there is a general trend towards big air and foiling. Everyone is trying to take advantage of the slightest conditions, whether strong or light. This is the advantage of all-round kites like the Bandit XV, it is an incredibly stable Kite that offers absolute control in all wind ranges, basically, one kite that allows you to have fun in all conditions.
What do you believe will be the main trends for 2022 in kiteboarding, in terms of riding disciplines?
This year the big competitions like the Cold Hawai or the Kota have again highlighted the Big Air practice and generated a great enthusiasm around it. The radical aspect – and this is increasingly true as we saw with the double loops buzz recently – inexorably attracts. Everyone in their own way is trying to be radical, the pros as well as the amateurs.Now it is our job to make the right gear according to their needs.
In what discipline do you expect the biggest growth in 2022 and why?
Definitely Big air, and F-ONE is coming up with new kites for that growing demand. You better stay tunned !
Kites
Which of your Kites have sold well in the last 6 months and why?
Without supense, it's the Bandit XV. We can't say it enough, but the Bandit is a versatile weapon. As we were celebrating the fifteen years of the Bandit, the R&D team has outdone herself by delivering the best possible version of the Bandit. The Bandit XV can be a beast for megaloop and freestyle as well as the most user friendly companion for freeriding. Its impressive reactivity allows an ultra precise piloting, hence it is adored by athletes, amateurs and kite schools who use it to teach great piloting skills.
What innovations in kite construction, materials and design are most popular?
Without radical changes of material, the Bandit 2022 and Bandit S3 have exceptionally seduced by their improvements, in particular the work that has been done on redesigning the trailing edge. The new trailing edge mixes two different materials : Dacron and double Spi resulting in perfect bar feeling, transforming gust into forward pull, then we added double vertical panels on trailing edge's side to reduce cloth deformation resulting in shape control at all time and the most stable flight.
Are there any trends in terms of kite design, construction and materials that the entire industry seems to be progressing towards?
There is definitely a trend towards lighter kites. There are new materials that are appearing in this regard but the result is not always convincing. It's sometimes more productive to tweak what's there, and to twist it to perfection.
Boards
Which of your boards have sold well in the last 6 months and why ?
With the growing interest in big air, customers are looking for a board with a light weight and powerful pop and that's what we offer with the Trax Carbon. It's one of the lightest boards in its class and the rail is designed for a good pop. It is also very popular because of its sober, uncluttered but innovative aesthetic style.
What innovations in board design, materials and construction are most popular?
Our slimtech technology is particularly well received by customers. It allows us to create boards that are very thin and light, but above all very resistant.This technology offers amazing board control. We currently offer two boards in this technology, the Magnet Carbon which is our best selling surfboard and the Pocket carbon (kitefoil board).
Are there any trends in terms of board design and construction that the entire industry seems to be progressing towards?
I think that globally every brand is on the same quest to build light but strong and comfortable boards. Most people only buy one board and it has to be versatile, comfortable in all conditions.
Aesthetics
Have you introduces any new graphics, artwork collaborations or pro models during the season?
Although we don't have any new pro model this season, riders are at the heart of R&D at F-ONE. We are constantly taking their feedback into account. We also make them test the products as much as possible before they are introduced to the market. However new artwork is coming with our 2022 Foil collection, we will be introducing new designs and new constructions for our kitefoil boards.
Sustainability
Have you implemented any new sustainable practices in your production and shipping processes?
Sustainaility is more than ever a concern. Our production lines have been based in Asia since the birth of the kite industry, that's where the know-how is. Of course we could brag about the small but significant changes we make in our production, packaging and shipping processes but we don't see it as a marketing strategy.
Retailer Help
How are you helping retailers sell your product and which method of help seems to be the most effective?
As an essential part of our business model, retailers, distributors and ambassadors are very important to us. In fact we do not sell online for the simple reason that we strongly believe that purchasing kite gear should be done through real passionate people and offer the true experience with the right advice customers deserve. They are the face of our brand to our customer, they are the one relaying the ride spirit that we all cherish. That is why we strive to provide them with the tools they need to properly function. Business is all about trust, communication and information sharing. In addition to all the commercial support we provide them, we organize meetings, test days, and in stores clinic.
Have you suffered any stock or delivery issues due to supply chain bottlenecks? If so, what solutions have you implemented?
Of course, like everyone. We had to learn patience sometimes and so did our customers. In these times, customer services has become even more more important. We strive to keep an open and honest communication with our dealers and customers and furthermore to satisfy everyone's need despite the challenges.
Best Sellers
15 years after the birth of the first BANDIT, the F-ONE design team has once again put an astounding amount of work to create the best kiting experience for all riders. Jump higher, perform your favorite tricks at ease, improve your ride. The connection between the rider and the kite has never felt so natural.
The MITU BAMBOO offer the fantastic MITU shape in a simple package using the excellent properties of natural bamboo for a light, responsive and durable board. Its distinct swallow tail makes it very easy to initiate turns and carve with.The shape has been improved this year for more directional stability.
The TRAX HRD Carbon offers an instant feeling of speed and performance, the HRD rail eliminates spray and feels very comfortable regardless of the water conditions. The board's flex has been tuned with the properties of carbon fibre to provide the best pop off the water; the tips are exceedingly responsive and help you when you load up the edge for take-off.