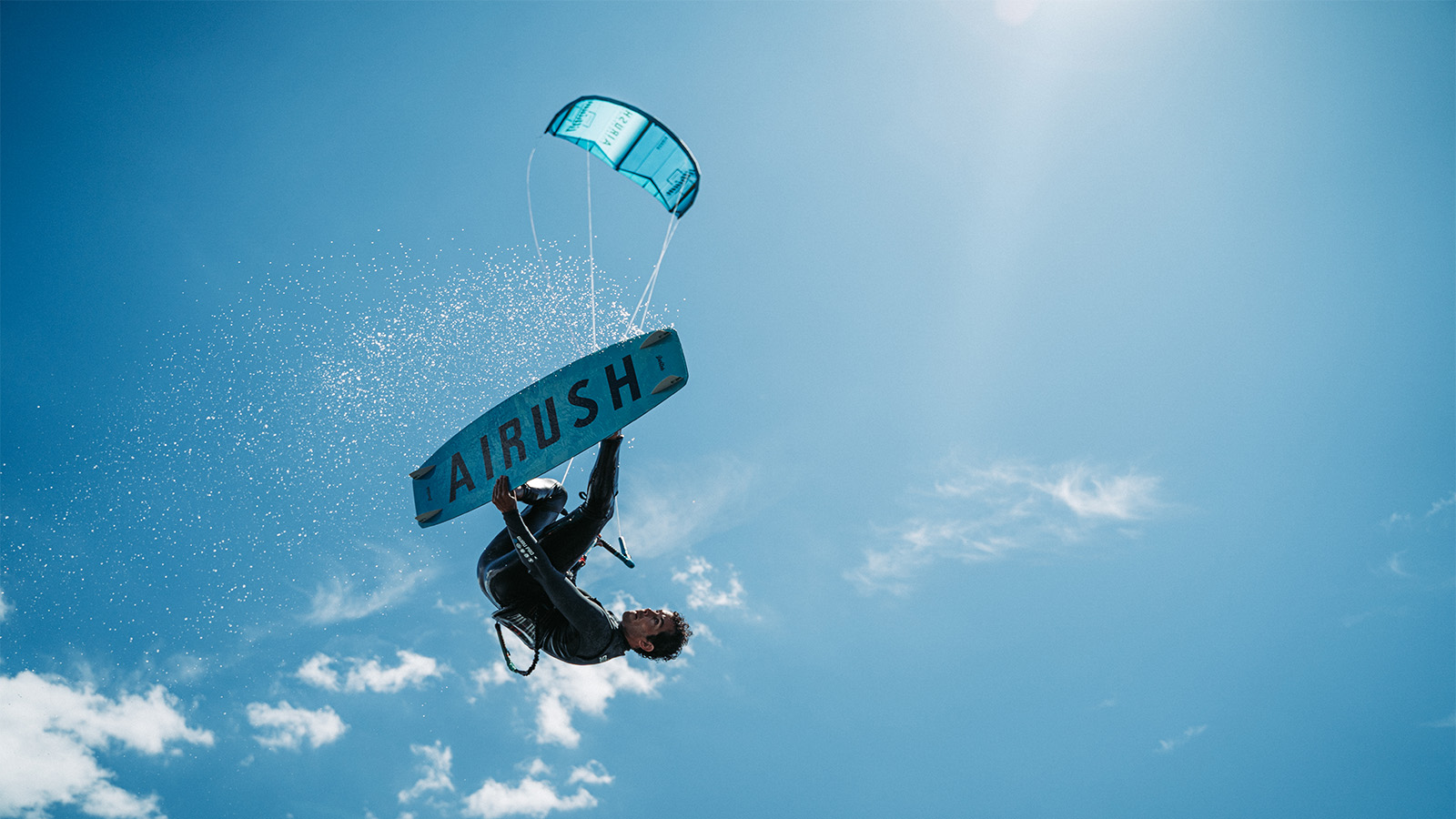 Airush SS21 Kite Preview
Retail Buyers Guide: Kites SS21
Brand: Airush
Interviewee: Chereé Thomson, Brand Coordinator
Current Trends
What are the main trends for 2020 in the kite market, in terms of riding categories (big air, wave, foil, wing…)? In what riding category have you seen the biggest growth so far in 2020 and why?
This year has been one for the books, with everyone forced to stay home and with travel restrictions implemented internationally, kiters and board riders alike have seemed to become more invested in their discipline or have ventured out and have learnt something new. Winging and wing foiling has made some serious waves and the early adopters now being able to pull off massive airs and back flips, this is only the beginning. Earlier this year we introduced our collaborative product with our sister company, Starboard and brought to market the FreeWing Air, which is a great wing for those only learning, and then those who have been at the forefront of this exciting discipline.
The Big Air category has definitely stayed on top, where riders are continuously pushing their limits, going higher and chasing massive hangtime. We introduced the Lift, which has big air and hangtime at the center of its focus, allowing riders who want a secure kite that feels stable in high wind to really chase the feeling of flying.
Foil and Lightwind riding are still maturing and growing. The Ultra has remained as one of our top selling kites, as it has opened up the window of conditions that previously were not even kitable.
Future Trends 
What do you believe will be the main trends for 2021 in the kite market, in terms of riding categories? In what category do you expect the biggest growth in 2021and why?
Looking toward 2021, we believe that Foiling will continue to grow and become one of the biggest categories, with a variety of disciplines within. As more people are adopting foiling, and learning to foil in lighter winds, we introduced the One, as an entry point to the market for schools and to make it more accessible for those wanting to learn, along with the Ultra, which has been one of our top selling kites for foiling, which still remains in the premium space, along with the Team foil board.
Big Air is probably the most impressive category that gathers the greatest number of spectators, so there's no doubt that it will only continue to grow. On an event level, as more events that are being hosted, this will drive more riders to get involved, with the goal to ultimately compete in the King Of The Air event, they push themselves faster and higher, aiming for the most insane hangtime and stability in those wild conditions. When riders do that, we see the need to really make the best gear to allow them their full potential and confidence in their gear. The Lift was the kite that originally put Airush on the map circa 2002, and after a 13-year hiatus, we have reintroduced a completely new rendition to offer these riders a kite that fills those needs.
As the evolution of any board sport goes, there tends to be a multitude of riders who continue to ride or learn to ride for the pure enjoyment of riding. Kiting is no different. These riders are following a growing trend toward performance freeride, where we have seen a wonderful increase, which we reckon will only continue to grow. Riders are beginning to chase versatility and want gear that they can do everything with, the least amount of gear they can buy, with the most amount of use in the widest range of conditions. With this in mind, we introduce the Session, which now does just that. The Session checks all the boxes for the purist wave rider, while offering incredible strapless and performance freeride. Unique to this is the Interchangeable bridles for customized response, where riders are able to switch between the fixed of pulley bridle.
Kites
Which of your Kites are selling well in 2020 and why? What is new for your kite construction, materials and design for 2021? Are there any trends in terms of kite design, construction and materials that the entire industry seems to be progressing towards?
We have launched 5 new kites for the 2020/2021 season that cover every possible riding style from early stages of learning to massive big air along with lightwind, wave riding, foiling, and freestyle between. Kite technology makes leaps and bounds each year, and at any one time we have a few different materials in development and testing.
The Lithium this year has changed the canopy material from D2 to D4 HD Cloth, which has seen some impressive durability results, especially when learning and crashing kites more frequently.
On the other side of the spectrum is the Ultra, which is our lightest kite that makes use of the D2 Canopy with the Airush Load Frame, combined with the single strut geometry. Since launching v1, the Ultra has been one of our top selling kites, that has made lightwind kiting pleasurable and because it packs up really tiny, it's a firm favorite among travelers and adventure seekers. One of the design principles that makes Airush the brand that it is, we are constantly challenging ourselves to make the most insane product, I mean not everything goes to market, but we have had some fun in the process. The Ultra started as a long-term project by designer Mark Pattison, to build an inflatable kite that stayed in the air as long as possible and was durable enough to use for everyday freeride and surf. We wanted to test the limits of the materials and our load frame, our knowledge of shaping and flying characteristics to make the kite as simple and functional as possible.
We have a team of really passionate riders that love going big, and that give really good feedback, so during the design process of the Lift there were a lot of people involved at varying riding levels, styles and each who prefer different aspects of the kite. We wanted the kite to be able to perform from a full-on professional level, to the everyday rider who simply wanted to boost and get lifted. In the conceptual phase, we spoke about a few ideas, made a bunch of prototypes, tested them in a wide variety of conditions, some landed up being just OK and a few with some real magic. We focused on the good ones, refined those and developed what you now find as the Lift.
Boards 
Which of your boards are selling well in 2020 and why? What is new for 2021 in terms of board design, materials and construction? Are there any trends in terms of board design and construction that the entire industry seems to be progressing towards?
We have an exciting range of boards this release, refined to suit each discipline, and offered in a few different constructions to compliment the environment of use and demand you have of your gear.
In the twintip space we have introduced the use of Basalt fibers in the recently launched, and completely redesigned Apex, Apex Team, and Diamond. Suited to performance freeride and big air riders. The Apex team makes use of a blend of Basalt and Carbon to create a really responsive feel, while still being lightweight. The Apex has added Basalt for increased responsiveness, while the Diamond makes use of a single basalt fibre lamination for lightweight reflex.
The Surf Series has welcomed the Cypher to the range, and in a short space of time it has become our go-to booster for strapless freestyle or onshore wave riding. Offered in two constructions, the Reflex Carbon Innegra layup is for those chasing ultra-lightweight, with carbon reinforcements for added durability, and the Reflex Bamboo heads the charge of flex and durability, for those who tend to put their gear through its paces.
The Slayer is a convertible, kind of like an amphibian it can seamlessly transition between riding strapless freestyle, wave, and foiling, that is built in a bombproof twintip construction. A complete travel gem that will allow you to travel with one board, paired with the Ultra, you have the smallest quiver for the widest variety of conditions.
Aesthetics / Pro Riders 
Any standout new graphics or artwork collaborations? How important is it to your brand to have Pro Models and how much freedom do the pros have in term of graphics?
Cape Town is a well-known and very popular kiting destination, and home to the Airush HQ. We have The Airush Lab a couple meters from the HQ in Muizenberg, so when our riders head over for the season they each get the opportunity to design a board and experience the whole production process from start to finish, with either Clinton Filen or Dave Kay. The rider will then put it to test and see how it goes – if they truly believe it is way better than anything they have ridden before, then we work with them again to develop it into a Team Series product that is available to offer to the market for likeminded riders. Our team of riders and designers have always worked collectively to innovate in the riding, technical and visual space.
Aesthetically we have our art team are always looking 2 – 3 years ahead. It's incredible to see where our products are going, even before the final files are delivered to the factory. One of the most exciting times at HQ is when we get a delivery of pre-production samples, where everything comes together.
Sustainability
Are you using sustainable materials in your kites and boards construction? Have you implemented any sustainable practices in your production and shipping processes?
Sustainability is one of our brand pillars alongside Durability and Innovation, as much effort and thought that we put into each product and the process that it has been made, we are constantly going back to these pillars to find a new way of offering a cleaner product that has a minimal impact on the environment.
We strive to be more and more sustainable in each sector of our business, one of the leading areas are within our board building process. Our ongoing mission is to develop the highest performing directional surf and foil kiteboards on the market, while reducing our environmental impact. As an industry first, we teamed up with Sustainable Surf to develop a full line of directional surf and foil kiteboards that comply and exceed the Eco board fundamentals of a measurably reduced carbon footprint. Using renewable, recycled and/or upcycled material input, optimizing materials and processes that reduce toxicity during manufacturing and essentially the output.
There is a long way for the industry as a whole to make a change and develop canopy materials that are environmentally friendly. We have found that there are other ways to apply sustainable methods and processes, by vacuum packing our kites, we ship less air. Our premium kite bags are all made from recycled PET, in partnership with Waste2Wear. We are partnered with the Thor Heyerdahl climate parks, for each kite or board purchased, we plant and nurture a mangrove tree to maturity within these climate parks.
Retailer Help 
How are you helping retailers sell your product and which method of help seems to be the most effective? Have you had to adapt your retailer support in any way due to the pandemic?
In addition to our destination store program where we have dedicated Airush displays year-round, in key kiting destinations and markets, we have introduced a longer product lifecycle, to each of the products. This has seemed to help tremendously, at the same time it also benefits our development cycle, we have used this time to refine our products further and more intensely which in turn gives our customers a better product, while the retailers have got a longer period and more opportunity to sell each range.
The pandemic has affected each region differently, so we have worked closely with each of these markets to offer unique solutions to get product to them, in order for them to meet the demand as their seasons approach.