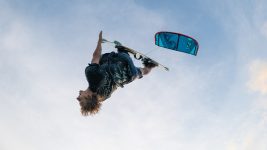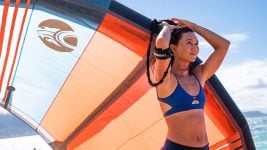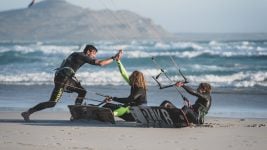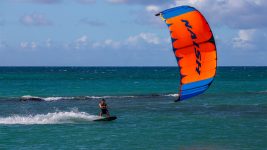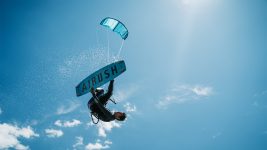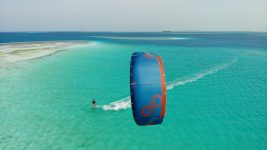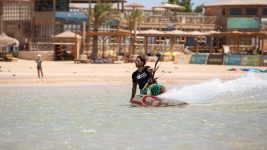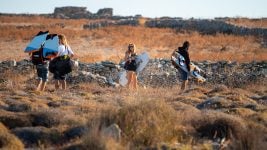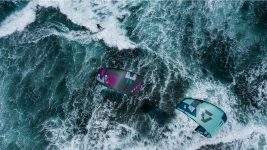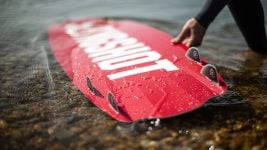 The pandemic has promoted a culture of One Love amongst water sports enthusiasts. Kiteboarding brands made it happen with their timely innovation achievements. Minds have opened and disciplined tribalism is fading. Kite stores are welcoming all fans of the ocean with one common goal: making the best of their local spot every day. By Rocio Enriquez.
Summer 2020 was one for the kiteboarding books. The pandemic hit right in the middle of an uprising trend in popularity, but far from slowing it down, it has actually given it an extra boost. After lockdown, people were eager to swap the four walls of their homes for the open ocean. Local spots benefited the most. Travel remained unpopular, not only because of regulatory restrictions, but also for the health risks it entailed. This was good for the financial health of the kiteboarding industry. All the money not spent on travel was spent on gear to get you in the water. If any kite shops suffered problems with stock, it was through the lack thereof. In terms of product development, it resulted in a growing demand for easy to use and light wind gear. When catching a plane to chase big winds is not an option, you want gear that will help you make the best out of your local spot. That way, you can get out and have fun in any conditions. Having water time limited to your local beach also led to an open mind about disciplines. To be able to enjoy any conditions, you have to be ready to swap your kite for a wing, or your twin tip for a surfboard or a foil. 
Versatile products sold very well. Naish reports its Pivot "do-it-all" kite as its best-seller. Nobile says its infinity directional multi-purpose boards became very popular. Foil was a growing category for every brand interviewed, and so it shall remain, according to most. Foiling has brought together all sorts of water sports enthusiasts, because of the endless possibilities it offers. Winging – if that's the name that sticks – has become too popular to be a division of kiteboarding. With a whole new customer base, it's shaping itself to be a standalone sport. Chereé Thomson of Airush explains: "Winging and wing foiling has made some serious waves and the early adopters are now able to pull off massive airs and back flips, this is only the beginning." Airush's new Freewing Air developed in collaboration with Starboard has been very well-received. Duotone, Eleveight, Gaastra and Slingshot reported their biggest growth in this discipline. Slingshot has big plans for this category. "The growth has been insane, and the future growth of this sector will be monumental", reveals Brand Manager Alex Fox. New fans of kiteboarding who discover the joy of flying have also powered the popularity of Big Air. Cabrinha reports its biggest growth in powerful hang time kites. Eleveight has had fantastic sales in specific Big Air kites. Nobile is launching a brand-new freestyle board for schools called The Game Changer. "A real new school tool for hard power moves and serious obstacle riding", describes Marketing Manager Jan Korycki. 
Kites
The aim of every brand is to make the lightest and strongest kite possible. This is no easy task. There are not many materials that can provide the perfect balance between the weight and resistance needed to provide optimal performance. There are huge R&D efforts invested in this mission. Not only in new materials, but in new shapes and constructions as a result. "As kites become lighter and special fabrics become more available, the wind range increases, and so kites start changing again", explains Rik Haenen, Head of Marketing at Peter Lynn Kiteboarding. Airush is offering a new rendition of one of their original kites, the Lift. "During the design process of the Lift there were a lot of people involved at varying riding levels and styles", says Chereé. "We wanted the kite to be able to perform from a full-on professional level, to the everyday rider".  Slingshot will launch the results of their constant experimentation with new materials in a couple of months. Eleveight has reduced some weight of its kites by using different materials and construction techniques. Duotone has gone all in with their new SLS range. Standing for "Strong, Light, Superior", it combines the lightest materials available, like Penta TX, with the latest construction methods. The result is a kite that's 15% lighter and has 5 times more tear resistance. Naish shares the same goal, but cautiously. They will not rush into the launch of any new material until it proves to offer the right balance between price, performance and durability. For summer 2021, they will improve reinforcements and leading edge and trailing edge constructions. The demand for easy to use, light wind gear is met by many brands with one strut and tube kites. Airush offers two single strut kites. The Ultra has a D2 canopy and incorporates the Airush Load Frame. This was the result of a long-term pursuit of a kite that would stay in the air as long as possible while being durable enough to withstand everyday use. The One is their go-to one strut for schools and foil learners. Gaastra's One kite, also an easy to use, good for light wind and foiling, single strut, is extending its range with even smaller sizes in 2021. Nobile will be introducing a new light wind, one strut, foil kite also named The One. There are more exciting innovations for next summer. Gaastra has tweaked both its IQ and AR kites. The result is an improved turning speed and drift ability in the former, and a more homogenous power distribution at depowering in the latter. Nobile is upgrading the freeride and wave T5 kite and renaming it to VRide. Slingshot will launch the new Sentry V1 control bar, with a state-of-the-art click in the chicken loop and auto swivel functionality that prevents the lines from twisting. The depower lines are also covered in PU, making depowering comfortable and friction free. "Our all new Sentry V1 Control bar has been long awaited. We really focused on comfort, performance and dependability with this product", says Alex Fox.
As for looks, it is worth noting the new ICON series by Cabrinha. This is a limited edition of its Switchblade and Drifter kites that celebrates the brand's 20th anniversary. Each kite will come with a badge with a collector's number and a limited-edition Icon bag. Duotone highlights the new grey and pink Dice as a team favourite. Naish will be sporting clean and bold designs by the in-house team led by Al Garr. 
Boards
In consistency with the kite trend, boards are also aiming to get lighter, without compromising strength. "The Ammergate is our light wind board. Kite schools buy it a lot because it is very light, and you don't feel the size", says Maik from Goodboards. Designs that incorporate carbon had very good sales results in 2020. For summer 2021, the use of carbon and other similar technical materials is more widespread. Duotone uses Textreme Innegra for its surfboards and twin tips, that makes boards responsive and lively. Airush has introduced Basalt fibres in its twin tips. It is said to provide a fine balance of responsiveness and light weight, perfect for big air enthusiasts. For its surf boards, like the new Cypher, it offers two constructions. Equally durable, the Reflex Carbon Innegra offers an ultra-light weight experience and the Reflex Bamboo ensures the right amount of flex. Eleveight uses a new stringer material to enhance the flex of its surfboards. Cabrinha uses carbon for its stringer but mixes the surfboard construction with extra honeycomb reinforcements. The aim is to create a unique responsive flex control. In order to get the performance results sought, new materials need to be paired with the right construction techniques. Eleveight has tweaked its twin tips, reshaping their recently introduced Parabollic Rail Shape with a surfboard influence. Following the industry trend of narrower and longer boards, we find Naish's new Traverse board, with a pro model version signed by Ewan Jaspan. Nobile's new Game Changer also offers this shape. Goodboards has had a very good response to its Anti-Chop Technology (ACT), which it has now extended throughout its range. It offers a smooth riding with easy upwind and less splashing, making longer kite sessions possible.
Foil is getting a lot of love from product developers, as the demand keeps consistently growing. Special attention is paid to versatility. Airush is introducing the Slayer. This convertible style built with a twin tip construction can transition between strapless freestyle, wave and foiling. Cabrinha is building up on the success of its X:Breed Foil, to work on more crossover boards between surf and foil. "The X:Breed is easy to use and a great board for foil learners. One board that covers two categories with almost no compromises", says Brand Manager Christian May. Nobile is introducing two new foil boards. The Pocket Slim is a super soft small board that can be ridden with and without straps. The Fish Skim is a directional board that can be ridden either with a foil or with directional fins. Slingshot is on a mission to become the main foil brand. For summer 2021 they will be launching the new Phantasm Kite Foil range. Built with high modulus carbon, it features one of the stiffest masts in the industry. The result is improved stability and higher performance. The range covers three different packages, for different levels of ability. 633 is the entry level one, aimed for learning how to jibe, tack and switch your feet. The 730 is the medium to advanced package for foilers who want efficiency and stability. The 647 is the one for those looking for great speed and manoeuvrability. 
Sustainability
The awareness for the need of a more sustainable industry is there. It is supported by efforts mainly in the areas of production processes, packaging and shipping. As far as materials go, though, the choices are limited, as performance is key and cannot be compromised. In general, there is palpable success in reducing the carbon footprint on the products. Duotone closely monitors production and shipping to make sure its products are carbon neutral. Eveleight, Goodboards and Nobile produce in the EU, saving a lot of emissions in shorter delivery routes. Packaging volume is minimised as much as possible and plastic is ditched, generally replaced by recycled cardboard. Cabrinha chooses a Flexi Hex packing that can be reused for travelling. Airush vacuum packs its kites to make shipping less impactful and uses recycled PET for premium kite bags. The industry is still far from developing environmentally friendly kite canopy fabrics. Boards have a higher sustainability factor, with more eco-friendly alternatives available. Wood comes from responsibly managed forests. Resins used are the eco-friendly kind. There are also specific additional efforts coming from different brands. Naish has moved from toxic silk screening to digital printing on its boards. They have also incorporated a recycled top sheet. The factory that produces them runs on solar power. Nobile mentions that most post-production leftovers are recycled. Gaastra's key point towards sustainability is to use as much raw material as possible, to reduce waste. 
Retailer Support
Lockdown and its expected aftermath required special attention to retailer support. Most brands had a one-to-one approach to make sure retailers had what they needed to make it through. As it happened, the lifting of restrictions was perfectly timed with the beginning of summer. This sent hordes of experienced kite boarders and newbies to schools and stores. A great part of that support consisted in having enough stock to cover the summer needs. "The industry as a whole was preparing for the worst possible summer in history and quite the opposite, it transpired that many retailers had record summer sales", says Scott of Naish. Gaastra helped retailers be ready for the post-lockdown demands. "We automatically sent them updates with our stock levels. They could be directly linked to their warehouse management system and online shop", explains Marketing Director Konstantin Weier. Still, some measures were taken to avoid unpleasant stock situations. Tran seasonality was applied to many product ranges. Airush extended the life cycle of every product. "It benefits our development cycle. We have used this time to refine our products further, giving our customers a better product as a result, while retailers have got a longer period to sell each range", explains Chereé. Duotone did the same to some kite models, stretching them to two seasons, helping retailers to clear stock without discounts. Slingshot worked with each retailer on sales initiatives to sell the inline models, holding back on sending them new stock. If it proves effective for stores and brands, this a post-pandemic practice that could stay. Pre-order conditions were eased too. Goodboards did not demand any pre-orders, only delivering what customers needed or wanted. Naish offered additional discounts and shipping incentives for all pre-orders. One of the most effective retailer support tools in kiteboarding is the test tours. This has been affected by social distancing measures, so brands had to make necessary adjustments. Duotone is sending the test gear directly to the dealers, so their customers can try it at their local spots. Eleveight, Goodboards, Naish and Nobile have also found a way of keeping them going. More efforts have been made with digital assets to suit the times. Duotone has launched its Duotone Academy app, with hundreds of tricks and tips to improve. Naish has digital assets readily available the moment a new product is launched. 
All in all, the quest for jumping higher, hanging longer and getting out in whatever wind you get is driving innovation. There is special attention being paid to new materials R&D and new shapes to go along with them. For product developers in the kiteboarding industry, there's a lot of fun times ahead. Water sports fans will definitely be surprised. Retailers will surely benefit from satisfying their curiosity.