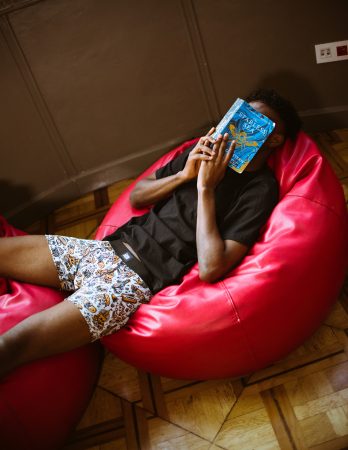 American Socks 2023 Men's Underwear Preview
Retail Buyers Guide: Men's Underwear 2023 Retail Buyer's Guide
Brand: American Socks
Interviewee: Olek Burek – Brand Manager
What are the key trends in Men's Underwear?
Bold colors and patterns! Men are embracing bolder colors and patterns in their underwear, moving away from traditional "pack underwear". Summerish illustrations and designs will take over this upcoming season. Comfort and durability remain a top priority when it comes to designing underwear.
How are you segmenting your 2023 collection and where do you expect your biggest growth? 
We're excited to announce that American Socks is expanding our Boxer Brief collection with 10 new designs for SS23, all created in collaboration with talented artists and inspired by streetwear style. We feature several sku's which can be matched with same design socks to reflect our customers' unique personalities. The underwear category is our second best-selling line, and we anticipate steady growth throughout 2023, with a peak in Q4. We're proud to offer our new designs at the retail price of 19.95€, and we hope our customers will love them as much as we do!
What shapes/designs do you offer in your 2023 collection? Are you introducing any new ones?
We have inspired in patterns which tune us into the summer frequence. Flowers, skelletons, surfboards and pineaples are featured in the new designs like "Dancing Skelletons" or "Carnivorous" which already had good feedback on pre-books and we believe that will be having high rotation during the upcoming months once the product hits the shelves. 
What manufacturing techniques are you working with?  What materials are you using? Are you introducing any new ones?
We understand that our customers lead active lifestyles, and we want our products to support them every step of the way. That's why we use Flat Lock stitching, which not only provides exceptional durability but also ample space for movement during any outdoor activities. All our collection features the "Butt Push Up" which also stylizes the figure. All our undies are made of a custom soft blend of Organic Cotton which will feel like a second skin with the coolest prints out there.
What colour palettes and graphics are you featuring in this collection? Any standout prints or collaborations you'd like to highlight?
We draw inspiration from tattoo culture, urban art, and the alternative scene of the 90s. Over the next few months, we will launch multiple capsule collections that showcase collaborations with talented artists, reintroduce our popular heritage items, and offer exclusive limited edition pieces.
How are you addressing sustainability?
We take sustainability seriously and are proud to use organic cotton as the main material in all of our underwear collections. By prioritizing eco-friendly materials, we are doing our part to reduce our environmental impact and promote a more sustainable future. So when you choose our underwear, you can feel good knowing that you're making a responsible choice for both your comfort and the planet.
What are your marketing stories?
As we celebrate our 10th anniversary, we at American Socks remain committed to our core values of alternative music and board sports, which have defined us since our inception in 2013. This summer, we're excited to announce that our marketing teams will be present at over 30 festivals across Europe, as well as selected events in Japan and Australia. Engaging with our audience and customers is essential to know their needs and to bring our product closer in a friendly and laid back environment where we can express our style and take the brand experience offline. During 2023 we're organizing several pop-up shops in many European capitals along official parties and DJ sessions at major rock festivals. Details will be announced pretty soon on our social media.
How are you supporting retailers to sell your men's underwear? 
We are improving the way we're presenting the underwear in shops. The cardboard box which fits our current displays, will come along custom hangers so the product can be put in line with other clothing or accessories. We're expecting customers to touch, feel and see the boxer briefs and it's design in a different perspective.
Is your production impacted by any raw materials scarcity or cost increase? If so, what solutions have you put in place?
Inflation, scarcity and logistics have been a challenge for all the industry. Our underwear production is made in Turkey where we have a steady and reliable production flow which assures quality and supply. We didn't have stock or delay issues. 
Top Sellers
Inspired by the vibrant beauty of the Hawaiian Hibiscus. Bright colors, bringing a touch of tropical paradise to your wardrobe or decor.
Horror Time: Introducing Horror Time, a mind-bending psychedelic design that pays homage to the creepy, campy aesthetic of classic horror movies and the era of VHS tapes..
Backstage: These undies capture the gritty spirit of the hardcore music scene with their edgy design, featuring dirty sofas, broken guitars, and tour vans.