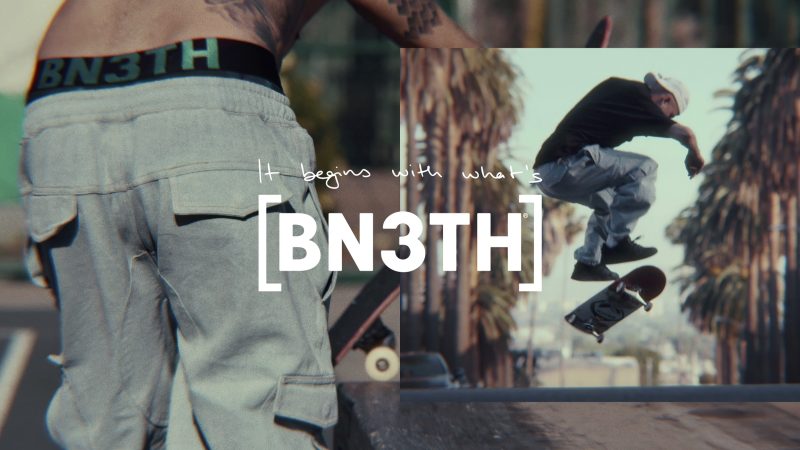 BN3TH 2023 Men's Underwear Preview
Retail Buyers Guide: Men's Underwear 2023 Retail Buyer's Guide
Brand: BN3TH
Interviewee: N/A
What are the key trends in Men's Underwear? 
In the men's underwear space there is a growing desire for material innovation, performance capabilities and most of all increased comfort from a more engineered fit. In addition, sustainable materials and manufacturing practices are desired. 
How are you segmenting your 2023 collection and where do you expect your biggest growth?
There are 2 different material classifications BN3TH is segmenting the collection with: Comfort By Nature – BN3TH's natural materials such as Tencel are made from bio-based sources; Engineered For Performance are the man-made materials such as the Pro Ionic. BN3TH plans to grow the 2n1 liner short products as well as growing the variety of lengths in their underwear.
What shapes/designs do you offer in your 2023 collection? Are you introducing any new ones?
BN3TH is offering fresh prints and new colorways across their Classic, Pro, Infinite and Entourage underwear collections. All collections feature their patented 3-dimensional MyPakage pouch technology, a Pucker Panel gusset to allow the underwear to contour to the body and carefully placed flatlock seams to prevent chafing. BN3TH will introduce a new product to the 2 in 1 line in 2023 called the Agua Volley Short. 
What materials are you using? Are you introducing any new ones?
The classic collection uses TENCEL™ Modal fabric for sustainable softness made from trees. The Infinite Ionic collection also features TENCEL™ Modal fabric coupled with Ionic+™ No Stink Technology which is an antimicrobial thread weaved into the product to kill odor at the source. The Pro collection features polyester, Ionic+ polyester for odor and spandex. BN3TH's Entourage Collection features EcoDry fabric made from 100% post-consumer recycled materials.
What manufacturing techniques are you working with? 
BN3TH partners with manufacturers such as TENCEL to create fabrics that are better for the environment and the consumer. BN3TH is also working with a software platform called Bluebird to address climate responsibility.
What colour palettes and graphics are you featuring in this collection? Any standout prints or collaborations you'd like to highlight?
The Fall/Winter 23 collection features new hex patterns as well as bandana-inspired prints and, of course, fresh solid colorways that represent the fall/winter vibe of the season. We have a colorful collection with artist, MADSTEEZ dropping in 2023. Also, 2023 will have more surprises from our Jason Momoa collection with So iLL and On The Roam. We will have product extensions of our ISPO Award winning North Shore Liner with the introduction of the North Shore Bib Short and the North Shore Bib Tight. Our other ISPO Award winning product, Glacier Creek Merino Wool, will see a boot cut base layer version to better accommodate skiers, snowboarders and other recreational opportunists. 
How are you addressing sustainability?
BN3TH aims to use responsible fabrics across all of their collections manufactured by environmentally responsible production processes. In addition, BN3TH uses all recyclable or biodegradable packaging materials. BN3TH has established a partnership with Canopy that ensures all of our fiber sources do not come at the expense of old growth forests. They also purchase carbon offset credits to balance out carbon used fulfilling our ecommerce orders. Finally, they have partnered with Protect Our Winters, The Surfrider Foundation and One Tree Planted to give back to the planet.
How are you supporting retailers to sell your men's underwear? 
BN3TH continues to improve the user experience not only for their consumers, but also their B2B partners. Through the NuORDER platform we provide paperless catalogs, live ordering capabilities and downloadable content. We have also refreshed the NuORDER homepage with strategic product, color and category storytelling. Elevated and evolved fixtures, POP and packaging will continue to be readily available. We will continue to speak to our belief in "PPOP" (Put Product On People). By getting buyers and store associates to experience our underwear, allows them to feel and understand the features and benefits of our quality product.
What is your position regarding stock and deliveries?
Moving some factory partnerships closer to our distribution centers will allow for quicker turn around with new product and lessen the carbon impact with unnecessary logistics.
Best Sellers
Everything you love in our Classic Underwear in a 6.5″ Boxer Brief, featuring an ultra-soft, breathable, lightweight TENCEL™. Modal fabric that is sustainably sourced, guaranteed to stay smooth and keep you comfortably supported at all times. Our MyPakage Pouch Technology™ keeps you supported and separated, eliminating the need to shift or adjust.
This lightweight Merino Wool Base Layer will keep your body temperature regulated throughout your active pursuits regardless of the temperature outside. Our MyPakage Pouch Technology™ keeps you comfortable and supported, eliminating the need to shift or adjust.
These active Boxer Briefs are made from 100% post-consumer recycled plastic bottles and come in a range of limited edition collaborative prints. Our new EcoDry fabric is more durable and breathable than ever and we've added a thicker no-roll waistband so this thing stays put all day, every day.