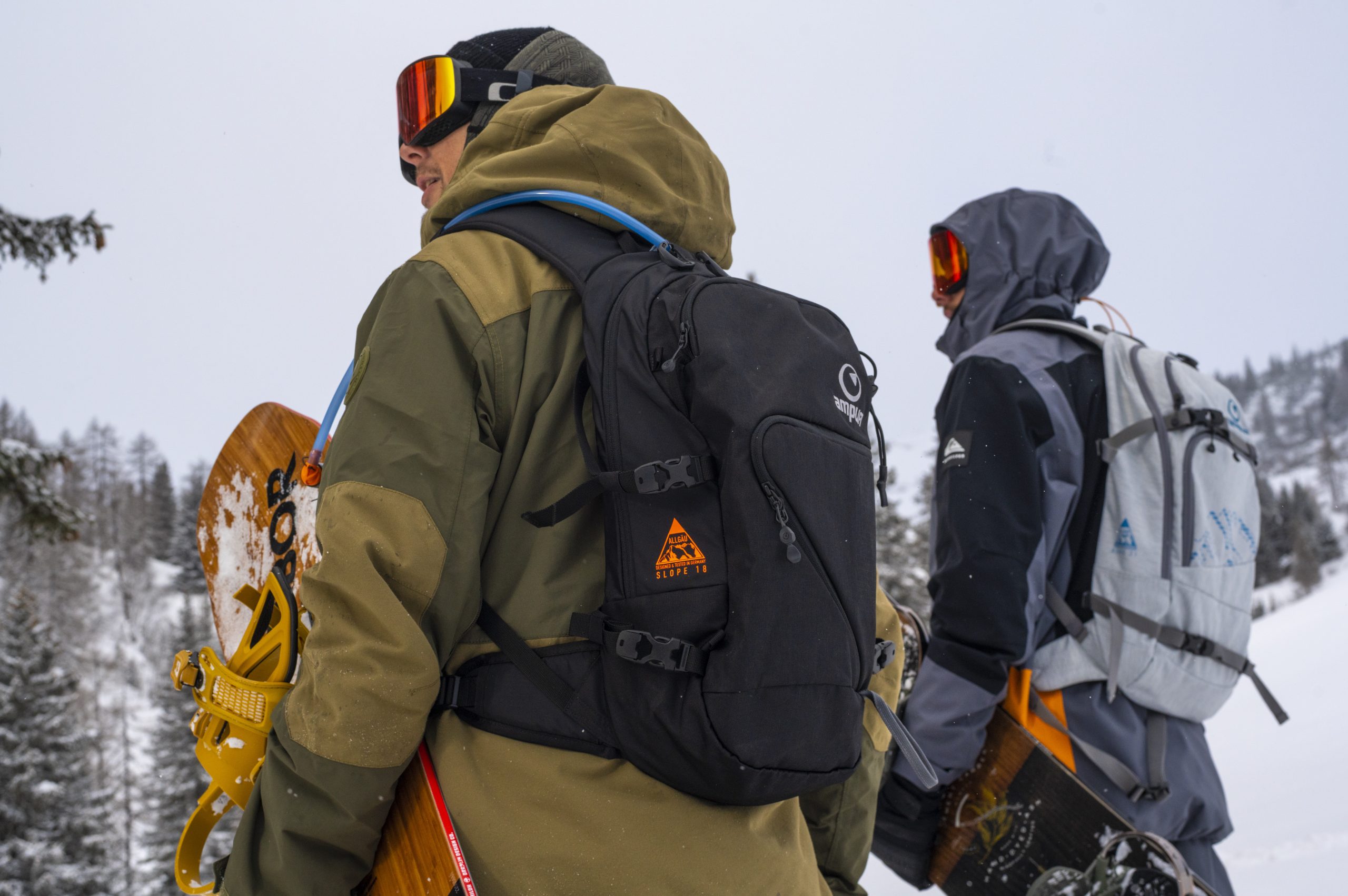 Amplifi 2022/23 Technical Snow Backpacks
Retail Buyers Guide: Technical Backpacks 2022/23 Retail Buyer's Guide
Brand: Amplifi
Interviewee: Tom Howells, Design
What are the main trends in the snow backpack market?
For AMPLIFI our strength is delivering stylish, technical and great quality packs. We're building on our previous efforts to reduce even further our ecological footprint. This is definitely spreading industry-wide as the climate crisis worsens.
What do customers expect from their technical snow backpacks these days?
Definitely we're finding that beyond the expectations for a technically sound backpack, that people are becoming more aware of their products both pre-consumer and post-consumer. We're working on building our products in a far more responsible manner, as well as offering recycling and repair.
Where do you expect your biggest growth in FW22/23?
We're hoping our "Glacier" series, which include 100% recycled PET fabrics that are reclaimed, recycled and far less impactful on our environment. As well a part of the sales of the Galcier models is donated to a gold standard NGO called Helping orphans Worldwide, where we support the the program READY2LEARN which supplies children in need with the educational supplies necessary to succeed.
What are the most important technical features in your FW22/23 collection?
We've been running the highest quality clasps and zippers for years, as well as creating products that survive the harshest environments. These products will last through multiple harsh seasons – and if you somehow manage to damage the product, then our all-new repair service is ready to get you back on the slopes!
What materials are you using? 
High quality fabrics only combined with the highest quality hardware, and super reinforced panels where needed. Lightweight, eco-responsible and able to deal with the harshest environments.
What color palettes, prints or patterns are you working with?  
Simplicity is key. Neutral colour palettes, with accent colours and panels where needed.
What are the main marketing stories and inspirations behind your FW22/23 collection?
It's time to reconnect with friends, reconnect with nature, reconnect with yourself.
Any new developments on sustainability?
AMPLIFI is dedicated to reducing our impact on the environment. This season we started to use MIPAN® regen nylon yarn.MIPAN® regen is the world's first certified reclaimed nylon filament yarn made for textile usage. It uses to 100% reclaimed waste, which saves valuable resources from being removed from the earth. High energy saving of petroleum resources during production of the yarn is characteristic for the product. Each kilogram of recycled yarn saves up to 7 kilogram CO2 compared to standard nylon filament yarn production. The filament has received Control Union's Global Recycle Standard (GRS) certification. Products made with MIPAN® regen provide excellent tenacity, durability, as well high resistance to tear and abrasion. The water-repellent coating of those products is without environmentally harmfully fluorocarbons (PFCs). The water- and dirt-repellent properties are based on a DWR (Durable Water Repellency) that is harmless to our environment and health. The surface treatment causes water to roll off the outside of the fabric, thus the product remains dry. Overall we established a plan to ensure social responsibility to our factory employees, a commitment to reducing airmiles where possible, increasing the lifespan of our products through high quality materials AND an all-new repair service.
How are you supporting retailers (physically and digitally)?
We're offering a bespoke design service FOC for those retailers that want to set up POS displays to fit their stores. We've got a wealth of images and collateral ready to go – they just need to tell us the sizes!
Did the restrictions at resorts last year impact the sell-through of the FW21/22 collection? If so, how have you addressed this issue?
Sure! Just like everyone else, but we've always carefully managed our stock levels and tried to reduce our risk. We've got great hookups with our suppliers, so we can reorder quickly and easily.
Have you had problems with the supply of FW21/22 product? If so, how have you addressed this issue, and will this result in changes to your FW22/23 sell-in?
We've been working hard with our suppliers and retailers to ensure that everything goes smoothly this year, we're all set for timely delivery and don't expect any delays.
Please name and describe in about 60 words 3 highlight items from your FW22/23 collection. 
Our awesome 4L hipster is a perfect companion for a day on the slopes. Worn around the waist or bandolier-style – it keeps low profile and convenient, without cramping your style. The Hipster4 is a reduced-to-the-max, super-light, super-slim hipbag. Essential features such as a Racelite AIRFLOW vented back, hydration system compatibility, a auto compression hipbelt and hip fins with zipper.
The BC Pack is a super-lightweight backcountry pack. Fully equipped with a ski/snowboard carry system, avalanche gear compartments, helmet carry system, goggle pocket and an insulated shoulder strap for your backcountry mission. Perfect for your hike mission! As an option a featherweight SAS-TEC protector can be added to the pack. Available in 22 and 28 Liters.
The SL18 is a super-lightweight, all-mountain backpack for busting out moves or hanging out with friends. It rocks the all AMPLIFI features such as a ski/snowboard carry system, avalanche gear compartment and a goggle pocket. The generous 18L volume can be cinched down to reduce the swing weight and keep your ride smooth.