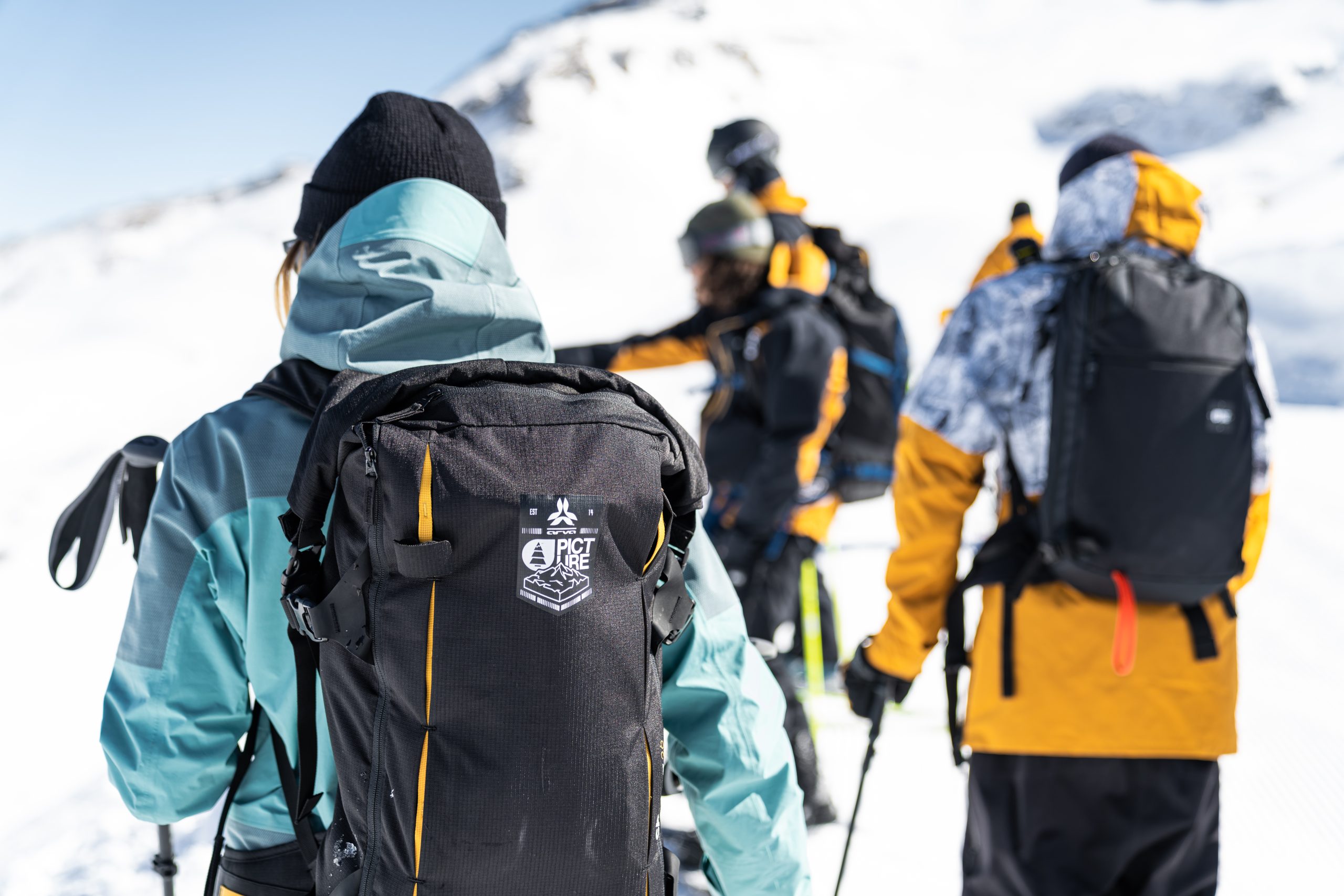 Picture Organic Clothing 2022/23 Technical Snow Backpacks
Retail Buyers Guide: Technical Backpacks 2022/23 Retail Buyer's Guide
Brand: Picture Organic Clothing
Interviewee: Maxime Lemaitre, Bags & Accessories Product Manager
What are the main trends in the snow backpack market?
As we can notice on the general outdoor market, sustainability is becoming mandatory. The Backpack Industry does not make an exception. Consumers will focus more and more on the carbon footprint of their backpack, without any concessions on style and function.
What do customers expect from their technical snow backpacks these days?
Technical backpack mission is to bring safety and confidence in the mountains. Therefore it has to be functional and easy to use. Easy access to safety gear, carrying comfort, different storage option are key elements! On the other hand, Backpacks that have an all year round potential and that can stay in the wall, season after season and will also be more attractive- design and carry over strategies are very important.
What were your best sellers in FW21/22?
In FW21/22 2 styles stood out. Our best seller was the BP18, the 2 printed version Map and Shrub did great figures. The BP22 was a strong style as well, Black version and Map print were the 2 best colors.
Where do you expect your biggest growth in FW22/23?
We expect growth on our BP series which was introduced previous season. We extended a bit the colors available and carry over the black version to maximize merchandising possibilities with our outerwear collection.
How are you segmenting your FW22/23 technical backpack collection and what are the main price points? 
This season, we kept the same range structure as previous season. We propose the BP line with 3 different volumes : 18L, 22L and 26L. The BP18, our lightweight resort daypack start at 80€, the BP22, our compact freeride backpack is at 100€ and the BP 26L, our high end backcountry touring backpack is at 130€. In addition to that we still have our Calgary 26L made in collaboration with Arva available at 130€.
What are the most important technical features in your FW22/23 collection?

 


We can split the most important features in 3 categories:
Safety : Safety gear storage and safety print in every BP Backpack
Protection : Heat formed back panel.
Versatility : Inside pocket suitable for hydration system or 15'' laptop. Removable waist belt, hide-able ski and ice axe webbing.
What materials are you using? 
We have been using recycled polyester since the beginning of Picture backpack story. Not only the main fabric but the lining is also made of 100% recycled polyester fabric. In addition to that we are using recycled buckles from production waste on all the range.
What color palettes, prints or patterns are you working with?  
We carried over the black offer from previous winter, in addition to that we have 2 new colors and 2 new prints : Dark Stone, Yellow, Cloud print and Iberis print. All the design stories are the same and retailers can find them in our outerwear line. We built complete silhouettes to make merchandising and implementation easier for them.
What are the main marketing stories and inspirations behind your FW22/23 collection?
No marketing stories, we are using our technical expertise to provide durable products, truly eco-engineered in ethical factory. 
Any new developments on sustainability?
This is not new since we implemented it in FW21, but all the backpack range is part of our lifetime repair warranty program. We selected 5 different subsidiaries all over the world to help us to extend the lifecycle of our products and avoid waste.
How are you supporting retailers (physically and digitally)?
We will provide sell-in tool as well as a POS program which includes assets for every customer, that trusts the program. In addition to that we will provide digital assets such as product video and social media campaign.
Please name and describe in about 60 words 3 highlight items from your FW22/23 collection. 
BP18 : This our entry level, carrying all the essential features to go off-piste in your favorite resort such as different carry option for ski and snowboard, safety gear storage, safety print, fleeced goggles pocket… The perfect lightweight daypack.
BP22 : Our mid-range product carrying the same features than its little brother. With its bigger volume it will be easy to pack all you need for your backcountry and freeride sessions. Last but not least we chose a heat formed back panel to provide protection and ergonomics for the true sender out there!
BP26 : Our high end product. Its bigger volume will allow to easily store different layers, skins, food… in addition to your safety gear. Basically everything you need for long days touring in the mountains. In order to easily access all this content, we added a back panel zipper access. Last but not least, the waist belt is removable, perfect for making it an all year round partner, in and off the mountains.