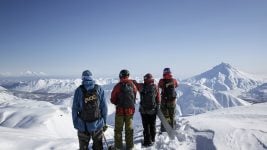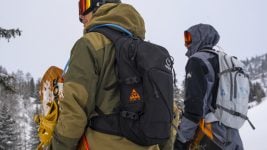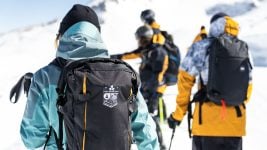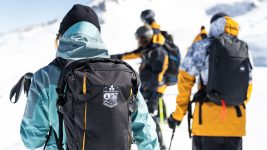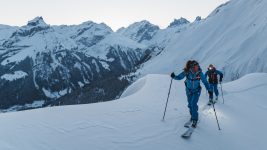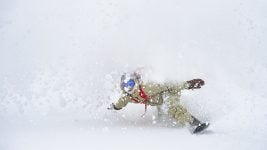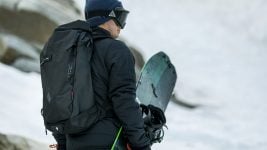 Technical Backpacks 2022/23 Retail Buyer's Guide
Closure of resorts last season boosted interest in the backcountry. Technical backpacks became essential in any rider's kit. Well-thought designs will prove their value all-year round. By Rocio Enriquez.
Last season's restrictions sent many eager snow enthusiasts off-piste. Splitboarding and touring gained popularity. The technical backpack benefited from this. When venturing the mountains on your own, you want to carry everything you need to stay safe. Lightweight and carrying comfort are crucial. Easy and quick access to your safety gear is rewarded. Off-piste adventures also call for versatility. Your pack needs to be as reliable on the hike up as on the shred down. Plus, a versatile pack that caters to different activities, can be used all-year round. "Users want a lightweight and sturdy pack that can go with them anywhere", says Thomas Gachet from Dakine. This ties in with another growing consumer expectation, sustainability. Users are checking the labels for fabrics and manufacturing. They want to make sure their purchase has the lowest carbon footprint possible. Lastly, users value aesthetics. Their demands on functionality and sustainability come with no concessions on style.
New for FW23
Most brands are carrying over their FW22 collections. They already have dedicated backcountry designs in their lines. Innovations are presented through feature updates and new materials. Dakine is changing raw materials to be more environmental. Nitro is making their packs lighter and adding new waist and shoulder straps and loops for skis. Jones has expanded on pockets. They will also include accessory straps and burly front board straps. Mammut has created a special pattern for women's packs. They have narrower and shorter shoulder straps and a unique cut to fit the female anatomy. They have also worked on accessibility, like the fast ski fixation offered in their new FW23 style Aenergy ST 20-25. Evoc keeps pushing their LiteShield Plus protector introduced last season. "It offers the highest possible degree of spinal protection. Thanks to the segmented design, it allows for flexibility in every direction and maximum air circulation, while being very light", explains Alexandra Hlawitschka from Evoc. Picture stays true to their trinity of Safety – Protection – Versatility. Their packs have safety gear storage, a safety print and a heat formed back panel. Their waistbelt is removable, and they have a convertible hydration system / laptop sleeve. Arva presents a new touring specific backpack. It has been developed in collaboration with a well-known freerider, to make sure they bring the latest features.
Using high quality, abrasion resistant materials remains key. Brands are aware that a long-lasting backpack is the way to the consumer's heart. Longevity is not only key for performance, but for sustainability too. Consumers' demand for sustainability is driving the implementation of eco-responsible fabrics and practices at a fast pace. Recycled polyester is widely used. Water repellent coatings are free from PFC. There is a preference for Bluesign approved materials. Amplifi keeps using the MIPAN® regenerated nylon yarn introduced last season. Each kg of this recycled yarn saves up to 7 kg of CO2 compared to standard nylon. Dakine extends the use of recycled fabrics to 100% of their travel and snow gear bags. Arva also increases the number of packs made with recycled fabrics to 10, which is half of their range. Sustainability does not stop at fabrics. "In addition to recycled polyesters, we are using recycled buckles from production waste", announces Maxime Lemaitre from Picture. Amplifi uses the highest quality clasps and zips to promote the longevity of the pack. Other practices aim towards social responsibility.
Retailer Support
Thanks to its versatility, the sell-out of technical backpacks did not suffer as much as other snow product categories. "You can use our bags for several purposes. Our bag business seems to benefit from the boost of interest in any type of outdoor activity", says Philip Haendeler from Nitro. There was still some impact and brands have had to address this, nevertheless. The best form of retailer support has been to increase the number of carry-over items, holding back the launch of new ones. They are also stocking as much as possible to allow for in-season re-orders. This might become a long-term practice, judging by the global supply chain situation. Even though FW23 is scarce in new launches, support for retailers will be there. Brands appeal to the newfound love for the back country. Some campaigns are Nitro's "Get Out", Evoc's "Explore to Ride" or Jones' "Made for Movement". Dakine will communicate heavily on the new signature pack + glove combos designed with team athletes. There will be ongoing social media campaigns, a wealth of visual assets, POS displays and sales boosting programmes. If the snow forecast for this winter is accurate, customers will hit the stores in search of the perfect pack. These new customers are educated. The best preparation for retailers is to learn about technical features well.
Highlights:
–
Increased interest in off-piste riding boosts backpack demand
–
Demand for functionality,
versatility
and sustainability.
–
High rate of carry over references.
–
Increased levels of stock to serve in-season re-orders.