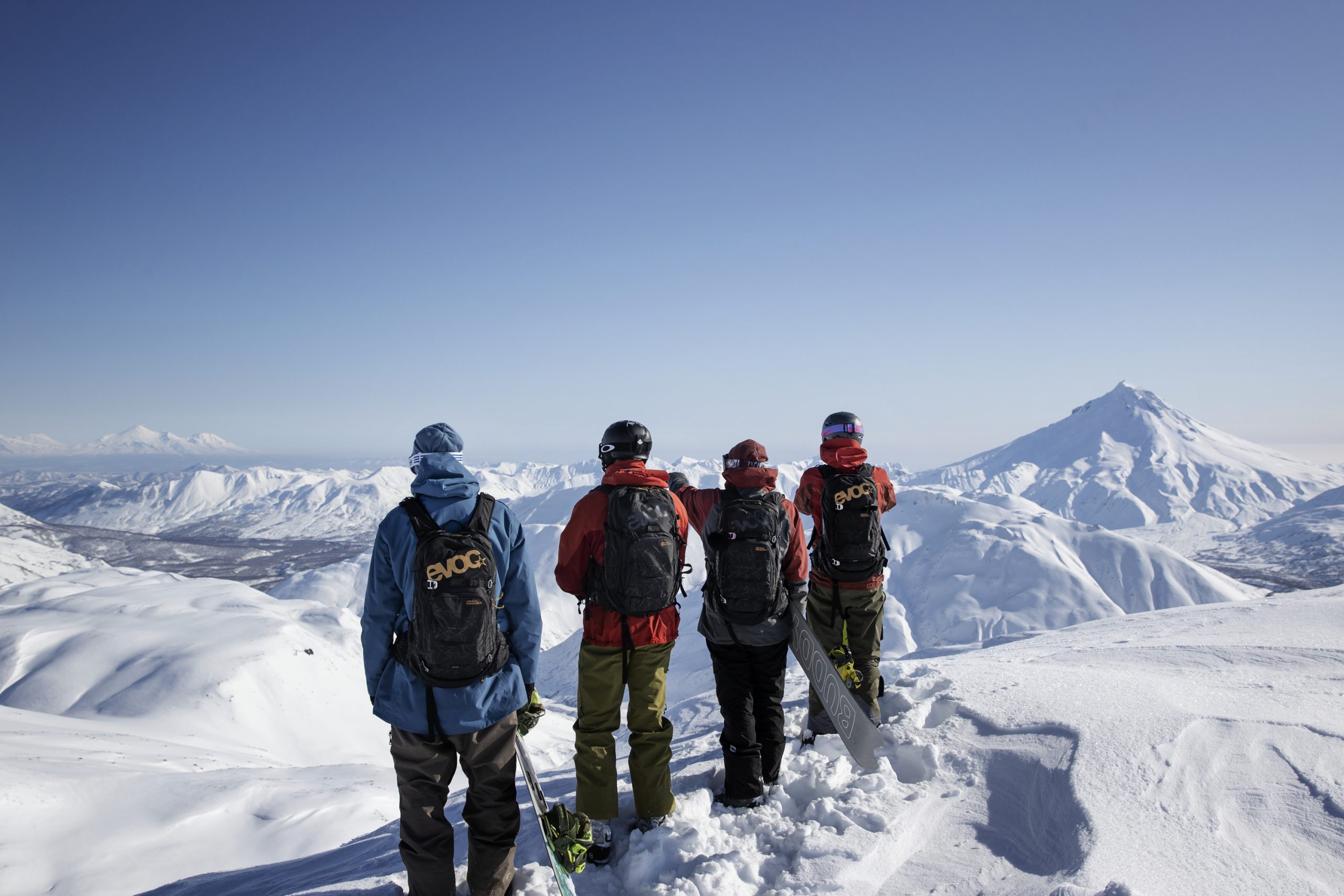 Evoc 2022/23 Technical Snow Backpacks
Retail Buyers Guide: Technical Backpacks 2022/23 Retail Buyer's Guide
Brand: Evoc
Interviewee: Alexandra Hlawitschka, Content Marketing & PR
What are the main trends in the snow backpack market?
With the success of the Covid vaccines we are hopeful that the ski resorts will be able to open again this winter, but of course the still ongoing pandemic will continue to have a big impact on winter sports. Last season a lot of winter sports enthusiasts discovered and fell in love with touring and exploring the backcountry and we think that this is a trend that is here to stay and will continue. Therefore, technical backpacks offering safety, protection and comfort designed specifically for touring and the backcountry will continue to be the main trends in the snow backpack market. Apart from that, snow travel gear is an important segment for us and a growing trend as well. The quest for unique and unforgettable powder lines is part of our history and integral element of our products. Our "Explore to Ride" motto applies not only to the backpacks you wear while riding. Every journey starts with packing and when it comes to sports travel it is essential to have your gear unscathed and complete. That is true for expeditions to far away spots, but it's just as relevant for your weekend micro adventures close to home. So, we reevaluated and optimized our travel line last year and introduced a whole range of smart GEAR BAGS and GEAR BACKPACKS – specifically focussed on transporting helmets, shoes, protectors, gloves, goggles, etc. – everything you need. They are versatile, practical transport helpers for all season, working for your winter sports equipment just as well as for bike equipment in summer times. 
What do customers expect from their technical snow backpacks these days?
The awareness for risks and the demand for protection and safety gear is growing. Also, the more people veer towards off-piste the higher the requirements for your equipment become in general as conditions and terrain are more demanding. Comfort and ventilation become more crucial when you are on a strenuous hike. As is the need for protection and a perfect fit with optimum weight distribution when you are riding in demanding terrain and snow. In addition, customers want smart features, easy handling, durable and versatile products and they want them to look attractive. All this works in our favour of course, as backcountry adventures are our heritage and where EVOC comes from. These are the same needs that we face when we are out in the mountains and to offer products that address those needs was ultimately the reason why EVOC was founded. 
Where do you expect your biggest growth in FW22/23?
GEAR BAGS and GEAR BACKPACKS – for the reasons mentioned earlier. 
How are you segmenting your FW22/23 technical backpack collection and what are the main price points? 
We are segmenting our backpacks in the following categories:
Protector Backpacks with the LITESHIELD PLUS back protector (LINE PRO 20 and LINE PRO 30)
R.A.S. ready Avalanche Backpacks that can be equipped with Mammut's leading removable airbag system 3.0. Available with a back protector (LINE R.A.S. PROTECTOR 32 and LINE R.A.S. PROTECTOR 22) and without a back protector (LINE R.A.S. 30 and LINE R.A.S. 20)
Touring backpacks for one- or multi-day tours in the backcountry (PATROL 40 and PATROL 32)
Allmountain backpacks for use on and off groomed slopes (LINE 30 and LINE 20)
Travel and GEAR BAGS and GEAR BACKPACKS smart on-the-road bags and backpacks for items like boots, helmets, protectors, gloves, goggles etc. with intelligent compartment management and multiple carrying options (GEAR BAGS & GEAR BACKPACKS as well es our DUFFLE BAGS for rougher, expedition-like purposes.)
What materials are you using? 
The focus is on light but durable and abrasion resistant materials to ensure function and longevity of the products. 
What color palettes, prints or patterns are you working with?  
We introduce a new MULTICOLOUR EDITION with a whole colour palette inspired by our travels and adventures every two years. As we've introduced a new one including our "World Networking Pattern" for FW21/22 we will continue with this colour and design palette for FW22/23. So we have the MULTICOLOUR EDITION featuring a grey and black base with a soft purple rose hue and in overall the focus is on timeless natural and earthy colours with details and accents in contrasting colours.
 
What are the main marketing stories and inspirations behind your FW22/23 collection?
We are continuing our "Explore to Ride" path which for us embraces all the aspects we love perfectly. The unforgettable lines as well as the unforgettable journeys together with your friends and the people you meet on those. Trips like our revisit to Kamchatka after 20 years just as well as exploring our home mountains. 
Any new developments on sustainability?
Every backpack produced leaves its mark on nature and the world we live in, but we're working hard on reducing that impact. Protection has always been the backbone of our DNA. That includes the person using our products, the people producing our products, your sports equipment and of course nature, our beloved playground. That means we are looking at sustainability from a very comprehensive viewpoint. Everybody who knows EVOC, knows that we've always focused on extremely high quality and on building products that last a long time, but also have a high functionality. A product that you don't use, is wasted resources, just as a product that tears down quickly. Also social responsibility has always been very important for us. But of course, we cannot and don't want to leave it at that. We are looking at every aspect and every step involved in producing our products and investigate where we can get better and save resources. We will have more info on our efforts soon, so stay tuned! 
How are you supporting retailers (physically and digitally)?
We have an extensive retail program with a modular, individually customizable physical display system, sales promotion concepts, presentation aids and sales tools. The display system for example consists of various wall elements, touch points and floor displays, with a large complementing selection of graphics, pictures, and product information. Adding to this we have "soft" POS tools as well, 3D-logo blocks, logo mats, beach flags, airbag filler for an ideal presentation. When it comes to digital support, we've installed our online B2B data access where you have 24/7 access to all digital media assets like pictures, videos, texts, guidelines etc. And we're also working on further expanding and making our instruction material more serviceable and easier to consume for retailers and their sales staff. 
Have you had problems with the supply of FW21/22 product? If so, how have you addressed this issue, and will this result in changes to your FW22/23 sell-in?
In short: Yes. Just like probably every other company in the business we are facing unprecedented challenges when it comes to production and logistics. We decided to delay our launch and delivery for FW21/22 to beginning of November and concerning the FW22/23 collection we deliberately decided not to add new products for FW22/23. This is possible because we have the very comfortable position that the collection for FW21/22 had been streamlined and updated extensively, so we do have a perfectly complete and up to date winter sports collection. 
Please name and describe in about 60 words 3 highlight items from your FW22/23 collection. 
GEAR BACKPACK 60 / 90 – The all-in-one backpack for a perfectly organized trip in the snow, available with 60 or 90 litres of volume.

 

LINE PRO – The highest level of back protection fused with the best carrying comfort imaginable in a touring and freeride backpack.

 
PATROL – Versatile touring backpacks for one- or multi-day tours with perfect fit and excellent load distribution.