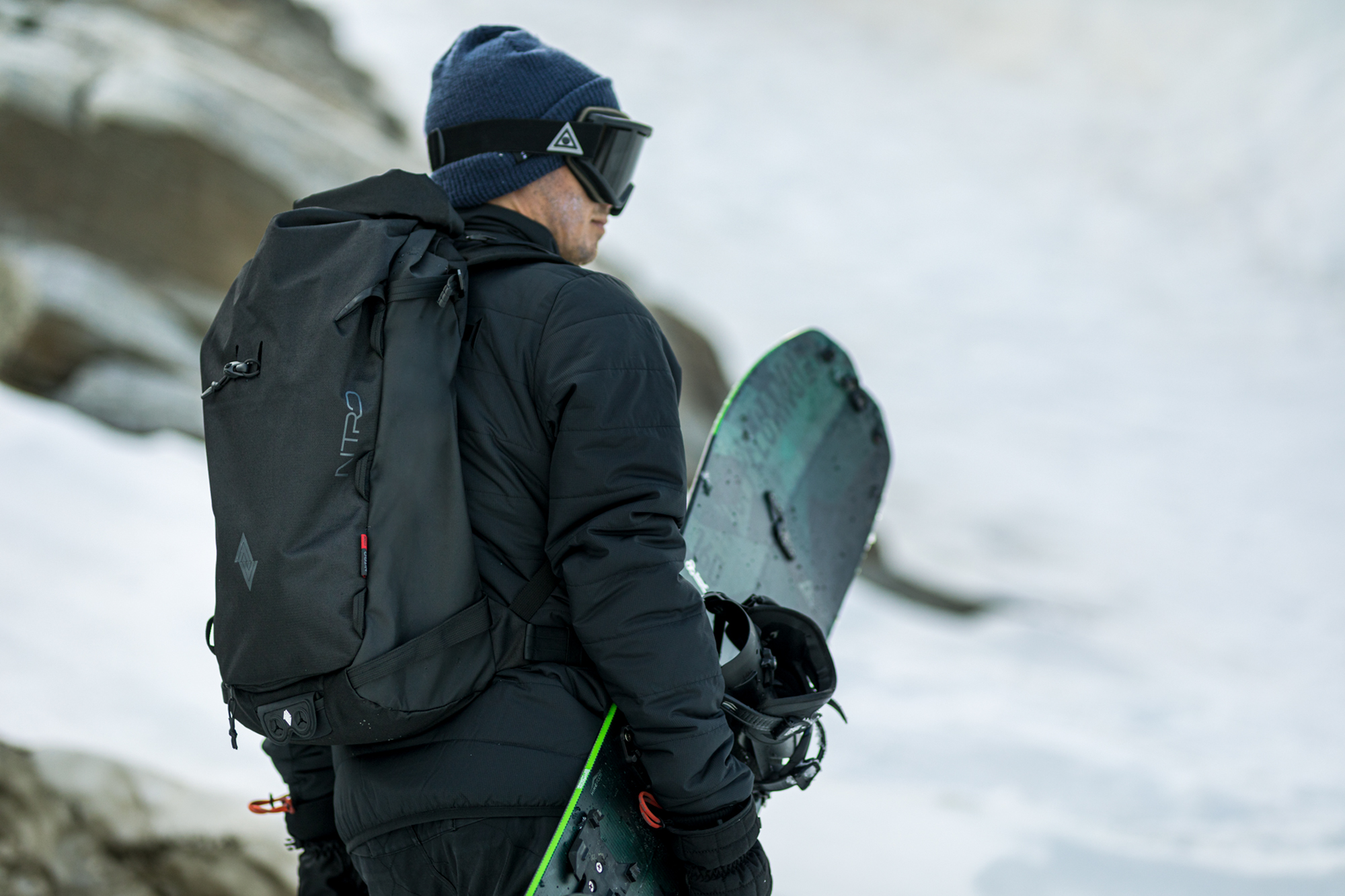 Nitro 2022/23 Technical Snow Backpacks
Retail Buyers Guide: Technical Backpacks 2022/23 Retail Buyer's Guide
Brand: Nitro
Interviewee: Philip Haendeler, Sales Manager Nitro GER
What are the main trends in the snow backpack market?
The field of usage a snow backpack is getting more various and multifunctional. Not only down the hill, also up and besides the mountains. Splitboarding is still a big topic and the gear is improving consistently. For example more special features for long hikes to make it more comfortable and easy. 
What do customers expect from their technical snow backpacks these days?
They expect a superlight, comfortable, adjustable backpack with smart entry options. Also individual clearly defined pockets for their equipment. Everything has to fit perfectly. Also we noticed that a wider spectrum of using the backpack (e.g. cycling, hiking) is a plus.  
What were your best sellers in FW21/22?
Our new Splitpack 30 was really strong. But also popular models like the Slash 25 pro in the bright colorway "cyber yellow". 
Where do you expect your biggest growth in FW22/23?
Splitboardig is still the hottest field where we see our biggest growth. We still think that there will be a lot of people out there that try to find their own ways to explore the winter but try to avoid the huge crowds in the ski resorts.   
How are you segmenting your FW22/23 technical backpack collection and what are the main price points? 
Our technical range covers 3 models, while the entry price point (ROVER 14) is an outdoor backpack for everyone and every type of activity from snowboarding to hiking or biking. The Slash 25 pro is a technical backcountry bag loaded with snowboarding specific features and a focus on carrying & riding. As a brand with 20+ years of experience in splitboarding, it came natural to design Nitro's first ever splitboading specific backpack, the new Splitpack 30. The bag rounds up our 22/23 backcountry program of splitboards, touring boots & split bindings, skins & poles.
What are the most important technical features in your FW22/23 collection? 
New materials (420D recycled Polyester Dobby, Coal Pu, WR C0, BlueSign) Updated Designs: lighter, new adjustable waist strap, new shoulder straps and loops for ski 
What materials are you using? 
420D Recycled Polyester, Big Diamond Rip Stop, Green PVC
What color palettes, prints or patterns are you working with?  
For winter 22/23 we offer 3 new colorways: 
Arctic – a stylish petrol with gridded patterns 
Supernova – an intense red with gridded patterns
Phantom – a solid technical black with gridded patterns 
What are the main marketing stories and inspirations behind your FW22/23 collection?
As Nitro in general we are lunching the "GET OUT" campaign to motivate people to get out and explore the surrounding outdoors. This is a perfect match with our splitboarding adventure approach in the bags segment.  
Any new developments on sustainability?
As in previous years, our fabrics are PFC free and blue sign approved, our factories BSCI audited. We are using more and more Coal PU and C0 water repellency.
How are you supporting retailers (physically and digitally)?
With small pre orders, and possible reorders all season long. We don't want our dealers to have a big warehouse stock. We take the risk for them. 
We are always improving our media server and provide our dealers with the best product-, detail-, and image shots. As well as social media content and different marketing stories.  
Did the restrictions at resorts last year impact the sell-through of the FW21/22 collection? If so, how have you addressed this issue?
Minor topic for us because we sell our backpacks quite well even during the summer. That's because you can use our bags for several purposes and not only during winter season. Generally speaking, sales have been very positive and our bag business seems to benefit from the boost of interest in any type of outdoor activity during COVID.  Also our big Urban and Daypack Collection was supporting us during summer time. 
Have you had problems with the supply of FW21/22 product? If so, how have you addressed this issue, and will this result in changes to your FW22/23 sell-in?
Because of our big stock during the season we were able to supply our dealers consistently. The warehouse situation will be a key factor also for FW 22/23. 
Please name and describe in about 60 words 3 highlight items from your FW22/23 collection. 
Splitpack 30 (129,95€) – is a new and splitboarding specific model with variable size from 22 to 30 liters due to its roll-top closure, giving it the right size for larger daytrip or maybe even overnighter at a mountain hut. Designed for light weight and durability, clean and sleek on the outside, the large main compartment is accessible from the top and a large zip opening at the back panel, giving you quick and easy access to the gear even if stuffed into the very bottom of your bag. For Winter 22/23 in two fresh colorways (arctic & supernova). 
Additional features are avalanche safety gear pockets, an optional KOROYD EOP 1.0 back protector, goggle pocket and additional gear pockets, hydration compatible. External water bottle zip-pocket. Build in mesh helmet carry, hiking pole attachment system, ice-axe loops, board- and ski carry system and multiple gear loops, adjustable waist and chest straps, compression straps and weight lifters.
Slash 25 pro (149,95€) – is a feature loaded snowboarding backpack with size adjustable back panel & carry system. 
Detail list: size adjustable carry system with CROSS_WINDS TM ventilation, hydration compatible, internal dry gear sleeve, fleece lined goggle pocket, backcountry gear pocket, board and ski carry system, external hiking pole stashing and gear loops, adjustable waist and chest straps, compression straps, prepared for KOROYD EOP 1.0 back protector
Rover 14 (79,95€) –  is a multipurpose, year round backpack with a focus on snowboarding, hiking & biking
Detail list: ergo comfort back panel construction with CROSS_WINDS TM ventilation, hydration compatible, internal dry gear sleeve, fleece lined goggle pocket, backcountry gear pocket, board and ski carry system, external hiking pole stashing and gear loops, adjustable waist and chest straps, compression straps, prepared for KOROYD EOP 1.0 back protector