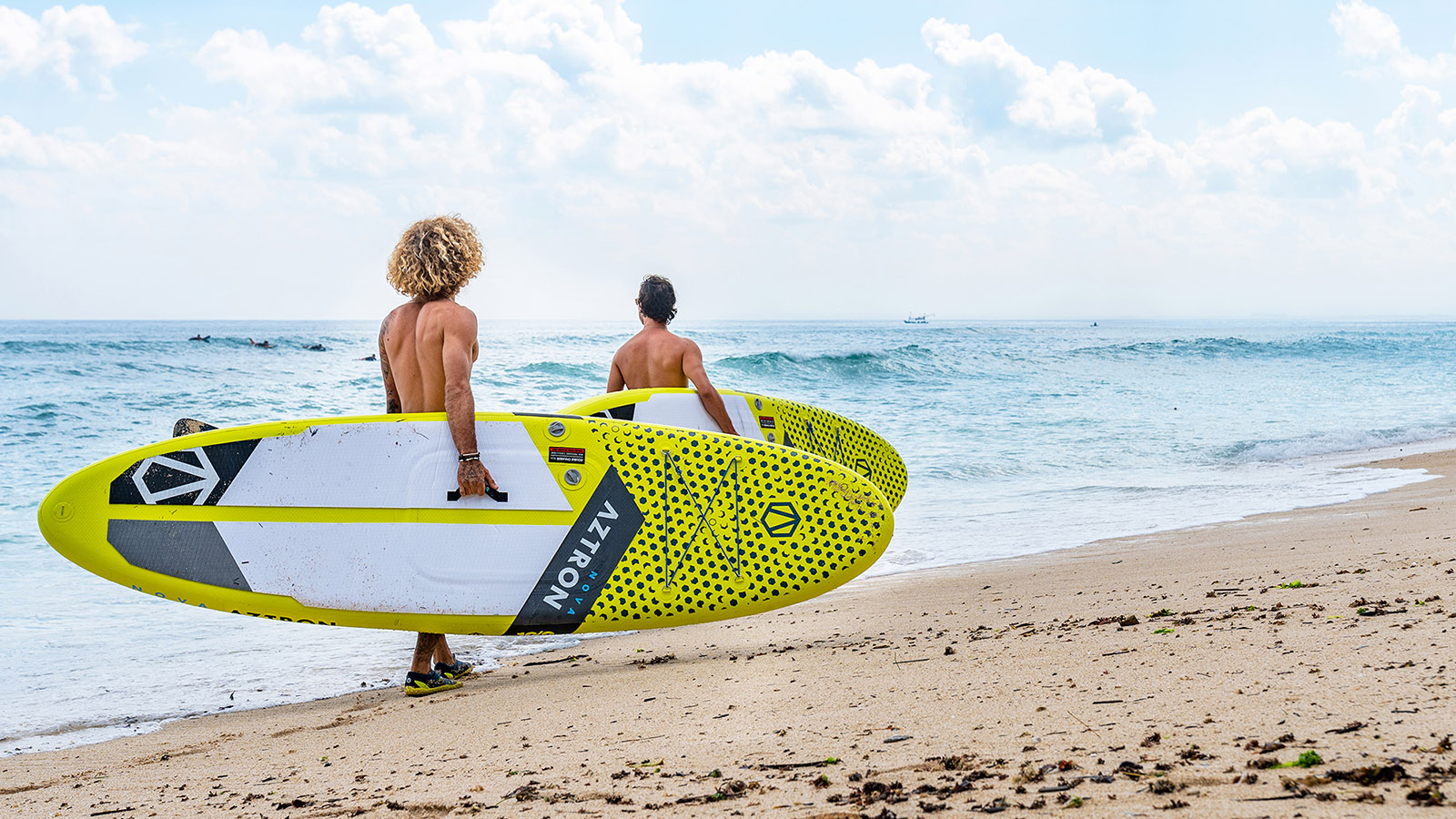 Aztron 2020 SUP Preview
Retail Buyers Guide: SUP 2020
Brand: Aztron
Interviewee: Tony Yeung, Founder and CEO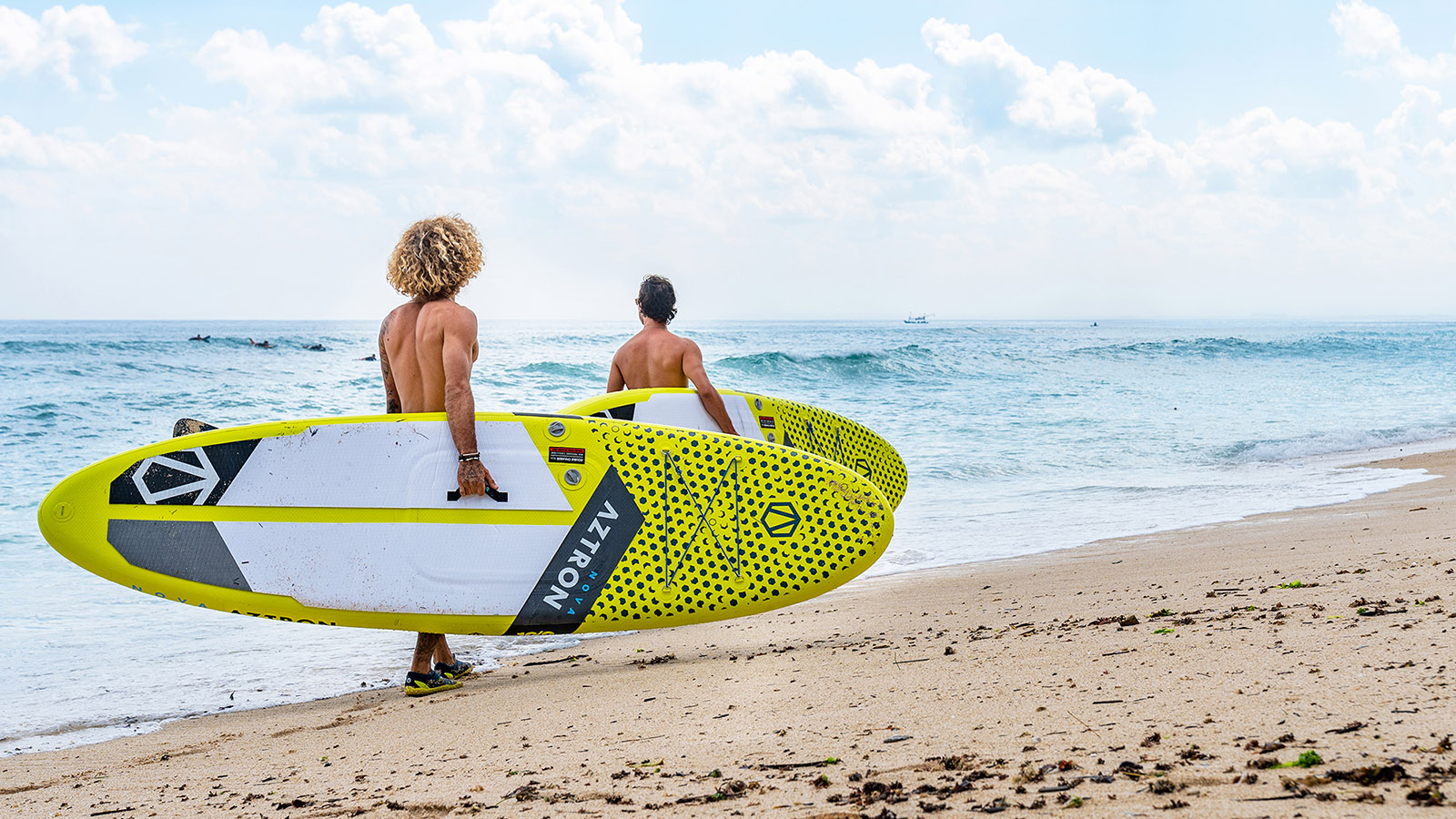 How is the SUP market trending sales-wise in 2020 compared to previous years?
In 2020 the SUP market is expected to continue its strong sales performance from last year. In 2019, Aztron has more than doubled the number of boards sold compared to 2018, and now Aztron is distributed in more than 37 countries.  Aztron expects to double sales in 2020 just like 2019, while expanding the distribution network to more than 50 countries.
What is your vision of the market segmentation, from the core SUPer on the one hand, to the once-a-year paddler?
After more than a decade since SUP was introduced to the world, the number of core SUPers has been growing faster and broader around the globe.  Before, the core SUPer group was just a small group of athletes and affluent early adopters in the traditional North American and Western European countries. Now, the core SUPer group has grown exponentially to people with regular full-time jobs and middle classes spreading throughout the world, including Asia Pacific, South America, Central Europe, and other International regions. For this reason, Aztron in 2020 has launched a wide range of top performance full composite boards at super affordable prices, including the 14'0" full carbon fiber LIGHTSPEED Race board at 1499EUR retail and 9'4" carbon fiber APUS Surf SUP at 1199EUR retail.
In the last five years, just like everyone in the industry, I have witnessed the tremendous growth of the SUP market.  This was mainly driven by the introduction of affordable and simple structured inflatable SUPs, where many first-timers and once-a-year paddlers can buy an inflatable SUP for half or one third of the price.  Indeed, this was exactly what fueled the SUP market with high growth and attracted so many new faces into our industry.  In 2020, I believe the focus is still in the once-a-year leisure paddlers market, but unlike previous years these once-a-year paddlers have become a lot more knowledgeable and demanding. They are no longer satisfied with the basic two to three hundred euro paddle board that they see online or in store. Instead, they are looking for nicer design, better performance, higher quality and a "real" safe SUP board at a friendly price.  For this reason, Aztron in 2020 has launched the revolutionary NOVA Compact Double Chamber Inflatable SUP at 349EUR retail, which is up to 20% stiffer, packs 50% smaller, and double chamber safety construction.
In addition to the core SUPer and once-a-year paddler, Aztron is dedicated in serving a new growing group of SUP paddlers, which we called "Smart Paddlers". Instead of paying crazy money for the most advertised and hyped-up SUP or buying the economic single chamber inflatable board, the smart group prefer to pay a little bit more than the entry-level inflatable board, in exchange for a board made out of nicer design, highest quality double layer fusion material and double chamber technology. The double chamber structure puts the paddler's life and safety in first priority, while the heat sealing wall between the inner and outer chambers increases board stiffness by up to 30%. Aztron believes whether a one-time paddler or a core paddler, life has no second chance, and that's why we insist to make all of our inflatable boards with dual chamber structure.
Apart from the entry-level allround model, which categories are trending? (touring, waves, race…)
In 2020, we expect the touring, surf SUP and racing boards to be more popular for the second SUP buyer market. Most of them had the experience with the cheap all round single layer inflatable board, and are now looking for an upgrade to enable them to explore their favorite SUP specialty, such as long distance cruising, windsurfing and surf SUP. For this reason, Aztron added 12'0" Soleil Xtreme Multi-functional Double Chamber Double layer Inflatable SUP to the 2020 product line at 649EUR retail, which comes with windsurf and kayak seat options available.
Do you think hardboards can bounce back and regain market shares on inflatables?
Hardboards are definitely bouncing back. With that said, hardboards and inflatables serve two completely different groups of paddlers, which I believe can grow parallel to each other. Nowadays people who are buying hardboards most likely had the experience with their first inflatable cheap all round board or second inflatable touring/race board already. With the ability to store a hardboard at home, these hardboard buyers want to upgrade their SUP experience to the next level. As all industry insiders know, hardboard is always stiffer, goes faster, and better with waves than inflatables. Hence, there is a lot of hardboard demand from these "Smart Paddlers", where they want to buy a good performance race or surf SUP hardboard without breaking the bank. In the 2020 season, Aztron has a full line of hardboards starting from 499EUR retail, ranging from all round epoxy hardboard to full carbon fibre 14'0" race hardboards.
What are the main innovations within your 2020 range (inflatables & hardboards)?
Since the beginning, Aztron strives to be the most innovative SUP watersport brands with user safety as first priority. Aztron is the world's first and still the only brand in the market that offers all inflatable SUPs made with Double Chamber Technology. This year, Aztron is proud to further innovate and revolutionize the SUP industry with a number of new technologies applied to the 2020 new products.
"Compact Double Chamber LITE Technology" is the newest innovation in the Aztron inflatable 2020 product line-up, and it is only available on the new 2020 Aztron NOVA 10'0 Compact Inflatable SUP this year. This technology has three major advantages. First, it allows the Nova to be packed down to only half the size of a traditional inflatable SUP. Second, due to its double chamber structure, 60L displacement second chamber provides safety buoyancy even under extraordinary circumstances. Third, i-beams between the two chambers are strategically placed under the standing area of the deck, so it increases the board stiffness by up to 20%.
Designed to be the fastest and most exhilarating air SUP on the market. "Ultra-Light Drop Stitch Technology" is applied on the new 2020 Aztron  METEOR14'0" and METEORLITE12'6" Double Chamber Race Inflatable SUP. Unlike 99.9% of the ordinary inflatable SUPs on the market that are made from traditional heavy knitting base cloth, specially made woven base cloth and X-stitching construction are combined with double layer fusion technology to make the lightest and strongest race performance drop-stitch SUP material for our newest METEOR and METEORLITE race boards. The performance result in terms of weight-speed ratio is stunning compared to the 2019 models.
As for hardboards, Bamboo-Tech hard board construction and Bamboo Paddle Blade construction are the first steps Aztron have made to use more environmentally friendly materials in making hardboards and paddles. Compared to carbon fibre, fibreglass or plastic, Bamboo material is natural and chic and also gives riders an environmentally friendly and bio-degradable alternative.
Do you value the foiling market?
Since last year, I see some brands starting to make their attempts to make SUP foil and all foil boards. At Aztron, we will continue to closely observe and evaluate this new segment in 2020.
This may sound candid but don't you think the mere size of SUPs has impaired their inshop storage, thus leading to the success of online sales?
The success of online SUP sales is mainly a result of the introduction of inflatable SUPs, as most inflatable SUPs are approximately 10 to 15kg in weight and come in the size of about 0.1 CBM, making it a very suitable online sales and courier delivered at very minimal cost.
I certainly still see some physical shops doing great, where their sales grows year-over-year.  Compared to the other underperforming shops, these good shops are offering a much better experience and product education than the online shops. In addition to displaying and selling products in the shops, they also offer hardboard equipment rentals, training courses for beginners and prospective instructors, opportunity to test riding new boards, and some of them even have a café or a place for SUP enthusiasts to hang out. Just like all other industries, SUP shops must offer more than just products on the shelf, and I trust paddlers are willing to pay at least the same amount of money if not more to buy in a good shop, instead of buying online.
My advice to the physical shop owners and operators are: 1. Only carry products that are innovative, high quality and with adequate sales margin, where these brands must have uniform MSRP policy for both online and offline dealers 2. Carry at least some hardboards, as it is very expensive and risky to send hardboards by courier across the country, so it gives more reasons for SUP end-buyers to buy and visit your shop 3. Offer rental services for inflatable and hard boards, so shoppers can rent a board to ride before buying one. If the person who rented the board ended up buying a board from your shop, it is recommended for you to waive the rental fee or let the person use the rental fee against the purchase price.
Any piece of advice to brick & mortar retailers concerning their order sorting? (as there is only so much room in their shops and so many SUP categories/models available)
A good piece of advice to all brick and mortar retailers is to order at least 2 pieces of every product you plan to carry in your brick-and-mortar shop. With limited room in the physical shop and storage facilities, I would recommend brick and mortar retailers to work only with brands who have a local country-based exclusive distributor.  In all the countries Aztron distributes in, we have an exclusive distributor in each country warehousing the full line of Aztron inflatable and hard boards, so Aztron brick and mortar dealers can replenish their shop inventory in a timely basis, so we can avoid the chance of disappointing any in shop buyers. If budget allows, I would suggest shops to implement an ERP inventory control system, so it can help keep track of inventory and automatically restock items when necessary.
Best Sellers
Please name and describe your 3 highlight pieces and items that retailers should definitely order.
Aztron Nova Double Chamber Lite Compact iSUP 10'0″ x 32″
The NOVA 10'0″ Compact SUP promises a thrilling journey with its brand new concept.
Transforming the typical SUP to less than half of its traditional size without compromising performance.
With a LITE version of Aztron's signature Double Chamber technology, the NOVA 10'0″ is just as up-to-par with any other all-round SUP, being absolutely more rigid yet remains lightweight for easy transport.
Aztron Soleil Xtreme Double Chamber MSL Mutlifunction Windsurf iSUP 12'0″x32″
"The SOLEIL 11.0 & SOLEIL XTREME 12.0 multi-functional SUP collection is the ultimate SUP being an ideal match with windsurfing and sit-on-top kayaking. The most selling all-round and touring board shape combines easy paddling with a windsurf option, giving the rider absolute freedom and control in all situations. With our Double Double (Double Chamber plus Double Layer Fusion) design and two options of 4.0 and 5.0 sail, even more brutal winds and wave conditions can be handled with confidence.
A smart design of multiple handles and extra D-ring connectors makes the board much more fun than a regular stand up paddle board. Power, dynamic and multi-functional, the SOLEIL board won't let you down. It's the advanced all-in-one set for a discerning rider who knows exactly what they want!"
Aztron Lightspeed Carbon Race SUP 14'0″ x 24.5″ 
"When it comes to race paddling performance, there is one board to rule them all, the LIGHTSPEED 14'0″" carbon race SUP. Designed to be the fastest and most exhilarating race board in the market. The secret starts with the advanced board construction. Features a CNC shaped EPS foam core with all wrapped full 3K carbon laminated layers, the LIGHTSPEED reaches a perfect proportion of weight, stiffness and performance.
Features a length of 14 feet (425cm) and a width for racers at 24.5 inch (62cm) and built with ultra-light carbon and glass mixed layers, this race SUP delivers stunning performance in every kind of water condition, perfect for flat water and ocean chop. Fast and dynamic, this is the ultimate machine for riders who value performance above all else."