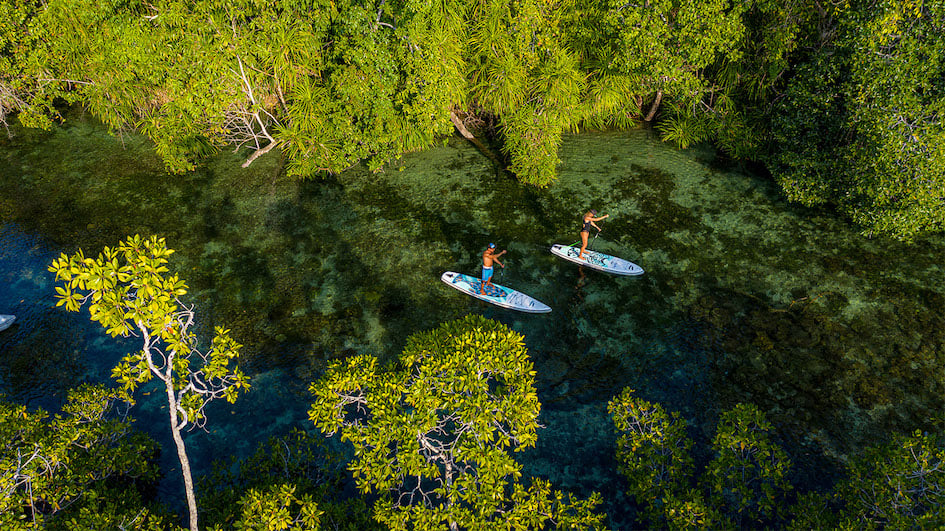 Indiana 2020 SUP Preview
Retail Buyers Guide: SUP 2020
Brand: Indiana Paddle & Surf
Interviewee: Maurus Strobel, Co-Founder & CEO
Saleswise, has the SUP market hit the ceiling?
End of last year I would have said total board numbers are still increasing, but most of them are mass market products. Now because of the corona economy crisis, the cheap boards will still increase in Europe because of lower salaries and travel ban. People will stay in their home country and explore it on a SUP. In Switzerland there is still some money to buy mid to high price equipment.
What is your vision of the market segmentation, from the core SUPer on the one hand, to the once-a-year paddler?
There will be many more in the middle. People realize they need to strengthen their body and immune system. Being on the water is good and healthy, no risk to get the virus. Lots of beginner model users from the last years will switch to a better touring model to explore lakes and rivers or ocean coasts. They want to be faster and make a bigger distance on their journey.
Apart from the entry-level all-round model, which categories are trending? (touring, waves, race…)
Mostly touring 11'6, 12'6 and 14'. And the feather 11'6. A super light touring board. Easy to transport, lots of fun to travel with.
Do you think hardboards can bounce back and regain market shares on inflatables?
Yes, but only a small percentage. It's still too complicated to transport, store and take care of.
What are the main innovations within your 2020 range (inflatables & hardboards)?
We invented Stand Up Paddling 2.0 for 2020. It's a new thing now.
Best dropstitch material
For 2020 we use a better, upgraded dropstitch material for almost all boards compared to 2019. At the same time, we also lowered the price!
For classic boards we use woven double layer dropstitch. Thanks to this we reduced the weight about 2 kg per board. On the family packs we use knitted double layer dropstitch. Still same weight, but stiffer and more robust than the years before.
Straight Shape
All our Touring and Race Inflatable SUPs have a straight shape (no Rocker). This is the fastest shape on the water because of the longer waterline!
Splitfinbox
On all our inflatable SUPs we use a split fin box. Folding the board is faster, easier, more compact and with less risk to break the fin-box when you fold the board. This is a real revolution on the SUP market!
Hyperflow fins
Together with the engineer Jan Pütz, our shaper Andi Widmann developed the Hyperflow fins for racers and ambitious paddlers. With its flat angle, it prevents the annoying sticking of sea grass. The optimized profile of the fin ensures a lot of speed, the outline provides tilt stability and good straight-line stability. Available in super light carbon or polyamide injection.
Footbases
On our "Classic Edition" Boards we have an extra fibreglass mat in the foot area to make the board harder.
Easy Roll Wheelie Bag
The Wheelie Bag which we have combined with the Paddle Connecting System. The paddle serves as a drawbar allowing you to pull or push the Wheelie Bag. Getting to the shore doesn't get easier than this. 
Cam Connector
We have an action-sport camera (gopro etc.) connector on the D-ring patch at the nose of the board with a ¼ inch thread.
Do you value the foiling market?
Foil surfing makes the dream of flying a reality for everyone. We believe in the foiling future. With our experts Gunnar Biniasch and Andi Widmann we have boosted our range of foil products. And you can even get our hoverboards as inflatables. In total we offer 17 foilboards for any kind of foiling discipline, 4 different frontwings, 2 fuselages and 3 masts.
The foilers are an interesting target group, their focus is on the product and less on the price.
In combination with the inflatable wings, foiling is even more interesting and accessible for areas with restrictions, such as NO kitesurfing zones.
This may sound candid but don't you think the mere size of SUPs has impaired their in shop storage, thus leading to the success of online sales?
The inflatable SUP as a product makes it very easy to shop online. It's easy to handle and very cheap to ship with companies such as DPD or DHL etc.
In our own new Flagship store on the shore of Lake of Zurich customers can see, touch and paddle all the boards we have. When they buy, we will dropship from our external warehouse.
Logistics for hardboards is still tough for everyone involved.
Any piece of advice to brick & mortar retailers concerning their order sorting? (as there is only so much room in their shops and so many SUP categories/models available)
Our shop partners can benefit a lot from our big warehouses in Switzerland and Austria. They can order a set of boards for the shop and their own test stations with interesting conditions such as pre order discount and volume discount. During the season they can re-order material from our warehouse with same volume discounts without taking more risk with amount of own stored boards.
Best Sellers
Please name and describe your 3 highlight pieces and items that retailers should definitely order.
Indiana 11'6 Feather
Art. 1046SP, Retailprice: 899 Euro, incl. Drybag, 8.5'' Hyperflow Polyamid Slidefin, Pump
Specs:
Woven Single Layer, Length: 11'6' / 350 cm • Width: 30'' / 76.2 cm • Thickness: 6'' / 15 cm • Volume: 307 L • Weight: 7 kg
Indiana 12'6 Touring Inflatable
Art: 1002SP
Retailprice: 1049 Euro
incl. Wheelie Bag, 8.5'' Hyperflow Polyamid fin, Pump
Specs:
Woven Double Layer
Length: 12'6 / 381 cm • Width: 31'' / 78.75 cm • Thickness: 6'' / 15 cm
Volume: 340 L • Weight: 10.4 kg • Est. Rider Weight: 70-110 kg
Indiana 150 Wing Foil
Art: 3217SP
Retailprice: 1399 Euro
incl bag, footstrap plugs
Specs:
Carbon Fibreglass Sandwich
Length: 150 cm • Width: 66 cm • Thickness: 13 cm • Volume: 83.4 L • Weight: 6.1 kg • Est. Rider Weight: 50-90 kg