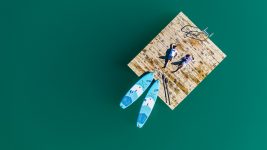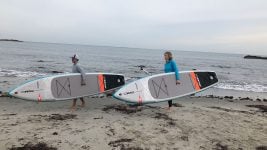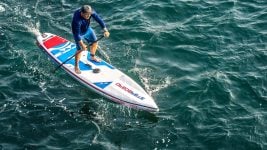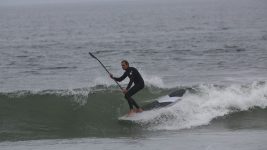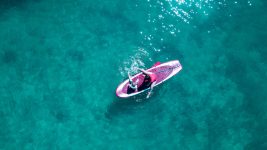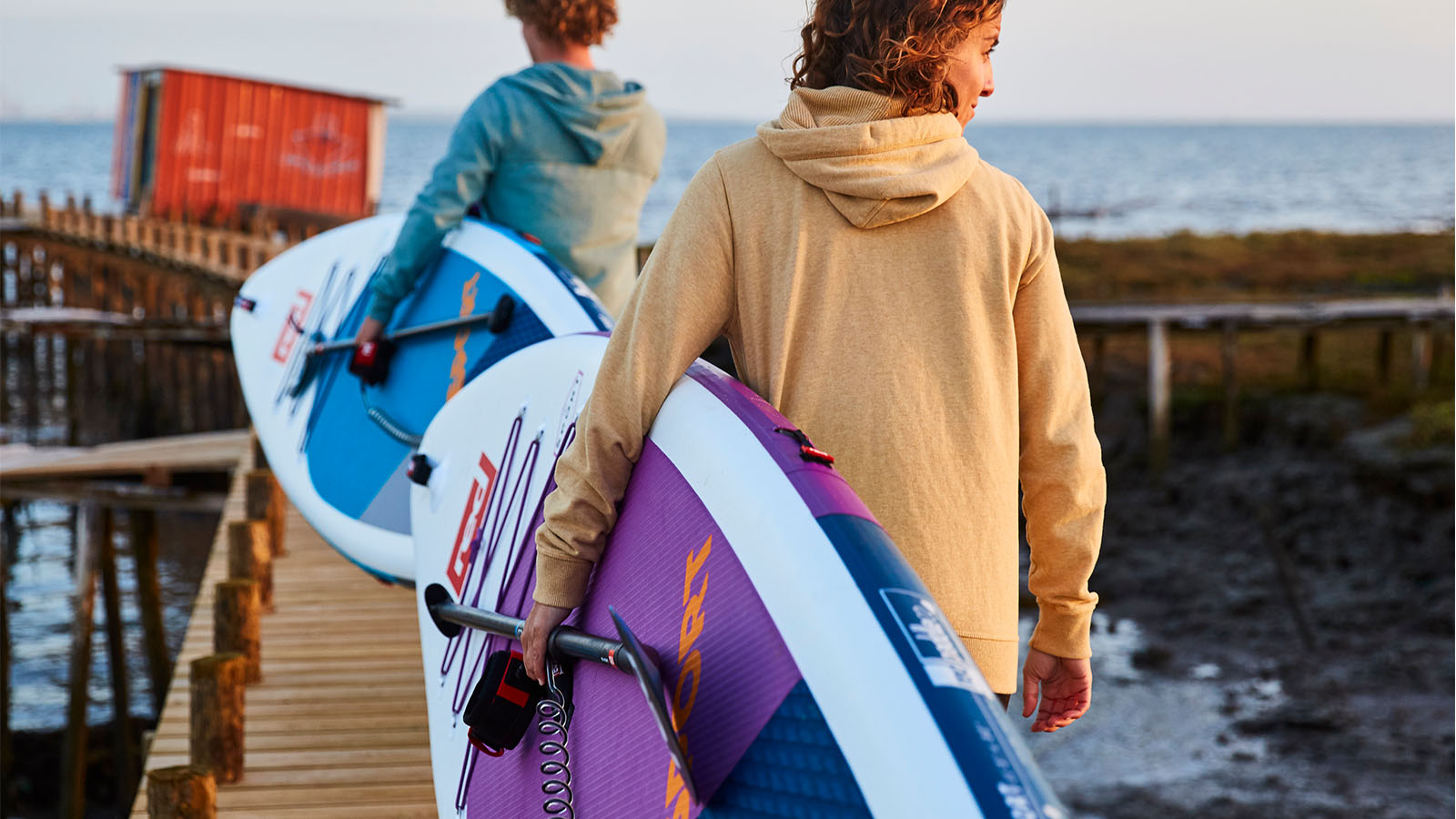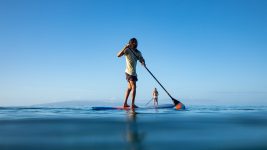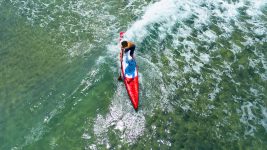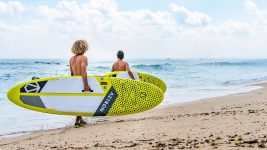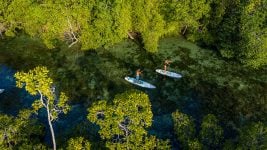 With the closure of the beaches and a halt to sport in general across Europe amidst the pandemic, the impending return to freedom represents a significant additional lever for SUP as a sport, with the most accessible boardsport continuing to increase in popularity and participation. 2020 retail buyer's guide and trends by David Bianic.
Apart from clothing, SUP is perhaps the most universal product in the boardsports industry and it was hit by the full force of the COVID-19 pandemic as many of its players manufacture on Chinese territory. Production, supply, distribution, the whole chain found itself at a dead loss just as the summer season was starting to look promising, confirms Anthony Scaturro, Global Brand Manager for SIC Maui who "had very strong 2020 retailer bookings". As 'luck' would have it, many of the market players had already taken precautions, figures Neal Albaz from Poolstar (Coasto, Skiffo, WattSUP, ZRay), and after a disappointing 2019 due to the weather, had stocked up at the source from "European brands who had stock available, finance offers and offering limited risk" after having resorted to importation the previous year.
Overall the feeling is optimistic for the future of the market, even though "it's no secret that the double-digit growth in the market is gone", as pointed out by William Doornekamp, B2B Marketer for Jobe Sports International. Accessibility to recreational SUP also makes it an appealing product for emerging touristic nations such as China for example, says Renwen Lu, Marketing Director at Aqua Marina (based in Shanghai), while in countries with a strong boardsports culture like in France, "the market looks slower than last year", evaluates Patrice Remoiville, Founder of 3 Bay Paddle SUP, highlighting the disappearance of a few big brands from France. It's the same tone in Germany, Anja Scheuermann, Marketing Manager for Yolo Board is expecting "to hit the ceiling in 2020". For the team at JP Australia (Sören Siebeck, Division Manager Europe and Philip Mackenbrock in Marketing), it's about gaining perspective: "the market in total is still growing. It is differentiating more though", in the sense that the number of sales points has increased but "all this might result in smaller market shares for different brands and shops although the total number of sold SUPs might still be growing."
TRENDS 2020
There's little chance of the dominance of inflatable SUPs falling by the wayside; representing around 95% of the sector according to most of the brands we asked. The future of rigid composite models seems to be quite limited beyond core participants because "you can hardly make a consumer who lives in an apartment buy a 12 foot long hardboard," as Renwen Lu from Aqua Marina clarifies. The logistical constraints of rigid boards begin much further up the chain than that, as Stuart Poynter from Tiki points out: "Courier costs are increasing year on year and most couriers now charging volumetric rather than by carton quantities."
The future of rigids will depend on loyalty built with the sport's participants who might turn towards composite models if "for a second SUP they want a rigid/training/touring board" (Jan Strindler, Kona Sports), or even for their third acquisition (Tony Yeung, Aztron). For Anthony from SIC Maui, you have to see the relationship between inflatable SUPs and rigids like a pyramid with inflatables and thermo-plastic rigids at the base of the building and at the very top are the rigid race boards. The more the base grows, the more the summit enlarges proportionally: "I see all of the technologies as a co-dependent /symbiotic necessity."
Indeed, the figures seem to translate to a transition from all-round boards to touring models (further, longer), like at Ari'i Nui where the category represents the largest part of the market, reveals Benoît Brecq, Brand Manager. It's the same touring element driving Mistral, Naish, Aqua Marina, Aztron, Jobe, Sroka, Yolo, Indiana, Infinity, JP Australia, Kona, Norden, NSP, Poolstar and Red Paddle Co. A good example is Starboard who are introducing two models in this category, the Waterline (flat-water touring) and the Generation, a board "which offers a 3in1 for Surf, Race and Cruising", aimed at participants looking for narrower touring SUPs, explains Ping Lekdee, Communication Manager. Commercially speaking, touring represents a really big sector, assures the team from JP Australia, "being in the medium to high price level."
But it has to be said that beyond this trend, the other main traditional SUP disciplines (waves, racing, rivers) are relatively moribund, unless you opt for ultra-specialisation like Hala Gear who are dedicated to whitewater and are predominantly counting on a population "of former kayakers and rafters really expanding the whitewater SUP market", assures Victoria Ohegyi, Marketing Director. A small comeback for wave models should be mentioned, encouraged by the arrival of all-round models, "combo boards that can SUP surf, SUP foil and also be used for wing-surfing", explains Scott Trudon, Brand Manager for Naish, mentioning their Hover Crossover "4-in-1". Starboard were the first to draw guns with their Hyper Nut model that became the brand's "best-selling single model", reveals Ping Lekdee, just like JP Australia's solid success with their Foil Slate, a Swiss army knife, at ease as an SUP surf, SUP foil, wingsurf, wingfoil, windsurf and windfoil!
Suffice to say that some are going this way with their inflatable foilboards, which is the case at Indiana and Naish: "We have also just added 2 models that are meant for use with our wing-surfer and a foil", reveals Scott Trudon.
Of course, foil may represent a certain dynamism, but the furore should not hide the overall anecdotal market share when it comes to the SUP sector. Steve West, Brand Manager at Mistral sums up the situation with a pretty funny analogy: "It's a creative distraction in an otherwise immature market in respect of SUP. It's a bit like asking the average driver to invest in F1 car performance when most end-users are still figuring out how to paddle properly and are just as happy with a Morris Minor as long as it's the right colour." Then there's the fitness/yoga category that continues its ascent but only concerns a small few boardsports retailers, the board here being a piece of equipment rather than a "vehicle". More surprisingly, Surftech are reporting a proximity between the market of prone paddleboarding and that of SUP. Kerry Powell, Brand Manager for Jorcani Sports (European distributor of Surftech) says that "many SUP races and tours are now putting a prone element inside their races to help support the growing market segment." Well-placed in this niche, Surftech are leaning on the expertise of Bark boards (Commander and Sprinter models) with their Tuflite Fusion V-Tech (entry-level), C-Tech, Ghost Carbon and even an inflatable version.
INNOVATIONS 2020
Let's start with rigid models as the new designs and constructions are scarce! Patrice Remoiville from 3 Bay delivers a unique 14' racer named the Squid, "inspired by whitewater kayak designs". The result is an outline whose pronounced wide point is located in the rear quarter while underneath the board, the width at the waterline remains 21.5". At Infinity it's the Whiplash (flat water) and Blackfish (all-round race) models that inherit a new construction option, Team Elite Carbon, "a new carbon-moulded technology" reveals Andrea Di Sante from European importer JLID Distribution. This costly construction made in the Kinetic factory requires a mould to be made for each board size, "but the payoff is incredible".
At the other end of the spectrum of the discipline, the NSP Cruisers with their HIT (High Impact Technology) construction are aimed at schools and rental facilities thanks to their indestructible build. The EPS SecureCell core is stratified with a carbon fibre used by the army, then wrapped in an ultra-durable styrene-acrylonitrile "bullet skin" layer. Launched in 2019, these HIT Cruisers "are a big part of our 2020 growth", assures Caren Forbes. Apart from race boards, whose constructions continue to refine the weight/durability ratio by using carbon and new cores, composite models seem to have reached a development plateau.
When it comes to inflatables, the advent of multi chamber constructions is feeding the ideas machine. At the beginning, multiple air compartments served as a backup in case of a leak or puncture. In the end, this constraint has morphed into an asset. Mistral are using double chamber technology with their Twin Air Inflatable Technology with two compartments – right-left- separated by "a unique narrow centre hollow void, constrained by an outer compression band", explains Steve West. Another example comes from Aztron whose Compact Double Chamber LITE technology features on their 10' NOVA. The second "back up" 60-litre chamber allows a reinforcement "i-beam" to be inserted underfoot "to increase the board stiffness by up to 20%" promises Renwen Lu.
This board, as well as the Fly Air Pocket from Fanatic, are surfing on the "compact" concept introduced two years ago by Red Paddle Co, who have just added an 11' model with a resolute touring vocation to the Compact 9'6" they initially launched, "that still packs down to half the size of a standard inflatable board", reminds CEO John Hibbard. At Coasto, the boards are "designed in 3 vertical parts with EVA thickness developed accordingly to the folding lines" for a 40% space-saving gain, assures Neal Elbaz. Also not a bad idea is the split fin-box from Indiana, a fin-box divided in two which means that "folding the board is faster, more easy, more compact and with less risk of breaking the fin-box when you fold the board," explains Maurus Strobel, Founder of the Swiss brand.
Woven & X-stitching dropstitch technology has been gaining traction at many different brands since last year. Starboard introduced a new technology in 2020 called Woven, "which is both lighter, stiffer and stronger", assures Ping Lekdee. The weight is reduced by 1.5kg on the All-Star Airline and the rigidity is improved by 25% for a feel that's more like a rigid board with less wasted paddling energy.
One of the most important innovations is equally as invisible to the naked eye and concerns the lack of glue used to assemble the layers of PVC. Over time, the glue hardens and eventually cracks and "UV radiation and high temperatures accelerate this effect", explain the team at JP Australia, letting the air escape gradually. The brand has therefore gone on to use heat-welding technology throughout their inflatable range (apart from the Superlight range).
HELP FOR RETAILERS
Well aware of the constraints of storing SUPs in shops (especially rigid models), brands are offering retailers solutions in order to get the most out of their investment. Victoria at Hala Gear recommends "to pick 3-4 models to display and take brands up on their offers to dropship" (orders made at the retailer, delivery carried out by the brand). This is a commercial option also on offer at Infinity for example. As for William at Jobe, he suggests that shops return to an omnichannel strategy to offer a quality of service that's consistent between the physical and online sides: "Shops can stock a lot of products in their warehouse, while showcasing just a few models in the showroom. When consumers look online and see something is in stock, they can go to the shop and an employee can pick it out of their warehouse to show the physical product." To ensure more margin though, it's better to go for pre-orders rather than last-minuters, assures Andy Wirtz from Norden. Ping from Starboard advises small shops to concentrate on two brands, no more, and to carefully consider if these brands offer a guarantee or restocks. This is exactly what JP Australia are highlighting: "Take some basic stock for the start of the season and re-order quickly with the supplier when his stock is getting low" because "in this business model the supplier/distributor (…) takes a big part of the dealer's risk." Likewise, Red Paddle has such confidence in the quality of their iSUPs- "We have a return rate of less than 0.5%"- that all 2020 models come with a 5-year guarantee. After gathering all this information, it's clear that the SUP market is showing great vitality, even if it does mainly concern an audience of casual participants. It is perhaps the only boardsport to not be dragged upwards by an elite of SUPers. So it's not so much the stars of the sport or the aesthetic dimension of the boards that make the difference but their pure technical/practical characteristics, which are much more tangible points for retailers to defend than hype is. Something to ponder.