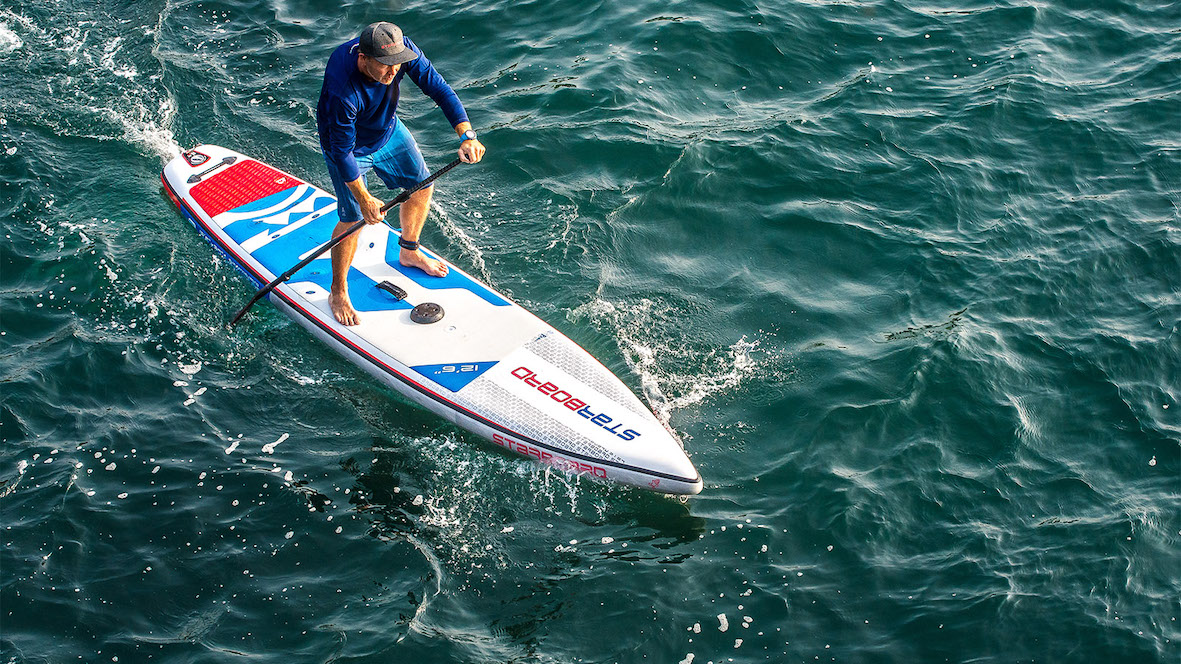 Starboard 2020 SUP Preview
Retail Buyers Guide: SUP 2020
Brand: Starboard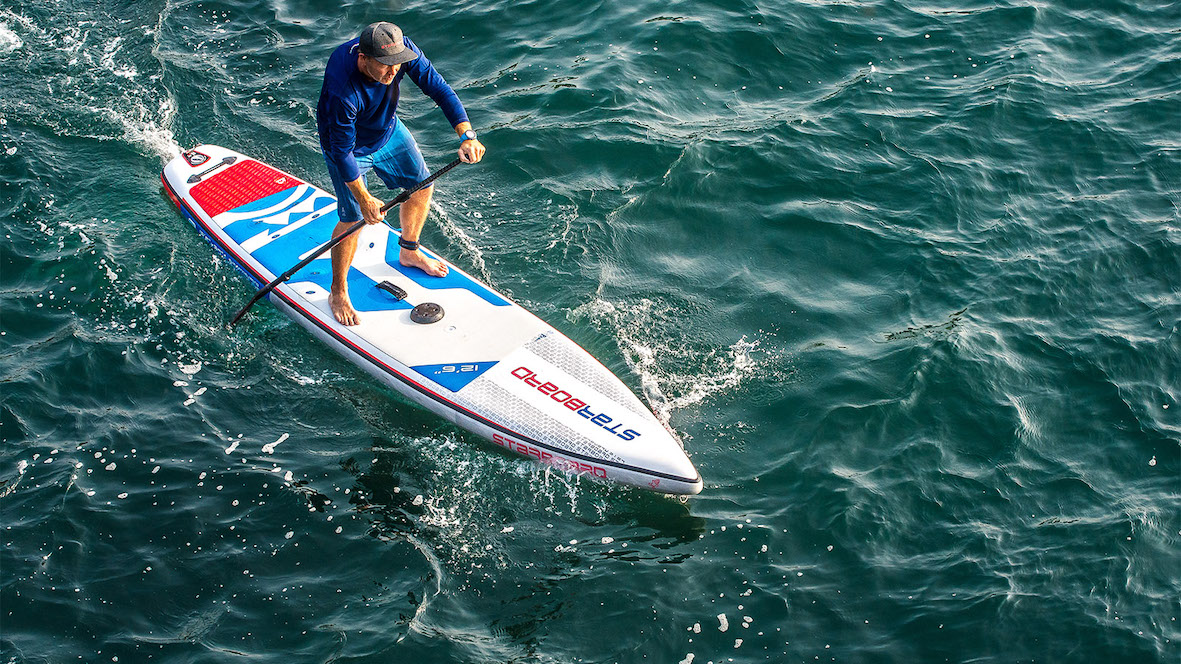 How is the SUP market trending sales-wise in 2020 compared to previous years?
The SUP market continues to grow, and hosts many novelties especially Foiling.
The wide product range in both sectors (inflatables and hard boards) and improvements in the distribution channels (goods retailers, department stores, and online retailers) always improves over the years.
What is your vision of the market segmentation, from the core SUPer on the one hand, to the once-a-year paddler?
That's the great thing about SUP, it reaches every target market. The key in the SUP-market is the development of multi-purpose or multi-functional SUP boards, which perform well in different environments.
I see that inflatable stand up paddle boards have become the most popular piece in the SUP industry and so, for the once-a-year paddler. The high accessibility of boards for entry-level paddlers greatly facilitates the growth of this market, offering the possibility of rapid progression.
On the other hand, for the person who is a long-term SUP paddler, they are in search of the high-performance and innovation within their hard boards in order to take their SUP experience to the next level. Starboard specializes in delivering performance shapes to all niches of the sport.
Apart from the entry-level all-round model, which categories are trending? (touring, waves, race…)
Starboard's foil board range and foils are expanding further, offering dedicated SUP and Surf foiling as well as the Hyper Nut 4in1 and Foil surf boards which crossover as surf and foil boards. In fact, the Hyper Nut 4in1 is Starboards best-selling single model for its versatility to windsurf, windsurf foil, sup surf and sup foil.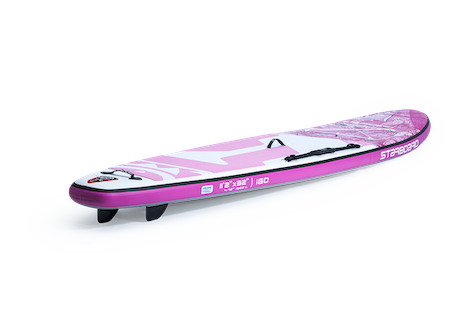 The wave foiling range is increasingly popular. You don't need great conditions and every single wave in the ocean becomes rideable.
New additions into the range such as the Waterline; Starboard's new flat-water touring shape, and the new Generation which offers a 3in1 for Surf, Race and Cruising have been greatly received as paddlers are looking for narrower touring boards.
Starboard has further increased trends after receiving award winning recognition for the Longboard SUP, Pro SUP and All-Star Race boards.
Do you think hardboards can bounce back and regain market shares on inflatables?
In the short-term, inflatables definitely continue to grow in popularity due to the ease of travel and storage. However, the hard board performance is still unmatched mainly due to the limitations in creating different shapes with inflatable boards.
Starboard is renowned for its high-performance shapes in all disciplines from Touring, Race, Surf and now Foiling. The ability to create different thicknesses, bottom shapes and rocker curves allows designers to make faster boards and more reactive shapes that still has an advantage over inflatables. Every year Starboard focuses on developing new ranges to improve performance and improve the ride and feel.
That said, inflatable technologies continue to improve and close the gap. Starboards welded technology on all inflatables has set a benchmark in the way inflatable boards should be built in the future, extending the lifetime significantly. The double chamber technology that Starboard pioneered has also set the standard in creating an extremely rigid board that adds the next level of safety and stiffness to inflatable technologies. These developments will further strengthen the inflatable market and set apart from other lower cost inflatable brands flooding the market.
So, we think it depends on the customer and their storage capacity.  So far, the biggest problem is the price and the storage. Now with the new trend of Wing and Foil, we may see that bounce back again!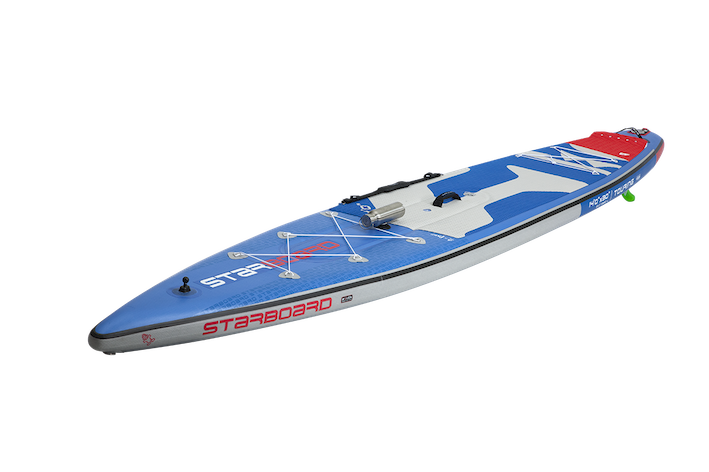 What are the main innovations within your 2020 range (inflatables & hardboards)?
Paddles 
Starboard paddles have taken a big leap in performance in both shape and technology. The new Lima blade has a more direct catch and power transfer with every stroke, while the new Prepreg blade technology reduces the weight by 20% and also looks amazing! Our full 1-piece paddle is arguably the lightest on the market weighing – at just 360g.
Hard boards
In 2020 Starboard has developed its most popular Wide Ride Surf range, including best-selling models such as the Whopper and Avanti. The Wide Ride range is designed to make SUP surfing easy due to the wide outlines. New changes such as channeled tails, shorter outlines, new fin positioning and rail thickness totally upgrade the range.
The Starboard Race range is updated annually to stay winning. The much loved 2020 All Star range won the best performance race board, while the Sprint is faster than ever and the Ace is unbeatable downwind.  
The new flat-water 12'6" and 14'0" Waterline has received incredible feedback, feeling unlike any other board in the range. The Waterline's glide and smoothness slicing through the water is unmatched.
The 12'6" Generation feels like a longboard in the waves, reaches speeds like a race board and has stability for touring and cruising. This is a 1 board quiver for a lot of riders.
Inflatables 
The Starboard 2020 Inflatable range introduces the new game-changing Woven inflatable technology, which is both lighter, stiffer and stronger. On certain models such as the All-Star Airline, the boards are lighter by up to 1.5kg which is a huge saving, increasing glide and acceleration as well as being lighter to carry. Woven is also up to 25% stiffer, creating a more rigid feel that is more responsive, reducing energy being lost with every stroke from the board bending.
The linear dropstitch used on all Zen boards is another exclusive Starboard development which increases stiffness from the uni-directional yarns.
Further innovations in the new Tiki Pump makes pumping easier and faster to inflate boards, as well as a new patented Magnetic Bottle Holder which allows you to easily attach and store your water bottle to your board.
Do you value the foiling market?
Yes, for sure. Foil is growing in popularity at an ever-increasing rate. We estimate that it can reach a large market share per country.
Foiling is becoming more accessible with more people learning and understanding that under the right guidance and instruction, it can be very quick to learn and get flying. Starboard has an extensive range of Foil boards and a foil for all SUP foiling, windsurf foiling, downwind foiling and now wing foiling.
Any piece of advice to brick & mortar retailers concerning their order sorting? (as there is only so much room in their shops and so many SUP categories/models available)
A lot of big things are expected to change in ecommerce over the coming years.  And there's a big open debate here.
The growth of online shopping is undeniable – but that doesn't mean that brick-and-mortar stores aren't still incredibly important assets for the ecommerce of many brands.
There are people who believe that it's just a matter of time before brick-and-mortar stores fade out in favor of online shopping. And there are those who believe that physical shopping is the future as they offer a unique shopping experience.
Establishing a direct relationship with the end consumer also lets you continue to give support after the sale – and there are experiences that you simply cannot get online. This is key with any water sport.
We believe that it's important to have the physical store to connect with the customer and solidify the loyalty with the brand – but also have the online store which typically have access to a lot more inventory.
For smaller stores with space problems, it can be wise to only focus on no more than 2 brands. This way they can offer the product in a more focused way. Also, they have to depend on companies that guarantee the supply and have stock. Smaller brands may offer good prices but do not take care of guarantees or re-orders.
Please name and describe your 3 highlight pieces and items that retailers should definitely order.
Starboard Paddles – The Starboard paddle range is very simple. 2 blade shapes; Enduro and Lima, are offered in a variety of price points and weights from the lightest Prepreg carbon to the best-selling Tiki Tech. We all know that the paddling experience on any SUP is largely dictated by the type of paddle you are using. A lighter paddle with an efficient blade shape will allow you to paddle further and for longer with less strain on muscles, ensuring paddlers get the most out of their SUP experience.
Inflatable Touring – The Starboard inflatable Touring boards are the most popular models in the inflatable range. Fast, stable and able to paddle distances with ease, the Touring line is a favorite for any paddler wanting to explore. The new Magnetic Bottle holder as well as the free lightweight leash are added value reasons to go with the Touring.
Wide Ride – with good reason, the Wide Ride range have been the go to boards for learning to SUP Surf. Boards like the Whopper have set the benchmark in stable SUP surfing and continue to do so with the new 2020 upgrades in shape. A no brainer for anyone wanting to get out in the waves and have 1 board that all can enjoy to try.