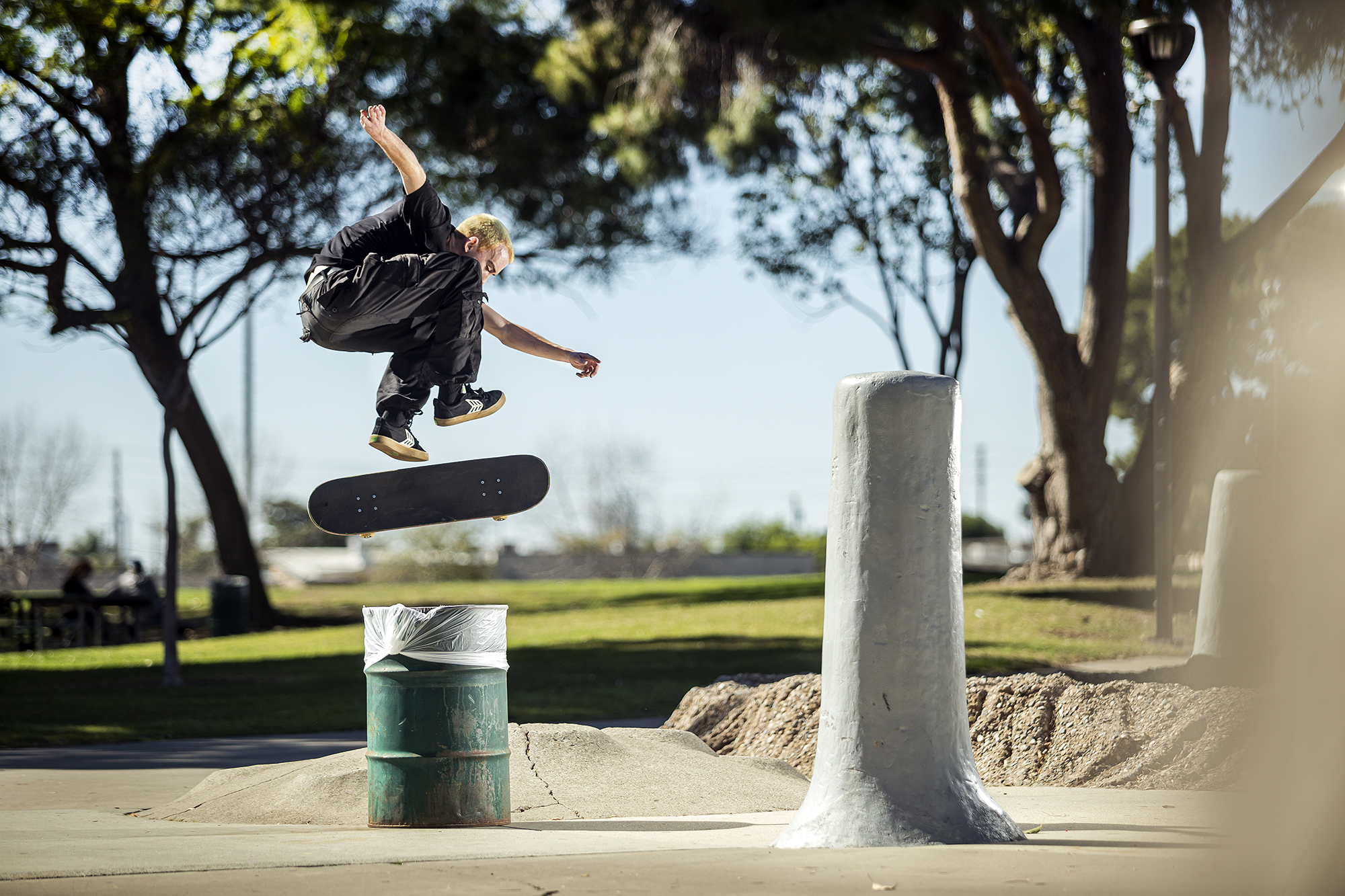 Cariuma 2023 F/W Skate Footwear Preview
Retail Buyers Guide: Skate Footwear F/W 2023/24 Retail Buyer's Guide
Brand: Cariuma
Interviewee: Michelle Katz, Head of Public Relations
MARKET
Are overstocking issues affecting skate shoe brand sales like they are hard goods stockists?
The macroeconomic instability we're seeing inevitably results in demand volatility, and overstocking is often a consequence of that. That being said, we're a sustainable skate shoe brand in a world where sustainability and ethics are becoming increasingly important and increasingly in demand. We've always believed in doing things the right way for the community and the environment, whether that's ensuring our shoes are incredibly durable to ensure riders are performing at the highest level for longer, or by planting trees in the Brazilian rainforest with each purchase, Therefore, companies that value sustainability like we do tend to be more insulated than the rest of the industry, and we're continuing to grow. Furthermore, we're always innovating, even in business models, and our Direct-to-Shop channel allows smaller skate stores (who don't hold a lot of inventory) to order 6 pairs whenever they want, and we'll get these to them within a few days, just like our Direct-to-Consumer eCommerce channel. This really helps these smaller stores that are the fabric of the core skate community to manage supply and demand, and continue to serve the community without getting overstocked.
What are your main price points for next season?: 
For reference, Cariuma's flagship Catiba Pro has a baseline price point of EUR98 and a highest price point of EUR129, depending on the materials used. We are now launching our new skate shoe, the NAIOCA Pro, that performs incredibly and is very versatile for casual occasions too. The NAIOCA  Pro retail price on its launch will be EUR89
MARKETING
What is your collection theme and which stories are you telling to get customers stoked on skate shoes this season?
Cariuma's collection perpetually tells the story about a skate team and skate shoe brand that give a f*ck about people and the environment. Cariuma wants to show that you can have cool-looking, durable and high-performance skate shoes that are great for the planet without compromising the quality and integrity found within the skateboarding community. We're here to do our part in spreading positivity in a world that needs it, and rewriting the story to let people know that it's cool to care.
What general trends are you noticing in Europe right now? 
European shoes and fashions are trending towards sustainability, as many European countries are leading the world in conversations about sustainability and shifting societal norms to accommodate our mounting climate crisis. Consumers are much more concerned about the quality, ethical, and sustainable nature of the clothing they are purchasing. Because of the inflationary environment, people are also investing in things that last, and it's part of our DNA to create quality products that are extremely durable. We do this by constantly innovating in material (e.g. our vegan suede is 3x more durable than animal suede) as well as in shoe construction (e.g. reinforcement pieces, fully stitched outsoles).
Any collaborations/crossovers to look out for?
We have a few collaborations coming up, and one we are very proud of is our collab with the iconic Skatepark of Tampa, in celebration of their 30th anniversary. They are great partners and we thought that such a milestone should have a special shoe. The Spot shoe is going to be available to skateshops around the world soon, when we present it in our following collection. 
DESIGN
Are you favouring more simplistic silhouettes or tech-heavy profiles?
Our modus operandi is a classic silhouette coupled with innovative technical features geared for performance. In terms of aesthetics, we'll always stick with timeless, classic looks that are versatile. Customers are looking for meaningful products that last a long time, not just in terms of quality but also in terms of style. We're anti fast-fashion and short-term trends, and our shoes are very aligned with this. However, we believe that great performance also requires innovation and technology, so skaters feel at home in shoes used while clearing a 10-stair gap but also on a Sunday stroll. Our shoes are packed with technical features, but aesthetically designed as future classics.
Which technical features are you the most proud of?
The features that best showcase Cariuma as a sustainable company are those that increase its lifespan. This includes a reinforced – sometimes with a rubber underlay and overlay in the same shoe – triple-stitched flick point (usually the first point where a skate shoe is torn or worn down), as well as a fully stitched outsole preventing detachment. Both features increase the shoe's lifespan and overall durability.  The other set of features allow skateboarders to feel totally confident in their gear when it comes to pushing the performance envelope, such as the sticky, raw natural gum rubber vulcanized outsole that is slip-resistant and results in unmatched boardfeel. The memory foam insole mimics the anatomy of the foot and provides shock absorption, arch support & ultimate comfort. The side traction foxing has thick diagonal stripes that are actually carved into the outsole, resulting in more traction and improves your flick.
What are the cuts, silhouettes, and materials for this season? 
When it comes to cuts and silhouettes, we've got the range covered, from the high-top CATIBA Pro, to the mid-cut Vallely Pro and the low-cut CATIBA Pro, our new shoe NAIOCA Pro and even the Slip-On Skate Pro. Skateboarders are uniquely stylish, which means everyone's got their own style they bring to the game, and it doesn't stop at footwear.  Our permanent focus on sustainability leads us to premium natural materials, and each material deserves the spotlight, including organic cotton, raw natural rubber, Leather Working Group Gold-rated leather and suede, cork and mamona oil (for more information on each of these, check out our website). We're also always innovating, and our vegan suede (found in our Vallely Pro) is a real star, as it's 3x more resistant than animal suede. 
Is sustainability a focus for the coming season?
Sustainability is a focus for us across the board, forever. For every pair of sneakers purchased, we plant two trees in the Brazilian rainforest to directly aid in the restoration and preservation of these natural habitats. By partnering with local organizations and Indigenous leaders, our mission benefits from invaluable insights – a deep understanding of climate, soil quality, and other environmental factors – and ensures maximum impact at each planting site. We also strive to be as sustainable as possible in our product development and manufacturing, opting for premium raw materials in order to yield a smaller footprint and creating high-quality sneakers that are built to last. Not to mention that we have been scored one of the highest footwear companies by BCorp, and we are the only Skate Shoe brand BCorp certified. 
BEST SELLERS
Please supply 1 pic and 60 words on each of your 3 most important highlight pieces that retailers should definitely order.
The Catiba Pro is the ultimate skate shoe that melds style, performance, and sustainability for the perfect skate experience. From our memory foam insole to the natural rubber for a sticky grip, our sneaker comes in an array of colorways. Handstitched to ensure quality and long-lasting durability, we use premium and organic materials, a win for the planet and your customers. 
The Naioca Pro is a next generation, ultra-technical take on a skateboarder favourite. We designed a heritage skate silhouette built for a newer generation – clean lines and a classic single-vamp profile paired with next-level performance features. Alongside features like in the CATIBA Pro above, there's the addition of an ultra-durable front "single-piece" vamp consisting of 3 layers – suede on top, a hidden rubber underlay and the lining below. 
Mike Vallely is iconic. Together we designed an icon: a high-performance skate shoe with heart. The contrasting materials, detailed stippling and mid-cut profile are a nostalgic hint to the basketball shoes Mike famously preferred to skate in the 80s. Our vegan suede (3x more resistant than animal suede), recycled cordura and other all-natural components allow wearers to embrace and showcase forward-thinking, positive values, just like Mike does