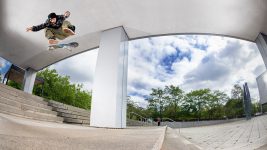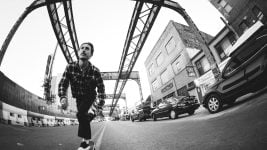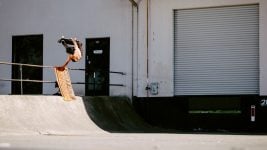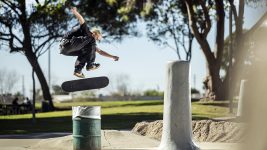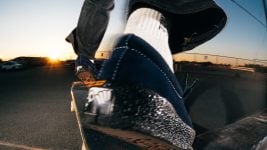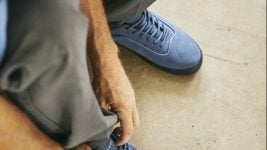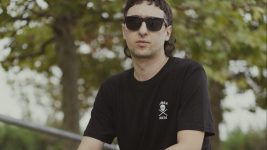 Skate Footwear F/W 2023/24 Retail Buyer's Guide
Another year is wrapping up and whilst we're waiting for the frost to thaw so we can break out the shorts and summer shoes, we're equally excited to see what brands will be bringing to the table for the next cold spell. With a closer look into all things skate shoes, here's the Board Sport SOURCE Retail Buyer's Guide for Skate Shoes FW23 with SOURCE Skateboard editor Dave Morgan.
Another year is passing with the continued uncertainty of the market affecting brands – some in different ways to others. The pandemic's stronghold on reality is thankfully over with, however the knock-on effects are still visible in certain areas, with overstocking being a very real issue brands and retailers are having to deal with. Michelle Katz – Head of Public Relations at Cariuma said "The macroeconomic instability we're seeing inevitably results in demand volatility, and overstocking is often a consequence of that." Dennis Martin – Co-founder and Creative Director at Hours Is Yours furthered this point, saying "Shops are overstocked and need to move out inventory and do a basic reset on the amount of SKU's they are taking on from the larger brands."
This is, of course understandable and hopefully feasible in the near future, as it seems to be a universal issue. Sebastien Palmer – General Manager at New Balance Numeric summed up things perfectly, saying themarket "is healthy but with obvious economic concerns on the periphery. Skate economics often go counter to world events."
Price points seem to be staying within a similar bracket to previous seasons, albeit creeping upwards slightly. It seems the majority of skate shoes will be starting out around €70 for basic models, with the more tech-heavy silhouettes going up to €120+. C1RCA, for example, has an average price point of €92 – Alessandro Usro– Sales Director at C1RCA said "Price points are a little higher than past seasons due to an increase of sea freight shipping and material cost hikes."
Collabs and collection themes

The 90's resurgence is fully back, with big shoes and tiny wheels becoming once more commonplace. Alessandro from C1RCA said "The return to 90's models are confirmed trends- on that basis we decided to add several cemented styles for FW23 such as CX201R, TAVE TT and 805".
The coming season has a rich variety of stories from brands with some strong collaborations in the mix to boot! Everyone's favourite fast-footed Brit Tom Knox has a signature shoe- the NM600 coming out with New Balance. Emerica will be bringing a new pro shoe into the mix from kinked-rail rocker Dakota Servold– of which "he's had 100% say in creating" said Tim Cisilino – Global Brand Manager for Emerica. Tim continued to say "This shoe is great for those who love the flick of a vulcanised shoe but prefer the cushion and support of a cupsole." Servold's skating speaks volumes, so it's no doubt his first pro shoe will live up to expectations.

Globe will be releasing a collaboration with Former – the brand co-founded by their prominent pro Austyn Gillette. Alongside this collab, Globe's Footwear Designer Riana Hart said "We are excited to launch our Gillette Mid, the second pro model for Austyn Gillette.".

DC's Marketing Manager EMEA – Emmanuel Labadie spoke of new releases: "We will also celebrate Josh Kalis's 25th anniversary with DC shoes with a specific model, and we will also propose a modern mash up with John Shanahan's 'Metric'. Etnies have a fully packed roster as always-new colourways and pro models coming out next season, including a shoe for French high-flyer Aurelien Giraud and a new colourway for the mighty Nassim Lachab. Rick Marmolijo, Design Director at Etnies said: "To follow up on Nassim's Marana white spot colourway, he will have a new colour inspired off Moroccan tiles." Sole-tech sibling Emerica will also be dropping a heavy collab with Biltwell Inc – the custom motorcycle company. Tim from Emericaexpanded on this, saying "working with the Biltwell crew on a line of footwear that you have the opportunity to both skate and ride in, we couldn't be happier."
Last resort AB – the brainchild of Polar Skate Co's Pontus Alv, has been in the mix for a couple of years now, blending sleek looking durable vulc silhouettes with simple details designed by skateboarders, for skateboarders. Last Resort's Co-Founder/Designer Sami Tolppi said simply on the subject of themes: "There are no specific themes, we're just trying to keep things clean and simple." Which is pretty spot on in my book- no-nonsense skateboarding.

Marketing
With the majority of marketing happening purely online these days, brands are focusing their output on social media and online platforms to get their products into customers' sights. Dennis from Hours Is Yours said "Videos are the main thing I'm seeing across digital and social channels throughout. Community also plays a strong part in what brands are doing."  Brian Barber – General Manager at Osiris added that "any good collaborations seem to help boost brands." That is especially true when brands collaborate with those outside of the skateboard realm, bringing a more universal appreciation to skateboarding styles.

Design

Skateboarders usually favour one of two styles – the classic, simplistic minimal, or the tech heavy, more sporty-looking shoe. Both serve the individual needs of skaters perfectly as everyone has their own preference in skating. Michelle from Cariuma said: "We're anti fast-fashion and short-term trends, and our shoes are very aligned with this. However, we believe that great performance also requires innovation and technology." New Balance Numeric have brought the tech know-how from their running shoes into skateboarding, as Sebastian from New Balance explained: "We strive for innovation and bringing technical advancement to our footwear. Even if our designs may look simple but they are designed with a lot of internal tech."
Some, already tech-heavy brands like Osiris will be "keeping the same technology in their shoes as before, but improving the quality of the materials used, which will in-turn improve the shoe performance" as Brian from Osiris explained. Last Resort's Sami said, "it's not a new technology but we have changed the insoles in all our styles to a removable PU injected Insole, we call it "Cloudy Cush" for fun." Globe's aforementioned 'Austyn 2' will "introduce some elements more seen in sport sneakers like having a mesh medial quarter panel for breathability and PU resin printed overlay." as Riana from Globe explained.

Sustainability
An ever-pressing matter within all manufacturing is sustainability – especially within our current climate. Skate shoe brands are striving to incorporate new procedures and materials into the creation of their shoes in a bid to lower their impact on the environment. Cariuma's Michelle Katz speaks of their conscious approach: "We strive to be as sustainable as possible in our product development and manufacturing, opting for premium raw materials. Sebastian from New Balance said "There are ongoing improvements across our line to utilise more sustainable materials and practices, where this does not compromise performance." Etnies will "still be focusing on the Jameson 2 Eco with our Trees for the Future program" as Rick explained. C1RCA will be continuing their partnership with Repreve – a 100% recycled fabric company, whereas DC will be working heavily on their 'Resolve Program'. Emmanuel from DC said " We are bringing in more eco-friendly materials without compromising on that classic DC performance and style."
Riana, Globe's footwear designer summarised: "I think we are past the point where not considering sustainability is an option."

A strong season is incoming for FW24, and from what we can gather, brands are managing to navigate the many curveballs the world continues to throw at it. Skateboarding will only continue to progress, as will the technology that goes into skate shoes, so things are looking up!