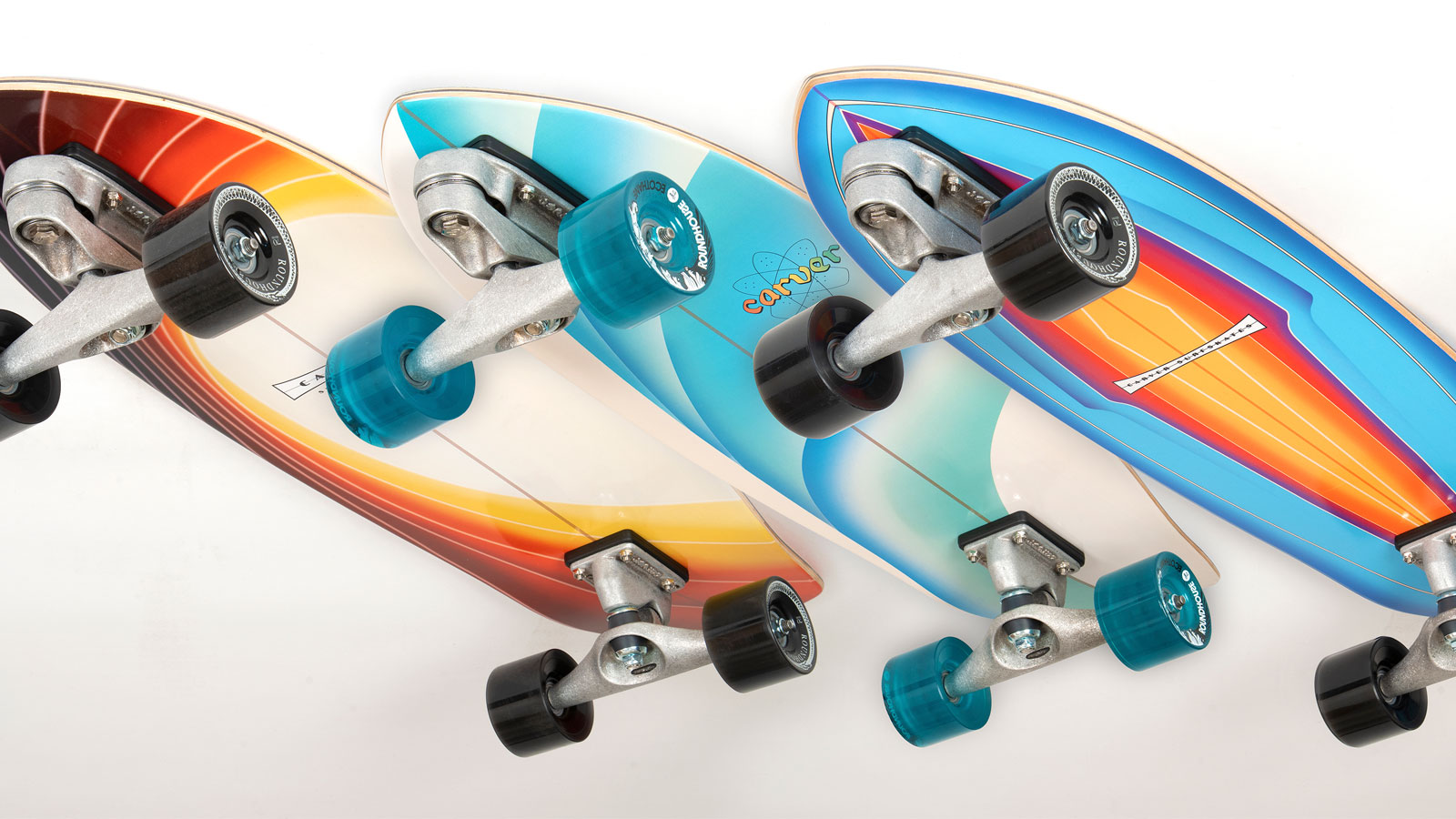 Carver 2020 Cruiser Preview
Retail Buyers Guide: Cruisers 2020
Brand: Carver
Interviewee: Eben Woodall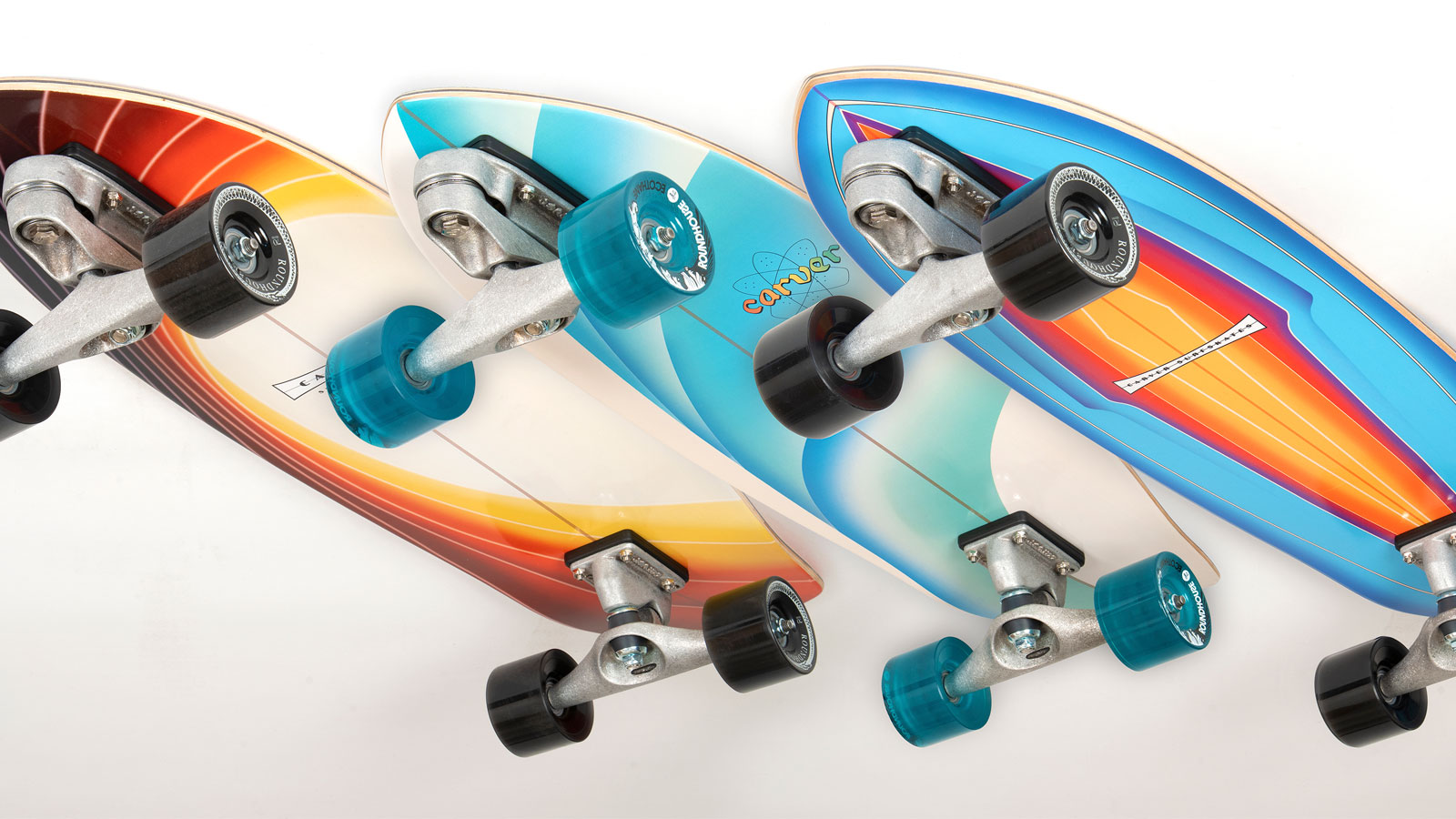 How is the situation on the European cruiser market right now?
The market seems to be stabilizing and growing. There are a lot of brands popping up right now that may cause saturation, but is a sign of a more healthy market.
What are your main price points for next season?
Carver holds 3 main price points; Pro Models and Collaborations at 336€ – 358€, Graphic line boards at 308€ – 338€, and our Triton by Carver entry level line at 223€.
What are the main growth sections for cruisers, like commuting?
Carver has noticed one of the main growth sectors demographic being new participants to skateboarding and cruising primarily women. More women and girls are now kicking around on surfskates and cruisers.
MARKETING
What is your collection theme and which stories are you telling to get customers stoked on cruisers with a true boardsports flavor?
As always, Carver stays true to its surfing roots with surfboard and surfing inspired shapes and graphics. However for 2020 we are exploring with a few more sophisticated graphics inspired by mid-century modern art and architecture as well as our new Airbrush Series.
Are you noticing an increase in female riders? Are you targeting this segment specifically?
Yes absolutely. This is the largest growing segment of the market. Carver's Courtney Conlogue Pro Model and exclusive collaboration with Grlswirl has been a massive and positive influence on the female market.
How are you helping retailers sell your cruisers and educate customers (POS displays, etc.)?
Carver offers a wealth of technical and educational videos that primarily highlight the features and benefits of our product offering. Check out our "Ride Review" videos at www.carverskateboards.com. Carver also just released a new POP rack that holds 13 boards with the same footprint as the previous smaller rack.
DESIGN
We are seeing a trend towards shorter longboards and cruisers with longboard constructions (drop-cruisers). Is that a trend you are serving?
Yes absolutely, the key to Carver's performance is centered around the wheelbase dimensions of each board generally utilizing shorter board lengths with longer wheelbases. This is the key to how our boards perform with our C7, CX, and C5 trucks systems.
Carver is also introducing the 2020 "Black Tip" which features a fused, embossed thermo layer bottom called "Durafusion"®. This gives the board added strength, durability, and deck life.
What are the most important shapes for 2020?
Surfboard inspired shapes including modern edge retro designs and high performance templates.
Which technical features are you the most proud of?
Carver's Roundhouse Eco-Thane wheel series, the 2020 Black Tip board with "Durafusion"®, and the new Carver Abec 7 Built In high precision Speed Bearings.
Do you offer e-skates?
Not at this time but have been experimenting a little with Unlimited. Super fast!
What are you doing with (eco) materials, colours and graphics?
Carver's proprietary Roundhouse Eco-Thane formula wheels feature Soy based alternatives allowing for a 81a durometer that are fast and grippy.
Where are wheels and truck trends going?
There have been a few changes in overall wheel development including different wheel profile shapes and core technologies which can add performance. In regards to trucks its all about surfskate.
BEST SELLERS
Carver's 2020 Black Tip
Carver's 2020 Airbrush Series
Lost by Carver 2020 Rad Ripper