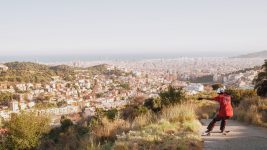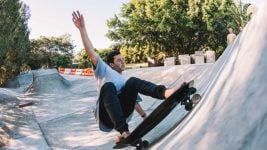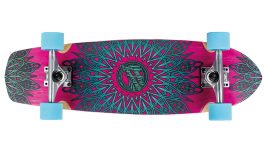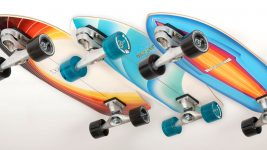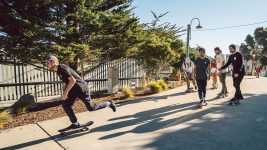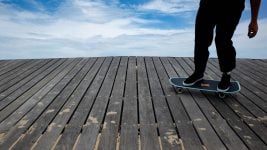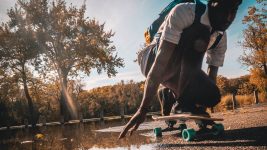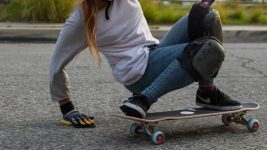 The 7 Hot Cruiser Trends to Watch in 2020
Skateboarding will soar to new athletic heights at the 2020 Tokyo Olympics, but customers still want to cruise and enjoy a good time. Skate Cruisers Retail Buyer's Guide 2020 by SOURCE Skateboard Editor Dirk Vogel.
Can you hear it? Big things will shake up skateboarding in 2020. From footwear to hardgoods, insiders are talking about the 'Olympics Effect', a significant boost in sales and participation from skateboarding's debut as an official discipline at the 2020 Tokyo Summer Games.
"The cruiser market is definitely heating up in Europe, as it is across the world. Skateboarding has seen a positive growth globally and we are stoked to see how the Olympics will affect the future of skateboarding," said Andreas Maurmeir, European Marketing Manager at Sector 9. First indicators of a resurgence are already here, according to endemic brands. "On average our European distributors are pre-booking 20 per cent up from last year for Spring 2020," said Dave Price, International Accounts Manager at Landyachtz Longboards. At Carver Skateboards, VP of Sales Eben Woodall said: "The market seems to be stabilising and growing. There are a lot of brands popping up right now that may cause saturation but it's a sign of a healthier market."
New to the cruiser segment, but not to manufacturing quality skateboards, Loaded Boards usually specializes in premium longboard completes above €350. For 2020, Loaded launched its first cruiser, the Coyote, at €219 retail "and results have been good so far," said Marketing Manager Pablo Castro. In major industry news, The Arbor Collective has named UK-based Shiner Ltd. as the new Exclusive Global Distributor for the Arbor Skateboards Program. With so much popping in the cruiser segment, let's have a look at what's trending in 2020.
THE 7 HOT CRUISER TRENDS TO WATCH IN 2020
SEASON TREND: 1980S RETRO BOARDS
It's back to the future in 2020, as classic boards with round noses and widths around ten inches are trending hard: "We are rereleasing many of our iconic 1980s pool shapes, but set up as cruisers. The wide shapes are easy to ride, and the older market remembers our graphics from the past and wants to own them again," said Shane Maloney, Brand Manager at Madrid Skateboards. The brand struck gold a few seasons ago with a retro board featured in the Stranger Things TV series, and charges into 2020 with highlights like the Madrid Explosion board, handcrafted in California. Retailers, make sure to stock 1980s-style cruisers from brands like Globe (Cult of Freedom series), Sector 9 (Babylon System), Flying Wheels (Apocalypse), Landyachtz (ATV Ditch Life Fox model), Mindless (Core Mini Cruiser), OB Five (Hyper), Carver (Lost Rad Ripper), Z-Flex (Shadow Lurker), and DB Longboards (Dad Bod).
SHAPES: SHORT 'N' STUBBY
Today's cruisers come in all shapes and sizes, from Penny-style plastic rockets to mini drop-throughs, but here's a general rule in terms of current trends: "For sure the tendency goes towards short longboard skates. Our new shapes are short and wider in order to be easy and fun to ride," said Benoit Brecq at Flying Wheels. The width is particularly crucial, said Javier Cantera, Global Brand Manager at Miller Division Miller: "Our decks go upward from 9 inches wide to cover the area of the front foot and most of the back foot. Since turns are made so close, it's quite convenient to have enough surface to support the feet and find a better grip." At Arbor, Mike Hellier sees movement in "stubby, short nose cruisers under 30 inches," and adds that, "hybrid cruisers, like the Arbor Axel Serrat Pro Model are really picking up momentum." Globe offers a hybrid mix of shredding and cruising in the Trooper and Outsider models, while the Loaded Boards Coyote cruiser is as versatile as it gets. Bucking the short board trend, Sector 9 is hyped on the new 36-inch Sweeper shape, inspired by the local pump track.
SURF SKATE: THE WAVE IS HERE
Last season's surf skate trend has gone fully mainstream. At Globe, Global Hardgoods Product Manager Dave Gitlin said: "Our Onshore series of surf skates featuring Revenge trucks have maintained a high level of demand." Flying Wheels meets demand with, "three different surfing technologies and around 25 different models," including the excellent Abstract and Villa Bella completes mounted with surf-style front trucks. Flying Wheels also offers the Lombard Street baseplate that converts any skateboard into a surf skate. Asked to identify the core customers for surf skate, Javier at Miller Division said: "Surfers and snowboarders definitely found their perfect ride in our surf skates." And if you ever wondered what a surf skate would look like rendered as a monochromatic Penny plastic cruiser, your wait is over in 2020: "The Penny High-Line Surfskate replicates the feeling of surfing in the streets. This board is developed for skills progression and all-time stoke by utilising Warterborne patented technology and the same quality components you love from Penny Skateboards," said Mike Hellier.
STYLING: ALL BLACK VS. COLOUR EXPLOSION
Much like in streetwear, there's no escaping the all-black everything trend next season. Carver launches the Black Tip cruiser, featuring a Durafusion embossed thermo bottom layer and killer black wheels. OB Five has the Blacker Cruiser, with Founder Kris O'Brien saying: "We in no way claim this as our own idea as many brands have this clean black offering. It's stealthy, clean and easy to buy for the average non-logo driven guy." Other major trends include mandala graphics, including the Mindless Mandala board in three colourways and Solstice collection by Arbor. Sector 9 is continuing its art collabs, including DKNG and El Gran Tocayo, and launching the Teak Veneer raised print cruiser series. Carver is running gorgeous airbrush graphics, while Flying Wheels serves Abstract artwork in a 32-inch cruiser of the same name, equipped with Lombard baseplate technology. Globe presents a new featured artist series from German illustrator Max Loëffler and Melbourne-based Sam Chirnside, and also spins the colour wheel with the elaborate Dye-wash Veneer Series. At Penny, the choice of colours does the talking in lieu of graphics, with a palette "curated to flow from dark and ominous colours, to earthy tones, through to high-impact brightness, and finishing with soft tonal contrasts of washed out palettes."
CONSTRUCTIONS: HIGHER TECH
Innovation is peaking next season, as every brand introduces new technologies ranging from wood alternatives in decks to new wheel formulas and truck geometries. Sector 9 implements vertically-laminated bamboo in the Striker model slated for Spring 2020. Dave at Globe is proud to announce the new Surf Glass modern fiberglass cruisers. "Building that new wood-less construction from the ground-up, modernising a nostalgic era of surfboard shapers making skateboards out of leftover glass and roller skate trucks is a really fun and fulfilling accomplishment." Landyachtz will launch brand-new Gen 6 cast trucks. At Mindless, Brand Ambassador Andy King said: "Our new truck coming out in summer 2020 will allow us to really increase our mini cruiser range performance." Arbor expands the Sucrose Initiative urethane wheel line and Carver will launch, "proprietary Roundhouse Eco-Thane formula wheels that feature soy-based alternatives allowing for 81A durometer that are fast and grippy." Speaking of eco, it's a full-on commitment for Origin Distribution (DB Longboards, Rayne Longboards, Atlas trucks, Cloudride Wheels) according to Tim Mackey: "We continue to use maple, bamboo, and water-based glue. We also recycle our scraps." At Loaded Boards, Pablo is stoked that, "over the past year we've moved almost all of our epoxy over to bio-based epoxy."
SPECIALIZATION: BUILD THAT QUIVER
Cruisers are a broad church these days, full of sub-genres and specialised hardware. At Sector 9, International Sales Manager Nick Sacks surmised: "Growth sections that we see for cruisers are numerous and across the board – commuting, pump track, park, downhill, women, and more." So, what should shops order? According to Pablo at Loaded, retailers need to prioritise "performance, performance, performance. A cruiser can be functional for commuting while still being tons of fun to ride and also usable for tricks." On that note, urban transportation is a huge trend in 2020: "Commuting and getting around university campuses are the main usages of our cruiser boards. A skateboard with soft wheels combined with a good public transportation system is one of the fastest and best ways to get around a big city," said Dave at Landyachtz, pointing out the 33-inch Drop Cat model. Dave Gitlin at Globe also confirmed: "There's been a spike recently in people getting out of the car and traveling to work by board, bike, or electrics."
WOMEN'S SKATE: HANDLE WITH CARE
Every brand confirmed a spike in female participation, while some cautioned retailers to approach the category with care. Maui at Sector 9 revealed that, "more gender-neutral graphics have been chosen on recent board lines by us to appeal to the increase in female riders." Dave Gitlin at Globe is on the same page: "I'm not convinced that adding pink wheels to pink hearts on a board is the way to go about providing for female skate enthusiasts." For Arbor, the female-specific Solstice line has become a permanent fixture. "We set out to make skateboards designed specifically for women," said Rachael Fritz at ArborGirls. "From shape selection to construction, to material selection and graphic development, to content creation and overall presentation, to how Arbor gives back; the Solstice endeavour is run by Arbor women for women who skate." For Kris at OB Five, female participation has been a constant in Australia: "There are girls everywhere on the Gold Coast surfing all types of boards and looking for skateboards for a bit of flat day fun." Javier at Miller Division said: "We believe that 25 percent of our skates end up in the hands of a girl. Female riders are rapidly improving and increasing, and we love it that way."