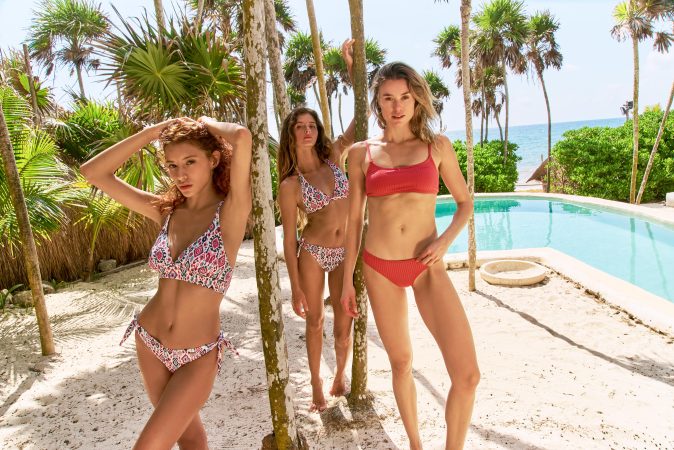 Protest SS24 Women's Swimwear Preview
Retail Buyers Guide: Women's Swimwear SS24 Retail Buyer's Guide
Brand: Protest
Interviewee: N/A
What are the current industry trends in women's swimwear?
Structure fabrics solid and printed, terry towel en lurex stripes to give that extra shimmer to your swimwear collection.
What style/shape of swimwear is most popular in your range?
A style in our Mix & Match series, called Superbird, a perfect sporty & feminine fit.
Also our SUP/Surf items are very popular.
What were your best sellers in the 2023 collection and why?
Swimsuits, Bandeau bikinies and our triangle shapes, because of the perfect summer colors and vibrant all over prints.
Which styles do you expect to grow the most in 2024?
Our Mix & Match styles, we offer all flavors on color, prints, structures and shapes for every body type.
What have been the major inspirations behind the designs in the 2024 range?
The inspiration comes from the Oriental Bazar; the colors, prints and textures are created on florals, weaving & embroidery, block printing, kantha quilts, artisan and oriental ikats you can find at the oriental bazar.
What colour palettes and prints will we find in your 2024 range? Any crossovers from other brand product categories?
The SS24 collection has three colourgroups.
I. The first is immediately a large color group, warm reds and pinks, combined with important shades of blue.
II. The second color group; hunter green and matcha green are combined with beige and soft and dark shades of pink
III. The third color group includes only two colors that are always popular in sales terms; charm pink and palace blue.
What materials are you using in your 2024 collection?
See answer question 9. Mostly recycled polyester.
What efforts are you making towards sustainability?
70% of women's swimwear, this season, is made of recycled polyester. Besides being durable, this material is quick-drying and has 4-way stretch. Recycling polyester gives a second life to a material that is not biodegradable. This material would otherwise end up in landfills or worse, in the ocean. To produce this material, used plastic bottles and other PET plastics are melted down and re-spun into a new polyester fiber. Recycled polyester is almost equal in quality to new polyester, but its production requires 59% less energy than new polyester.
What are your marketing stories for your 2024 collection?
Enjoy the freedom of self-expression while soaking up the sun, wrapped in the finest fabrics inspired by the Oriental Bazar; by the intricate beauty of florals, weaving & embroidery, block printing, kantha quilts, and artisanal oriental ikats found at the bazar, each piece tells a tale of exquisite craftsmanship and cultural heritage. Step into a world of dreams and embrace the trends that embody the essence of wanderlust and timeless elegance. Unleash your inner adventurer and make a splash with SS24's swimwear collection from Protest Sportswear. Each design is carefully made to highlight your unique beauty and embrace your inner goddess.
How will you support retailers to sell this category?
We offer complete retail marketing support, one way we do this is every season we offer a wide range of POS materials. In addition, retailers can also request customized marketing activities.
How is your situation regarding stock and deliveries?
We're doing great on delivery (in time or early) and have a well-balanced stock.
Best Sellers
PRTKIRKLEY
PRTIXY surf T
PRTEAGER bikini
MIX & MATCH set