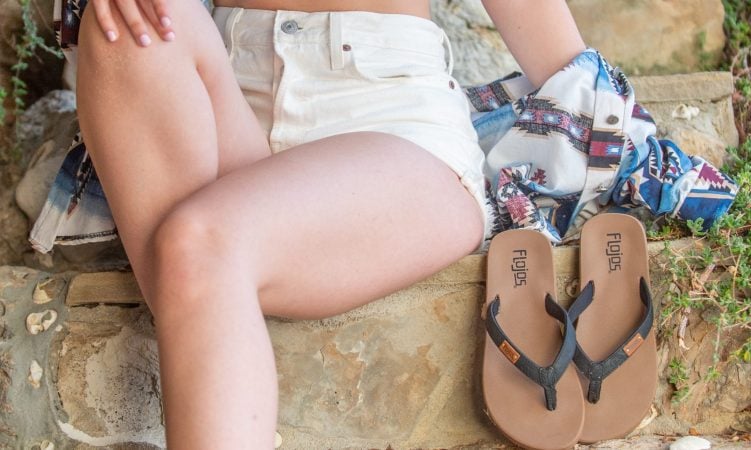 Flojos Hanging Shoes 2023 Preview
Retail Buyers Guide: Hanging Shoes 2023 Retail Buyer's Guide
Brand: Flojos
Interviewee: Ryan Whitcomb – National Sales Manager
What are the current trends in hanging shoes?
Flojos is seeing more attention to fashionable comfort.  Our Men's closed cell Memex Memory foam and Women's Yoga Mat footbed styles have seen an increase in demand.  Flojos continues to see high interest in our Vintage Baja collection styles as well, which celebrate our Mexican heritage with Braided uppers and burnished footbeds for a more sophisticated sandal look.      
How are you segmenting your collection?
3 collections – Vintage Baja, Comfort, Surf and Beach Resort
What new styles and shapes are you offering in 2023?
In both men's and women's Flojos is offering more styles and colors in our Comfort collection, expanding on our Closed Cell Memex Memory Foam and Yoga Mat footbed offering.  We are also introducing more hooded styles for women and expanding on some serape and patterened uppers.
How are you helping retailers sell this category?
Flojos will continue to support retailers by way of offering unique POP materials and providing best in class display racks, custom slat wall shelving, hooks and custom slat wall sections.  We have partnered with Elastic B2B as well to make the self service side of the wholesale business a much smoother process.  
What is your situation regarding stock and deliveries?
We are currently 100% stocked with our Spring 23 line and have shipped all pre-book orders on time.  We are looking forward to a great Spring / Summer with plenty of At Once inventory to support our retailers.
Best Sellers
Grace – Ivory Tan: A cute new slide option for the Women, Grace is comfortable and provides a new complement to your wardrobe. Its unique Aztec inspired detailing stands out from the rest. It has a covered deck composed of burnished faux leather and an EVA midsole which provides added cushion with each step. An arch cookie and sturdy footbed provide needed support. The hooded upper strap design is composed of clean looking faux suede and has a fabric inner lining which feels great on your feet. TPR tread provide superior grip and traction on wet or dry surfaces.
Waverunner – Black Gum: From the sea to the sun the Waverunner is our classic water friendly surf sandal. An ultra cushy textured EVA footbed provides a non slip surface for your foot whether your sandal is wet or dry. The detailed faux leather strap is comfort lined with a soft inner mesh material and the nylon toe post feels great in between your toes. A TPR outsole with a custom tread pattern disperses water out from the bottom of your sandals performing exceptional on wet or dry surfaces. The Waverunner is a great look and backs itself up with function for all of your summer activities.