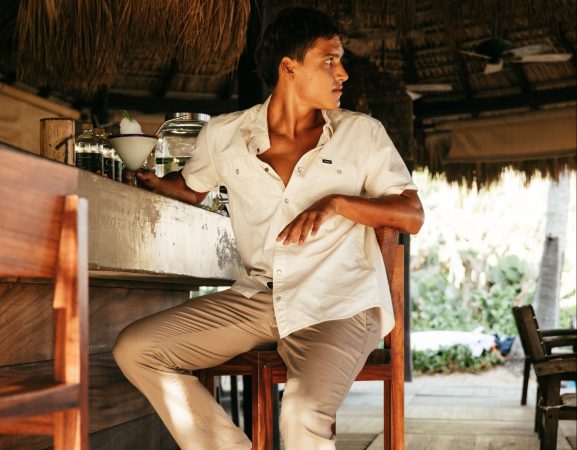 Reef Hanging Shoes 2023 Preview
Retail Buyers Guide: Hanging Shoes 2023 Retail Buyer's Guide
Brand: Reef
Interviewee: Jenny Cooper, Senior Marketing Executive
What are the current trends in hanging shoes? 
We are seeing huge trends in chunky, molded and elevated footwear this season. 
The easy to wear molded trend has grown momentum as it is comfortable, versatile and easy to throw on and go. We have a number of styles in the SS23 range that fit the molded trend, for mens we have the Oasis double up, a premium sandal that can take you from beach to boat and beyond. In the womens category we have expanded the range of molded for SS23, the Water Vista style that launched in 2022 did exceptionally well and we have expanded this range into a Water Vista Slide, Court and X Slide.
For the elevated trend we have added a little more height to a range of stylish but comfortable sandals that will take you from day to night. Key styles include the Cushion Vista Hi which has a double strap, the Cushion Bloom Hi with a cross over strap and the Cushion Shea Hi which is a three-point strap. 
How are you segmenting your collection?
Alongside the basic and carryover styles the SS23 collection has been broken down into two main themes, Elevate and Molded. The Elevate range features more premium products that are stylish and comfortable, this is where you will find the height across the womens range. The molded range is water-friendly and versatile but also offers allday comfort.
What new styles and shapes are you offering in 2023?
The Oasis collection is new for menswear, the range features 3 styles, the Three-Point, Slide and Double Up in a range of muted colourways. You will find more height in the women's collection, with a number of key styles now elevated, the Cushion REM Hi, Cushion Shea Hi and Sandy Hi with a 2.5" platform are a few new shapes for 2023. 
What materials and construction techniques are you using in your 2023 collection? 
The women's molded collection is made from soft and sustainable sugarcane EVA, the footbed is the perfect blend of cushion and durability with espadrille inspired details. As it is super soft and bouncy with great rebound it's great for all day comfort. 
The Men's molded collection, also made from soft and sustainable sugarcane EVA has a textured footbed for no slip grip and has a supportive anatomic contour for both in and out of the water. 
What colours and prints are you offering in 2023?
We have a good mix of core colours that will continue with new colourways coming in across the range. Some key colours to look out for in the men's range are vintage sunset and mushroom. The main colours in the women's range will be black, mushroom, peacoat and brunette with a secondary pop of neon teal, sunny, malibu and smoothie. Look out for smoothie stripe, hibiscus coral and palm fronds prints in the ladies range.
Anything new in terms of sustainability? 
Reef continue to only work with material suppliers who agree to not use restricted chemicals in the manufacturing of our materials. Sustainability has been part of the Reef DNA since its inception. All Reef products are 100% PVC free. Reef has updated all webbing straps, toe posts and liner materials to 100% recycled polyester derived from post-consumer plastic bottles and certified by the global recycling standard. In addition, Reef uses materials that are natural such as cotton, wood, cork, jute and paper. 100% of Reef's leathers and suedes are from tanneries with gold and sliver ratings with a majority being ISA lite (low impact to the environment) leathers.
How are you helping retailers sell this category? 
We will support our retailers in store and digitally with window displays and POS, updating fixtures and layouts where needed and supporting with brand assets and social campaigns. The Reef UK website and social media channels have now been live for over a year and we will continue to support the Ecom team with digital assets and content.
What is your situation regarding stock and deliveries? 
We have a healthy on hand inventory across the UK marketplace and SS23 deliveries tracking on average 10 week earlier than 2022.
Best Sellers
Vista Hi
Grab these Cushion Vista Hi sandals and enjoy life. We added this rugged-pretty outsole to our lightweight, durable EVA, which sits on our signature Cushion PU – soft yet supportive, with excellent rebound. A generous arch support and heel cupping make this an all-day sandal, and our swear-it's-real PVC-free vegan leather straps complete this super cute look.
Price £60
Water Vista Slide
Elevate your pool game with these pretty slides that take you from beach to brunch in waterproof style. Injection molded sugarcane EVA waterproof straps and an espadrille rope inspired texture this sandal is soft, comfy and very versatile for the adventure that's your life. 
Price £50
Oasis Double Up
Water lover? We got you. This new mens style makes all your water adventures awesome, thanks to water-friendly TPU, a textured footbed, arch support, and totally comfortable double straps. And you'll feel as good inside as out, because we made this collection with renewable sugarcane EVA. 
Price £55