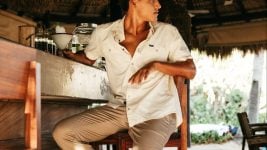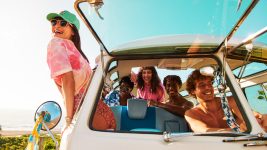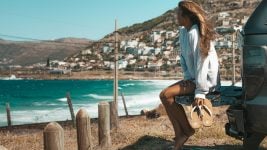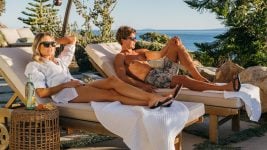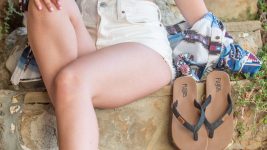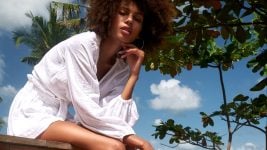 Hanging Shoes 2023 Retail Buyer's Guide
Hanging shoes have earned their spot in the outfit of boardsports fans. Brands deliver styles that are meant to stay on our feet all day, wherever the day takes us. By Rocio Enriquez.
Flip-flops were an additional sole for your feet in transit from the parking lot to the break and back. That has changed; they are now part of our outfit. We like wearing them beyond the beach, and we need them to be as comfortable and good-looking as any other shoe. Brands have picked up on this demand. They propose attractive and versatile styles that you can wear from beach to bar to city and back. Women are offered sophisticated sandals with interesting colour stories. We find carefully selected, easy to wear colours for men. All this is delivered in constructions and materials that offer good levels of support and comfort. Sustainability is in demand too, and brands are keen to experiment with recycled and new bio-based materials.
New for 2023
Women's collections get a lot of attention from designers. Flojos is introducing more hooded styles and expanding on their Mexican heritage look. This year, they introduce their Grace slider with Aztec inspired details. Havaianas releases the Square, an evolution of the Slim, in a variety of colours and prints. We'll find basic colour blocks, animal prints and sparkling glitter touches that make this style suitable for both city and beach. Reef adds some height to their Elevated range for women with 2.5" platforms. We'll see them on styles like the double strap Cushion Vista Hi, the cross over strap Cushion Bloom Hi, and the three-point strap Cushion Shea Hi. They are comfortable enough for all day wearing and stylish enough to wear them into the night. Foam Life releases some new colourways for their women's best-sellers Lixi-SC and Zikat-SC.  
Many new releases focus on comfort and support. Foam Life has launched the men's Sully. It features a hemp canvas upper strap and RPET toe post and lining. It is also available as a slider.  Indosolereleases a collaboration with Hi Jack sandals in their Adventurer series. This comfortable and supportive double strap sandal can withstand the action from trail hiking, bike riding and other summer activities. Olukai's lightweight, versatile, and modern Ulele offers everything you love about your favourite sneakers, but in a sandal. Their Hula promises floating-on-air levels of comfort. Havaianas is introducing their new slide Stradi that features four horizontal straps for firm steps. The Reloaded is an ergonomic slider with a different shape. Its two adjustable fabric horizontal straps offer a better foot grip. Flojos is expanding on their closed cell Memex memory foam and yoga mat footbed offering. Their Grace model provides great support with an arch cookie and sturdy footbed. The TPR tread provides superior grip and traction on wet or dry surfaces. Their Waverunner for men also features a non-slip surface on the insole and outsole.  
Versatility offers added value. Olukai's Tuahine and Puawe aim at all-day wearing, no matter the occasion. Indosole's collaboration with Pable results in a super soft and stylish sandal that has the appearance of a high-end boutique piece. Reef expands on their moulded styles. "The moulded range is water-friendly and versatile, but also offers all-day comfort", says Jenny Cooper. For men, they have the new Oasis Double Up. For women, they add the Water Vista Slide, the Court and the X Slide.
Materials and Construction.
Sustainability is widespread. For Indosole, it is in their DNA. They use recycled tire soles, recycled sneaker soles, natural rubber, and recycled EVA footbeds. For straps, they choose ENVRO fibre straps or the new Pable 100% recycled textile straps. Foam Life's full range is PVC free. They have now introduced RPET, hemp canvas and a vegan plant-based bio-leather into their collection. They have also increased the use of natural cork and sugarcane EVA. We can find it now in their Lixi-SC and Zikat-SC for women, and their Mully Cork, Traa-SC, Rullen–SC and Sully for men. Reef also uses sugarcane EVA in the men's and women's styles. All their webbing straps, toe posts and liners are made of 100% recycled polyester. Their leather is from tanneries with certified good ratings for their low impact on the environment. Havaianas' flip-flops are made from at least 40% reused material that gets reincorporated into the mix. They use their "Take Back" programme to collect old and broken flip-flops and turn them into reusable items. Great part of their production is done manually, with a zero-waste mentality.
Comfort guides construction. "All styles in our range feature a raised arch support, in flip-flops and sliders", says Karl Read from Foam Life. Olukai gives their Hila style puffy rolled straps that hug your feet. Flojos gives a soft inner mesh lining to the faux leather strap of the Waverunner. The TPR outsole has a custom tread pattern that disperses water out from the bottom of the sandal. Reef aims for a blend of cushion and durability with espadrille inspired details for women's footbeds. Men's styles feature a textured footbed for non-slip grip, and a supportive anatomic contour for both in and out of the water.
Colours and Prints.
Most brands present a range of core solid colours and their own interpretation of bold and vibrant colours and prints. Havaianas varies from a mix of natural and calming tones to more vibrant ones that energise the user's outfit. Indosole is adding some pop colours to their palette this season, like orange, red, lime green or indigo blue. "By collecting defective sneaker parts from bigger brands, we are then able to process those down into a granule and add any colour", explains Kyle Parsons. Foam Life offers black, sand and latte brown for women, and black, stone grey, tan and olive for men, as core colours. They are introducing a darker Slate grey which they combine with tan and retro stripes in their men's collection. For women, they offer some pastel colours like sage green, powder blue and dusty pink. They keep pushing their best-selling leopard print, but also introduce a marble print and a monochrome tropical print with pink apricot highlights. Flojos draws on their Mexican heritage to play with patterned uppers and serape prints. Reef highlights their vintage sunset and mushroom colours for men. For women, they propose subtle solid colours with pops of brighter ones. They also offer summery prints in their ladies' range, such as smoothie stripe, hibiscus coral and palm fronds.
Retailer Support.
Appealing POP displays with ease of use and effective communication are crucial in this category. Reef commits to update their fixtures and layouts as needed. Flojos invests in best of class displays, custom slat wall shelving and hooks. Havaianas offers different types of displays to support small beach shops and bigger retailers equally. Indosole makes sure that their POP print materials and window placements tell their recycling story. They communicate on the recycled soles, their waterproof feature, the natural fibres they use and their contributions to BCorp and 1% for the Planet. Olukai is supplying new hangers and tags this year. The goal is to enable customers to self-serve and slip on the product easily. Foam Life offers a free-standing unit to any retailer that wants to stock them. The stand is clearly branded and shows key product features and sustainability aspects. This year, the stand is slightly slimmer, taking less floor space. It is designed so that all panels can be flat packed, to be transported to stores without risk of damage. It is also modular, allowing two standard stands to be joined together with a wider branded header, for those retailers who want to stock more options. Relationship with the clients is also key. Flojos has partnered with Elastic B2B to smooth the service process. Havaianas adopts an individual approach to create with each client the best in-store experience.
Stocks seem at good levels and brands are ready to deliver smoothly. Flojos reports 100% stock of Spring 2023 line, and a timely shipping of all pre-book orders. They also have plenty of at-once inventory. Reef has a healthy on-hand inventory and is delivering earlier than last year. Indosoleended 2022 with solid stock on their carry-on core colours and are ready to deliver new colours from March. Foam Life has secured an EU distribution centre to secure their customers in this region. They are now ready to ship from it, with carry over lines already available and new 2023 styles ready to be delivered for the Easter break. Havaianas is in a good position too, thanks to having anticipated their growth and buying cycle, and prioritising deliveries to key partners.