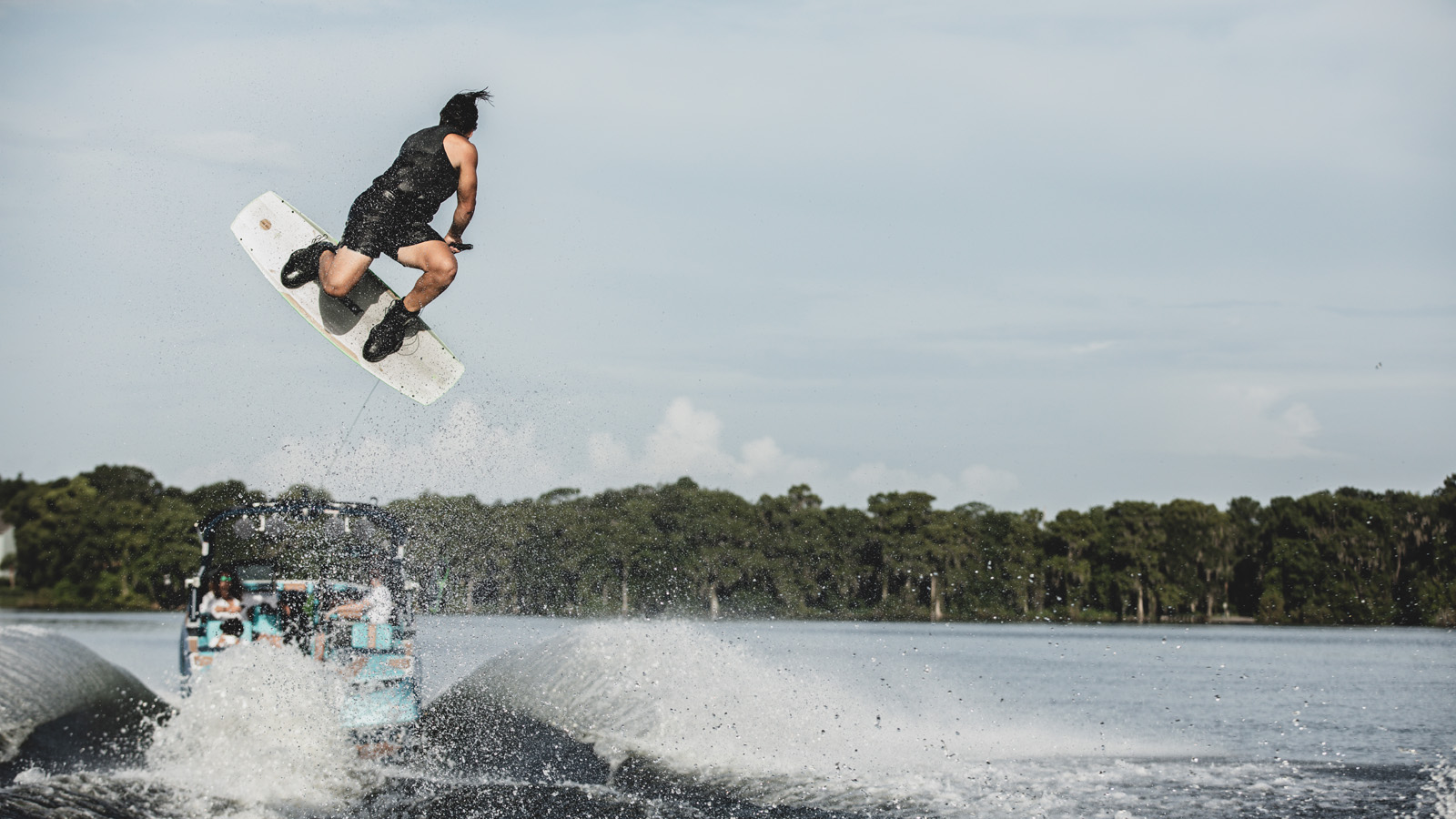 Jobe SS21 Wakeboard Hardgoods Preview
Retail Buyers Guide: Wakeboard Hardgoods SS21
Brand: Jobe
Interviewee: William Doornekamp, B2B Marketer 
How was Covid-19 affected your business this year and your product line up for 2021? Are there any new short or long-term strategies you would like to talk about?. Where have you seen the biggest changes so far in 2020?
2020 has been a wild ride for all our categories but after a lot of uncertainty came a great summer and people spending holidays in their own country (and on the water). This led to an extreme rise in boat sales and this showed in our wakeboard sales as well. We keep on focusing on the boating side of the sport and invested in some new innovations as well.
The big change is due to COVID that we see the boating market exploding this season.
What are the main trends coming up in 2021 in the wakeboard hardware market for boots/boards/bindings/helmets? Where do you expect the biggest growth in 2021?
Wakeboarding is growing in total, cable park is always growing and boating sales are through the roof! And as summers are getting hotter, you see that people want nothing more than to spend their time out on the water.
In terms of hardware: Big boards will continue to sell but to say it's a trend is over, it's the new norm. Looking at ourselves and other players in the market there you will see that there will be a lot of playing with outline (just like the snowboard market did a few years when Korua Shapes hit the market) and constructions. Where the snowboard market is further, we in the wakeboard market are just scratching the surface but exploring a whole new world of materials. This means boards will be lighter than ever and offer pop and response which is unheard of!
Bindings are still a matter of material and comfort.
Please tell us about your new innovations in construction and design for 2021
2021 our design philosophy over our entire range is Form Follows Function. This means that design meets functionality and this shows in our high-end wake collection.
We've got some insane new constructions coming up in our new wakeboard range. Think of adding carbon but also playing with new honeycomb Carbon plates. The result: A high-end wakeboard collection which is insanely light and responsive like never before.
How are you helping retailers sell your product and which method of help seems to be the most effective?
In normal years, we were ahead of the game by offering online training through our Jobe Academy, the first online training tool in our market. And we invested heavily in POS materials to promote the collection and boost sales in the stores of our dealers. This has always been things that we've been credited for by our dealer network.
But 2020 has been a bit different due to COVID, so we needed to support in new ways next to what we usually do. This means offering advice about social distancing, how to clean gear for rental locations, and being flexible in our approach towards dealers. And of course, everything is online so we moved fast and focused on content to help dealers, form instruction videos to product videos.
And although we count on the fact that people will also want to visit physical stores, we have to keep in mind that a lot of consumers have changed their buying behavior to an online environment. So we also want to help our dealers in improving on this side of the business as well.
What will we be seeing in terms of sustainability in 2021? Any new innovations, initiatives, changes in materials, etc.?
Innovations
BackBone Technology (found in the Breach) – With Backbone Tech, we strategically placed carbon V stringers in the Tip & Tail of the board for an improved torsional flex. This makes for an improved underfoot response of the board. We also added stringers in the belly of the board for dampening landings but more importantly, adding insane pop to the board. By doing all this, we shed a whopping 600 mg of the board, which is a lot!
Honeycomb Carbon Plates (found in the Knox) – Our new Knox comes with brand new Honeycomb carbon plates. These plates have a special structure and are placed under the bindings for improved response and torsional flex. The enhanced response gives the direct control that advanced boarders demand.
Sustainability
FSC Wood – All the wood in our wakeboards is FSC certified wood, so this means people can rest assured that we've done our best to harvest wood as eco-friendly as possible. By doing this, we do our best to keep the impact on the environment as low as possible.
Recycled Packaging – Every step counts and packaging is always needed, so our packaging is all recycled material. This makes for a more eco-friendly footprint.
Tell us about your 3 key products for 2021 and why you think they will be great sellers?
Breach Wakeboard
The Breach is our top competitive board and our top rider Tony Iacconi already put it to the test! Shedding a good 600 mg and beefing it with our Backbone tech, this is our upgraded high-end board which will blow the mind of the rider using it. With insane pop, direct response, and a featherlight weight, you can't ask for more.
Knox Wakeboard
The Knox also received an upgrade with our Honeycomb Carbon Plates under the bindings. This uniquely woven carbon gives a sick look but also improves the torsional flex of the board. This makes for an improved underfoot response, combined this with the normal ingredients which make up the Knox and you've got an insane board behind the boat.
Charge binding
The Charge was introduced last year and is an ongoing product of ours. This was our latest addition and we've got a really good response, as this binding comes at a price of €289,99! For this amount, you get an insane level of quality making this THE bang for your buck option in the wakeboard market!