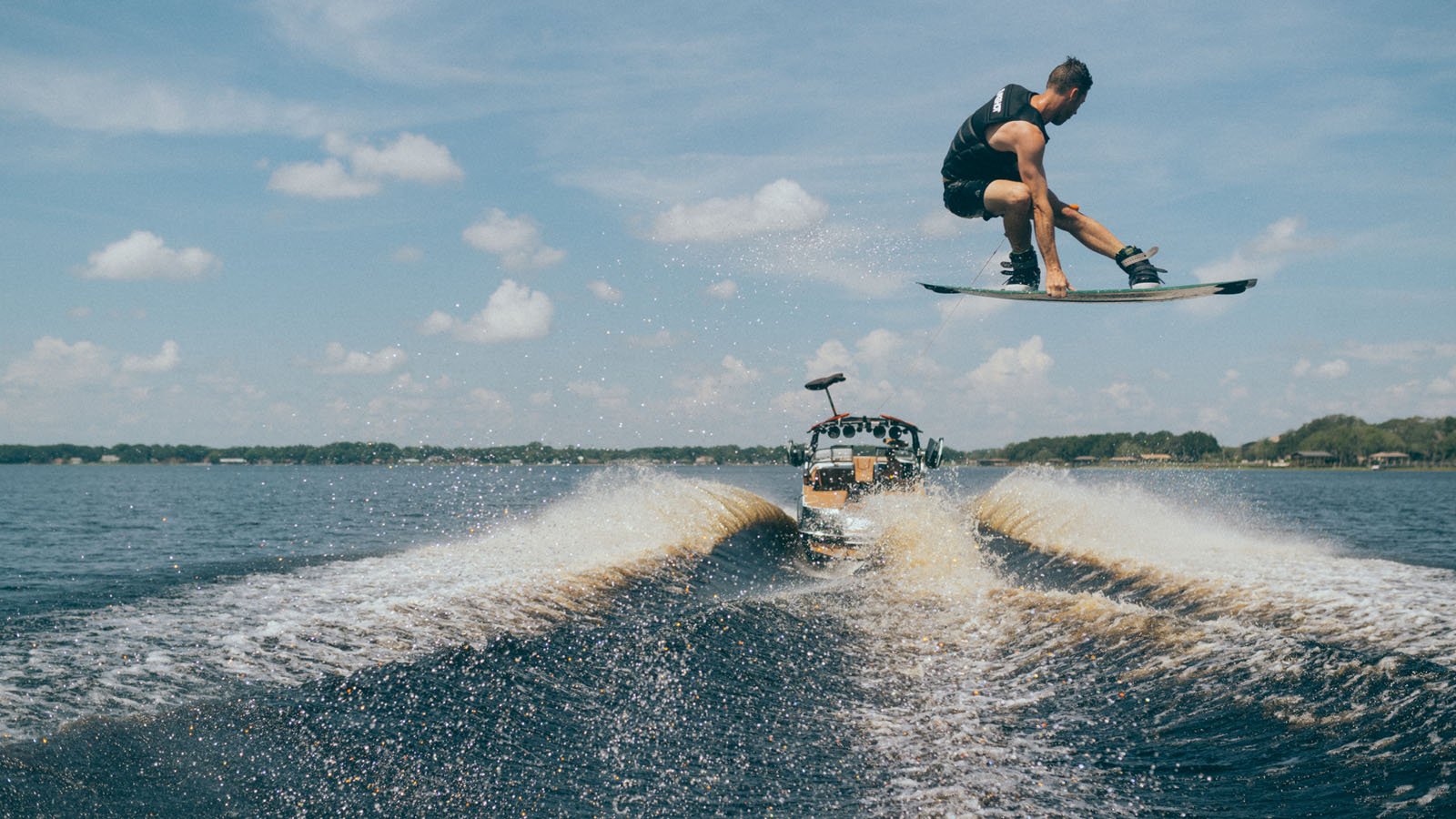 Slingshot SS21 Wakeboard Hardgoods Preview
Retail Buyers Guide: Wakeboard Hardgoods SS21
Brand: Slingshot
Interviewee: Jeff McKee, Wake Brand Manager
How was Covid-19 affected your business this year and your product line up for 2021? Are there any new short or long-term strategies you would like to talk about?. Where have you seen the biggest changes so far in 2020?
The biggest challenge Covid has presented us with has been production timelines and product levels. Typically our product demand is quite predictable, but Covid was of course a big threat to the economic well-being of individuals and businesses worldwide. Early on during the pandemic, we imagined customers may spend less, but in fact, the complete opposite has turned out to be the case. Enthusiasts seem to be at home cleaning out their garages, tinkering with their gear, investing in new gear, and pursuing their individual sporting passions now more than ever. Long story short, we delayed our complete 2021 product release until December of 2020 to give retailers more time to move their 2020 gear, and now as it stands in September the shelves are nearly empty and our 2021 product release can't come quick enough! However, we do have 3 exciting new 2021 products releasing October 8th which we are happy to highlight in this buyer's guide
What are the main trends coming up in 2021 in the wakeboard hardware market for boots/boards/bindings/helmets? Where do you expect the biggest growth in 2021?
The cable parks are full as team sports have been cancelled. There's a new generation of cable shredders on the rise, people are wakesurfing and foiling up and down the shores of most lakes, and the stoke is at a new all-time high. As always, Flex is KING. If your board doesn't flex and your boots don't have gummy straps you're missing out! The biggest growth opportunity we see for 2021 is in the core cable and foil markets.
Please tell us about your new innovations in construction and design for 2021.
In 2021 we are staying true to the core of all our products. Full wood cores bring our boards to life for all aspects of wakeboarding and 2021 is no different. We have another bold new directional cable board on the horizon for December as well as several new wakesurf shapes, fresh new gummy straps, and more.
How are you helping retailers sell your product and which method of help seems to be the most effective?
As long as we keep focused on having the right athletes and role models with us behind the wheel – presenting new design ideas and thinking outside of the box – the army of supporters seems to naturally funnel in. We can't tell you how grateful we are for our SLING tribe! In general, retailers seem to be chomping at the bit for more product, so whether it's good marketing or a Covid side-effect, it seems to be working!
What will we be seeing in terms of sustainability in 2021? Any new innovations, initiatives, changes in materials, etc.?
New for 2021 we can now proudly say that all of our cores are "sustainably sourced" from certified sustainable growth farms
Tell us about your 3 key products for 2021 and why you think they will be great sellers?
The 2021 "Bearden" board is a new signature cable series board for Crosse Bearden. Based on our ever-popular "Terrain" model, this one comes sprinkled with magic dust that helps riders take their jib skills and grass riding tech to new levels!
Also for 2021 in the signature cable series is the "Salmon" for pro rider Victor Salmon. This is a 155 Nomad with a completely Smooth base (sans channels) for the ultimate feeling of freedom in the park. The first samples all went missing from our offices, so we have a feeling this one is going to be a hit in the cable market next season!
Finally, we have the Boss Hoss Wakesurf board. It's the first of its kind with the largest surface area of any wake surfer on the market. at 5'6" long and 26" wide, this beast was made to surf practically any wave that breaks. For all your friends out there who "just can't seem to drop the rope," the Boss Hoss is their ticket to freedom!