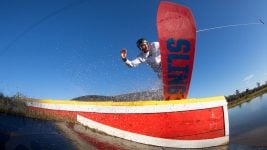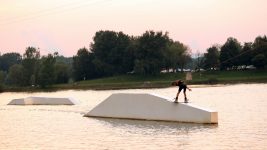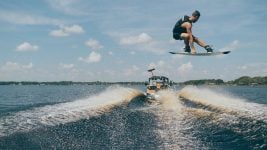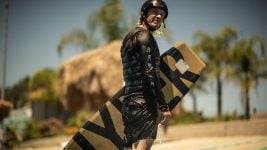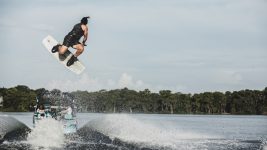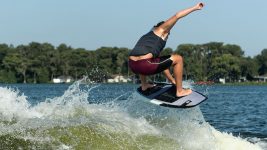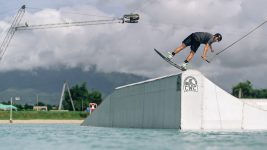 There's a lot happening in the wakeboard industry, despite a rocky start to 2020, brands are now ready for a rocking SS21 and they're coming in hot with new constructions to shake things up. Sustainability in the industry is also levelling up to help protect our planet and keep the sport thriving. Read on for a breakdown of wakeboard hardgoods for SS21. By Dana Miskulnig.
Current Market
It seems COVID could have been both a blessing and a curse for the boardsports Industry. It definitely shook sales strategies out of the usual course of action, but lockdown seemed to lift at just the right time for the wakeboard industry and worked to its advantage. Just in time for shops to move their goods for the summer months and boost boat sales for those wanting to stay put and socially distanced, which of course added to the uptick in wakeboard hardgood sales. "The situation changed totally once the lockdown was lifted. People went crazy and bought all kinds of water equipment. So finally, the season turned out to be nowhere near as bad as expected," explains Richard Ems, Head Honcho at DUB Wakeboards and Jetpilot.
Marketing
2020 boosted e-comm sales with brands stepping up their online marketing game big time in the last few months, and that's not stopping. Brands are continuing to band together with distributors, retailers, and riders to leverage each other's social media skills and reach to keep those clicks going towards online sales. But there's still the physical side to the marketing game that we can't forget. Testing, testing, testing seems to still be key as Josef Holub, Founder & Worker at Goodboards tells us, "We organise more than 60 test days per summer, we hand out vouchers for the tests, our team riders recommend the products, we make films and are very active on social media." A new development in recent months was the launch of Pro-Tec's first signature helmet with pro rider, Wesley Mark Jacobsen, in the middle of the pandemic. "It's been doing really well. We're stoked to be working with such a good guy and to have such good retail partners that support it." explains R.P. Bess, global Brand Director at Protec.
Sustainability
It has become a vital pillar in the boardsports industry to protect our environment and Hyperlite are doing just that from the ground up. "Hyperlite's primary manufacturing partner, based in Taiwan, recently completed their new clean energy facility. All Hyperlite boards are built using 80% renewable energy sources such as solar" shares Greg Nelson, VP Marketing at Hyperlite. Not falling far behind, O'Brien are also pushing the bar on manufacturing sustainably with their wakeboard factory currently making the shift to operating solely on renewable energy sources. Using eco-friendly materials has also become an industry standard with many brands using eco based resin, sustainable wood, and recycled packaging. Nobile are also making sure every piece is being used as efficiently as possible in their production with board leftovers being used for factory heat circulation and heating systems.
Construction
As pre-empted, there's lots of exciting new things to share in terms of construction for SS21…
Jobe Sports have upped their game and shaved 600mg off their boards with the use of BackBone Technology, which can be found in their Breach board. They are also using FSC certified wood to ensure consumers that the wood has been used to an eco-friendly standard. When it comes to board and binding weight, Liquid Force are creating fierce competition with their construction techniques and processes for 2021 as Aaron Grace, Director of Marketing tells us, "Our AeroCore wakeboards start with a high compressive strength core that is reinforced with multiple aligned carbon stringers on the top and base for rebound and response. This core is then wrapped in our lightest glass combo layer and finished with our thinnest surface material to result in the lightest boards in the industry. Our Aero bindings integrate laser cutting, sonic welding, upper-balancing, with a tuned carbon support structure to make a lightweight performance boot that, when combined with the AeroCore boards, keeps the entire setup under 4.5 kg." Speaking of cores, there's some great news from the production house of Slingshot as Jeff McKee, Wake Brand Manager, proudly shares, "New for 2021 we can now proudly say that all of our cores are 'sustainably sourced' from certified sustainable growth farms." 
Trends
Larger boards continue to be a big topic as Janek Korycki, Marketing Manager at Nobile tells us, "Following the trends, we're introducing a new larger board model. That is where wakeboarding is going lately: larger boards, softer landings which helps save your knees a lot. That is why we're introducing the new board model called the Jibb King and it will be up to 160cm long." Hopping onto the bigger board trend, Slingshot Wake are bringing in the Boss Hoss wakesurf board, "It's the first of its kind with the largest surface area of any wake surfer on the market. At 5'6" long and 26" wide, this beast was made to surf practically any wave that breaks. For all your friends out there who "just can't seem to drop the rope," the Boss Hoss is their ticket to freedom!" explains Jeff McKee, Wake Brand Manager. Swimming against the grain William Doornekamp, B2B Marketer at Jobe Sports claims, "Big boards will continue to sell but being able to call it a trend is over, it's the new norm. Looking at ourselves and other players in the market, you will see that there will be a lot of playing with outlines (just like the snowboard market did a few years ago when Korua Shapes hit the market) and constructions. So, we're curious to see how SS21 pans out and if bigger boards really are the big winner." 
Products To Keep An Eye On
To give you a better taste of what's coming for you in SS21 here's a breakdown of some of the top 5 products we can't wait to see hit the market:
The Blacklist board by Hyperlite: "Graeme Burress is hands down one of the best cable and rail riders on the planet today. The Blacklist is Graeme's 2nd signature cable wakeboard with Hyperlite. Graeme is consistently releasing content which is driving sales for his new pro model. Pre-book orders already show the Blacklist will be a top seller for Hyperlite in 2021" shares Greg Nelson, VP Marketing.
The Charge binding was introduced last year by Jobe Sports and is the bang for your buck binding, giving you an 'insane level of quality' product at €289.99.
Over at O'Brien we've got the Valhalla: "This tried and true wakeboard continues to be a best seller for us. It doesn't matter if you are a beginner or a pro, this shape works for everyone. The Valhalla is easy to edge, very forgiving, and delivers a smooth, controlled pop that makes for a natural progression in your riding" says Sean O'Brien, Director of Marketing at O'Brien Watersports.
If you're looking for something a bit more personal, Sandbox have dug deep and worked together with team rider Anna Nikstad to introduce a new pro model for 2021, the Low Rider. "Anna decided to hand draw a kraken which is a symbol that exudes ferocity and depth — a representation of her" Joel Giddings, Brand Manager, explains to us. They've also got the Low Rider – Tag, coming in 2021 for which they contracted a local Vancouver artist to hand spray a graffiti tag. These water decals on the helmet will be hand placed and give every helmet a bespoke feel.
If comfort is your jam, Noah Todaro, Marketing Coordinator at Triple Eight NYC, breaks down their Sweatsaver Helmet, "Our most popular water helmet now includes a super-comfy Sweatsaver Halo Liner – constructed with three foam layers wrapped in plush fabric – making it one of the most comfortable water helmets on the market. That liner is also removable and easily washable so you can keep it looking mint after a session in some grimy water!"
Conclusion
To wrap things up, there's clearly a lot of advances in the wakeboard industry to look forward for in SS21, not just in terms of construction and tech but also giving environmentally conscious consumers more choices in the product line up. We're curious to see how the big board trend pans out and if it's reached its peak or if there's still more in store for us there. The feeling in the industry seems hopeful with spirits still high despite an initial shake up due to COVID but the wakeboard industry seemed to come out of these tough times stronger than before. Let's just hope the global situation improves and keeps working in favour of the boardsports industry so we can have a ripping (and safe) summer on the water in 2021!