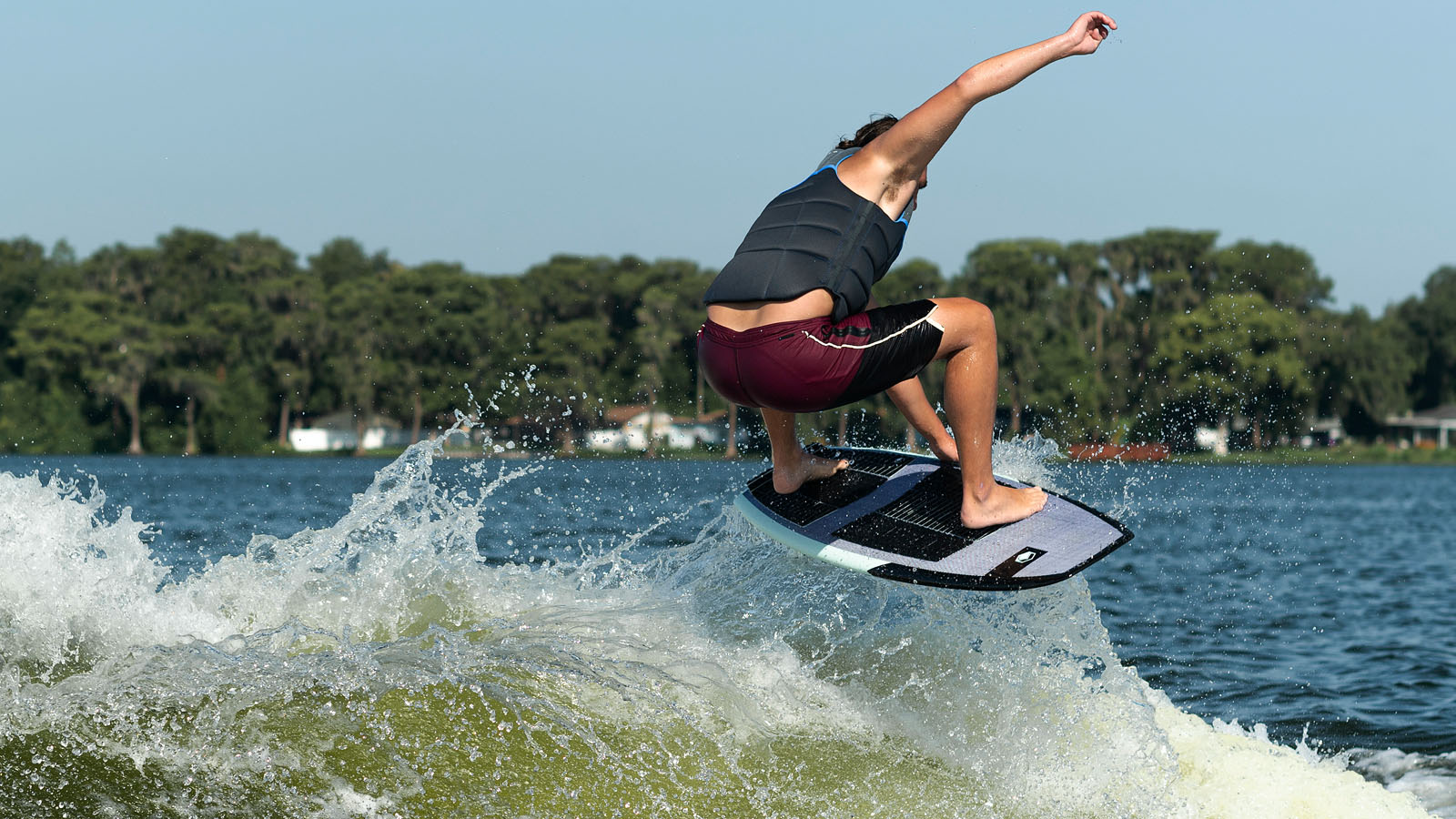 Liquid Force SS21 Wakeboard Hardgoods Preview
Retail Buyers Guide: Wakeboard Hardgoods SS21
Brand: Liquid Force
Interviewee: Aaron Grace, Director of Marketing
How was Covid-19 affected your business this year and your product line up for 2021? Are there any new short or long-term strategies you would like to talk about? Where have you seen the biggest changes so far in 2020?
When Covid first hit we were definitely worried for the first couple of months.  Most people were scared and unsure of what the future held.  With everyone and just about everything being shut down indoors and outdoors, everyone was saving money for toilet paper and bleach. As outdoor activities started to open back up and were about the only activities for people, our sales started to pick up.  Families weren't traveling, indoor activities were still on pause, so our consumer base grew knowing that they could go to the cable and or get on the boat with their close friends and family. "We aren't going on vacation this year, let's buy new gear and enjoy the water".  Come mid-May up to the present, our sales have been some of the best ever. I think this goes for most water sports brands and outdoor brands in general.
I wouldn't say there aren't any general strategies other than making sure we have inventory and hoping that demand for product stays and we have the product to fill the orders.
The biggest change is the uptick in sales in general across our entire line.  Again, people were wanting to get outside, maybe had a little extra money saved for a vacation which was now canceled, so they updated all their gear.
What are the main trends coming up in 2021 in the wakeboard hardware market for boots/boards/bindings/helmets? Where do you expect the biggest growth in 2021?
Board Trends – For park boards, offering a narrower stance, a wide range of sizes in boards, and different flex patterns and all wood cores
Boat Boards –  Playing with different core materials and layups to make the board as light as possible while keeping their strength and durability. Our Aero Core boards weigh just under 2.6 kgs.
Binding trend – Like the boards, we are working with different materials to reduce the weight yet still keep the binding firm.  Also having a good all-around offering for any type of rider.  Walk liner, different flex patterns, closed-toe, open toe, price range, etc.
Helmet trend – Adding graphics and a full range of colors to the line.
Please tell us about your new innovations in construction and design for 2021.
For 2021, we are working on new construction techniques and processes in our boards and bindings.  Our AeroCore wakeboards start with a high compressive strength core that is reinforced with multiple aligned carbon stringers on the top and base for rebound and response. This core is then wrapped in our lightest glass combo layer and finished with our thinnest surface material to result in the lightest boards in the industry.
Our Aero bindings integrate a laser-cut sonic welded upper balanced with a tuned carbon support structure to make a lightweight performance boot that when combined with the AeroCore boards keeps the entire setup under 4.5 kg.
In our high-end wake surfers, we are working with lighter core densities, different stringer configurations, and using exotic performance fibers in lightweight glassing methods to reduce weight and enhance the ride of our new Quest series.
How are you helping retailers sell your product and which method of help seems to be the most effective?
Our general philosophy here is that we do whatever we can to help the retailers sell our gear.  If that means showing up to one of their sales or events and helping them push the product, we do that.  If it means sending athletes to the shop to help, we'll do that.  Additionally, we try to provide a ton of informative videos, photos, and assets of all of our products that help the dealer explain our gear…whether that be on their own website, in the form of POP, or just in pre-education on our site before the consumer goes to them.  Additionally, we've worked to make our website dealer locator more user friendly and helpful for consumers trying to find the closest dealer.  We've also worked hard to have more inventory in stock when dealers are looking to re-order.  It's a tough balance between having too much and too little, but we've worked closely with our sales team to forecast accurately and be there for the dealers when they need us!  Last, but definitely not least, we've tried to make sure our product is in demand and the consumer NEEDS it.  If we continue to pump out awesome products, it makes the retailer's job much easier… that is always at the forefront of what we do… we're always trying to RELENTLESSLY INNOVATE so our dealers have consumers coming into their doors already knowing what they need to buy.
What will we be seeing in terms of sustainability in 2021? Any new innovations, initiatives, changes in materials, etc.?
We are working with an eco-based resin that will be used on our boards in the new season.  We have been using sustainable wood cores that come from responsibly managed forests that provide environmental, social, and economic benefits.
Tell us about your 3 key products for 2021 and why you think they will be great sellers?
Foils – We have expanded our offering of foil boards and setups for every type of rider. We have a new entry-level board that helps with the learning process of foiling.  For the advanced rider, we have the new small, lightweight Nebula with our new Carbon Horizon wing setup for the ultimate in 1st, 2nd & 3rd wake riding.
Wakesurfers – We have expanded our line with several new shapes at all levels. The Quest and Twinzers are performance-based fins-forward loose surf-style shapes that will up your game. The new Sting is a fun all-around surf-style shape for everyone.  The REIGN series is a new lightweight pro model performance skim style shape that incorporates our AeroCore technology in wake surfers. Our popular Guapo fun shape is now stronger, lighter, and cost less so everyone can cruise this one.
Wakeboards – the new TAO, PEAK & VIRAGO have been updated in new sizes to offer some longer shapes for park riding.