O'Neill S/S 2022 Women's Swimwear Preview
Retail Buyers Guide: Women's Swimwear S/S 2022 Retail Buyer's Guide
Brand: O'Neill
Interviewee: Dan O'Keeffe, Manager Buying & Design
What are the key industry trends in women's swimwear and how are you implementing them in your SS22 collection?
We focus as much as possible on responsibly designed products. All our swimwear has been made with Econyl and Repreve recycled materials.
Buy less, buy better is another responsible choice we see as important. Therefore we offer a range of reversible and adjustable swimwear.
Triggered by the pandemic people have got used to wearing sportswear in their everyday life. We see that swimwear is used hybrid for wardrobing. Why not wear a swimsuit combined with pants? This idea comes to life in our swim to gym ACTIVE collection.
What were your best sellers in SS21?
Maoi Bottom is our no1 bestseller. This bottom has a low waist and cheeky rear coverage. The style is made from 79% recycled material and re-usable fabric with quick-dry properties.
Baay Top: This top has adjustable, crossed back straps, boning on the side and a cross-over front with cut out inserts. The style is made out of 75% recycled material and come in various prints and solid colours. Together with the Maoi Bottom, this is a very popular bikini set. We offer these items also as a fixed set and this sells very well as well.
Rita Bottom, this is a classic brief with full coverage and a mid-waist. The style comes in a full range of solid colours and prints. All with O'Neill hyper dry treatment.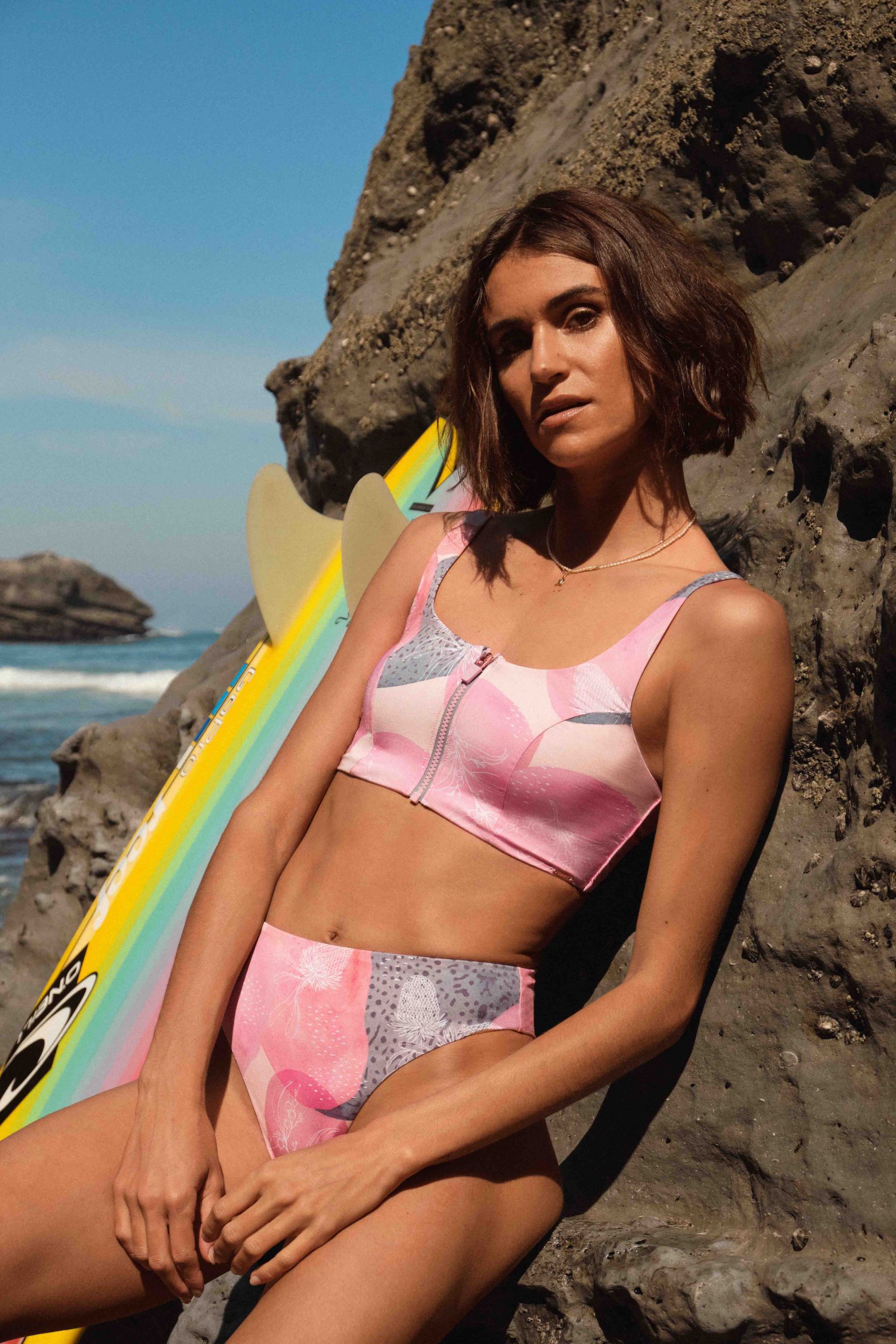 What style/shape of swimwear is most popular in your range?
For bikini tops, this is the bralette fit. These styles have adjustable, crossed straps at the back and removable padding. Further, it has a cross over detail at the front.
For a bottom, the checky fit is very popular. It has a double lining, so everything will stay in the correct place. Further, the hyper comfort prevents it from cutting into your skin. Ideal bottom for sunbathing.
Where do you expect the biggest growth in SS22?
Our Never Out of Stock offer is always very popular. For SS22 we are offering solid colours and also a new minimal print in the styles. Further our reversible offer is a great retro flower print, where we combine several flower prints in the same colour group. These styles are also made out of special, crepe fabric, which gives a 'dressed-up' feel to the beachwear.
What have been the major inspirations behind the designs in the SS22 range? We have 3 creative pillars in our SS22 collection.
RETRO: in this theme silhouettes, fabrics, colours and prints are inspired by the 50ies.
OCEAN: this story drew inspiration from the ocean. Prints and colours are inspired by Seaweed and corals. All artworks for this theme have been hand-drawn. This theme includes a capsule inspired by our Surfer Imogen Caldwell.
FUTURE SPORTS: the third theme is all about hybrid, modular, colourful sporty designs.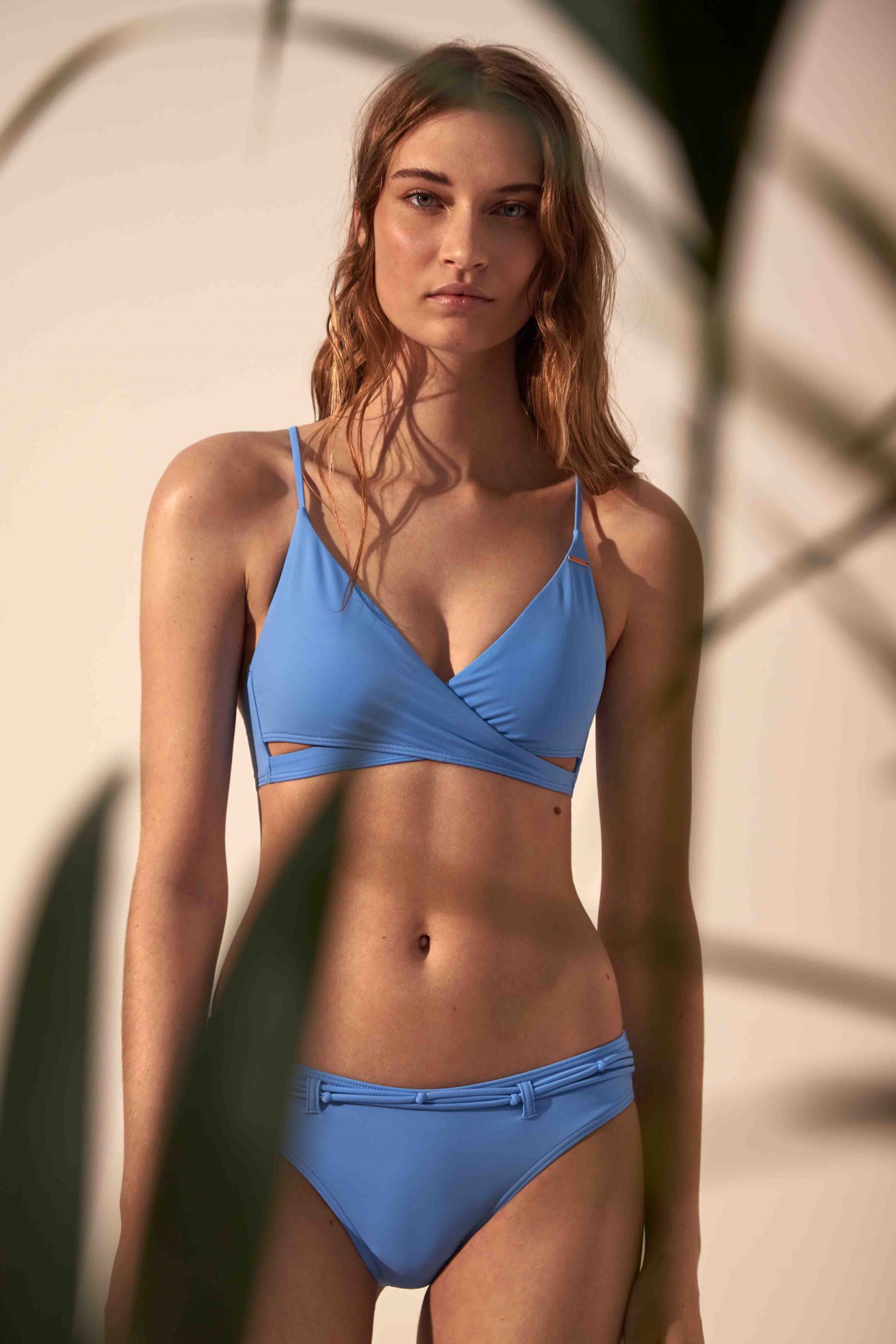 What colour palettes and prints will we find in your SS22 range? Any crossovers from other brand product categories?
As described in the previous question we have designed our collection around 3 themes. Each theme has its specifics colours and prints. All swimwear print programs are cross-over to casual and after swim product categories. Strongest statements we make in our FUTURE SPORTS theme. Here we have created 24-hour wardrobes combining swim to the gym to travel to casual.
What silhouettes are you featuring in your SS22 collection?
Magali (the overview Renske is working on could be updated for 220)
In terms of performance, what materials and construction techniques are you using? Are you implementing new ones in the SS22 range?
We introduce Oyster Shell into swim shorts, a bi-product of the fishing industry, where abandoned oyster shells are ground into powder and mixed with recycled PET bottles to produce these groundbreaking fabrics. This material naturally contains anti-bacterial properties which are permanent and will not disappear after washing.
What efforts are you making towards sustainability?
100% of our women's swim collection is considered O'Neill Blue, which is made of at least 50% recycled materials.
Any exciting marketing campaigns for your SS22 collection? When will it be launched?
Our key marketing launch around swimwear is 'From the ocean for the ocean', where we focus on materials literally from the sea, such as seaweed in sweats and tees, Oster shell in swim shorts and Algae in sandals.
Have your retailers suffered the loss of sales due to the pandemic? How have you addressed this issue?
We have worked with key partners to maximise retail opening again and online channels through stock swaps and other opportunities.
Key Products:
Above contains 3 key lines for retailers this season, this is our Global Dessert Bloom collection and part of our From the ocean for the Ocean campaign. This collection takes its print inspiration from one of our Riders home beaches, Imogen Caldwell, the whole range complements also a swimsuit and casual sweats collection.
The first 2 styles you see are the 'Jane' fixed set and swimsuit, new silhouettes for the season and contain zipper details seen on wetsuits, they are sporty in shape and offer something different in our collection, of course, both O'Neill Blue.
The second is our global swim short, which contains Oceantech Oyster shell material and is Hyperdry.
Thirdly our global Revo Bikini, is reversible, with 2 distinctive prints relating to the flora and fauna of Imogen's home beach. Of course O'Neill Blue.
This is our strongest and freshest collection within the range, that ticks all 3 O'Neill's boxes when it comes to DNA, Style, Tech and responsible.