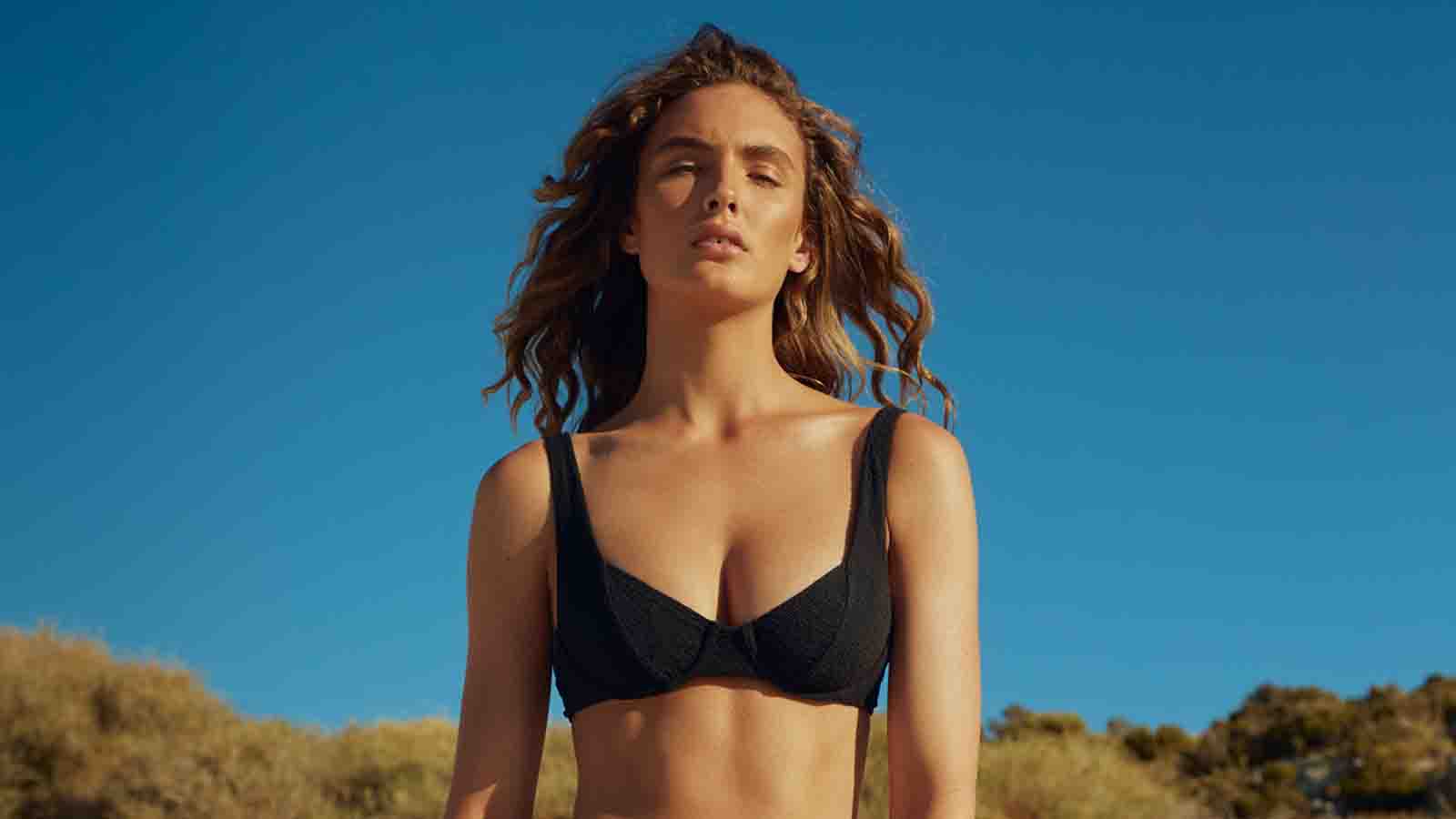 Rusty S/S 2022 Women's Swimwear Preview
Retail Buyers Guide: Women's Swimwear S/S 2022 Retail Buyer's Guide
Brand: Rusty
Interviewee: Noelle Aguirrebena, Senior Ladies Designer and Elle Clark, Brand Manager
What are the key industry trends in women's swimwear and how are you implementing them in your SS22 collection?
With the current world situation, the market has shown a big transition towards transeasonal pieces. The main focus transitions to solid colours and textures, exploring and adventuring in new trending silhouettes.  This is reflected in Rusty Women's range with a 70%  focus on solid coloured fabrics with textures.
On the other hand, the push towards sustainability keeps growing, as consumers are demanding their brands listen to them and care for the environment. As a brand, we trying to progress and implement sustainable actions where we can, striving for improvement in every range. This year's collection is curated from 50% sustainable fabrics, which have been made from recycled materials, which is double what we had in our last swim collection.
What were your best sellers in SS21?
Our best seller for SS21 is our SANDALWOOD collection. This unique textured fabric comes in a varying collection of silhouettes, catering to all varying boy shapes and styled tastes.
What style/shape of swimwear is most popular in your range? 
The Triangle Top with adjustable straps, Bandeau top, Midi pant with side ties and underwire bust top. All from our Sandalwood fabric.
Where do you expect the biggest growth in SS22?
As the market continues to saturate with new upcoming swim labels from all areas of the globe, it will be essential that brands ensure they curate designs with unique selling points that are on-brand for their consumer. Another huge area of growth we expect to see, which is no news to the market, is the acceptance of all body shapes and sizes. Here at Rusty Women's, we will continue to expand our unique selling points, including our SANDALWOOD textured fabric and curate shapes that ensure we are catering to our already established customers, however, also ensuring we can speak to a new demographic of like-minded girls.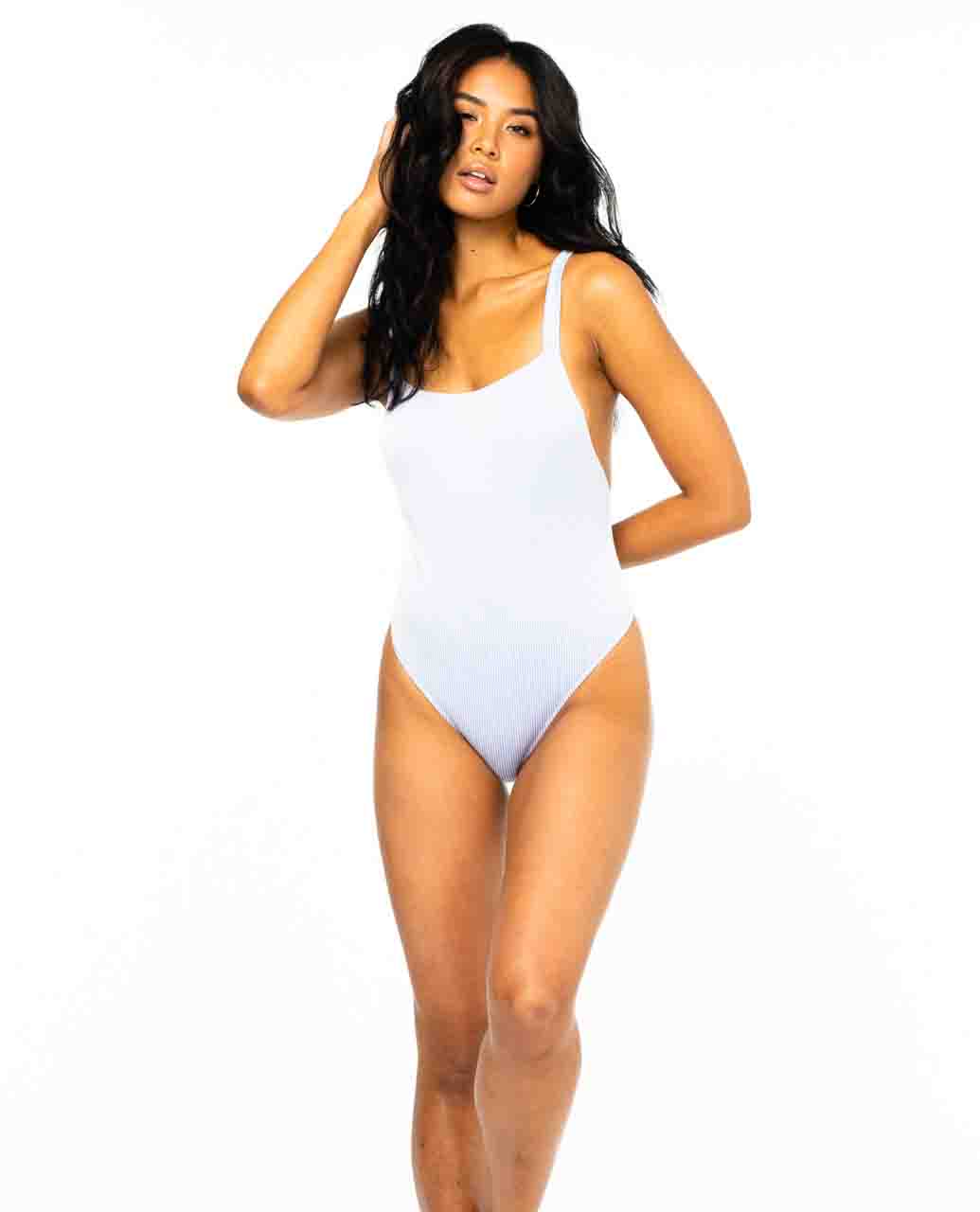 What have been the major inspirations behind the designs in the SS22 range?
Nature is always our biggest inspiration. This comes from the ocean, beautiful country hills, tropical flowers, and sunset colours.
What colour palettes and prints will we find in your SS22 range? Any crossovers from other brand product categories?
Our swim range always pairs back to our clothing, which fuses our collections. For spring our colour palette starts with earthy tones and soft colours like sage, pastel pinks and our staple black. And as the weather warms and Summer comes, we adventure into ice cream pastel colours, vibrant reds with tropical flower prints, finishing with warmer oat colours and leopard prints.
All our prints can be found across dresses, skirts, bucket hats, tote bags and backpacks.
What silhouettes are you featuring in your SS22 collection?
We have a wide range of silhouettes, lots of them being new for us. Yay!
Bandeau tops with turquoise shell ring (removable straps)
One-shoulder bralette top with adjustable straps ( + removable strap)
Squareneck bralette top with adjustable straps
Underwire cup top with adjustable straps
Triangle top with adjustable straps
One-piece low back
High cut/Classis/midi/slim midi/cheeky pants
In terms of performance, what materials and construction techniques are you using? Are you implementing new ones in the SS22 range?
For the Rusty girl,  it's all in, 24/7, and she needs to know her swimwear has her back for all of her adventures. To reflect this, we are making sure all our tops have the right amount of support, through bust cups, internal elastic, or underwire construction, allowing you to have fun without any concerns. Because if it feels good, it's good!. For our bottoms, we are moving away from the bagged outseam construction with our bottoms now featuring topstitch, giving support and allowing it to stay where it needs.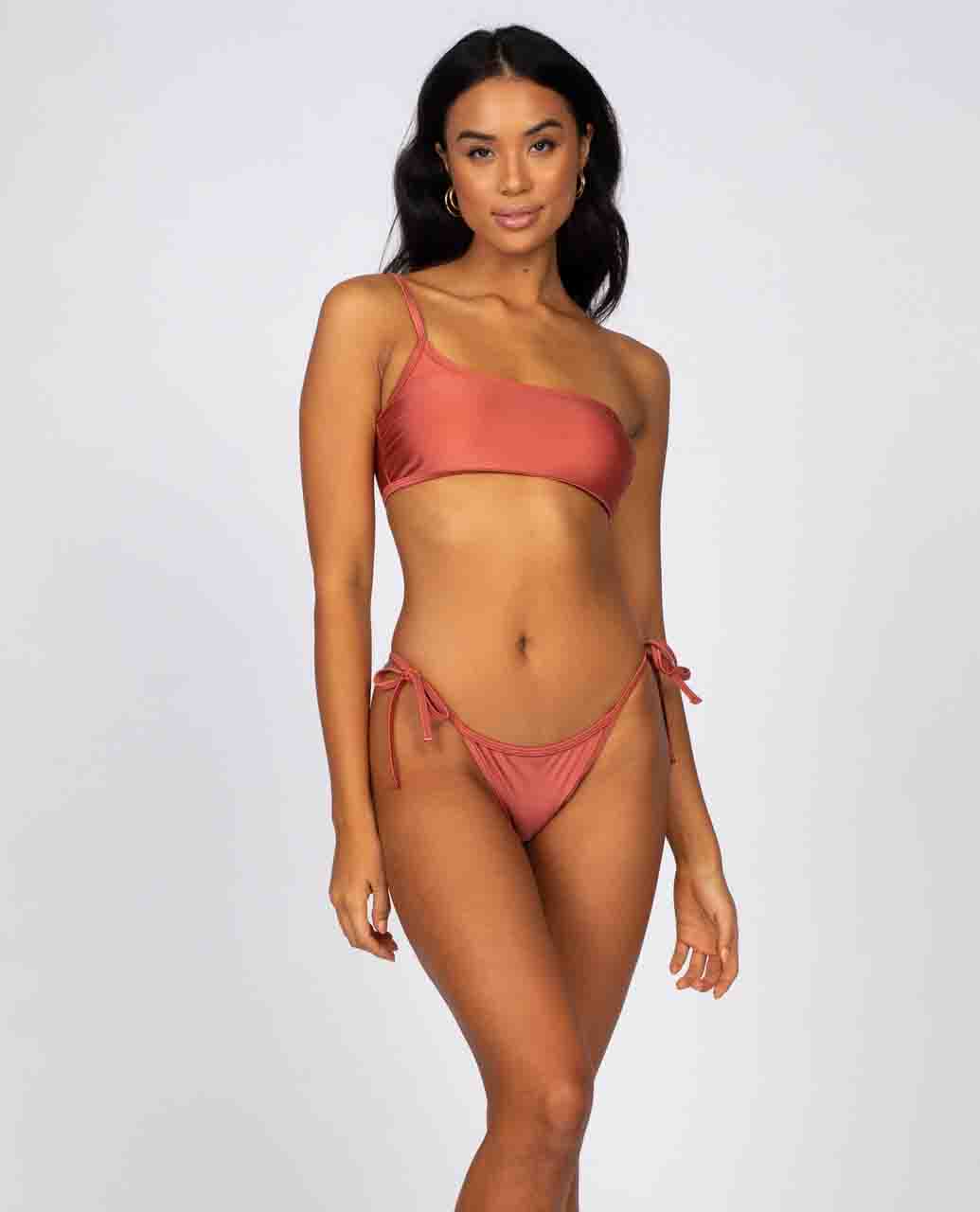 What efforts are you making towards sustainability?
As mentioned above, every season we work to improve ourselves and help improve our planet. This swim collection, 50% of our range is made from recycled fibre materials. But it's not all just about the materials we use within our collections. Here at the Rusty HQ in Western Australia, we have special containers to recycle our packaging – soft plastics, cartons, etc., that goes to a special recycled plant facility. We are also evolving our packaging and swing tags to be more sustainable where possible, without impacting the quality of our products of course.
Any exciting marketing campaigns for your SS21 collection? When will it be launched?
Our Rusty Women's Spring 2021 campaign took us off the coast of Western Australia, to Rottnest Island. Where we explored the island top to toe, capturing the journey along the way. From roaming the limestone coastlines to exploring the old historic buildings. We also managed to get a few surfs in whilst over there. This swimwear shoot paves the direction for the future of Rusty Women's Swimwear collections. As we hopped between bays, we made sure the photographer captured those moments of delirium, that make you stop in your tracks and go 'wow, what brand is that'… to say we're excited to launch this collection is an understatement.
Our Rusty Women's Summer 2021 campaign took us to the southwest of Western Australia to a small town called Margaret River. Here we strived to continue the momentum from Rottnest Islands' Spring campaign. However we made sure we had fun and the girls will able to let their hair down, as, after all, that's what Summer is all about for the Rusty girl. It's the journey, the softness of the smile, the laughter, chasing sunrise and sunset. It's our way of life.
What kind of support are you offering your retailers for your SS22 collection?
We are always supporting our retailers where we can. If something doesn't sell (which is rare), we will always strive to help them out. We also ensure we are helping them stay up to date with the modern-day times of social media, supplying Spring and Summer imagery for them to utilise. In addition, the launch of our Spring and Summer campaign will see great in-store POS support.
Have your retailers suffered loss of sales due to the pandemic? How have you addressed this issue?
Most definitely, as I am sure we are all aware, it has impacted everyone in some way. We have been fortunate in Australia that it hasn't impacted us nearly as intensely as the rest of the world. However, last year we're accepting stock movements and or stock cancellations where necessary. We did not want to put unnecessary stress on our retailers if we could help, we did. We will also, always, adopt that mentally, if another future situation occurs.
Please describe your 3 most important key products that retailers should definitely order.
       1 – Sandalwood Underwire Bikini Top
This silhouette is one of our must-have pieces in every girl's bikini draw. Tha shape in conjunction with the underwire provides premium support for all bust shapes and sizes. It took a long time to perfect this one and we are so happy with how it turned out.
       2 – Kendrick One Shoulder Bikini Top
The Kendrick is the perfect style for those girls looking for a little extra 'something' in their bikini. The stylish, functional shape comes in a beautiful shiny fabric. Boasting an adjustable one-shoulder construction and a removable strap to turn it into an on-trend, stylish one-shoulder design. It also has internal taping to ensure it doesn't fall down when swimming and hanging out at the beach. We played it safe for Spring introducing it in a staple black colourway, however have introduced a beautiful rusty colourway.
       3 – Blurred Lines One Piece
The Blurred Line One Piece is the must-have piece for this Spring and Summer. It is incredibly sophisticated and perfect for ALL girls. The two-toned rib has been designed on a Recycled Poly. The low back, wide strap and midi pant construction is extremely flattering for all body shapes. Our favourite part of this piece is it can also be worn as a bodysuit. We introduced it in Spring in a beautiful pastel blue and have carried it through into Summer in a Faded Olive, both must-have colours for the season