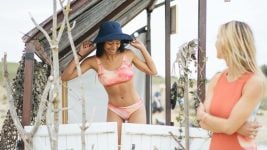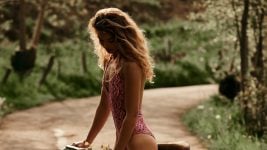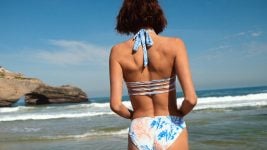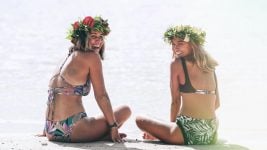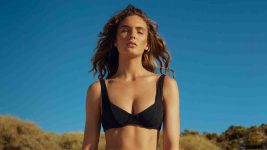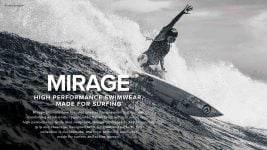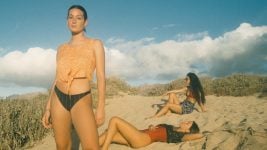 Women's Swimwear S/S 2022 Retail Buyer's Guide
Water sports fandom has increased by the day since the pandemic started. Many are women who need reliable yet feminine swimwear to dress their adventures. If there ever was a time for surf swimwear brands to reach further, this is it. By Rocio Enriquez.
Yes, women are hitting the beaches in numbers, and not to sunbathe and splash around. They are surfing or paddle boarding, amongst other activities, and they want to do it with comfort and peace of mind. There is also increased empathy towards other women and the environment that pushes body inclusivity and sustainability. This mentality is driving the product development of women's swimwear brands. Most brands report shaping one-pieces and sporty styles as their most popular shapes last summer. Reversibility and the possibility to mix & match proved to be successful practices too. It is in these styles that brands expect the biggest growth next summer. SS22 will bring about performance focused collections with shapes to suit all body types. We will see a lot of reversible and adjustable pieces mostly made of recycled materials. All served in looks that celebrate the ocean and the fun to be had in it. 
Shapes
The aim to suit every woman's body has resulted in a very ample offering in shapes. This applies to bottoms and tops, but also to one-pieces, offered in different fit options. When it comes to bikinis, brands like Hurley, Oxbow, Picture and Protest combine this with a Mix & Match policy. "This allows our clients to choose the top and bottom shape they prefer and also the best size for both", explains Hurley's Marta Turc. Bralettes and square cleavage silhouettes are claiming their space besides triangle tops and more sporty tri tops. High waist bottoms sit on shelves with cheeky fits. Yet, there is an accent in femininity that is delivering more revealing bottoms and one-shoulder tops. Pukas has paid special attention to this, adding for SS22 a mix of retro thongs and Brazilian bottoms. Rip Curl is offering some skimpier bottoms too. Rusty features a one-shoulder bralette top with removable and adjustable straps. Pukas and Barts join the asymmetrical trend with offers of their own. The key is to remain supportive, whatever the shape. "Customers want to feel good, supported and sexy at the same time", says Roxy's Caroline Lacroix. One-piece styles get a lot of attention from designers. The trend is still going up, so brands keep freshening them up. Picture offers a long sleeve one for endless hours of fun in the water, while Rusty adds a low back version for a sexier look. 
Colours and Prints
The love of nature and the joy of being by the sea are dominant themes. Each brand offers its own rendition of coastal life inspired prints. Oxbow has developed the new Anemone print exclusively for their women's swimwear collection. Picture throws in two new prints, the sea-inspired Algae, and the Chamarel. "A water colour landscape inspired by Chamarel region in Mauritius", describes Picture's Marion Bertrand. O'Neill has developed a specific print for each of the three themes launched in their SS22 collection: Retro, Future Sport and Ocean. The latter features hand drawn artworks inspired by seaweed and corals. Pukas also uses hand drawn techniques to create its own prints in-house. Barts' tribute to nature is celebrated through palm leaves, ocean tides and animal skin. Protest offers similar motifs with florals and the big cat print that is becoming their signature. Rusty jumps on the trend with tropical flowers and leopard skin. Slamp69 adds some psychedelic visuals to their nature inspired ones. Hurley adds some geometrics to the assortment of summer inspired florals and jungle inspired animal prints. 
The easing of the pandemic restrictions has generated a joyful mood that translates into bright and fun colour palettes. Roxy's evokes endless beaches, lush green forests and infinity pools. Rusty offers a selection of earthy tones and pastel pinks for spring, ice cream pastel colours and vibrant reds for summer. Both brands run the same colour palettes across clothing and accessories too. Pukas adds a few contrast colours to emphasise the range of earthy tones dominant in their SS22 collection. Rip Curl features bright Caribbean blues and greens, as well as tropical red and pinks and some sand, orange and yellow. This palette aims to represent the ocean, the sun and the sand and their changing state throughout the day. Oxbow sets the mood with colours such as sunset, fiesta or vert tropical. Picture opts for terracotta tones with an addition of a feminine faded rose. Barts goes bright with sky blue, white, pink, sun touched gold and rust, while adding some summer darks such as bottle and old blue.
Materials and Construction
Brands are investing in technical materials that meet both the performance and sustainable standards that women demand. Fortunately for them, the textile industry is constantly researching new fibres with innovative results. The well-proven combination of 80/20 polyamide/elastane used by many brands meets most criteria for quality swimwear. It offers UV protection, oils and creams resistance, and no piling or skin-digging. By choosing options with a recycled nylon component, they make their collections sustainable. Oxbow is adding a couple of new fabrics to their SS22 collection. One is a new jacquard pattern which is quick drying, has sculpting effect and offers excellent support, suitable for all morphologies. They are also launching a capsule collection with surfer Laure Mayer. "We came up with a bikini for surfing and a hybrid surfsuit made of Seaqual® fabric and Yulex® natural rubber", says Eléonore Courret from Oxbow. Picture opts for the Italian Vita fabric, made with the recycled yarn Econyl®. Rip Curl has quite some history using premium Italian materials. Their Mirage Ultimate collection features the latest fabric released by Eurojersey®, called Sensitive®. It provides high tech performance and extra comfort, while being sustainable. Linings are made with premium 115g Lycra to ensure stretch, comfort, abrasion resistance and quick drying. O'Neill is introducing the new Oyster Shell into the swim shorts. "This is a by-product of the fishing industry where abandoned oyster shells are ground into powder and mixed with recycled PET", says Dan O'Keefe from O'Neill. The result is a ground-breaking fabric that offers natural anti-bacterial properties that do not disappear in the wash. 
To achieve the desired performance standards, construction is key. Roxy has reworked trims, linings and shells to offer the best shape for comfort and support. Rusty makes sure that all tops have the right amount of support, through bust cups, internal elastic or underwire construction. Bottoms now feature a top stitch that gives them support and makes sure they stay where they need to. Picture offers removable cups and makes all the seams anti-irritation, while ensuring the cut offers the perfect freedom of movement. Hurley uses compressive fabrics and stabilisers for all performance focused styles. For them it's all about locking down the piece comfortably while you practice your favourite water sport. 
Sustainability
The industry relies on nylon-based fabrics for well-performing products, so the development of regenerated polyester and polyamide has been quite revolutionary. It is becoming hard to justify not using them; the percentage of recycled materials used in swimwear collections grows by the season. "We use a lot of man-made fibres in our products, but we continuously look for sustainable replacements for them", explains Mariëtte Ide from Barts. As mentioned earlier, there's quite a range of innovative recycled materials to be found in SS22 collections. The high quality of most of these materials also provides the product with longevity. This avoids consumerist over-buying and its resulting waste. Sustainability does not stop at materials, though. Brands are aware that efforts need to be perceived in other aspects of production too. Oxbow has reduced the use of polybags and is aiming to remove plastic on their hangers. They have also started to move some production locally, with a swimsuit made in Capbreton, France. Localism is pursued by other brands too. Pukas manufactures most of their collection in Portugal, in certified factories that use the most environmentally friendly techniques. They are also producing some styles in a self-contained factory in the Basque Country, near their headquarters, and all their raw materials are sourced in Europe. Picture selects Fair Trade factories in an effort to keep their environmental impact as low as possible. Protest chooses recycled paper and plastic for packaging and even hygiene stickers. Their headquarters in the Netherlands runs on solar energy from roof panels. Rusty is also working on their packaging and swing tags to offer more sustainable options. 
Retailer Support
Even with the rising popularity of water sports, the closure of brick & mortar stores had an impact on every retailer and, consequently, every brand. It has been a matter of working together in order to push the industry forward. Brands have offered flexible solutions for overstock situations. Some have offered stock swaps, order cancellations and returns. Many have opted to carry over part of their SS21 collection, to offer some products a longer shelf life. All brands have adjusted their mentality. Many are rethinking the traditional systems that have proved deficient in unexpected situations such as the pandemic. Marketing efforts are being intensified in the digital realm, serving two purposes. On one hand, they secure brand exposure to consumers that cannot visit stores but can be found online. On the other hand, they help push the sell-through of retailers via their online businesses and avoid overstock. Video and photo content for websites and social media are the most important marketing assets these days. Beautiful images of people having fun in inspirational places are more likely to drive sales than anything else these days. Obtaining them is well worth a big chunk of the budget.