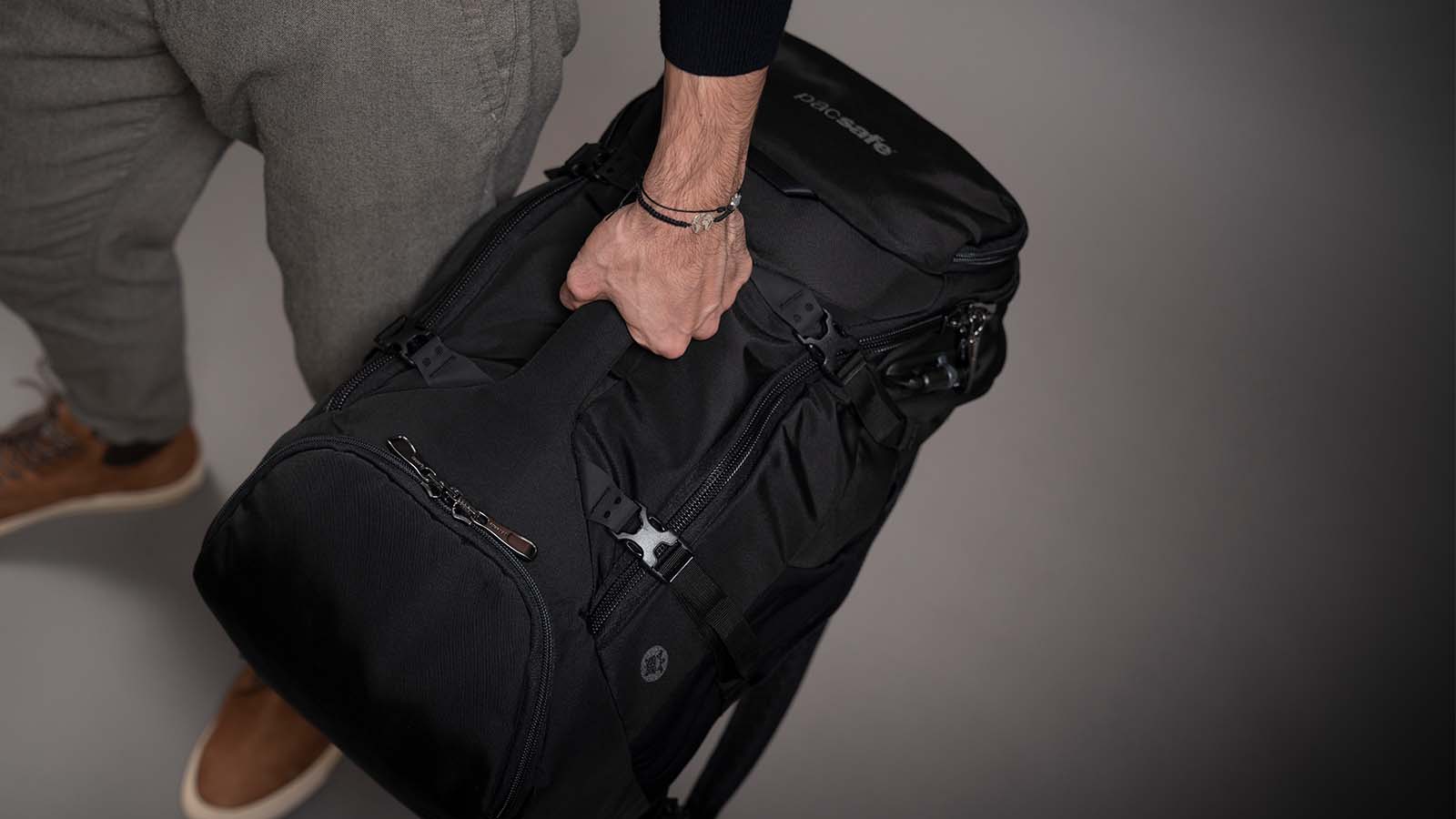 Pacsafe S/S 23 Lifestyle Backpacks Preview
Retail Buyers Guide: Lifestyle Backpacks S/S 2023 Retail Buyer's Guide
Brand: Pacsafe
Interviewee: Maria Schmieder, Marketing Coordinator
What are the main current trends in the lifestyle backpack market?
Functionality, Organization, Design/Color and above all Sustainability.
What were your best sellers in SS22?
Versatile and sustainable "every day" backpacks (range 20-25L) and shoulder bags, which work in the city and on the go.
How are you segmenting your SS23 lifestyle backpack collection and what are the price points?
Urban / Every Day
Active Leisure
Price poins: 90,- to 170,- EUR
Where do you expect the biggest growth in SS23?
In all of our sustainable products, backpacks and wallets, which will be at least 80% of our SS23 collection.
What are the most important technical features in your SS23 lifestyle backpack collection?
100% anti-theft, with our patented locking systems as well as our patented cut resistant materials
What materials are you using in your SS23 collection?
ECONYL® – regenerated nylon made of synthetic waste out of our oceans, like fishing nets
Recycled Polyester – made of recycled PET Bottles.
80% of our bags and wallets will be made from recycled fabrics.
What silhouettes are you featuring in your SS23 collection? Any construction techniques you'd like to highlight?
Sleek, modern, functional, bold
What colours and prints are you featuring in your SS23 collection?
Classic colours, multi seasonal, colour blocking
What marketing stories do you have in your SS23 collection?
Launch of our Pacsafe ECO collection – our most sustainable collection yet, by using almost 100% recycled materials and components
Earth Day – Launch of one of our beststeller Metrosafe LS in ECONYL yarn
Turtle/Ocean Month – PACSAFE support conservation projects through the Pacsafe Turtle Fund
What efforts are you implementing towards sustainability?
We will research the use of further new sustainable intitiatives and how we can use these in our products. Our aim is to eliminate virgin plastic in the supply chain by 2025. In SS23 80% of our bags and wallets are made from recycled materials.
How will you be supporting retailers with the SS23 sales?
POS material, printed / digital material for marketing purposes resp. their websites.
Have you suffered any stock or delivery problems due to supply chain bottlenecks? If so, how have you addressed this issue?
The exceptional situation worldwide caused by the pandemic, leaded all of us towards mutual understanding – us towards our suppliers, as well as our customers towards us.
Best Sellers
Venturesafe EXP35 Backpack (Black)
This 35L sized anti-theft backpack holds a 16" laptop, made from rPET and the water repellant treatment is 100% PFC free, protects your valuables with anti-theft features.
Perfect for gym, travel, or all day use with a bottom compartment that allows you to separate dirty shoes or wet towels, large bottle pockets and external compression straps for a yoga mat or a shell jacket. 
Pacsafe ECO 12L Sling Backpack
This spacious sling pack made with rPETs and ECONYL regenerated nylon, fits a 11" tablet and made for ambidextrous use. Lockable zips and cut-resistant materials protect your belongings. Cut-resistant anchor strap secures around a fixed object to protect your bag; RFID blocking pocket protects your credit cards and passport against unwanted scans. An organized sling pack designes for the outdoors, bike rides, traveling and more.
Pacsafe ECO 25L Backpack (Black)
This 25L backpack is using almost 100% recycled materials and components. Lining made of rPET, outer shell fabric and certain buckles made with ECONYL regenerated nylon. Holds a 13" laptop in a padded sleeve.
For when you need ample storage for your outdoor adventures, this backpack makes you feel more comfortable and secure, equipped with patented Pacsafe anti-theft features.