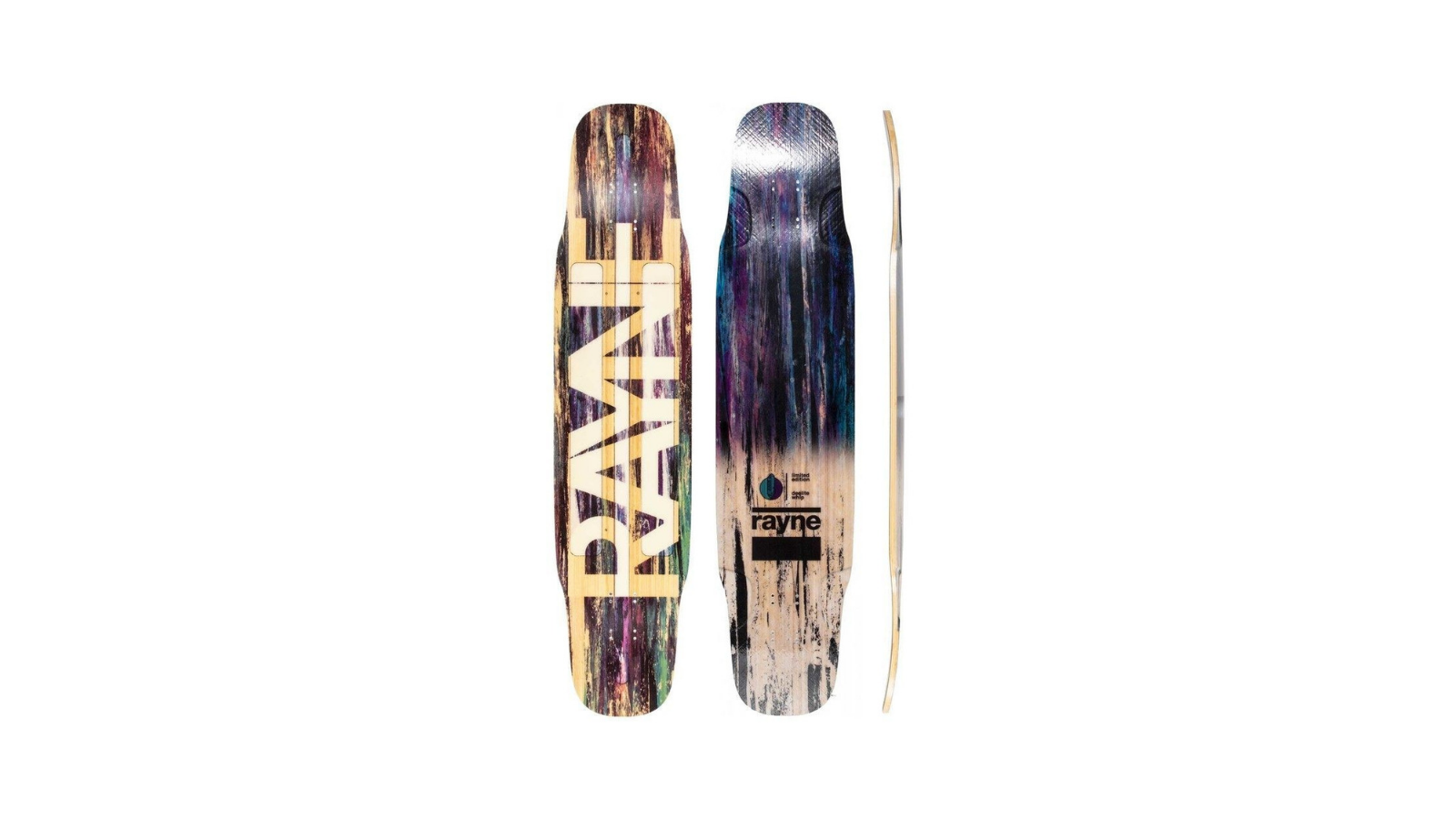 Rayne 2019 Longboard Preview
Retail Buyers Guide: Longboards 2019
Brand: Origin Distribution (DB Longboards, Rayne Longboards, Cloud Ride Wheels, Atlas Truck Co.)
Interviewee: Nathan Pauli (VP Sales & Marketing)
What is the current state of the European longboard market, also compared to the US?
Not seeing much dramatic change in Europe – for better or worse. The market seems to have levelled off, with small but consistent demand for core product and the more casual segment remaining difficult to compete in as an international brand.
What is your collection theme and which stories are you important for SS2020?
The popular DB Mini Cruiser line will see a refresh with two new artist series graphic series. The Aeroglyph series features the photography of Reuben Wu, who creates large temporary geometries traced by light carrying drones in space. The Mendez series features the bold, colourful illustrations of artist Jose Mendez.

Rayne continues to introduce a broader assortment of shapes and price points to the line, while still remaining laser-focused on the brand's ethos of delivering creative, innovative and performance-driven skateboard designs.
What general trends are you noticing in terms of shapes and board sizes?
We continue to see a trend towards more compact decks that feature shapes and design characteristics traditionally seen in longer boards, especially when it comes to added ride stability. Drop-through mounting, drop decks, and deep rocker are all means of providing more casual riders a stable, comfortable pushing platform well-suited for day to day transportation.

What are your main materials for SS 2020?
The new DB Longboards CoreFlex Crossbows feature hand-poured resin art bases – a feature that (to our knowledge) has never been offered before on longboard decks! Every Crossbow deck is one-of-a-kind.
Which technical features are you the most proud of?
The Rayne Deelite series features some of the most advanced deck manufacturing on the market, with a foam core composite construction that offers ultra-light, high performance boards. Rayne is now partnering with select retailers for limited edition deck releases that incorporate this technology along with other unique design features. These runs are limited to only 25 decks each and allow us to build the Rayne brand while driving customer interest directly towards key distribution partners.
Which wheels, trucks and accessories do retailers need to keep on their radar next season?
Cloud Ride will be dropping special edition versions of a few of the most popular wheels in the lineup – the Iceeez and Slusheez. These wheels will feature a modified urethane formula that offers easy slide initiation with predictable control.
BEST SELLERS
Please name and describe your 3 highlight pieces and items that retailers should definitely order.
Panther 34" – A directional double-kick from the mind of Graham Buksa, this hybrid cruiser is extremely stable and well-built for transition skating, high-speed alley ripping and day-to-day transportation. The classic 7-ply maple construction provides excellent strength and pop.
Crush 39" – The Crush is a playful & approachable carving longboard. The lively flex and pronounced wheel flares will make it easier to pump rail-to-rail. Perfect for deep carves and snappy turns!
Whip 41" (Limited Edition Deelite) – We took light and made it even lighter! The Rayne Whip 41 was the lightest of the Whip series and now has an all new construction. The Deelite foam core removes three channels of bamboo from the center of the board and replaces it with a foam construction that makes it lighter than ever. Only 25 decks were made for this limited edition production.