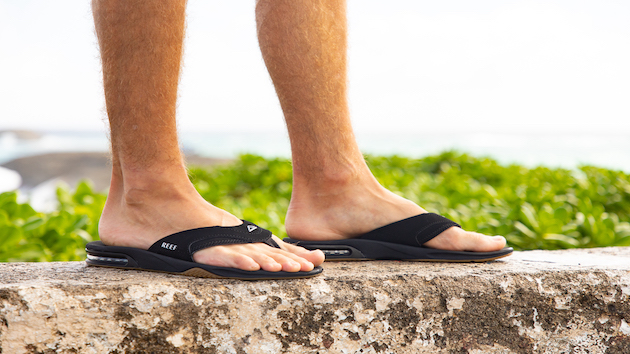 Reef 2022 Hanging Shoes Preview
Retail Buyers Guide: Hanging Shoes 2022 Retail Buyer's Guide
Brand: Reef
Interviewee: NA
What are the key trends in hanging shoes for 2022?
We're seeing footwear versatility as a trend in the ladies segment, women expect more out of their footwear than before. And when we talk versatility with REEF, we think of the Water Vista. It has an ultra-soft footbed, molded espadrille styling built on a beautiful lower profile platform outsole – the perfect sandal for brunch, coffee dates and happy hour. Its ridiculously comfortable and looks amazing.
With the lingering impacts of the pandemic, and the globe in various stages of bouncing back to a "new normal," we're continuing to see a desire from consumers to spend more time outdoors. City trekking, jaunts in the park, light trail excursions, we're still seeing a craving to be amongst nature rather than couped up at home. We believe our new Fanning Baja meets those adventures perfectly – durable, comfortable and supportive with adjustable water friendly padded jersey straps.
How are you segmenting your hanging shoes and what are your price points?
REEF is segmented into sandals, flip flops and sliders. Entry prices start from £20 for the women's REEF Seaside flip flop, then moves into sliders. From sliders we move into sandals with the REEF Water Vista, the REEF Cushion and the Santa Ana. REEF exit at £85 for the Men's Fanning Baja in our sustainably sourced Leather.
What new styles and shapes can we expect for 2022?
The Classic men's REEF Fanning, named after surf legend Mick Fanning, gets cagey this year with the new Fanning Baja. The new design is perfect for any excursion and offers total comfort and stability. And it wouldn't be a Fanning without our iconic built-in bottle opener to make it a party wherever you go.
On the women's side we are introducing the best feeling sandal ever, the Santa Ana. With our most advanced comfort technology, Ridiculous Comfort Max™, this roomy, relaxing sandal provides complete contouring, arch support and cushioning. You'll enjoy wherever the wind takes you in these sandals.
What materials and construction techniques are you currently using? Will you be introducing new ones in 2022?
Sustainability has been part of the REEF DNA since its inception. All REEF products are 100% PVC free. REEF only works with material suppliers who agree to not use restricted chemicals in the manufacturing of our materials. We incorporate sustainable stories with recycled PET webbing, responsibly sourced leather, and recycled and natural materials. REEF has updated all webbing straps, toe posts and liner materials to 100% recycled polyester. This material is recycled plastic derived from post-consumer plastic bottles. In addition, REEF uses materials that are natural such as cotton, wood, cork, jute and paper. We also use responsibly sourced leather and suedes in our products, conserving over 1M gallons of water. In Spring '21 REEF launched a green EVA solution with a renewable sugarcane-based midsole. The EVA is derived from renewable sugar cane instead of a petroleum oil formula and it is carbon neutral, reducing greenhouse gases.
What colours and prints will you be offering in 2022?
For 2022 we will have a good mix of core colours that will continue with new colourways coming in across the range. Some key colours to look out for in the men's range are Caribbean blue, vintage navy, slate and red/raven. For prints we will be offering tropic dream, agave palms and sunset stripes. New colours in the women's range will be cloud, sand, rose and purple. Look out for hibiscus, palmia and monstera prints in the ladies range.
What are your marketing stories planned for 2022?
REEF will be focusing on style driven and comfort driven categories this year. The following styles are key for 2022, Men's Fanning Baja, Women's Santa Ana and Water Court. The Ridiculously Comfortable marketing campaign will continue into 2022 pushing the REEF key brand message that we have the perfect mix of cushion and support in our sandals and they are not just for the beach but can be incorporated into your everyday lifestyle.
Have you implemented any sustainable practices in your production and shipping processes ?
REEF uses all recyclable packaging. Our paper hangers and shoeboxes are made from 100% recycled paper. Our paper hangtag is made from 80% recycled and natural paper. REEF is using a new polybag made from 100% recycled plastic and certified by the Global Recycling Standard.
How are you supporting retailers to sell this category?
We will support our retailers with window displays and POS in store, updating fixtures and layouts. We will also provide additional staff training where needed. This year we are planning to show REEF at trade shows, giving the brand more visibility in the UK. We have also recently launched the REEF UK website and social media channels and will support the Ecom team with digital assets and content.
Have you suffered stock or delivery issues due to supply chain bottlenecks? If so, what solutions have you put in place?
We have suffered some delays to our product manufactured in South East Asia. To alleviate this going forward we have been working on pulling the strategy forward for 2023 to drive earlier manufacturing.
Best Sellers
Men's Fanning Collection – RRP £50 – £85
Named after surf legend Mick Fanning, the REEF Fanning is a favourite for its ridiculous comfort, airbag in its heel and renowned built-in bottle opener. We have seven variations of this style from the OG Fanning, through to the Fanning Slide, Leather Fanning and the new Fanning Baja which is perfect for any excursion and offers total comfort and stability.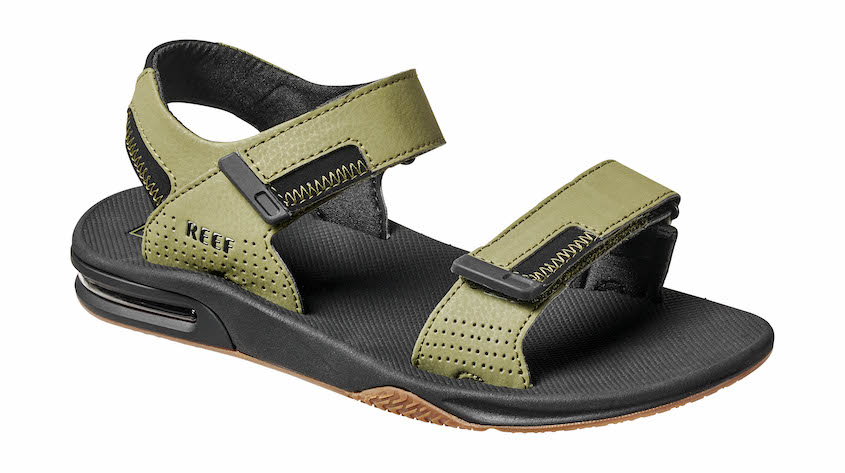 Ladies Santa Ana – RRP – £42
The REEF favourite, the Santa Ana ensures all day comfort with a wider design, EVA footbed with arch support and soft pebbled vegan leather straps with a super soft padded jersey lining. Your feet will feel totally held sturdy and supported, thanks to the full-on arch support and heel cupping. A nature-inspired texture and outsole give you feel good traction.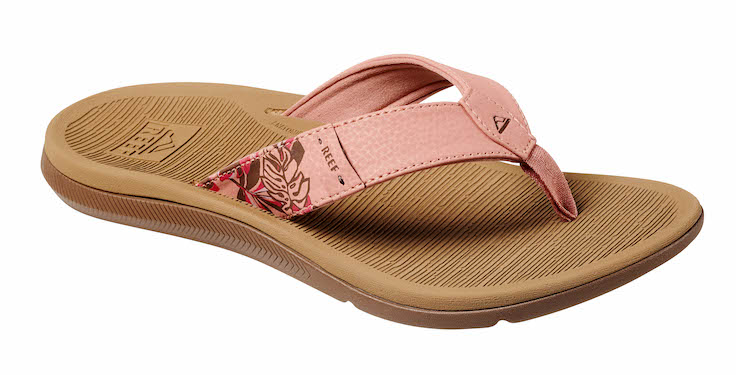 Ladies Water Court – RRP – £25
Be one with your sandal, as in the one-piece construction of our Water Court. These water-friendly, comfortable sandals feature rinse-and-ready construction for laid-back beach lovers. It is totally comfortable, thanks to its lightweight construction, arch support, and heel cup which provides the perfect blend of cushion and durability with hints of espadrille details throughout the footbed. This is one you'll love.