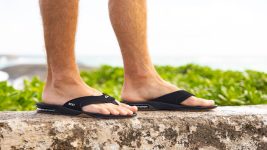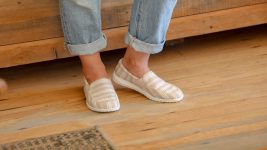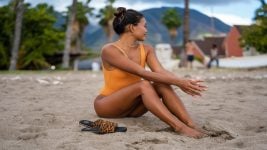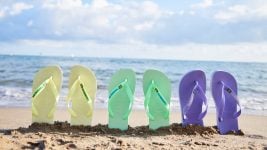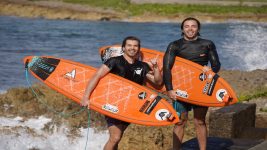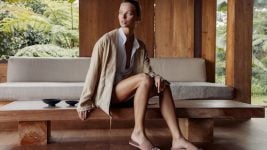 Hanging Shoes 2022 Retail Buyer's Guide
Two years wearing nothing but slippers may have invited consumers to value comfort over looks. Brands provide the aesthetics and versatility to take the habit outdoors, beyond the beach and into the workplace. By Rocio Enriquez.
When it comes to hanging shoes, the priority remains comfort. A light, easy on and off, comfortable shoe adds to the relaxed mood wearers are aiming for. Nevertheless, sustainability is pushing its way to the top of the list of demands. Versatility offers added value, especially for women. "Consumers look for sophisticated styles that transition well from beach to bar", says Karl Read from Foam Life. This is pushing the development of sandals and slides. Men pay special attention to their soles and footbeds, looking for tech and textures.
Styles.
Most brands are launching styles that meet the above demands. Cool is adding more styles with side straps that cover the sole. "It gives a new vision to the sandal", says Product Designer, JéremyLagrost. Sandals are key for the Havaianas 2022 collection too. They announce many novelties in this category. They are particularly proud of the reinvention of their popular You St. Tropez style. Keeping the same shape, the new You Malta and You Malta Mix have a mixed fabric single strap. Reef steps up comfort with the Santa Ana. Their Ridiculous Comfort MaxTM technology provides a roomy sandal with complete contouring, arch support, and cushioning. For men, Reef has redesigned their popular Fanning style. "The new fanning Baja is perfect for any excursion. It offers total comfort and stability, with our iconic built-in bottle opener", says Jenny Cooper. Sliders continue to be trendy. Foam Life announces their own version for this season, offering two options for men and three for women. Havaianas expands their range with the Slide Classic and Slide Brasil. Flojo's focuses on slip-ons. They announce two new styles for women. The Kinsley is a versatile elastic lace slip-on. The Myra is a striped, twin-gore style. The waste repurposing brand Indosole launches a new concept this summer with recycled sneaker soles.
Materials and construction.
Sustainability is a big topic. Indosole was born from the idea of giving discarded tires a second life. This Summer, they use their same SETT technology to repurpose discarded sneaker soles. They source them from the two hundred thousand defected soles discarded in 1ndonesia every month. Reef chooses sustainable materials too. Their webbing, toe posts and liners are made with recycled PET. They use natural materials like cotton, wood, cork, jute and paper. Their leather is responsibly sourced, conserving over one million gallons of water. They are introducing a carbon-neutral midsole made of renewable sugarcane. Foam Life joins the sugarcane experiment. "We have introduced cork and a Sugarcane EVA foam that's used on the footbed and outsole", says Karl Read. Styles that do not feature this novelty, have recycled EVA foam and brushed TPE foam. Their entire range is PVC free, and 30% of it uses a soft webbing toe post made of recycled plastic bottles. They have also increased the use of hemp and organic cotton canvas. Havaianas also experiments with recycled materials. The residual strap material from their Top and Tradi styles goes back into their manufacturing process. Beachy Feet launches a whole new plastic-free collection called "Naturally Beachy". They are soft, lightweight, durable and FSC certified. "This year we introduce natural materials in our production", announces John Lodge.
There are more things happening in materials and construction beyond sustainability. Beachy Feet's "Aquaticos" collection is made from lightweight, stretchy and breathable material with a slim rubber sole. Havaianas is working with a new rubber mixing technique. They have also developed a new printing technique that allows them to create fluid metallic textures. Flojo's is using lots of elastic and gore. They aim for an easy on-off feeling, while keeping the shoe secure on the foot. Cool announces new footbeds and ergonomic sandals, both for men and women.
Colours and prints.
Brands keep a good offering of neutrals with nudes and classic colours. It is on their pop offering where they develop their own stories. Beachy Feet draws inspiration from their Andalusian heritage. They have Mediterranean flavoured tilework and patterns in their prints. This summer, they add two more collections. "Club de Playa" is inspired in the Beach and Resort culture from the 80s, with geo patterns, neon and fluro colours. Their Action Sport and Sport Lifestyle collection features tropical and floral prints. Cool keeps the predominance of dark and classic colours but introduces three colour stories this Summer. "Coolifornia" explores the Cali beach roots of the brand in the 80s. "Ethicool" offers patterns and colours inspired by the different surf trips of their team around the world. "Tropicool" displays elements of fauna and flora of tropical seaside locations. Foam Life's keeps black, grey, and different shades of browns as basic colours. Their pop colour of choice for this Summer is spearmint. We find it as a solid base colour and as a highlight in retro stripes for men. In women's collections, it leads the pop colour range along with hot coral pink and pink apricot. Animal prints are present too, in monochrome or in bright colours. Flojo's likes to combine natural tones with inner lining patterns and contrast stripping. Havaianas main colours are pastels and the new metallics. They are also launching a "Slim Neutrals" collection with nude colours, an all-time fan favourite. Reef is satisfied with their mixture of core colours. Men's key colours are Caribbean blue, vintage nasty, slate, and red/raven. For women's they have chosen cloud, sand, rose and purple. Their prints are a celebration of summer, with floral, tropical, and sunset prints. Indosole will be offering white and orange soles for the first time. Burgundy is their choice of pop colour this season.
Sustainability.
We've seen a lot about sustainability in materials. Nonetheless, there are other efforts worth mentioning. Packaging ditches plastic for recycled versions, or natural materials like paper. Cool's swing tags are made from recycled cardboard and attached to the shoe with a cord. They have also introduced biodegradable polybags. Foam Life has the same formula for swing tags, extending the use of recycled cardboard to their hangers too. Their packing tape is made of paper. Their shoe pouches and mailer bags are made from biodegradable corn starch. Instead of silica gel, they use non-toxic, natural clay anti-moisture sachets.  Reef's hangers, shoe boxes and hang tags are made from recycled paper. Their new polybag is made from 100% recycled plastic and certified by Global Recycling Standard. Brands are as conscious as possible in their manufacturing processes. Havaianas claims that 60% of the energy used in factories comes from renewable sources. Reef only works with suppliers who don't use restricted chemicals.
Marketing and retailer support.
There are marketing stories supporting these collections. Beachy Feet rolls out "Our Inspiration" message. They have planned campaigns around Beach Club culture, Resort Life, Action Sports, Clean Beaches, and Exploration. Cool focuses their communication on the three colour stories they are launching. They will also make some noise about their 40th anniversary. Foam Life pushes their new sugarcane derived foam. They will also communicate about their "Live Less Ordinary" slogan. The emphasis is not on the product but on the lifestyle and the feeling that beach culture brings to each of us. Flojo's ties everything to their core slogan "Just hanging out since 1972". They celebrate their 50th anniversary this summer, so we'll see some communication about that too. Havaianas came up with a new manifesto and tag line recently, "Designed for a free life". The essence of this message is that their shoes are a fresh of breath air, allowing people who wear them to feel free. All campaigns will align with this mantra. They are launching the International Free Feet Day on June 24th. They will promote people attending work or school in their Havaianas. They have some collaborations too. They have already launched one with Vibram, that will feature the Top and Luna strap styles with the iconic Vibram sole. It is expected to attract the attention of street style lovers. Reef focuses their efforts on three styles, the Fanning Baja for men and the Santa Ana and Water Court for women. They will keep rolling their "Ridiculously Comfortable" marketing campaign. Indosole launches their "Lost Sole" campaign in April. It'll come with a short video and marketing assets to communicate about the repurposed sneaker soles.
POS units and visual content are the key forms of retailer support. Reef and Indosole offer staff training. Reef is doing an extra effort in the UK this season. They will have stands in different trade shows and a targeted online and social media presence. Beachy Feet and Foam Life keep their prices consistent and their margins competitive, avoiding discounts. Beachy Feet is very reactive to customer feedback. Sometimes this results in capsule collections for specific markets. Foam Life had a great response to their "Gift with Purchase" action. They teamed up with Wideye to supply a tin of foot balm with each purchase. They plan to repeat the action this year. Havaianas has rolled out their "Take Back" programme into several strategic retail partners. They provide in-store materials to promote the recycling of Havaianas.
Most brands suffered delays due to the ongoing bottleneck situation in supply chains. However, most of them found the solution in moving their cycles forward. This has allowed them to deliver with reasonable timing. Beachy Feet has adopted a "never out of stock" mentality, producing more than they are ordered. Foam Life has also ordered extra stock. Brands have found ways to secure retailers are stocked for the warmer days. With a touch of sun and heat by the weather gods, good sales will be guaranteed.